These easy and delicious steak fajitas start with traditional Marinade of lime juice, crushed garlic and onions. They're the standard by which I judge all fajitas. Don't mess with Texas tradition!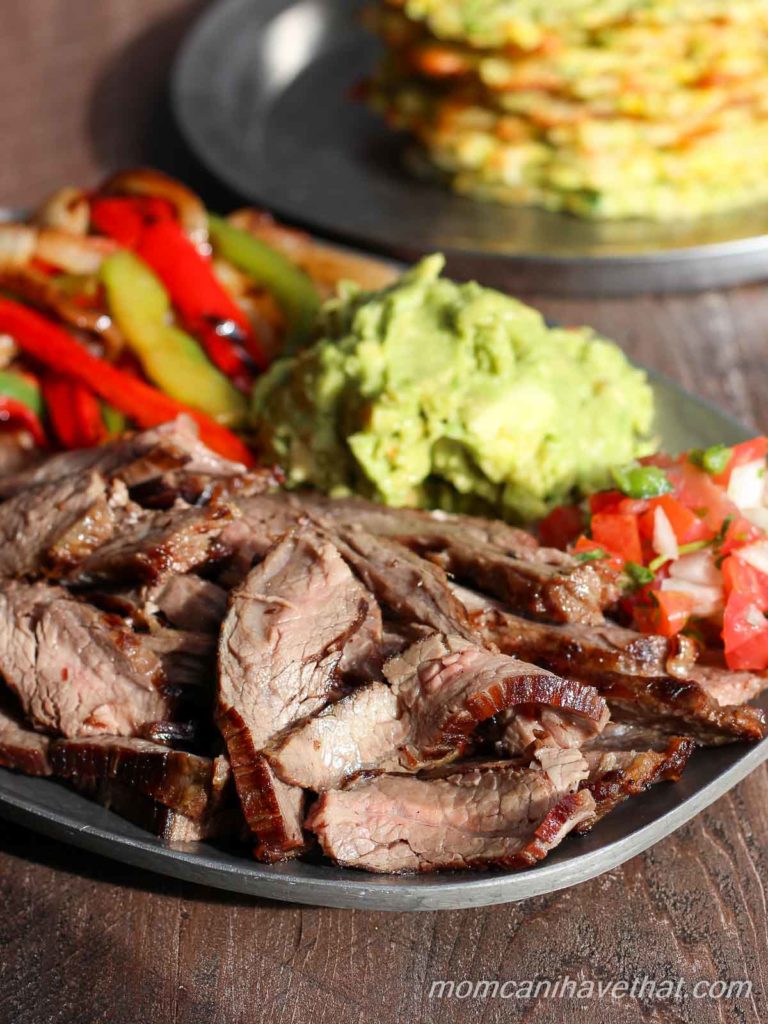 I was chatting with a friend on Facebook the other day and the subject of fajitas came-up. We both shared how we love fajitas. And what's not to like; marinated grilled steak with charred vegetables accompanied by some of my favorite things like fresh chunky salsa, guacamole and low carb tortillas.
I remember when steak fajitas were gaining popularity in the 1980's. I was a teenager living in San Antonio, Texas. My Dad grilled steak fajitas on his oil-drum grill, and I remember ordering them at The Alamo Cafe, our favorite restaurant for fajitas at the time.
This was a time when fajita meant steak fajitas and chicken fajitas were much less popular. In Texas, beef is king!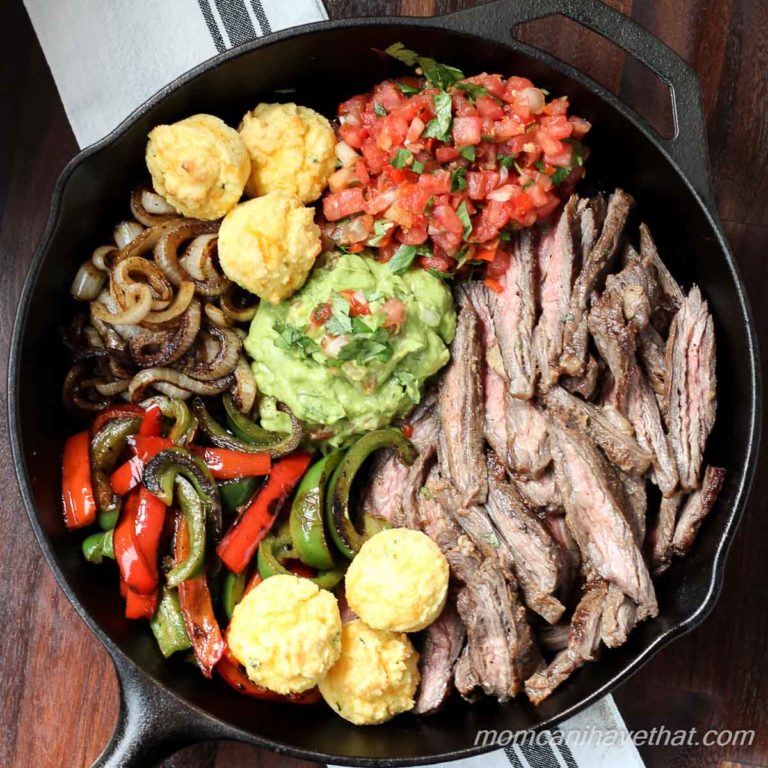 How do you make fajitas with steak?
Making fajitas with steak is very easy. You don't need any fancy ingredients, but the steak should marinate overnight up to 2 days for the best flavor. The best marinade for steak fajitas is made with lime juice, garlic, onions, oil, salt and pepper – that's it. Now a days, people get fancy and rub the skirt steak in coffee and all kinds of spices or add soy sauce to the marinade. I admit that it's nice having a twist on fajitas, but to me, fajitas flavored with a traditional marinade are the absolute best.
After marinating, let the steak come to temperature for 30 minutes. Then, remove the steak from the marinade (reserving the onions) and pat dry. Rub oil on the steak and season liberally with salt and pepper. Grill to your preference. Cover the steak fatijas loosely with foil while you char the peppers and onions.
What is the best meat for steak fajitas?
Answer: skirt steak, but flank steak and flap meat can also be used. The muscles in a skirt steak are fibrous looking and run perpendicular to its length and it has more fat and connective tissue than flank steak, making it perfect for marinating. Flank steak is leaner and thicker than skirt steak finer muscles that run the length of the cut. Flap meat is similar to skirt steak in that it's muscles run perpendicular to it's length and it's muscles are also more fibrous. It, too, is perfect for marinades and is used to make great carne asada.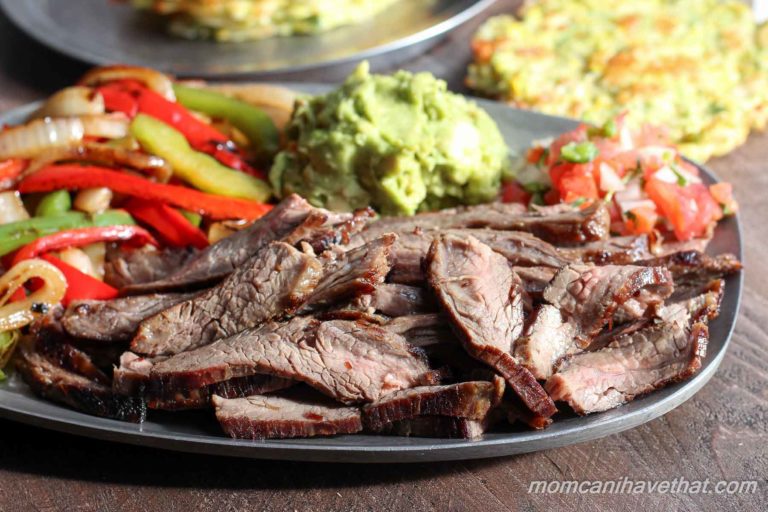 I totally cheated and bought salsa fresca (chunky salsa made with no sugar, oil or tomato paste) from the grocery store. I went to my local taco shop and purchased the guacamole because they make it in-house and I like it. I chopped up some cilantro, and mixed some of the salsa into the guacamole and then just served it with the meat.
Okay, salsa and guacamole are pretty easy to make, but I didn't feel like it and it saved me loads of time not doing it from scratch. I only had to concentrate on the fajitas and the charred veggies. For me, it was worth it and made dinner all the more enjoyable.
Steak Fajitas with Traditional Marinade are 4 net carbs per serving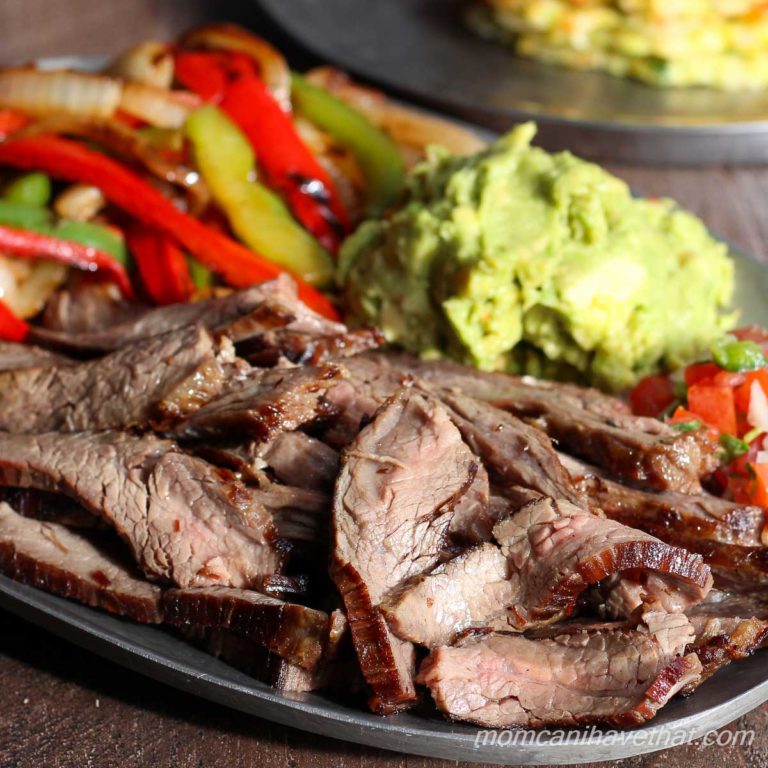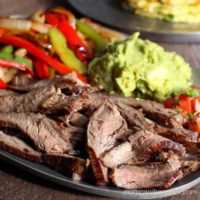 Steak Fajitas with Traditional Marinade
These easy and delicious steak fajitas start with traditional Marinade of lime juice, crushed garlic and onions. They're the standard by which I judge all fajitas
Print
Pin
Rate
Ingredients
Traditional Marinade
6

ounces

onion

1/2

cup

lime juice

4

cloves

garlic,

crushed

1/3

cup

olive oil
Charred Onions and Peppers
6

ounces

red bell pepper

6

ounces

green bell pepper

onions from the marinade

salt and pepper
Instructions
Steak Fajita Marinade:
Roll 4 limes back-and-forth on the counter, pressing firmly, to make juicing easier. Cut and juice the limes. Peal and crush the garlic cloves, giving them a quick rough chop and put with the lime juice. Slice a medium onion into rings about 3/8 inch thick. Cut the skirt steak in half and place into a large zip-loc bag. Pour the lime juice and oil into the bag. Add onions and garlic to both sides of the bag and between the skirt steak. Seal the bag and mush things around so that the ingredients are fairly evenly distributed throughout. Put the bag into a glass dish to prevent leaks and turn the bag over every few hours. Best if marinated over night – two days. Let the fajita meat come to temperature for 30 minutes before cooking.
Preparation:
Slice the bell peppers and place into a bowl large enough to accommodate them and the onions from the marinade, but not the crushed garlic. Pour a little oil over the onions and peppers and toss to coat.
Method:
Preheat the grill to high. Remove the skirt steak from the fajita marinade and dry with paper towels or they won't brown on the grill. Rub a little oil on both sides and salt and pepper liberally. Grill the steak to your liking. If it is not as brown as you like, put it in a very hot iron skillet to brown. Let the meat rest 10-15 minutes before slicing.
Charred Onions & Peppers:
While the fajitas rest, preheat an iron skillet until very hot. Add the onions in a single layer and let cook until browned and charred. Turn over with tongs and cook the other side. Remove to a serving plate and add the next round of vegetables, making sure not to crowd the pan. Continue until all of the vegetables are done. This process will produce a little bit of smoke.
Slice:
Slice the steak straight down through the top, not at on the diagonal as for a flank steak, and serve with the charred peppers and onions, fresh salsa and guacamole. Serves 6.
Notes
I did not factor in the carbs for the lime juice, garlic or the calories and fat from the oil in the marinade. Since the marinade is discarded, I believe the carbs it contributes to be minimal.
Nutrition Facts
Steak Fajitas with Traditional Marinade
Amount Per Serving
Calories 222
Calories from Fat 108
% Daily Value*
Fat 12g18%
Carbohydrates 5g2%
Protein 23g46%
* Percent Daily Values are based on a 2000 calorie diet.
Nutrition
Calories:
222
kcal
|
Carbohydrates:
5
g
|
Protein:
23
g
|
Fat:
12
g
|
Fiber:
1
g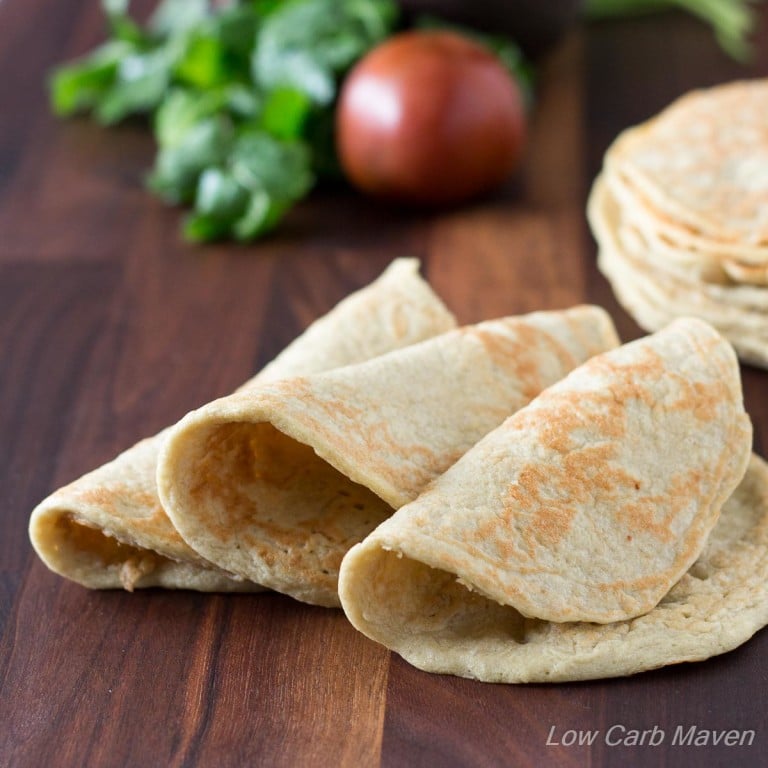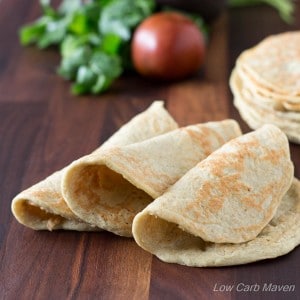 Almost Zero Carb Wraps (Low Carb Tortillas)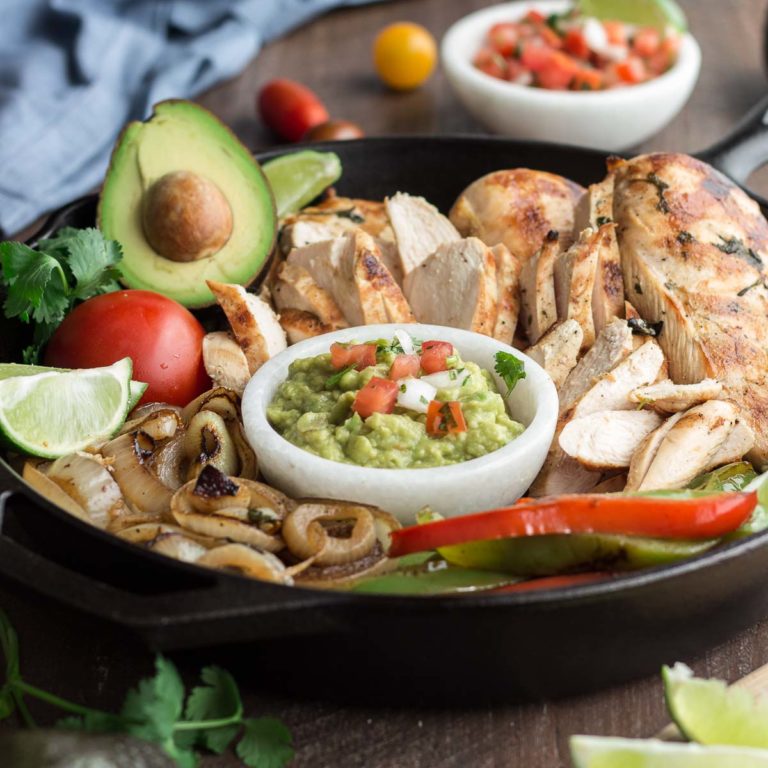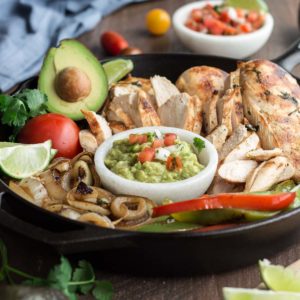 Authentic Chicken Fajitas Recipe (low carb)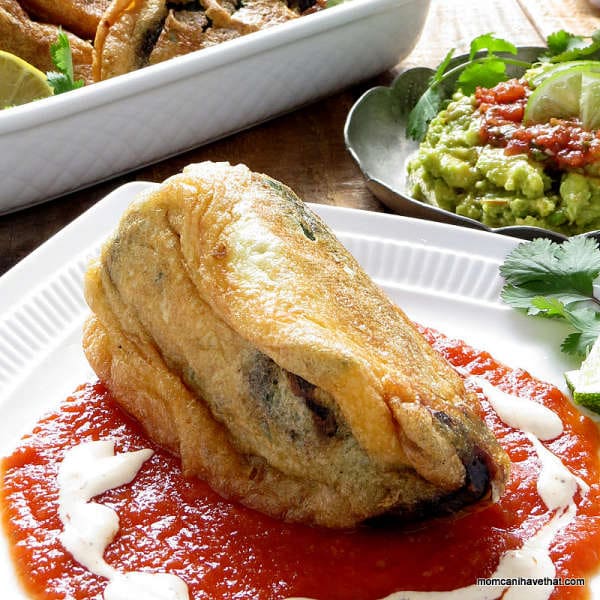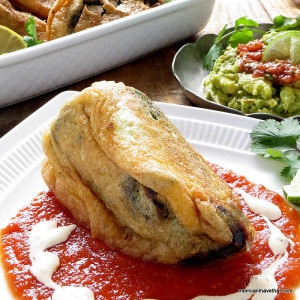 Traditional Chile Rellenos Recipe with Cheese and Chorizo (low carb)