This is the best low carb bread recipe with psyllium and flax I have ever had. Amazing! An easy ketogenic bread recipe that makes a beautiful loaf and tastes like sourdough bread. 3 net carbs per slice.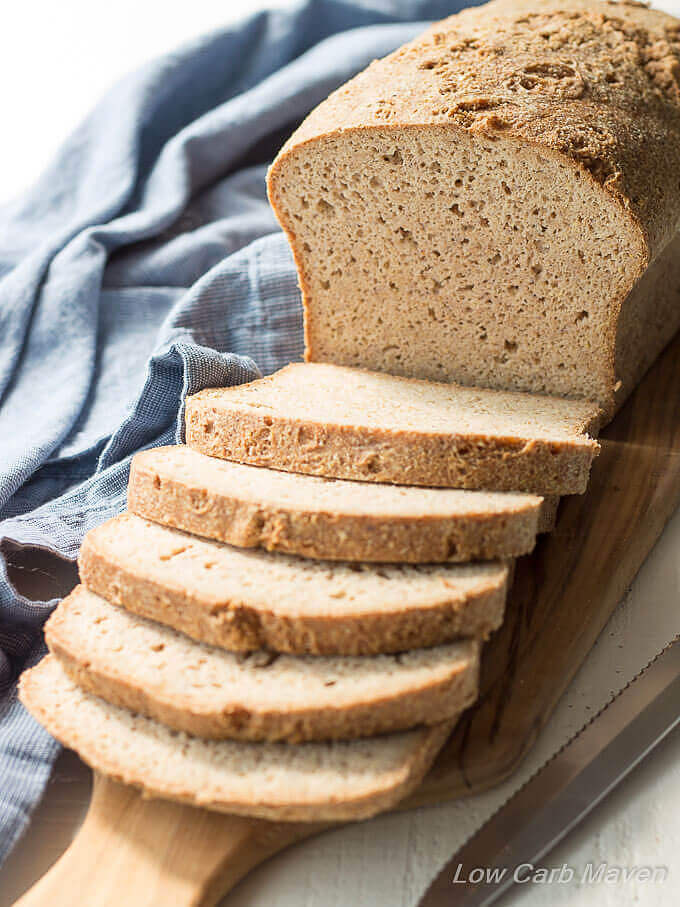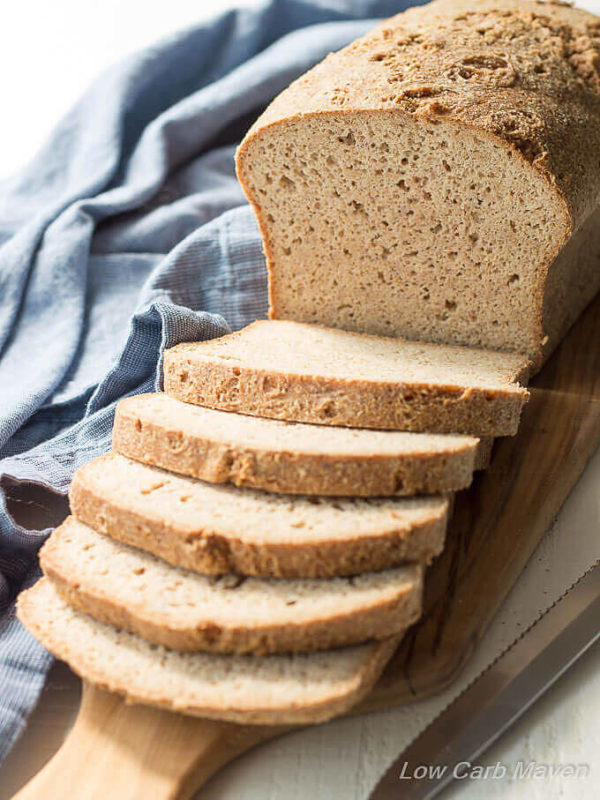 THIS POST INCLUDES AFFILIATE LINKS TO SHARE THE THINGS I LOVE.
Bread is one of those things many low carbers miss once choosing a low carb lifestyle, especially when just beginning. Luckily, there are many recipes for low carb bread available nowadays – many more than when I started out 8 years ago. We can thank the ingenuity of low carb bakers and low bloggers for the great recipes we have today.
I like this low carb bread a lot! It's the proper loaf size, not overly dense, cuts well, freezes well, doesn't crumble, and above all tastes pretty darn good – like a homemade sourdough bread. I love it pan fried and topped with low carb raspberry jelly or blueberry-lime chia seed jam!
The miracle in this low carb bread recipe lies in the use of psyllium powder, and I can't take any intellectual credit for it! I found the first recipe for psyllium bread on Maria Emmerich's site mariamindbodyhealth.com.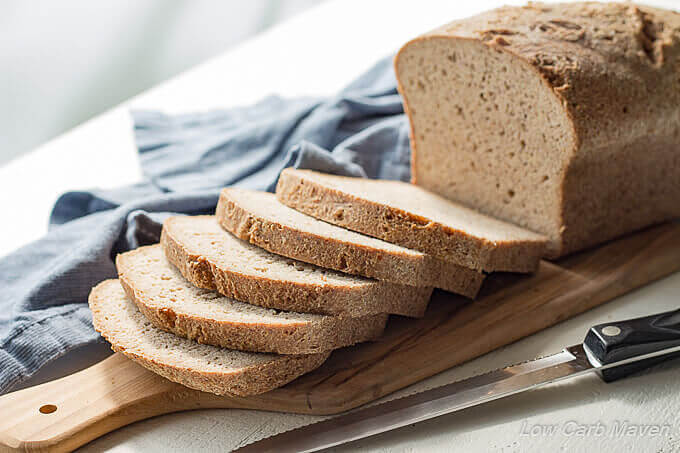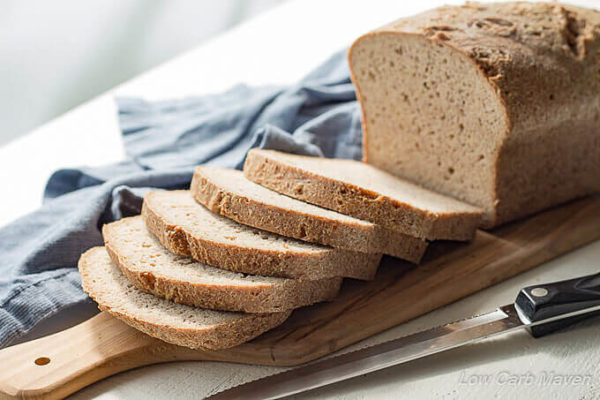 I used Maria's amazing bread recipe for a long time. It took me several tries to get it right. The loaves had a great rise while baking then totally collapsed upon cooling. With practice, the loaves improved. I'm sure you've found out by now that gluten-free baking presents it's own challenges especially when using low carb ingredients like almond flour and flax.
This low carb bread recipe combines golden flax meal with psyllium powder to achieve a look similar to that of whole wheat bread. I've added some tips to help ensure the recipe is a success. It is a bread recipe that must be followed exactly, and it does take some practice to get it right.
I have presented the recipe in weights instead of measure because ambient moisture can affect the ingredients as can accidentally packing the ingredients while measuring. I want your first (or at least second loaf) to be a success!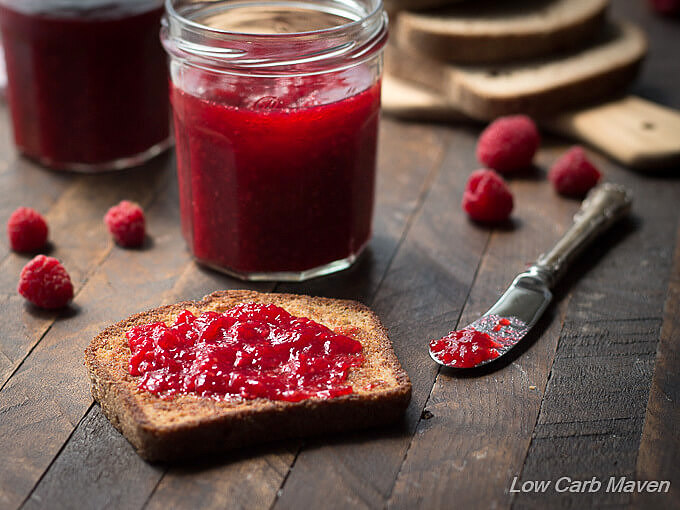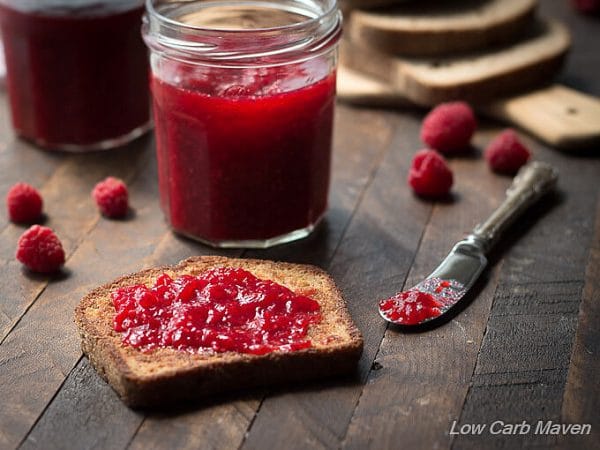 Tips for making Low Carb Bread with Psyllium
Only use an 8×4 inch metal pan. (about $5 from the grocery store)
Regrind the NOW brand psyllium powder (NOT HUSKS) in a coffee grinder for at least 10 seconds each batch, then put it in an air tight container for future use.
I only recommend NOW brand psyllium husk powder or Jay Robb. Because these brands tend not to turn purple when baked. (NOTE: Since originally writing this, some have reported that the Now brand psyllium has turned purple. It does not affect flavor).
Grind the golden flax meal until very fine before using.
Weigh ingredients for best results. I'm not even going to mention measuring cups because I want your bread to be successful.
I did not test the recipe with coconut flour, just the almond flour. This is not a nut-free recipe.
Do not over mix the ingredients or the dough will become gummy or collapse upon cooling.
Whole eggs cause the psyllium-flax bread to smell like ammonia – yuck!
I use pasteurized liquid egg whites from the grocery store, but separating whole eggs and using the whites, works.
Bake the bread until it reaches an internal temperature of about 205-210 degrees.
***** IMPORTANT NOTE *****
Psyllium is an absorbent fiber. If one doesn't drink enough water while taking psyllium, it will absorb water from the body. No one wants to get a bowel obstruction, but everyone likes to be regular, right? Drink a glass of water with the serving of bread and be a happy camper!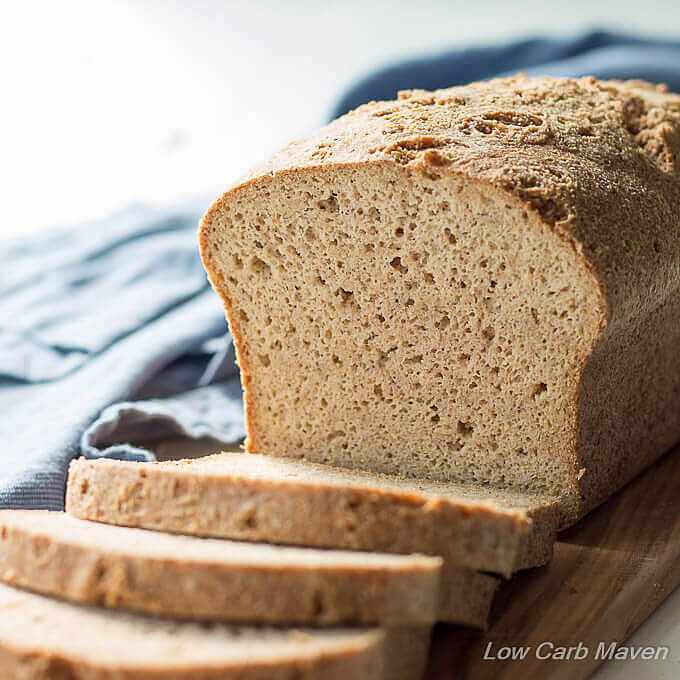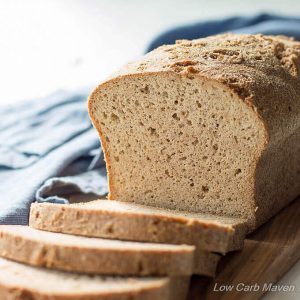 Low Carb Bread Recipe With Psyllium
This is the best low carb bread with psyllium and flax I have had. At 3 net carbs per slice, enjoy that sandwich!
Print
Pin
Rate
Equipment
Digital kitchen scale with both ounce and gram capabilities.
Ingredients
10

ounces

almond flour

3

ounces

Bob's Red Mill Golden Flax Meal

100

grams

NOW Psyllium Husk Powder

1 1/2

tablespoons

baking powder

1

teaspoon

salt

8

ounces

egg whites

(226.80 g)

3

ounces

vinegar

(85 g)

14

ounces

boiling water

(396.89 g)
Instructions
Important:
If you have't read the post, go back and read it. I include some important tips on how to make the bread as well as a caution. Use a digital kitchen scale to measure the ingredients by WEIGHT, not volume.
Preparation:
Preheat the oven to 350 degrees F. Spray a 8×4 inch metal loaf pan with baking spray. Heat a kettle of water to a boil. Grind the golden flax meal in a coffee grinder to make sure it is very fine.

Place a large bowl on a digital kitchen scale, turn it on, zero it out, and measure 10 ounces of almond flour into the bowl. Zero the scale and measure 3 ounces of golden flax meal into the bowl. Zero the scale and change it to grams. Measure 100 grams of psyllium powder into the bowl, then add the salt and baking powder. Remove the bowl from the scale and mix the ingredients with a hand mixer to ensure that they are evenly distributed.

Put a smaller bowl in the scale, turn it on, zero it out and measure 8 ounces of egg whites into the bowl. Zero out the scale and add 3 ounces of vinegar.

Pour the egg white mixture into the bowl with the dry ingredients and mix at a high speed until just combined. (The mixture will begin to expand a bit.) It should only take 10 seconds. DO NOT OVER MIX.

Quickly rinse out the small bowl and return it to the scale. Zero the scale and add the 14 ounces of hot water. Pour the hot water onto the ingredients previously mixed with the egg whites (don't just dump it into the middle) and again, mix quickly at high speed, just until incorporated 10-15 seconds. If there is a little dry bread mix in the bottom of the bowl, it's okay.
Method: (Get ready. It's time to pay attention)
Gently remove the dough with your hands, (it will be cool) and ever-so-slightly and gently, shape it into a loaf shape while bringing it to the bread pan. Put the Psyllium-flax bread dough into the pan – it will not be perfect and there may be gaps in the corners or one side may be a little higher than the other – it's okay, put it into the oven.

Bake for 80-90 minutes, depending on your oven. Depending on your oven, it may need a little more time. It is done when the internal temperature is 205-210 degrees F.

Let the loaf cool in the pan for only 5 minutes and then remove and place on a cooling rack to cool completely. If left in the pan to cool, the steam from the bread may make the loaf soggy. I place it on its side for 5 minutes, then set it right side up to finish cooling. Don't cut the bread until it is almost completely cool.

Makes 20 slices with 3 net carbs per slice.
Storing:
Store in an airtight bag in the refrigerator for about 10-12 days. The bread freezes beautifully. Thaw in the fridge. It's best to pan fry/toast the bread instead of using a toaster.
Notes
People at high altitudes have had success cooking this bread in a toaster oven.
One commenter mentioned that removing the bread from the pan after cooking and putting it back in the oven for about 10 minutes helps dry out the bottom which has the tendency to compact a little and sometimes be more dense.
.
Nutrition Facts
Low Carb Bread Recipe With Psyllium
Amount Per Serving (1 slice)
Calories 127
Calories from Fat 81
% Daily Value*
Fat 9g14%
Carbohydrates 10g3%
Protein 5g10%
* Percent Daily Values are based on a 2000 calorie diet.
Nutrition
Serving:
1
slice
|
Calories:
127
kcal
|
Carbohydrates:
10
g
|
Protein:
5
g
|
Fat:
9
g
|
Fiber:
7
g