Enter the Sweet November Giveaway for a chance to win over 40 great low carb & sugar free products!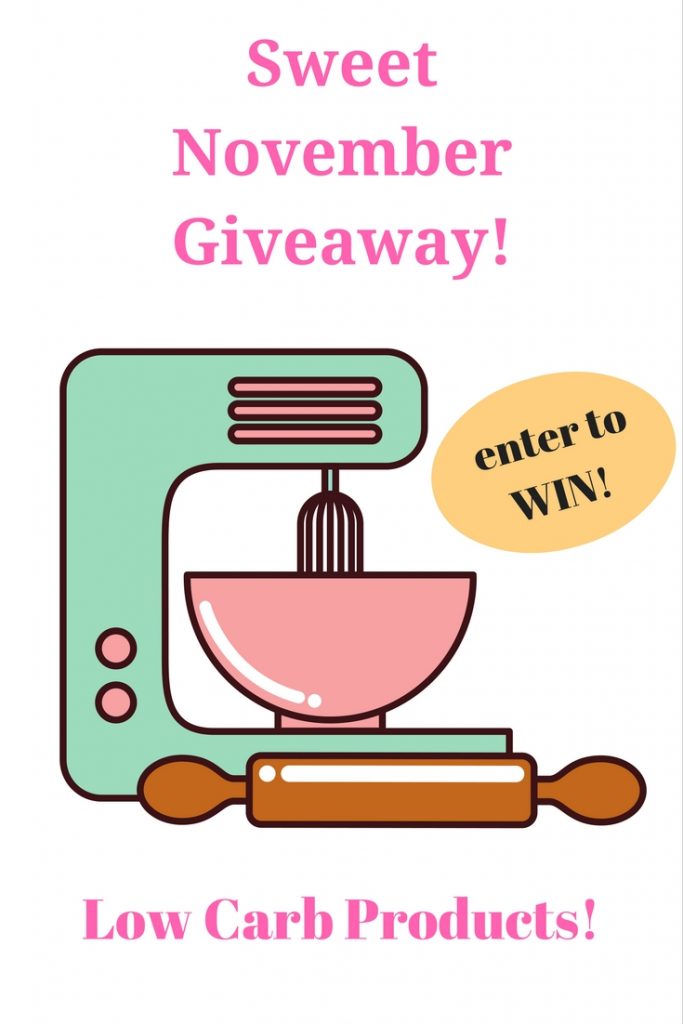 Some people find the transition to a low carb or sugar free way of eating difficult at first. Many are dismayed at finding themselves in the kitchen preparing wholesome food from scratch. Furthermore, making the additional choice of eating gluten free and grain free means preparing your own baked goods. But whether you're just watching your carbs or going totally sugar free, I can help!
Starting today, November 1st, you can enter the Sweet November Giveaway Contest being hosted by myself, Low Carb Yum, and Drop The Sugar. You can be entered to win a chance at $300 worth of low carb and sugar free products to help you begin this new lifestyle. The giveaway runs all month long and is perfect for anyone just starting out or looking to try new products.
In order to enter, you must reside in the USA and be over the age of 18 years old. Here is the list of products that one lucky winner will win:
Ozeri Pronto Digital Multifunction Food Scale by Ozeri
When learning to bake with low carb flours, I find it's important to start using a food scale as different brands of alternative low carb flours can weigh differently, some even absorbing ambient moisture on humid days. If you've ever followed a low carb baked food recipe and it didn't turn out, this could be why. Additionally, weighing ingredients helps ensure more accurate carb counts and helps prevent "carb creep".
Walden Farms Calorie Free Dressings by Walden Farms
When starting a low carb diet, make sure to read labels. You'll be surprised how much sugar and unnecessary carbohydrates are hidden in many of your favorite products! Salad dressings are a big culprit. These salad dressings from Walden Farms are calorie free and low carb friendly. This variety pack comes with two packets of each dressing for you to try: Ranch, Italian, Creamy Bacon, Thousand Island and Honey Dijon.
ChocZero™ Milk Chocolate
by ChocZero
One of my weaknesses is chocolate. And although lower dark chocolate can be found in the stores, I sometimes miss the milder taste of milk chocolate. For a quick treat that tastes like milk chocolate, try these ChocZero milk chocolate pieces which are 1 net carb each. Sweetened with fiber and monk fruit, they have no sugar added, no sugar alcohols AND no artificial sweeteners.
Simple Girl Salad Dressings by Simple Girl
For more salad dressing options, Simple Girl has some delicious sugar free and gluten free varieties to try. This three bottle pack includes a Sweet Vinaigrette, Sweet Mustard, and a Citrus Ginger. Not only great for salad, try marinating or basting chicken with the dressing before grilling or baking to bump up the flavor.
A popular product of readers are the SweetLeaf sweet drops which can be used to flavor and sweeten coffee or in baking for an extra kick. This variety 5-pack includes
Chocolate, Coconut, Vanilla, Caramel and Natural.
If you're trying to kick a sugary creamer habit, consider opting for heavy cream and a flavored sugar free syrup. Torani is the same brand that Starbucks used in their popular espresso drinks for years. This sugar free variety 5-pack includes Vanilla, Caramel, Hazelnut, Irish Cream and Chocolate.
If you're looking to replace artificial sweeteners in your diet, opt instead for a
natural low carb sugar alternative
like Swerve. Swerve is made with a blend of erythritol, oligosaccharides and natural flavor; clinical trials have shown that Swerve does not affect blood glucose or insulin levels. This product is a 1:1 sugar substitute and perfect for those who are sensitive to stevia sweetened products.
Another great alternative to flavoring your coffee, or adding some flavor to your Greek yogurt, are the Sweetleaf packets. Small and completely portable, conveniently tuck them into a handbag or into a drawer at work to use as needed. A packet or two can bump the sweetness in a frozen protein shake or enhance the sweetness of a simple dessert.
Sukrin Sweetener Kit by Sukrin
Sukrin, newer to the low carb / sugar free market, has some awesome products to try. My regular readers know that I really love the Sukrin products, especially their Sukrin Gold (a brown sugar alternative) as well as their fiber syrups – which I find perfect for making low carb granola and chewy sugar free granola bars. Make sure to check out the Sukrin Recipe Roundup I put together to see all wonderful things that can be made with the product line. This kit includes Sukrin Gold, Sukrin 1:1, Sukrin Fiber Syrup Gold and Sukrin Fiber Syrup Clear – all excellent additions to add to your low carb pantry!
Blanched almond flour is a staple in low carb baked goods and other savory dishes. It's as useful for breading chicken as it is for great crusts for
savory quiches
and
pies
. To give this a try, we're offering a 5-pound bag to get you started.
Another great low carb flour is coconut flour which is often well tolerated by those with traditional nut allergies. It can be used on it's own in low carb baking or in addition to almond flour. I like to combine the two for best effect. You'll receive a 3-pound bag to get you started.
If you've looking for sugar free pancake syrups to enjoy on
low carb pancakes
and waffles, the ladies and I decided to include this roundup of calorie free and carb free syrups. I tried the chocolate syrup many years ago and it was great on homemade!
_________________________________________________________________
Prize: $300 worth of pre-selected low carb and sugar free products.
How to Enter: Use the Rafflecopter below to enter the contest. and complete all the required steps.
*If you're having trouble signing up for the newsletters, please let me know. Here are the links to sign up to each newsletter in case of issues: Drop The Sugar, Low Carb Yum, Low Carb Maven
Hosts: Drop The Sugar, Low Carb Yum, Low Carb Maven

Rules: No purchase necessary. Giveaway ends on 11/30/2016 at 11:59 PM EST and is open to USA entrants. Random winner will be chosen and notified via email. If the winner does not respond within 72 hours of notification, a new winner will be chosen at random. See "Terms and Conditions" via Rafflecopter for further info.
Note: Products may be sent in multiple shipments.
GOOD LUCK!
All actions must be completed to be a valid entry.
_________________________________________________________________
All actions must be completed to be a valid entry.