A sugar free pumpkin spice chai latte is a lovely warm fall drink to enjoy on a brisk autumn afternoon. Low carb and no sugar, this pumpkin spice chai latte allows you to enjoy all the classic fall drink flavors while maintaining your low carb lifestyle.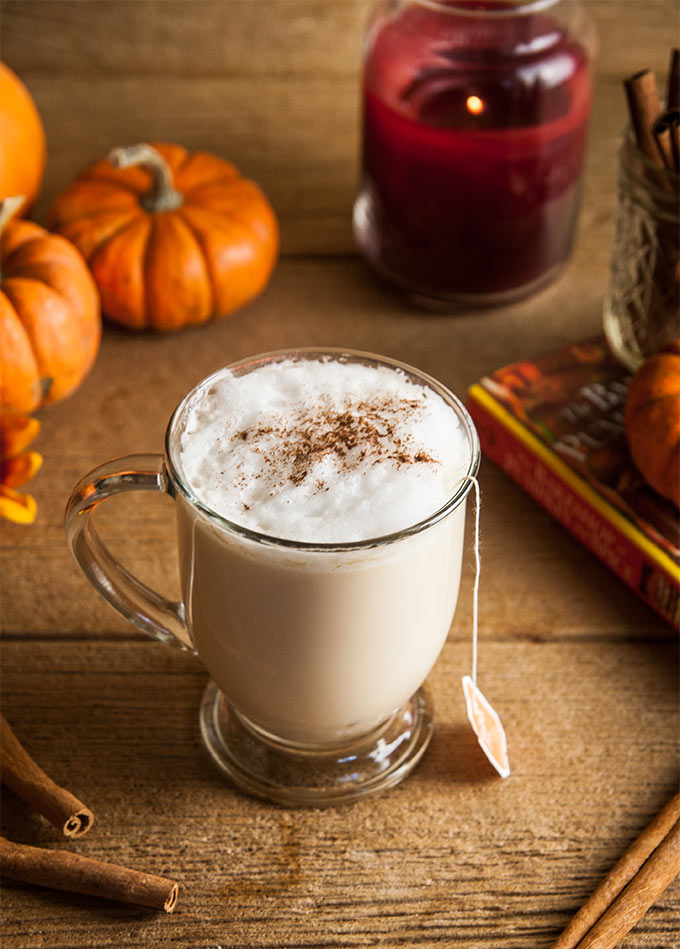 THIS POST INCLUDES AFFILIATE LINKS TO SHARE THE THINGS I LOVE.
I'm a real sucker for fall. I'm definitely one of those stereotypes social media makes fun of with it and I'm not even a little sad. As I write this post in my leggings, wearing a cozy flannel plaid, I've got a cup of this pumpkin spice chai next to me on the table and I wish I had a piece of this no bake low carb pumpkin pie or some pumpkin spice latte cupcakes. Because it's under 70 degrees and that means my need to be cozy and have all the pumpkin has been kicked into high gear.
Also, my need for caffeine is always in high gear since kids including one baby that thinks sleep is for the birds.
So it's not surprising that my need for Starbucks is an actual need. Not a want. Because I think without caffeine I wouldn't be able to function.
Starbucks Chai Lattes versus a DIY Sugar Free Chai Latte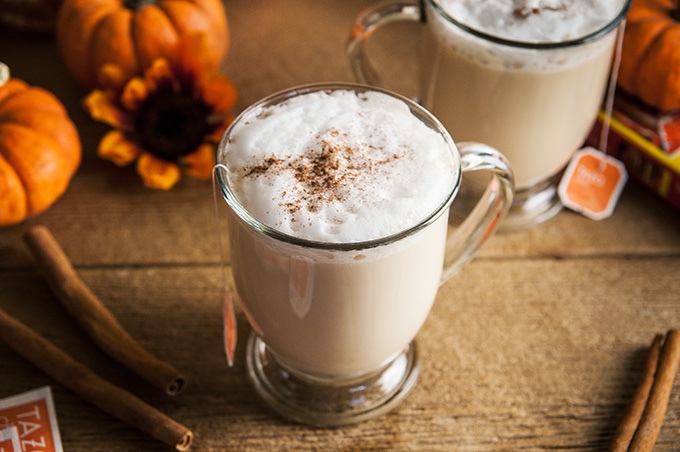 Unlike other moms though, while I drink coffee at home, my drink of choice when I'm out and about is a chai latte. They are hands down my favorite coffee shop drink with their blend of cozy spices. It's like a hug in a cup. So cozy and comforting.
But then I looked at the nutrition info. According to Starbucks's website, a tall chai latte with almond milk has 140 calories and 29 grams of carbs. Of the carbs, 26 grams of them are from sugar. Yikes.
If you get my fall favorite, a pumpkin spice chai latte with almond milk, you're looking at 19 grams of carbs, 18 of them from sugar.
Ooof. That's a lot.
I don't have it in me to give up my favorite fall drink cold turkey though. I could drink a pumpkin spice chai latte every day, but both my wallet and my waistline would not be happy.
My sugar free pumpkin spice chai latte has all the cozy pumpkin spice flavor with all the warming chai tea with zero sugar. Added bonus: not only is this version better for you but it's also a lot less expensive than going out every day for a coffee shop latte. And then I can save my indulgence for a spiked pumpkin spice latte instead of on my daily cup of tea.
What is pumpkin spice anyway? Isn't all pumpkin spice full of sugar?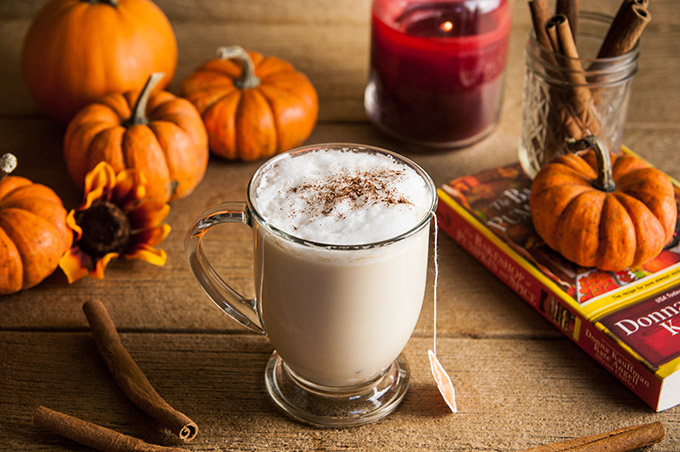 Nope! Not all pumpkin spice is full of sugar. You might associate it with sugar because it is most commonly used with baked goods and sugary drinks that we down without thinking about it. But pumpkin spice itself actually doesn't have any sugar. It's a blend of spices including:
cinnamon
nutmeg
ginger
cloves
Sometimes it might also have allspice thrown into the mix. But sugar isn't inherently part of it. Where we get into trouble is lots of the pumpkin spice syrups including the ones at Starbucks and Dunkin Donuts have tons of sugar in them. In fact, the first ingredient in Starbucks's pumpkin spice sauce is sugar.
However, you can do one of two things to avoid all the sugar and carbs in pumpkin spice coffee syrups so you can enjoy all your fall beverages. First up: you can make your own pumpkin spice syrup so you can control exactly what is in it. I'll be honest though, I haven't found a homemade version I am head over heels in love with.
Option number two: there are tons of sugar free pumpkin spice syrups on the market. I took it upon myself to taste as many of them as I could (hey, it's a tough job…) and I found I really liked Skinny Mixes Sugar Free Pumpkin Syrup even better than my old favorite Torani.
Skinny Mixes has several different pumpkin flavors including:
They are all delicious and all of them are zero calories and carbs.
Make A Pumpkin Spice Chai Latte at Home!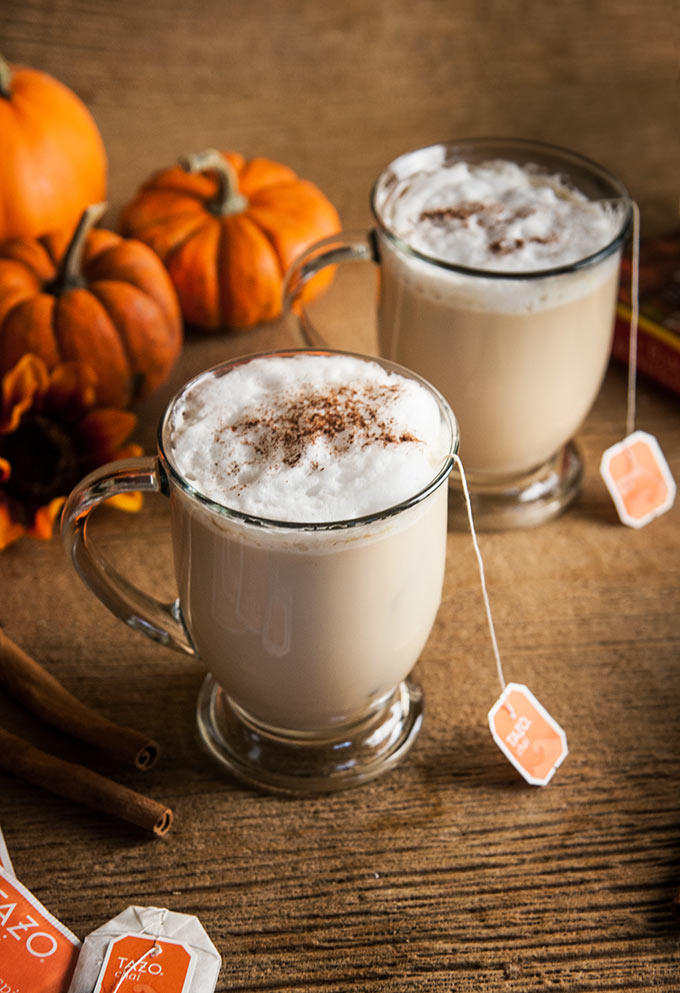 These syrups make it so easy to make a delicious sugar free pumpkin spice chai latte at home. Just brew a cup of your favorite chai tea. I used Tazo tea's pumpkin spice chai for an extra shot of all that pumpkin spice goodness.
As the tea brews, make your milk foam. Once your tea is steeped, I added 1 tablespoon of the Skinny Mixes Pumpkin Caramel syrup to the tea and gave it a stir. For me, that was plenty of sweetness and pumpkin flavor, but you can adjust if you'd like. Then I poured in 2 tbs of the warmed foamy cream and sprinkled it with cinnamon.
Wait. What? How do I make Homemade Milk Foam?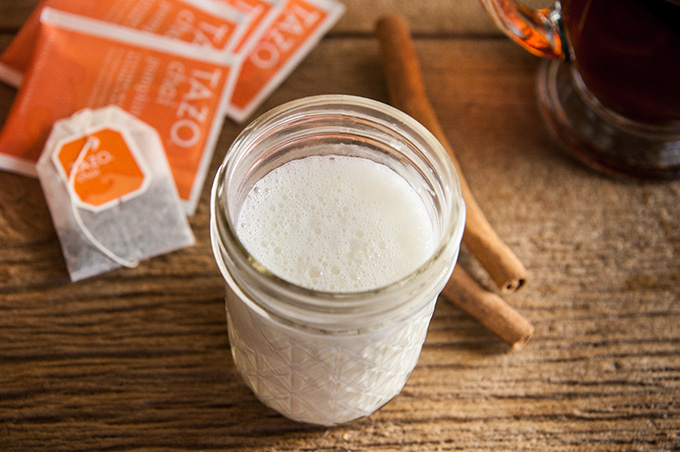 Making milk foam at home without a fancy machine is super easy. Instead of putting your cream or almond milk into a milk foamer, I put it into a jar with a cinnamon stick and a drop of vanilla extract. Then I sealed the jar and shook it for about a minute. The cream or almond milk will expand in size and get all frothy. Then remove the lid and pop it in the microwave for ten seconds and you are done.
A note on the milk foam: if you use heavy cream, it won't froth as well. Lower fat milk actually foams much better than higher fat dairy but we're avoiding that lower fat milk because it has a higher carb content. And I have good success getting a decent foam out of Blue Diamond almond milk, but different brands will froth differently. I haven't tried this with coconut or soy milk.
If you don't want to mess around with making milk foam, I found this Skinny Mix Pumpkin Caramel Whipped Topping. It is also zero calorie and zero sugars and really gloriously foamy. Perfect for times when you're in a hurry and still want to enjoy a lovely fall hug in a cup.
Thank you Jenna for creating and sharing this fantastic, festive Fall drink!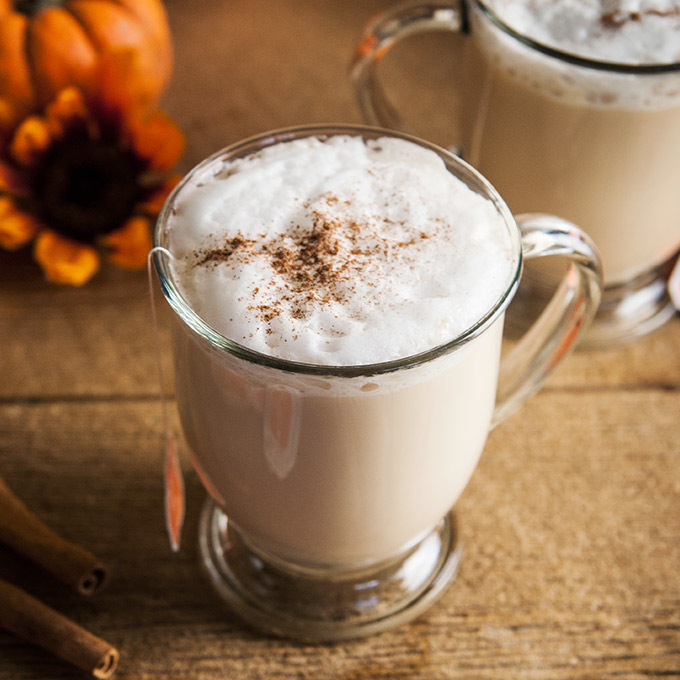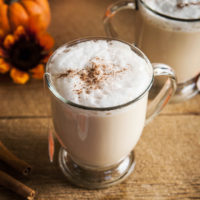 Sugar Free Pumpkin Spice Chai Latte
A sugar free take on a cozy fall classic, this pumpkin spice chai latte is a guilt free hug in a cup you can make at home.
Print
Pin
Rate
Ingredients
2

chai teabags

pumpkin spice optional

3

cups

boiled water
Instructions
Boil water in a tea kettle. Place each teabag into a teacup. Pour boiled water over teabags. Let the teabags steep for 10 minutes.

Just before your teabag is done steeping, add your heavy cream or unsweetened almond milk to a jar with 1 cinnamon stick and 1/4 tsp of vanilla extract. Put the lid on the jar tightly and shake the jar vigorously for about 30 seconds. The cream or almond milk should expand in volume and get frothy. Remove the lid from the jar and microwave for 10 seconds. Set aside.

Stir 1 tbs of Skinny Mixes Pumpkin Caramel Creme Syrup into each teacup. Pour in 2 tbs of milk foam to each cup, topping each cup with an additional tbs if desired. If the foam deflates due to high fat content, top with a pump of Skinny Mixes Pumpkin Caramel Whipped Foam Topping. Sprinkle with cinnamon and enjoy hot.
Notes
Nutrition will be different if using unsweetened almond milk. If you use Blue Diamond Original Almond Milk, one serving if you used all the milk would have 19 calories, 1.1 grams of total carbs and .1 gram of sugar.
I had some milk foam leftover. You may have some left as well, but I'd rather have too much than not enough.
Nutrition
Serving:
1
cups
|
Calories:
108
kcal
|
Carbohydrates:
2
g
|
Protein:
1
g
|
Fat:
11
g
|
Saturated Fat:
7
g
|
Cholesterol:
41
mg
|
Sodium:
12
mg
|
Potassium:
22
mg
|
Fiber:
1
g
|
Sugar:
1
g
|
Vitamin A:
437
IU
|
Calcium:
37
mg
|
Iron:
1
mg