These sugar-free oatmeal cookies have a perfect cookie texture. With a touch of cinnamon they're one of the best tasting low carb keto cookies around. Diabetic oatmeal cookies!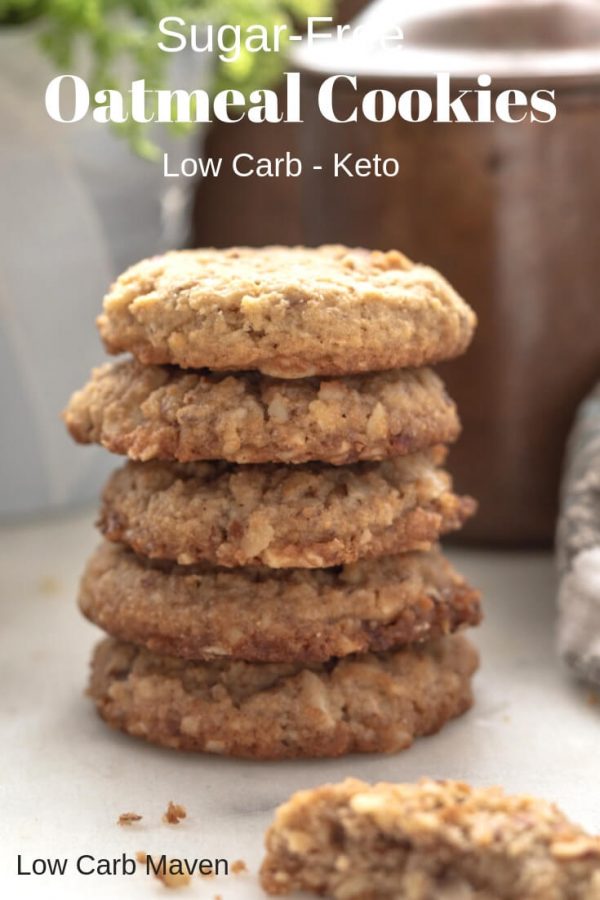 THIS POST INCLUDES AFFILIATE LINKS TO SHARE THE THINGS I LOVE.
If you're on a low carb diet keto diet, then you know low carb cookies are generally a disappointment. While it's possible to get a crispy cookie texture with some recipes, the dough is temperamental at best. And achieving that tender cookie bite is nigh impossible.
Luckily, we have many crispy low carb Peanut Butter Cookie recipes and several variations on cream cheese cookies. My Chocolate Cookies with Sesame Seeds are especially nice, with the taste of brownies and the tender-crisp bite of a traditional cookie.
My Favorite Sugar-free Low Carb Oatmeal Cookies!
I'm very happy with these sugar-free oatmeal cookies. While there are no actual oats in the cookies, the sliced or flaked almonds do a nice job of mimicking the look and texture of the real thing. The texture is crunchy and tender with a little "chew", which is lacking in most low carb cookies.
This isn't the first time I've used sliced or flaked almonds as an oat substitute. I often use them in my low carb granola recipes like this Really Good Low Carb Granola. Chopped sliced almonds will fool anyone in these Low Carb Chewy Granola Bars.
Powdered gelatin gives these "oatmeal cookies" their characteristic texture. We can thank Carolyn Ketchum for this nifty enhancement. She employs the use of gelatin in her recipe for Chewy Ginger Molasses Cookies. Carolyn furthers the advancement of low carb goodies every week on her blog.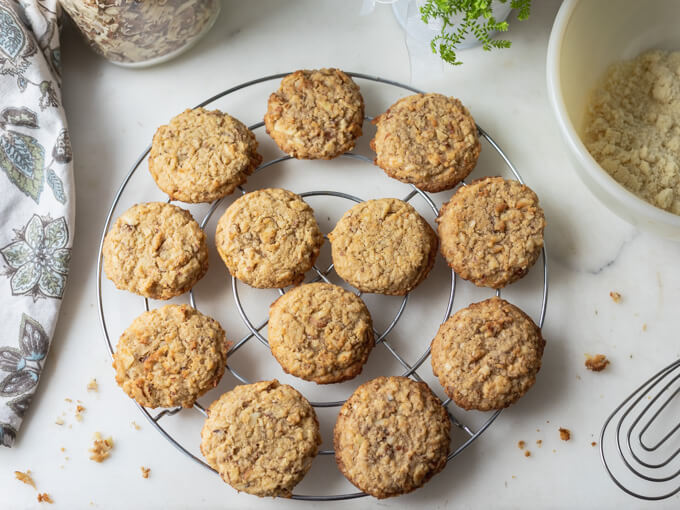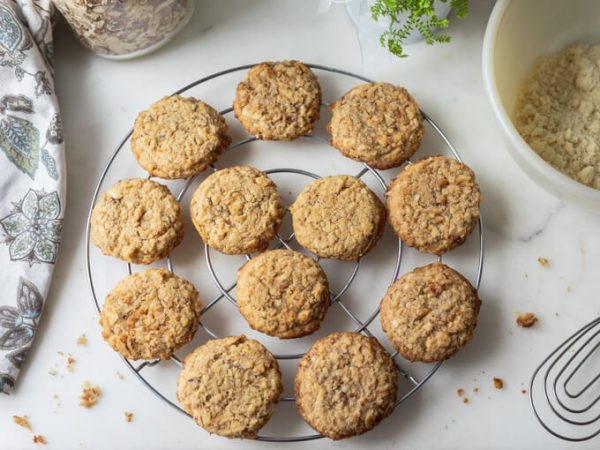 How to Make Sugar-Free Oatmeal Cookies
This particular sugar-free cookie recipe calls for almond flour and flaked or sliced almonds. A little oat fiber gives the cookies a nice texture and a flour-like taste. In a pinch, you can sub coconut flour, but the oat fiber is nicer. Butter, sugar-free sweetener, vanilla, baking soda, salt, and an egg, round out the recipe.
Cream the butter, sweetener and vanilla just like you would in a traditional oatmeal cookie recipe. I used Sukrin Gold, my favorite brown sugar substitute, but my recipe for Homemade Brown Sugar Substitute works, too! Beat in the dry ingredients, then the egg, then fold in the almonds.
NOTE: I found that using 4 oz of chopped almond flakes results in a flatter, wider cookie, while 5 oz yields a higher cookie with a smaller diameter. I liked them both ways.
Drop the dough onto a parchment lined cookie sheet and bake. Using a cookie scoop helps with even portioning.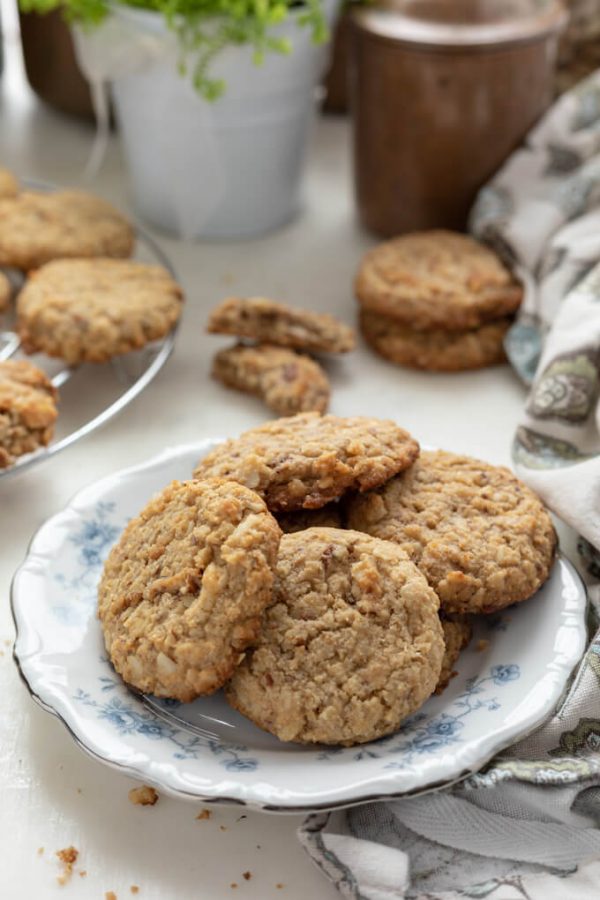 Take the cookies out halfway through baking and firmly tap the try on the stove top or the counter a few times to force the cookies to flatten. Gently hit the cookies with a spatula after removing the tray from the oven.
Let cool several minutes on the pan before removing them to a cooling rack.
Why You Need To Make These Sugar-Free "Oatmeal" Cookies
Besides the fact that these oatmeal cookies taste great… The are also made without sugar, they are very low in carbohydrates. In fact, they are so low in sugars and carbs, I think they are the perfect diabetic oatmeal cookies!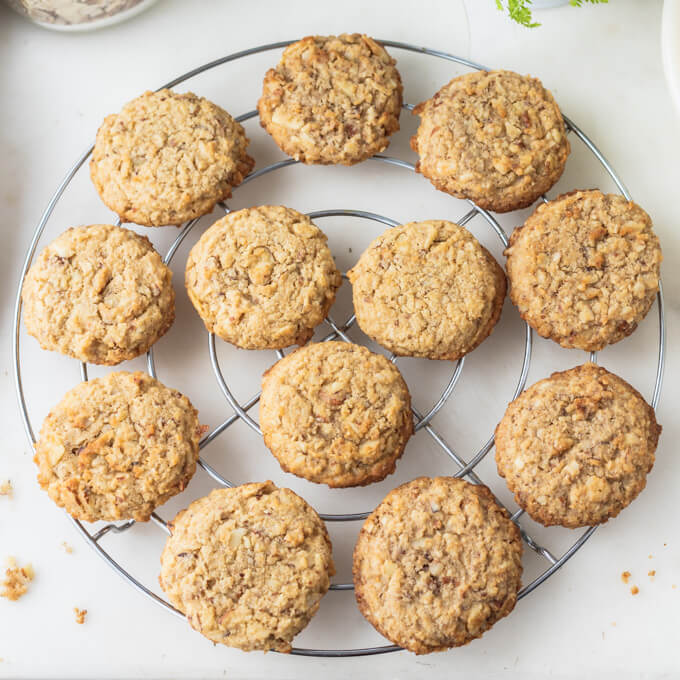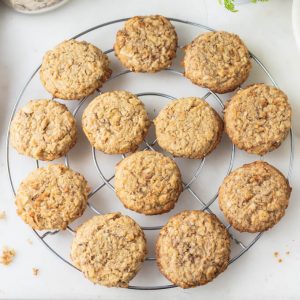 Sugar-Free Oatmeal Cookies (Low Carb, Keto)
These sugar-free "oatmeal" cookies have the perfect cookie texture. Made with a touch of cinnamon they're one of the best low carb keto cookies. Need a diabetic oatmeal cookie? This is it!
Print
Pin
Rate
Ingredients
Add Last
1

large

egg, cold

(room temp. if you want cookies to spread more)

1 1/2

cups

sliced almonds

(5 oz/142 g)
Instructions
Preparation:
Preheat oven to 350 degrees F and place rack into the middle position. Line a sheet pan with parchment. Chop sliced almonds in a food processor or by hand to resemble the size of oats. Measure the dry ingredients together and whisk to remove any lumps.
Method:
Cream softened butter, Sukrin Gold, and vanilla extract together until light and fluffy – about 1 1/2 minutes. Scrape down the bowl.

Add all of the dry ingredients at once and beat until combined. Add the egg and beat until combined. Fold in the chopped sliced almonds.
Bake:
Using a 2 tbsp cookie scoop, scoop the dough and place two inches apart on the cookie sheet.

Bake 8 minutes, remove from the oven and gently bang the cookie sheet on the stove or counter to force cookies to flatten – about 6 times. Return to the oven for 6 minutes more. (see NOTES!)

Remove the cookies from the oven and lightly smack each cookie with the spatula. Let them cool for 5 minutes before removing to a cooling rack. Let the cookies cool completely before enjoying.

Makes 20 cookies at 1.14 net carbs each. For a flatter, softer cookie see NOTES.
Storage:
Store in an airtight container on the counter or in the fridge. They will be crispier if refrigerated and softer if kept on the counter.
Notes:
1. These cookies are lightly sweetened. If you want them sweeter add more Sukrin Gold (2 tbsp) or add a little stevia glycerite (1/4 tsp) and taste. 2. All ovens are different and baking temps and/or times may need to be adjusted. If you have a wall oven, you might want to cook at 325 degrees F. The cookies might have to go a little longer if you do. 3. Be careful not to pack the almond flour and oat fiber. Packing ingredients leads to using more and can result in dry baked goods. 4. For a flatter, softer cookie use 4 oz of sliced almonds instead of 5 ounces and bake for slightly less time. Also use a room temperature egg instead of a cold egg. 5. Ingredient substitutions may affect texture, moisture content, and cooking time.
Nutrition
Serving:
1
cookie
|
Calories:
119
kcal
|
Carbohydrates:
2.94
g
|
Protein:
3.2
g
|
Fat:
11.3
g
|
Cholesterol:
12
mg
|
Sodium:
48
mg
|
Potassium:
96
mg
|
Fiber:
1.8
g
|
Sugar:
0.66
g
|
Vitamin A:
39
IU
|
Calcium:
33
mg
|
Iron:
0.54
mg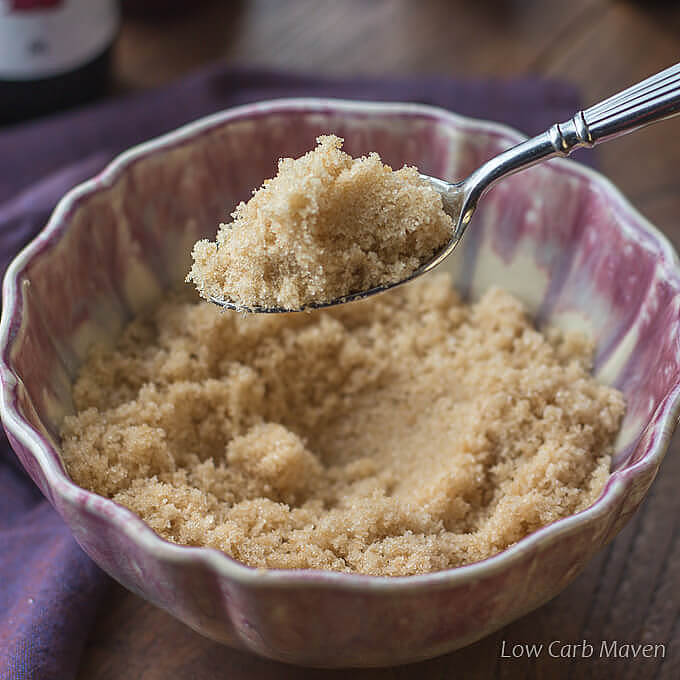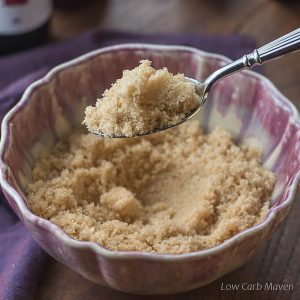 Sugar Free Brown Sugar Substitute