These sugar free chocolate truffles are silky smooth, sinfully rich and so simple to make – the perfect low carb chocolate dessert.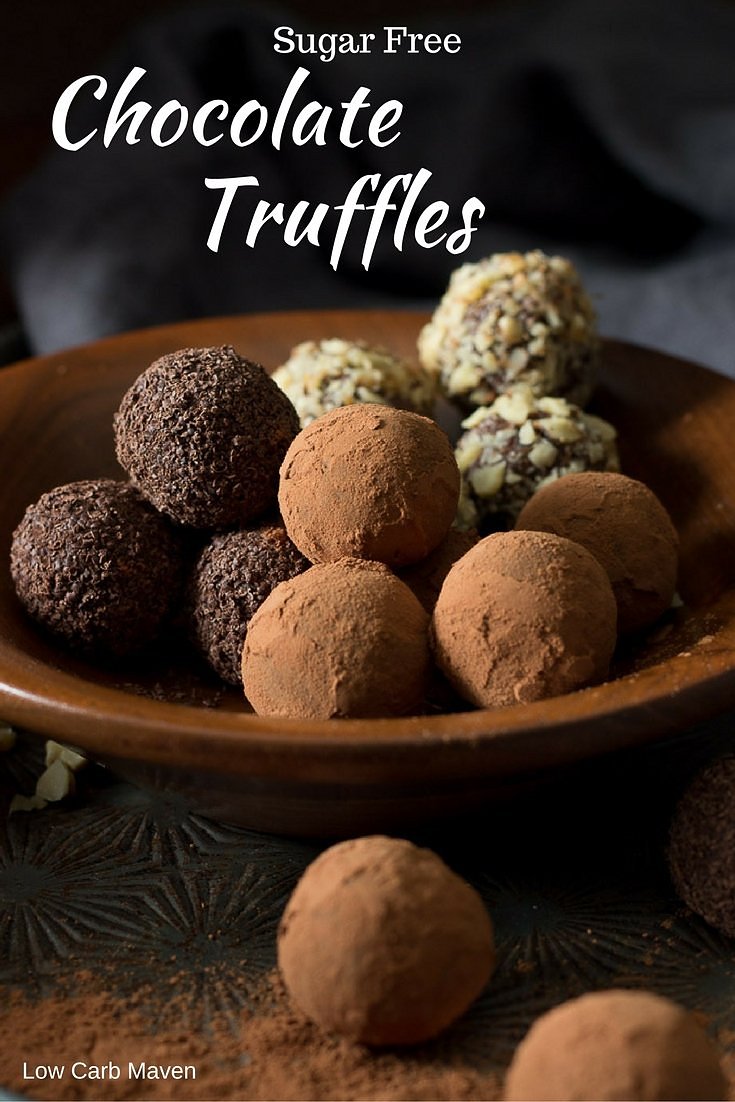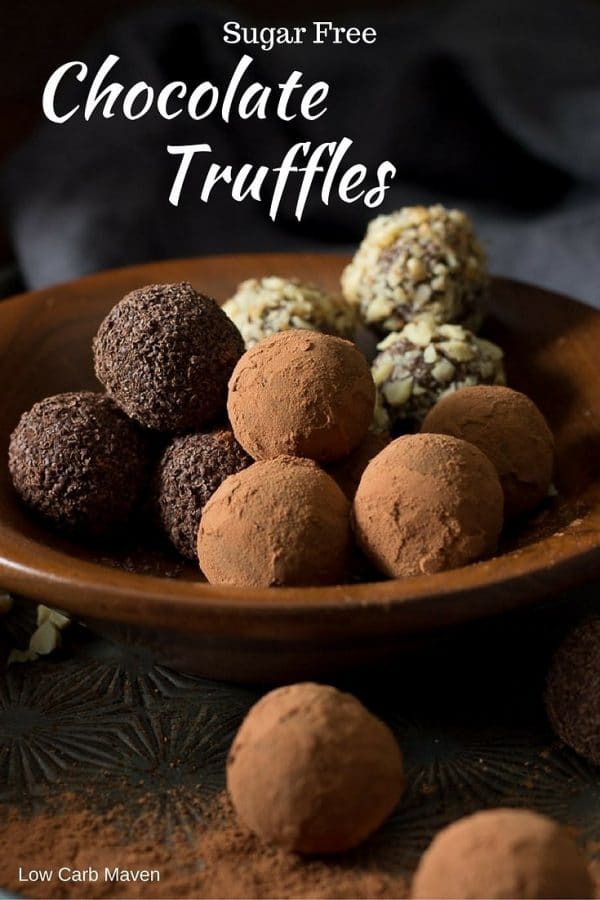 Yes, you can make delicious low carb chocolate truffles at home that are completely sugar free. My kids were so in love with these treats that they asked to do extra chores in exchange for an extra chocolate truffle! And, the promise of a chocolate truffle after homework induced my daughter do her math homework with a good attitude. #truestory
Chocolate truffles are a sensual delight. Just one bite of these spherically shaped silky smooth, creamy chocolate ganache confections can send me to chocolate heaven. Made of good quality chocolate and fresh heavy cream, chocolate truffles are easy enough for a novice to tackle. Traditionally, chocolate truffles are round or conical in shape, some say to resemble ground truffles – that most famed of culinary delicacies! They're typically coated in chocolate or rolled in nuts or seeds, unsweetened cocoa powder, coconut, or grated chocolate. Nowadays, many gourmet makers of chocolate truffles offer a variety of flavored ganache centers (hooray, booze!) or even build their truffles around nuts, jellied candies or liquid/cream centers.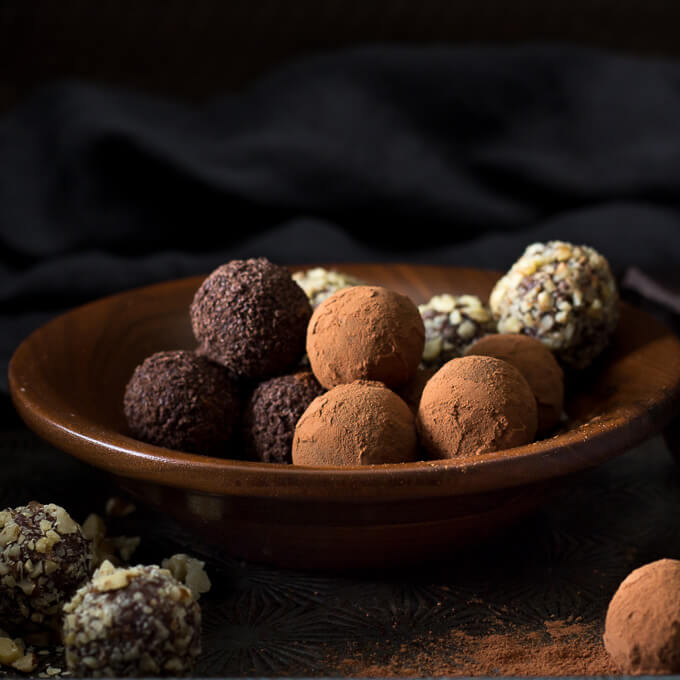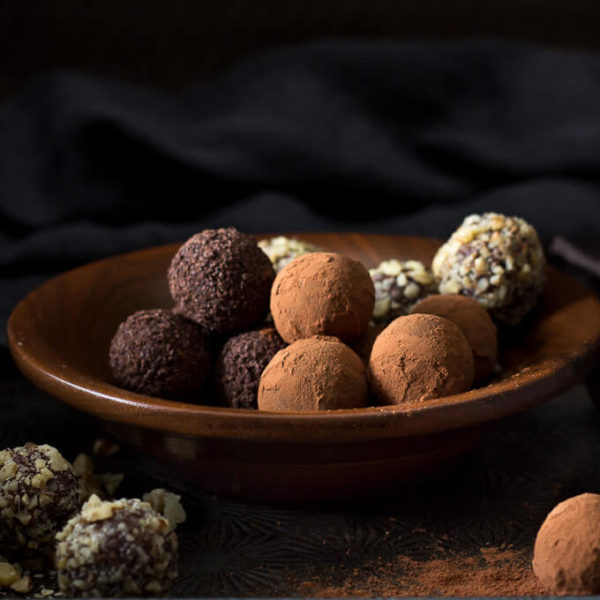 Probably the most popular name brand truffles sold in the US are Lindt Lindor Truffles which come in a variety of flavors. My mother buys them every Christmas to have displayed on her silver candy tray. This year I ordered her gourmet truffles – Godiva Dark Chocolate Truffles as an extra little treat. But, I'm thinking of ordering French truffles from William's Sonoma for a special family friend this year for Christmas. That way she can enjoy them New Year's Eve with her favorite champagne. Unfortunately, none of these options are sugar free or suitable for my low carb, ketogenic lifestyle.
How To Make Sugar Free Chocolate Truffles for a Low Carb Diet
Making your own homemade sugar free chocolate truffles is very easy. Only two ingredients are necessary: sugar free chocolate (or high percentage dark chocolate like Ghiradelli 86 %) and heavy cream. Vanilla is often added to mellow and enhance the chocolate flavor and some people may add a little butter to further temper the chocolate flavor or to achieve a desired consistency. Heavy cream is heated until hot and steamy (just under a boil) and then poured over chopped chocolate, or in this case Lily's Sugar Free Chocolate Chips. Let it sit for 5 minutes to soften the chocolate and then whisk together until smooth. At this time any flavorings can be added. Sometimes, ingredients are steeped with the cream as it heats to add an extra element of flavor. That's it.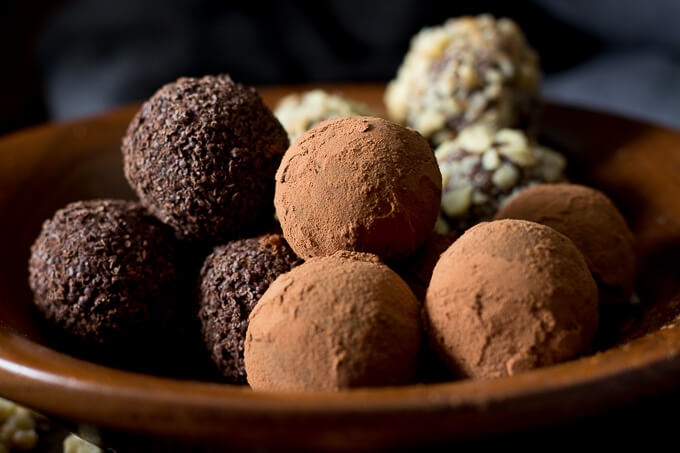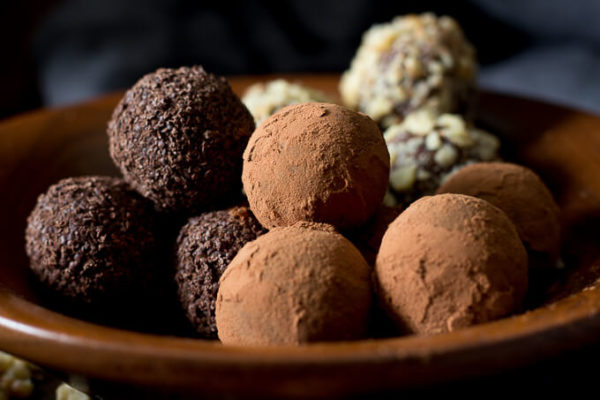 This recipe makes 22, 15 gram truffles (yes, I weighed mine because I'm that anal) which is more than enough to decorate the Low Carb Chocolate Truffle Cheesecake I'm sharing next week and still have 10 left over to share with your family or friends – or not. I suggest getting your kids hooked, then trying to milk extra chores or homework from them like I did! Enjoy.
If you are dairy free, here is great low carb coconut milk ganache. It can be used as truffles, poured over cakes or whipped to frost or fill layer cakes and birthday cakes.
Sugar Free Chocolate Truffles are 2 net carbs per each.
[This post and recipe contain affiliate links.]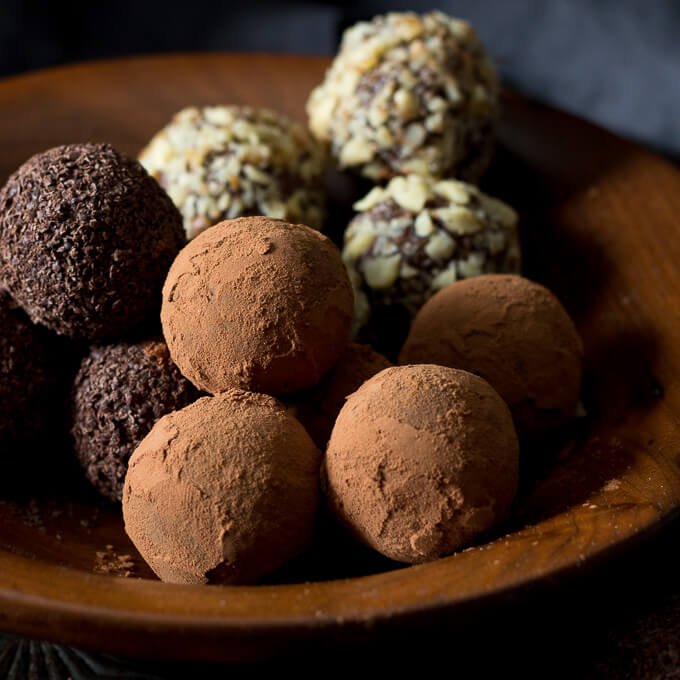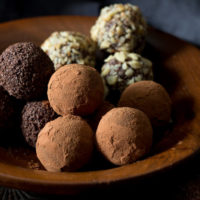 Sugar Free Chocolate Truffles
These sugar free chocolate truffles are silky smooth, sinfully rich and so simple to make – the perfect low carb chocolate dessert. 2 net carbs each.
Print
Pin
Rate
Instructions
Stovetop Method: Put the sugar free chocolate chips into a heat resistant glass bowl large enough to accommodate the chips and cream with room for stirring

.

Place the heavy cream, butter, and 4 tablespoons of sweetener into a small pot and heat over medium heat until small bubbles form around the sides of the pot and the cream is steamy. Stir to dissolve the sweetener, then pour the hot cream over the chocolate chips and let sit for 5 minutes. Stir gently with a whisk until smooth and fully incorporated. Add the vanilla and brandy and stir. Let cool then cover and refrigerate several hours until firm or over night.

Microwave Method: Pour the heavy cream into a microwave safe glass bowl big enough to accommodate the chocolate chips and cream with room for stirring. Add the 4 tablespoons of sweetener and stir to dissolve. Add the butter and sugar-free chocolate chips and microwave at full power for 1 minute. Let it sit for 5 minutes and stir gently with a whisk until fully incorporated. Add the vanilla and brandy and stir. Let cool, then cover and refrigerate several hours until firm or over night.

Shape: Put a piece of waxed paper on your work surface. Scoop the firm chocolate ganache from the bowl with a small dinner spoon or a melon baller and place onto the waxed paper. Continue until the ganache is gone. If the ganache is too firm, let it warm up for 30 minutes to 1 hour before scooping. I had to use a toothpick to help get the sticky chocolate ganache out of my melon baller. I'm sure a small cookie scoop would have been perfect.

Roll each portion of ganache into round "truffles" – I used my hands. If you don't like chocolate on your hands, use gloves or even sandwich bags on your hands. I weighed each portion (15 g) before rolling to make sure my truffles were the same. If your truffles are too warm and soft to shape, refrigerate them for 30 minutes or until they are firm enough to handle.

Finish: Once shaped, the truffles can be rolled in chopped nuts, grated chocolate, sesame seeds, coconut, sprinkles, crushed freeze-dried fruit, matcha powder, or unsweetened cocoa powder. Keep in an airtight container in the fridge, but serve and enjoy closer to room temperature.
Notes
Makes 22 (15 g) truffles
Serving Size = 1 chocolate truffle
Nutrition Facts
Sugar Free Chocolate Truffles
Amount Per Serving
Calories 58
Calories from Fat 45
% Daily Value*
Fat 5g8%
Cholesterol 10mg3%
Sodium 3mg0%
Potassium 5mg0%
Carbohydrates 7g2%
Protein 1g2%
Vitamin A 100IU2%
* Percent Daily Values are based on a 2000 calorie diet.
Nutrition
Calories:
58
kcal
|
Carbohydrates:
7
g
|
Protein:
1
g
|
Fat:
5
g
|
Saturated Fat:
3
g
|
Monounsaturated Fat:
1
g
|
Cholesterol:
10
mg
|
Sodium:
3
mg
|
Potassium:
5
mg
|
Fiber:
5
g
|
Vitamin A:
100
IU