A healthier low carb sugar free carrot cake cupcakes recipe with fluffy cream cheese frosting. Try these amazingly moist and flavorful low carb cupcakes.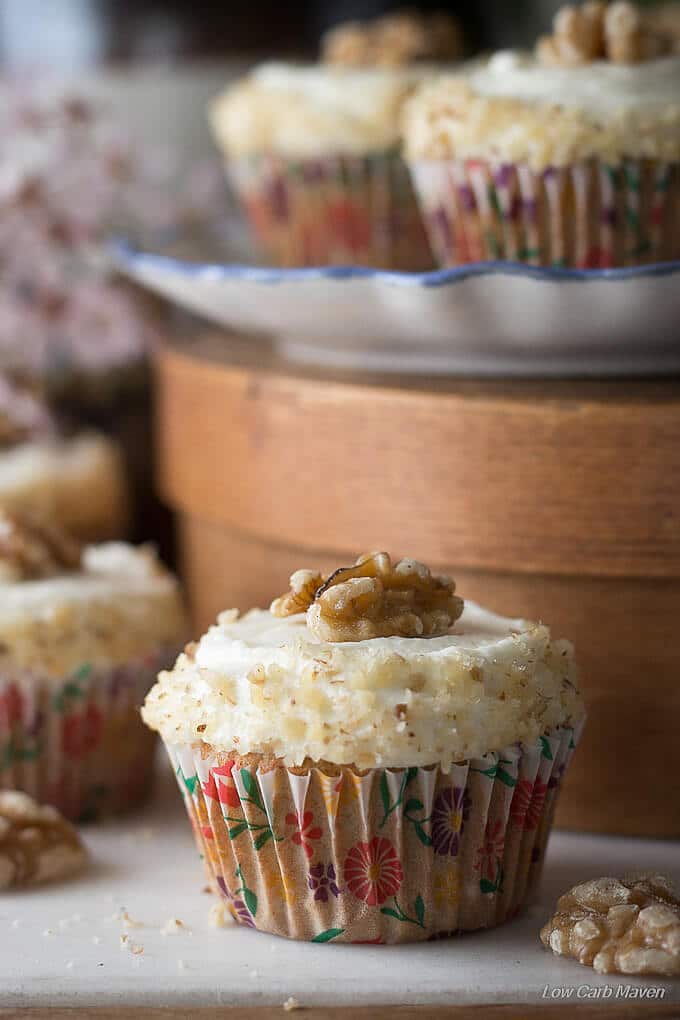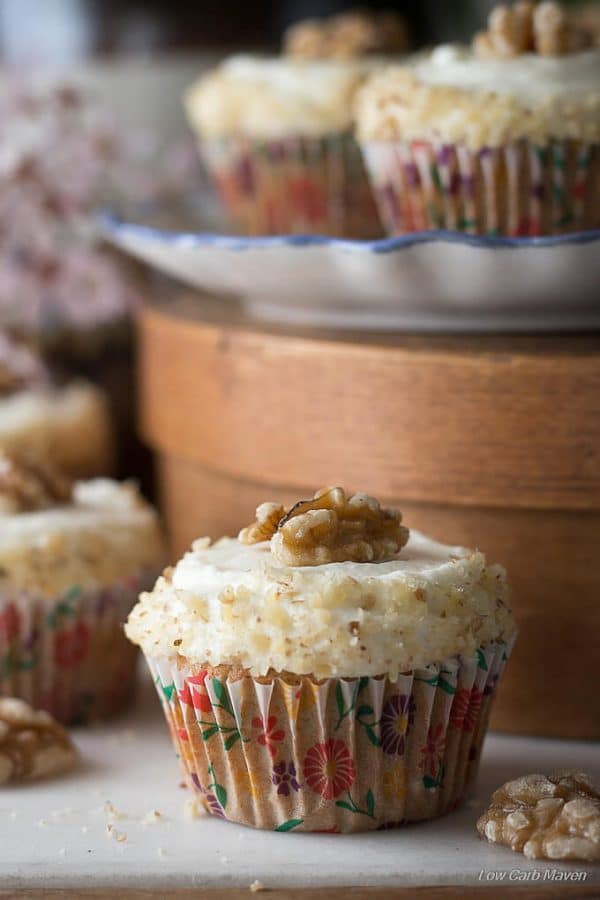 I love my healthy low carb carrot cake recipe with its silky cream cheese frosting, but sometimes it's fun to have a great carrot cake recipe in cupcake form – like these low carb sugar free carrot cake cupcakes which are also gluten free and grain free.
Easter is a few weeks away and it wouldn't be complete without a recipe for carrot cake in some form or another. My mother made a carrot cake every year. Her cake was filled with carrots, walnuts, and raisins then topped with cream cheese frosting. It was not light in texture, but rather substantial and full of flavor. It was one of my favorite desserts.
This Easter will be bitter sweet for me. Every year I take my kids to visit my folks in Texas for Easter/Spring Break. Sadly, my mother is in decline and has been in a hospital for the last 4 months – she won't be home. So, the kids and I will stay in California this year to celebrate Easter as a family with my husband – it's been many years since we've had one together.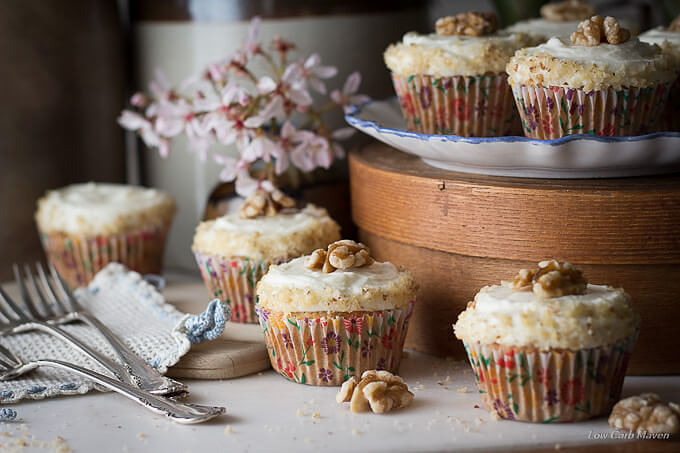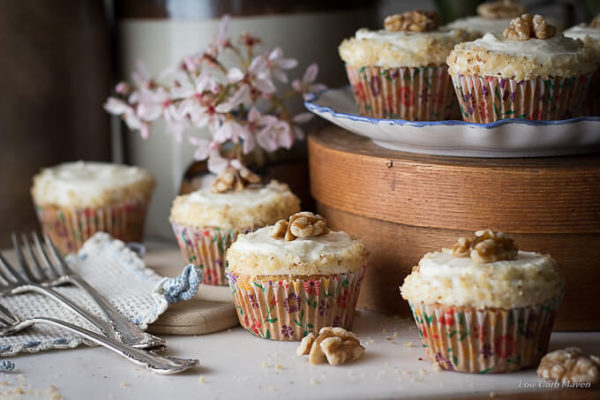 I plan to continue my mother's tradition and serve these sugar free carrot cake cupcakes this year. My family loves them and the flavor is quite amazing. I kept the carrots to a minimum to keep the carbs low and added just enough spice enhance the flavors.
The cupcakes are topped with a beautiful fluffy cream cheese frosting that stands up to sitting out on a table for several hours and pipes beautifully. It's also less tangy so kids like it better. Instead of putting the walnuts in the carrot cake cupcakes, I chopped the nuts very finely and rolled the edges of the cupcakes in the nuts. The top of the cupcakes were a bit plain, so I topped each with a walnut half.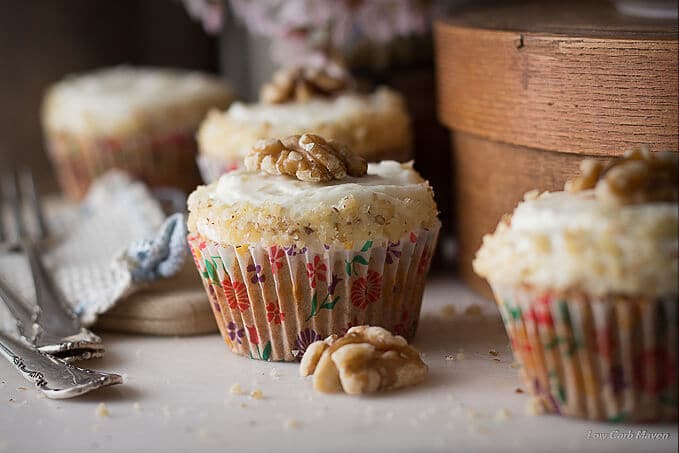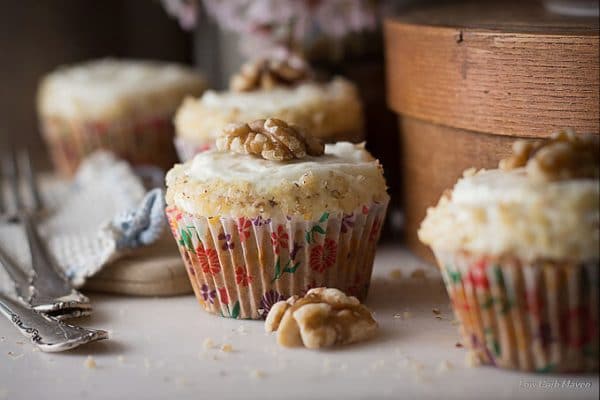 My healthy low carb carrot cake recipe is substantial in texture like mom's cake was, but this low carb sugar free carrot cake cupcakes recipe results in fairly light cupcake. I kept the shredded coconut in the recipe because I like the extra texture it adds, but I completely changed the technique.
While many causal low carb grain free cakes are what I would consider "dump cakes", using a traditional cake method for this recipe results in a much finer texture. Cream the butter and sweetener together – it does make a difference. The act of creaming the ingredients introduces millions of micro-bubbles producing an overall lighter baked good.
I think you'll agree that the end result is worth the little bit of extra work. I hope you enjoy these carrot cake cupcakes as much as we did.
Here's a recipe for a more traditional low carb sugar free cream cheese frosting if you would prefer this to the fluffy cream cheese frosting recipe.
Each Sugar Free Carrot Cake Cupcakes is 4 net carbs
[This post and recipe may contain affiliate links.]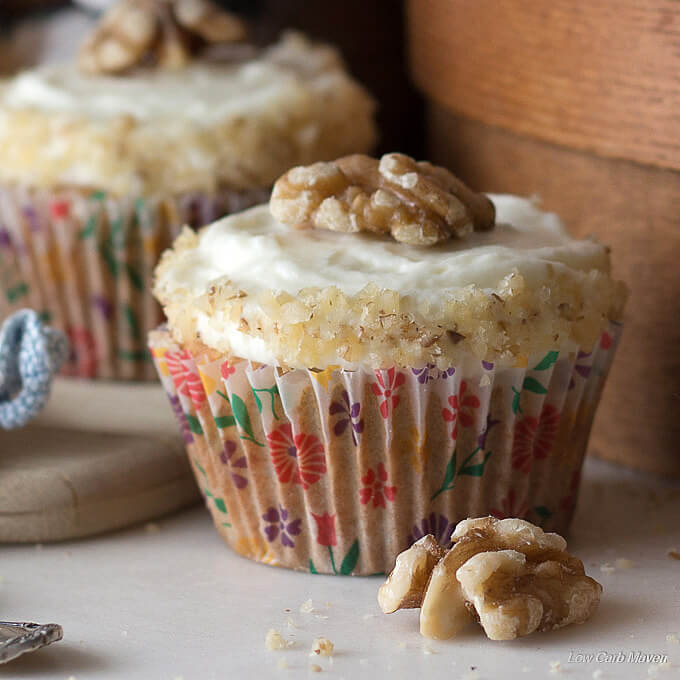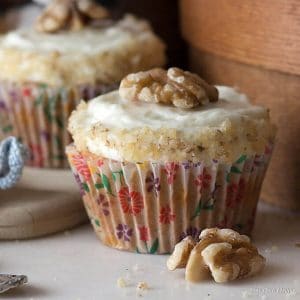 Sugar Free Carrot Cake Cupcakes Recipe
A healthier low carb sugar free carrot cake cupcakes recipe with fluffy cream cheese frosting. Try these amazingly moist and flavorful low carb cupcakes.
Print
Pin
Rate
Ingredients
Cream Together
4

tbsp

butter, softened

1/3

cup

Low carb brown sugar

(don't have this? See note below)

1/2

tsp

vanilla
Wet Ingredients
3

large

eggs

2

tbsp

heavy cream

2

ounces

finely grated carrot

(about 1 medium)
Fluffy Cream Cheese Frosting
4

ounces

butter

softened

4

ounces

cream cheese

softened

1/2

cup

heavy cream

whipped very stiffly (4 oz)

1/3

cup

low carb powdered sugar

(or Swerve Confectioners)

1

tsp

vanilla
Instructions
Preparation: Preheat oven to 350 degrees and place the rack to the lower third of the oven. Line 9 cupcakes wells with liners. Measure dry ingredients into a small bowl and whisk to break up any lumps. Finely grate the carrot.

Method: Put the softened butter, brown sugar substitute, and vanilla in a medium bowl and mix with a hand mixer until light and fluffy. Add 1 egg and beat again until the mixture is thick, light and fluffy. 

Add 1/3 of the dry ingredients and mix thoroughly, scraping down the bowl.

Add another egg and mix until incorporated and the batter is light and fluffy. Continue alternating the dry and wet ingredients, scraping the bowl after the dry additions and keeping the texture nice and light. Add the carrot and heavy cream at the very end. Mix until incorporated.

(The batter should be thick but easy to work with. If it's not, add 1-2 more tbsps of heavy cream, but work quickly.)

Bake: Get the batter into the cupcake liners before it thickens up. Evenly divide the batter between the muffin liners and place into the oven. Turn the oven to 400 and bake for 5 minutes to get the batter rising. Turn the oven back to 350 and bake for 20 minutes or until the tops are firm when lightly pressed with a finger, but still sound moist. Remove and let cook completely before frosting.

Fluffy Cream Cheese Frosting: Whip the butter and cream cheese together with the vanilla extract and the sweetener. Whip the heavy cream until it is very stiff. Fold the whipped cream into the cream cheese mixture 1/3 at a time. Frost the cupcakes and refrigerate or serve.
Nutrition
Serving:
1
cupcake
|
Calories:
370
kcal
|
Carbohydrates:
7
g
|
Protein:
8
g
|
Fat:
35
g
|
Fiber:
3
g