Smoky stuffed poblano peppers with ground beef pack tons of zesty southwestern flavor into a low carb take on stuffed peppers. Cauliflower rice easily stands in for regular rice in this bold stuffed poblano recipe.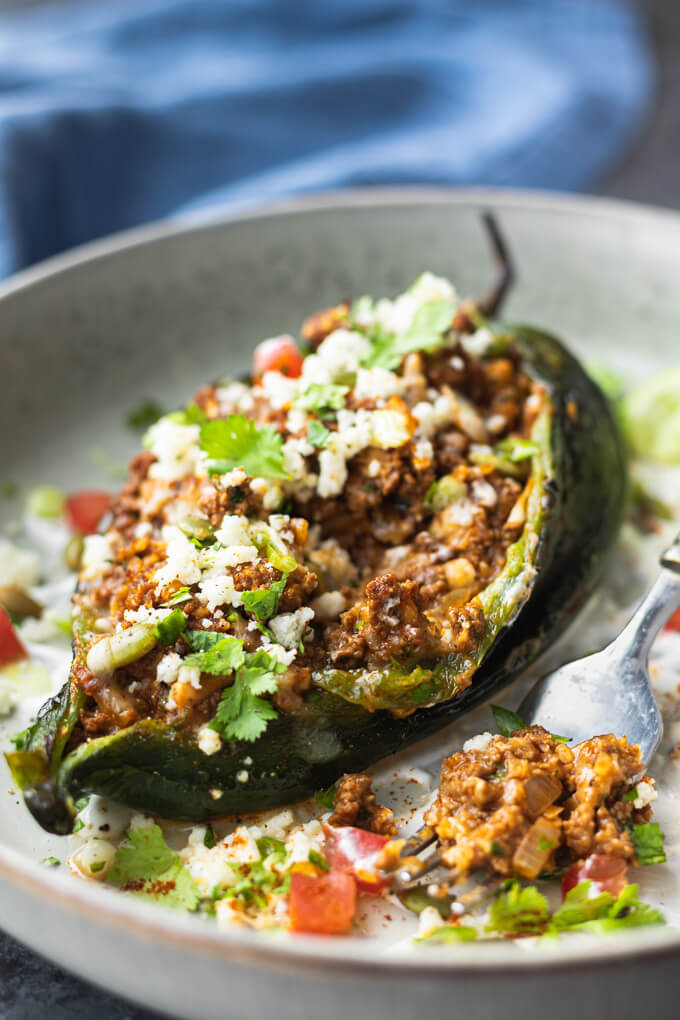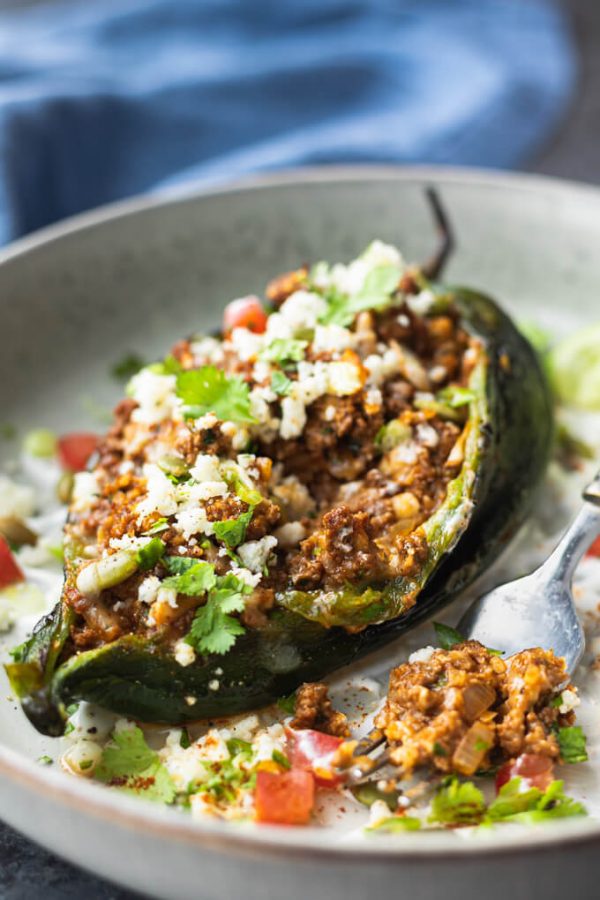 THIS POST INCLUDES AFFILIATE LINKS TO SHARE THE THINGS I LOVE.
I love southwestern flavors with bold spice blends and zesty, smoky tastes. I've never met a taco filling I didn't like. I'm also a big fan of stuffed peppers and like to stuff them with fun things like these Sloppy Joe stuffed peppers or Philly Cheesesteak stuffed peppers.
This recipe for stuffed poblano peppers combine the a tasty ground beef filing with smoky poblano peppers for another tasty take on stuffed peppers. I keep it low carb by substituting cauliflower rice for white rice in the filling of these stuffed poblanos.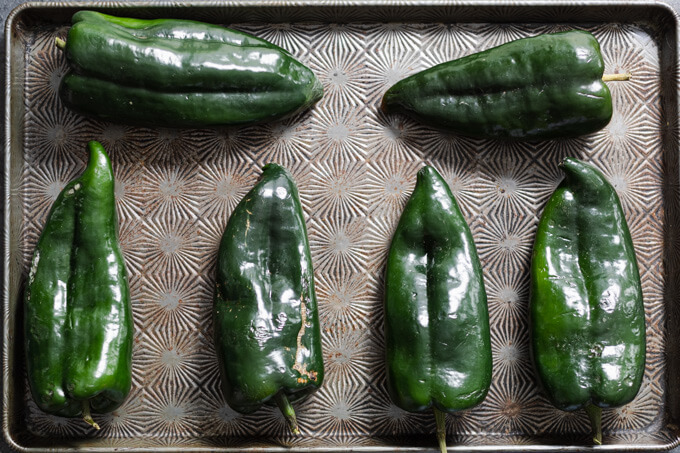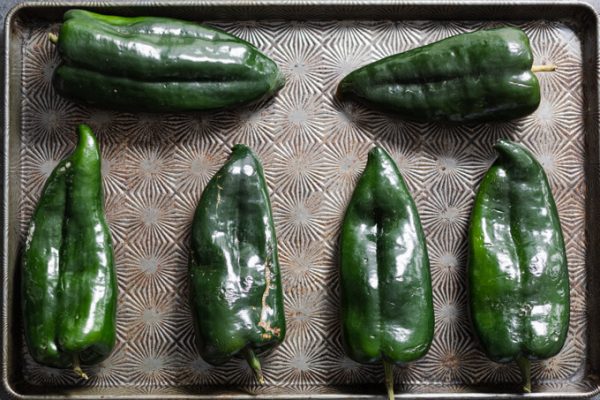 What is a Poblano Pepper?
A poblano pepper is a fairly mild chili pepper which originates from Pueblo, Mexico. They are traditionally prepared as chile rellenos. The peppers are charred and peeled, filled with cheese, dipped in an egg batter, fried, and served with a tomato sauce. The dried form of the poblano, the Ancho chile, is used in the preparation of red sauces like mole.
Poblano peppers are fantastic for a low carb lifestyle. Not only do they have a ton of flavor, but one average sized pepper only has 6 grams of total carbohydrates. Plus they have many uses in the kitchen.
In cooking, you can use poblano peppers for:
You can stuff them with a variety of fillings. I particularly like these stuffed poblano peppers with ground beef, but you could stuff them with any low carb filling of your choice.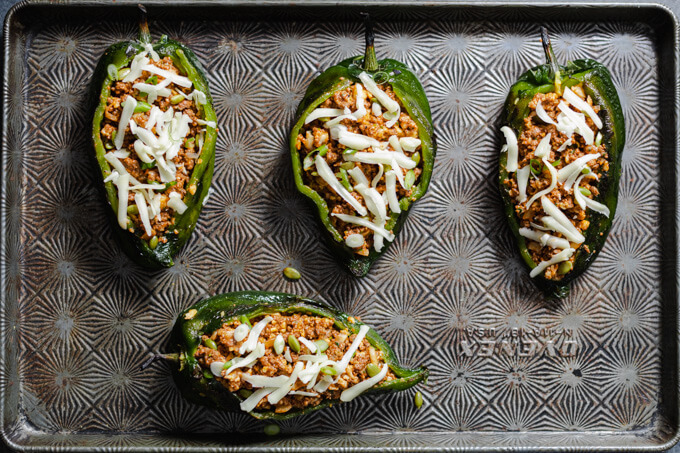 Are Poblano Peppers Hot?
Poblano peppers are mild, however their heat can vary. Even two poblano peppers from the same plant can have different levels of heat.
Most poblano peppers fall between 1000 – 1500 scoville units. Contrast that with the jalapeno pepper which is between 2500-5000 Scoville units. Most of the pepper's heat is found in the white pithy veins and seeds. So if you like your food mild, remove the white veins and seeds by scraping them out with a spoon (when raw) or using your fingers or a small pairing knife (if cooked). If you like things hot, leave them in.
What is a Substitute For the Poblano Pepper?
While you can find poblano peppers in most large grocery stores in urban areas and areas that border Mexico, if you can't find them in your local grocer you can substitute an Anaheim pepper. They are a little smaller, lighter in color and can be milder to hotter than a poblano at 500-2500 scoville units. You can even use a green bell pepper in a pinch, but you'll be missing that wonderful smoky flavor.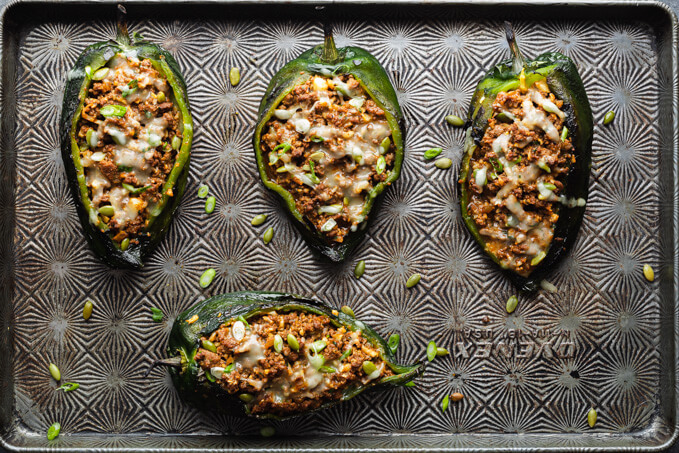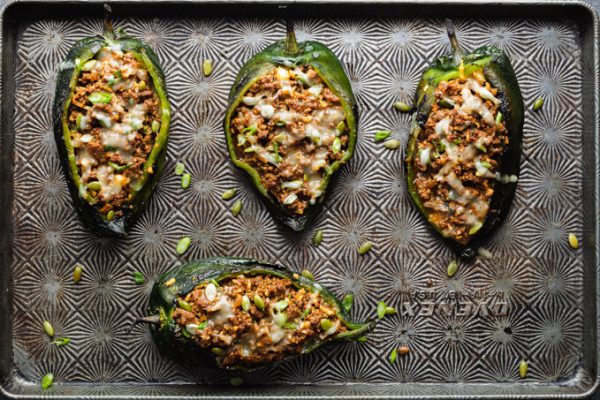 Tips to Make Low Carb Stuffed Poblano Peppers with Ground Beef
Poblano peppers have a tough outer skin. It's traditional to char and remove this skin before using the pepper in recipes. This results in a wonderfully complex smoky flavor – it's also ensures a tender pepper. I see lots of bloggers skip this step, but I believe it's important. But I'm willing to meet people half way.
I always blister and peel my poblano peppers, but I do know that not everyone is into the extra step. That's okay. I've made it easier for you by removing the skin from one side. The pepper still gets that smoky flavor, the top/sides are tender and the underside cooks completely on the pan.
For this recipe, I popped them under a very hot broiler for a few minutes to char. Alternately, char the peppers over a gas flame or on a hot grill. I found that blackening just one side under the broiler was enough.
Charring one side saved time and still provided the same delicious smoky flavor I love so much. Plus, the resulting peppers were tender without becoming too delicate. This helped keep the integrity of the pepper so they didn't tear apart while the veins and seeds were removed.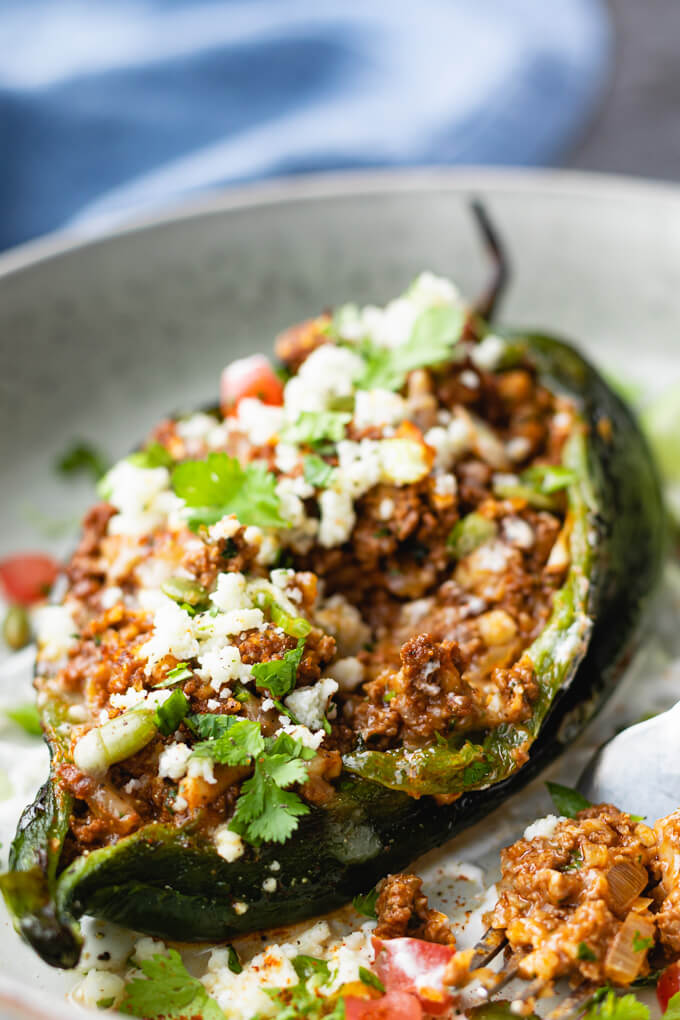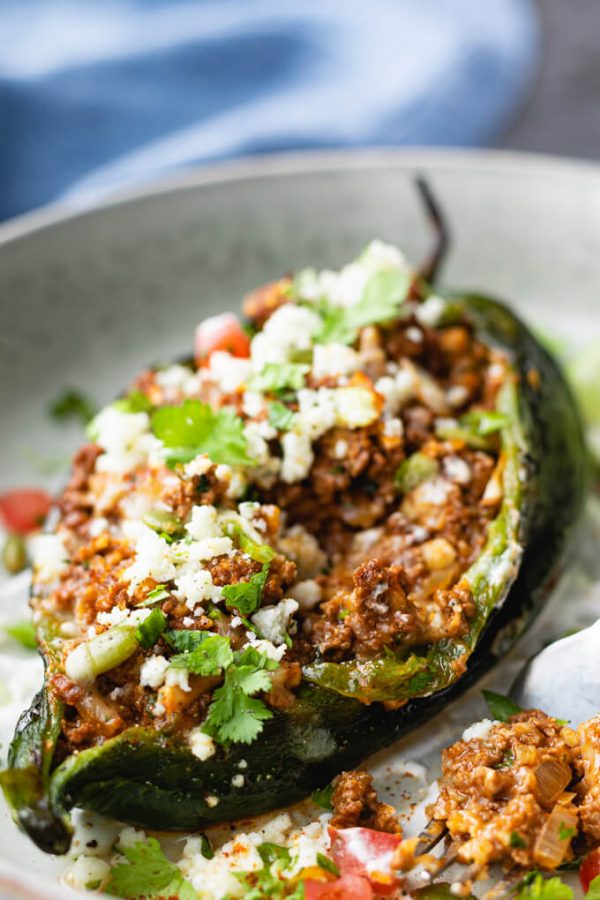 After charring the peppers under the broiler, cover them loosely with a piece of foil and let them steam. Then, use a small paring knife to slit the peppers vertically 1/4-inch from the top to 1/4-inch to the bottom. Remove the lighter colored veins and seeds (2-3 veins per pepper).
While the peppers rest, saute the onion, garlic, and ground beef on the stove top. When the ground beef is cooked through, add your seasonings, tomato paste, and beef broth. I use a blend of spices to create a flavorful, bold filling. The spices include cumin, pure chile powder and a pinch of cinnamon.
After the filling cools, stir the cauliflower rice and cheese into the beef mixture. Then spoon the filling into the prepared peppers and top the peppers with more cheese. Bake the peppers for 15 minutes at 350 F.
Serve them immediately. They are deliciously perfect as is or you can top them with any number of your favorite toppings including sour cream, pumpkin seeds, fresh cilantro, or salsa.
LOW CARB TIP: Be careful buying chili powder. I do not buy my chile powder in the spice section of the grocery store. The chili powder in this section is not pure chile powder but blended with sugar and other spices. Instead, I buy a small packets of pure California chile powder and pure New Mexican chile powder. It's found in a section of my grocery store featuring small amounts of very affordable spices packaged in plastic bags. If your grocer doesn't carry pure ground chile powder, you can also try this chile powder that I found on Amazon.
Note: A nasty gentleman called this a BS recipe and said that my peppers weren't blistered and peeled. The peppers shown were made just as I describe in the recipe and they are delicious.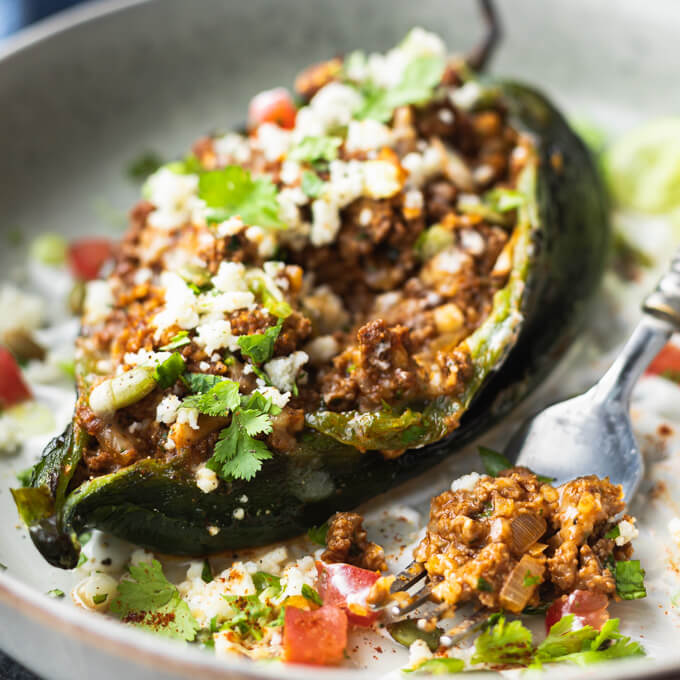 Stuffed Poblano Peppers with Mexican Ground Beef
Smokey poblano peppers stuffed with seasoned ground beef, cauliflower rice, cilantro, and cheese. Zesty southwest flavor in every bite! Low Carb/ Keto
Print
Pin
Rate
Ingredients
4

Poblano peppers

(about 8 oz each)

1

pound

Lean ground beef

1

tbsp

Olive oil

1/2

cup

Diced onion

2

cloves

Garlic, chopped

2

tbsp

Tomato paste

1

tbsp

Pure ground chile powder

1 1/2

tsp

Ground cumin

1

cup

Beef broth

(or 1 tsp beef base and 1 cup water)

1

small pinch

Cinnamon

1

cup

Cauliflower rice, cooked

1 1/2

cup

Monterey Jack Cheese, grated

(6 oz)

2

tbsp

Minced cilantro

(or 1 tbsp minced fresh oregano)

Salt and pepper to taste
For Topping
Cilantro

Cheese

Pumpkin seeds

Salsa

Sour cream

Lime wedges
Instructions
Preparation:

Turn broiler on high. Dry poblano peppers with a paper towel and place on a roasting pan in a single layer. Blacken or char the top of the peppers for 4-7 minutes depending on your broiler. Cover loosely with a piece of foil and set aside.

Dice the onion, chop the garlic, and mince the cilantro. Set them aside. Open the can of tomato paste. Grate the cheese.
Method:
Place oil, onion, and garlic in a 10 inch pan over medium heat and saute 1-2 minutes until the onions begins to soften. Add the ground beef and break up with a wooden spatula until finely textured and cooked through.

Add tomato paste, chile powder, cumin, cinnamon and beef broth, stirring until combined. Place the foil from the peppers loosely over the pan and simmer until most of the liquid had been absorbed. Stir in the cilantro, adjust seasoning and let cool.

Meanwhile, peel the charred skin from the poblano peppers. With a small, sharp knife, make a vertical slit from the tops of the peppers to the tips. Make sure to start and end the slits about 1/4 inch from the top and bottom. Remove the light colored membranes (usually 2-3 per pepper) on the inside of the peppers to reduce the heat – or leave them in if you like things spicy. Remove the seeds with a small spoon. Transfer peppers to a small rimmed baking sheet or a large baking dish.

Preheat oven to 350 F and place rack to middle position.

Stir the cauliflower rice and 1 cup of cheese into the cooled beef mixture.
Stuff the poblanos. Top with the remaining cheese.

Bake for 15 minutes or until the filling is hot and the cheese on top melts. Hit it with a squeeze of lime to add a pop of brightness.


Serves 4 with one pepper per serving. 7 net carbs per pepper/serving.

Serve with a small green salad (low carb/keto) or chips and salsa. Refrigerate any leftovers and reheat in a microwave or covered with foil in the oven at 350 F until center is hot.
Nutrition
Calories:
395
kcal
|
Carbohydrates:
11.6
g
|
Protein:
35.6
g
|
Fat:
23.6
g
|
Cholesterol:
110
mg
|
Sodium:
635
mg
|
Fiber:
3.6
g
|
Sugar:
5.2
g