A staple in Southern California Taco Shops, Spicy Pickled Jalapeno Carrots are a nice accompaniment to Mexican Food or any time you want a little kick with your meal.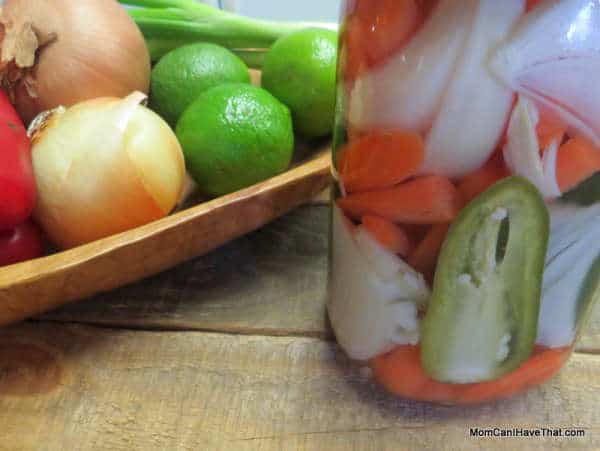 The first time I had spicy pickled carrots was while I was working at a trade school in San Diego. I was Interpreting for Deaf students in an Auto Mechanic and Upholstery Shop which was associated with a local college. I learned a lot about cars while working there, and several years later, I enrolled myself in the Upholstery Shop, for fun.
Work at the school began at 7:00 in the morning and finished at 2:00 in the afternoon, with an hour off for lunch. I usually brought my own lunch to work, but my interpreting partner and I began to notice that some of the students would come back to the school with great looking Mexican food. We asked around and decided to follow some students to lunch one day. They led us to an old four door sedan in an abandoned parking lot, across from the school. As we neared the car, an older Hispanic man with an easy smile, opened the trunk. In it, sat three large beat-up coolers and a large plastic jar filled with carrots, onions and jalapenos. Although I don't remember exactly what kind of burritos and tortas he offered from the coolers, I do remember that my lunch was affordable and delicious. One day, I asked the man if he made the food? He replied that he and his wife prepared the food early in the mornings, then he brought it in the coolers to sell around the city. I visited the nice man selling homemade food from his trunk, several times during the semester. He always served a few spicy pickled carrots with his foil wrapped burritos and tortas. Then, one day, he wasn't there anymore. He was probably busted for not having a permit or perhaps he decided to sell in a different part of the city. After that, we purchased burritos and tacos from the "Roach Coach" that stopped at our block every day around noon. "Roach Coach" is a derogatory term we used to refer to Food Trucks before they became a part of pop culture and gourmet.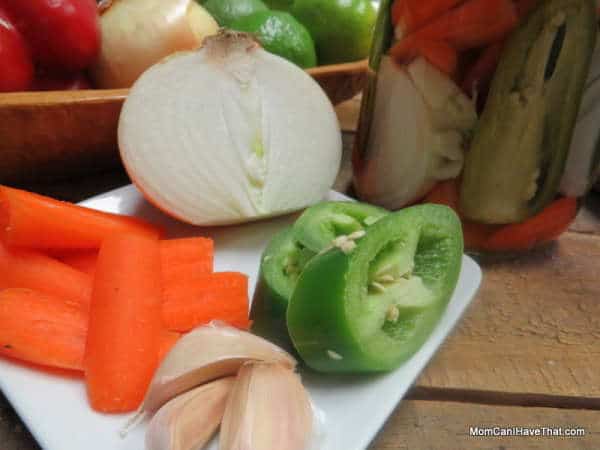 These spicy carrots can often be found on the salsa bars in local taco shops. They are typically part of a mixture of jalapenos, onions and carrots, to be spooned over your food or eaten on the side. Spicy Pickled Jalapeno Carrots are addictive. We make sure to always have some on hand! They are so easy to make you won't believe it. Don't throw the vinegar away when you've finished your vegetables, you can use it to pickle more spicy jalapeno carrots or use it in your salsa to give it a nice flavor. The secret ingredient in my mom's salsa fresca was always a little juice from the pickled jalapeno jar.
Try Spicy Pickled Jalapeno Carrots with Pulled Pork Soft Tacos With Sesame Slaw or Faux Mole Turkey Chalupas.
A nice jar of these would a great homemade hostess gift for friends who enjoy spicy things.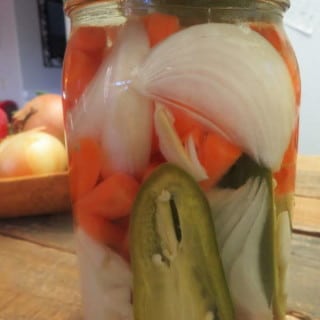 Spicy Pickled Jalapeno Carrots
A staple in Southern California Taco Shops, Spicy Pickled Jalapeno Carrots are a nice accompaniment to Mexican Food or any time you want a little kick with your meal.
Print
Pin
Rate
Ingredients
1

large mason jar

white vinegar

carrots

2

large jalapenos

1/2

onion

several gloves of garlic
Instructions
Wash the vegetables. Peel and cut the carrots into the shape you want. Cut the onion into wedges. Peel and smash the garlic cloves. Cut the jalapenos in half or into slices.

Arrange the vegetables in the jar. Pour the vinegar all the way up to the top and tap out any air bubbles.

Leave the jar on the counter over night, then refrigerate.

The pickled carrots will become spicy in a few days.