Make delicious southern style green beans with bacon, ham, smoked turkey, pulled pork, or sausage. Cooked in broth until tender, they are a comfort food staple!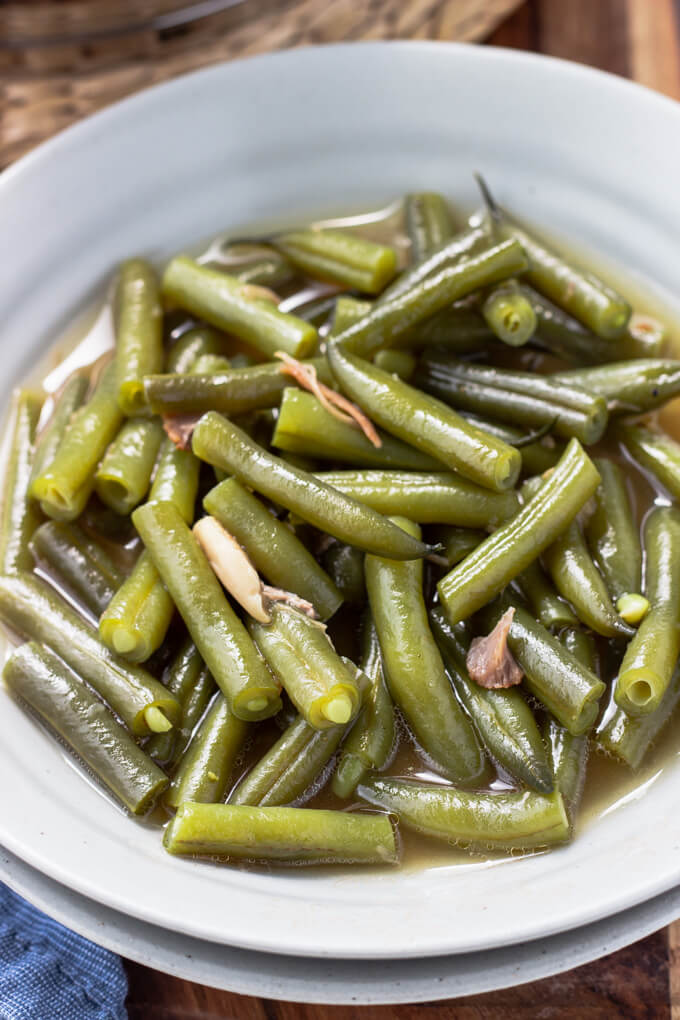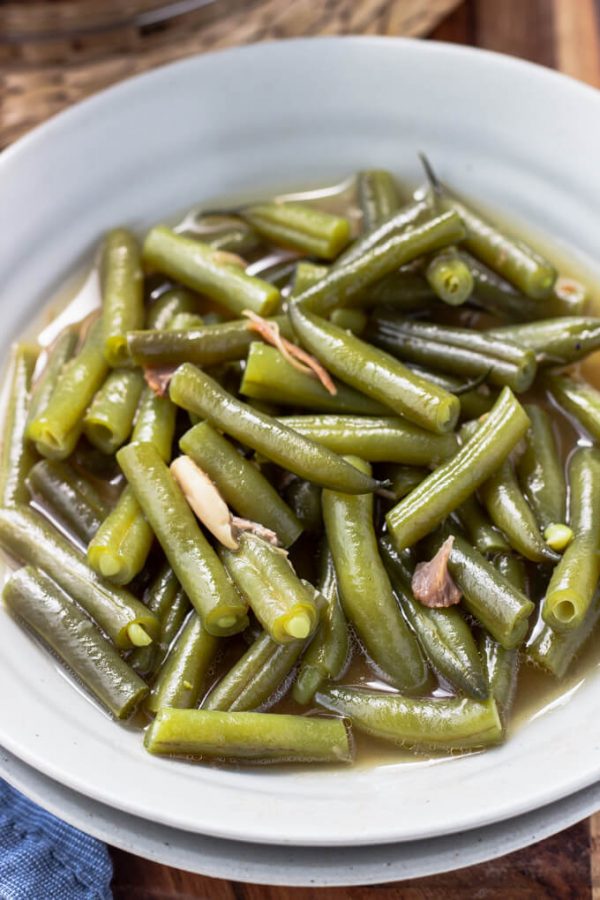 Want to know how to make the best green beans ever? Make southern green beans! It's as easy as simmering fresh cut green beans in broth with bacon and onions until tender.
Southern green beans are the backbone of a good southern comfort food meal. You'll find them alongside fried chicken, smoked chicken (or smoked turkey), ham, pork chops, pulled pork, chicken fried steak, or a nice BBQ brisket.
What are Southern Green Beans?
Southern green beans are a flavorful side dish of fresh green beans simmered in a flavorful broth, with or without meat, until tender. Add onions and/or garlic for extra flavor or even a splash of vinegar and a hint of sweetener.
While it's traditional to cook southern green beans with salt pork, modern cooks use a variety of smoked and flavorful meats. What's important is that the green beans are simmered until tender and have lost their bright green color. What they lack in visual appeal they more than make up for in flavor.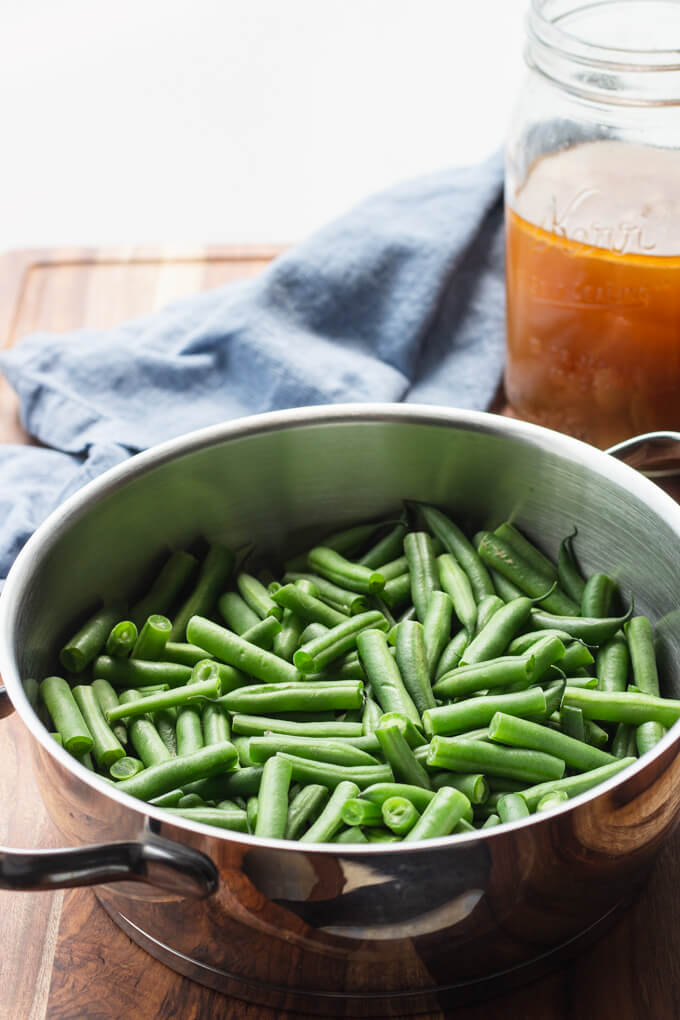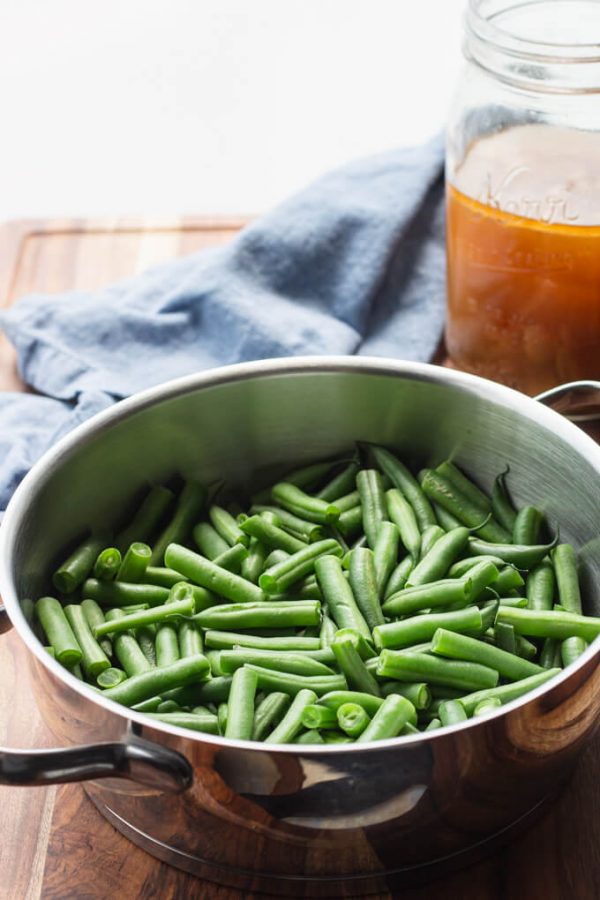 Mom cooked her southern green beans with a piece of leftover ham. That is still one of my favorite ways to prepare them, but I also use bacon or even pulled pork. You can even cook green beans with smoked turkey and chicken broth to achieve a nice smoky flavor.
NOTE: I cooked the green beans shown with the leftover pot liquor from my crock pot pulled pork as well as a few pieces of the pork. They were absolutely delicious! But you don't have to make pulled pork to enjoy southern green beans!
How to prepare fresh green beans?
My grandmother used to spend considerable time snapping off the stem and tail ends from green beans. I've found that it's time consuming and unnecessary. I just wash the beans and cut them.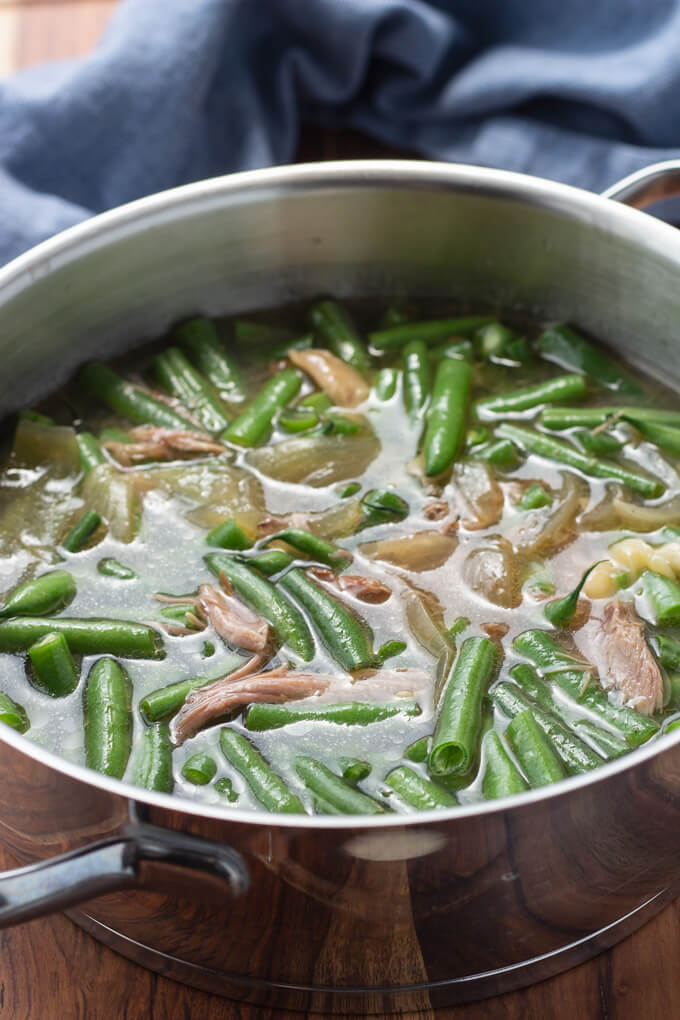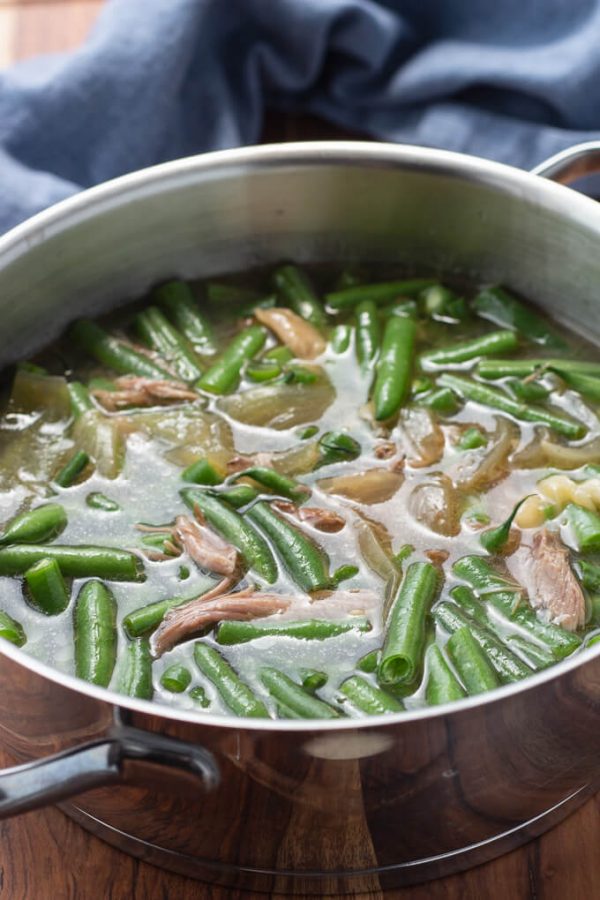 How to trim green beans?
All you need is a knife and a cutting board to trim green beans. Wash the beans. Line-up a handful the beans on the cutting board facing the same direction. Now, cut or snip into the lengths you need for your recipe.
CUT. Line up the tails and cut on the bias (on an angle) or straight down. Cut 1 inch pieces for bite size green beans or longer for a pretty presentation. Leave the tails but discard the stem ends.
SNIP. Alternately, hold a small handful of beans in your hand. Line up the beans so they are even and snip with strong kitchen shears. Leave the tails on the beans but discard the stems.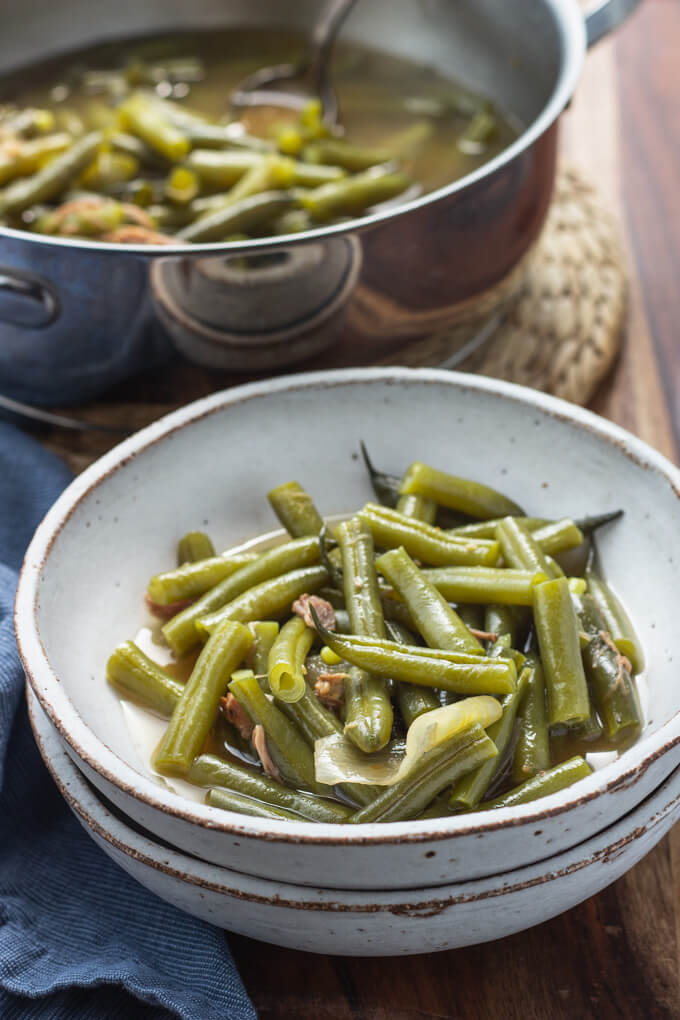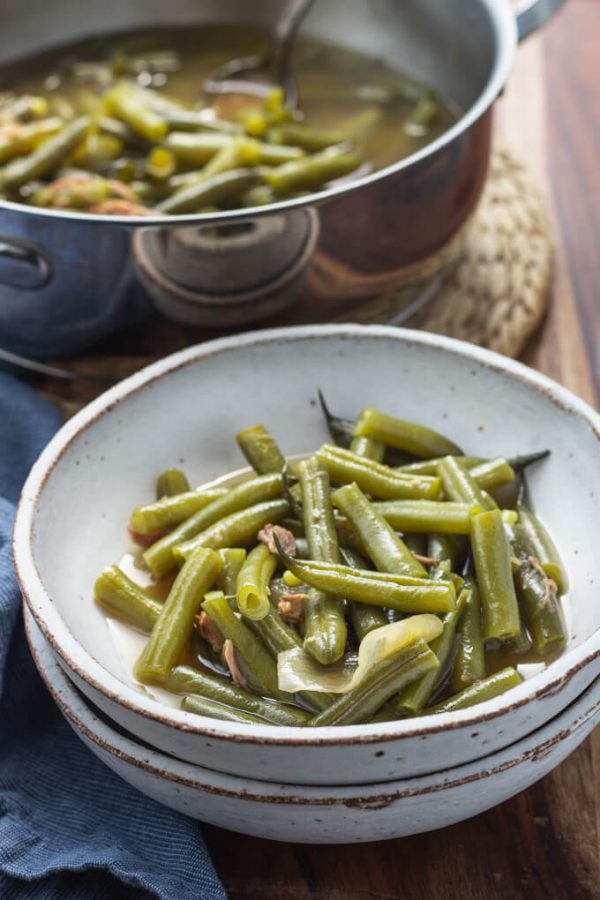 How to boil fresh green beans?
Place green beans in pot and add enough liquid to cover the beans. Salted water or broth will do. Bring up to a boil lower to a simmer and cook until the beans are crisp-tender or tender per your preference. Southern green beans are cooked until very tender 1-3 hours depending on the amount of beans.
To use leftover ham in your southern green beans, brown the ham in the pot with a little bacon grease, butter, or oil. If using bacon, cook until crispy then proceed with the recipe. If using smoked turkey or pulled pork, try using some of the harder cooked ends so they soften up in the cooking liquid.
After choosing and preparing your meat, add the onions/garlic and until tender. Then add the green beans and liquid to the pot, just covering the green beans. Bring to a boil and then turn down and simmer until tender when pierced with a fork or knife. Serve with the juices.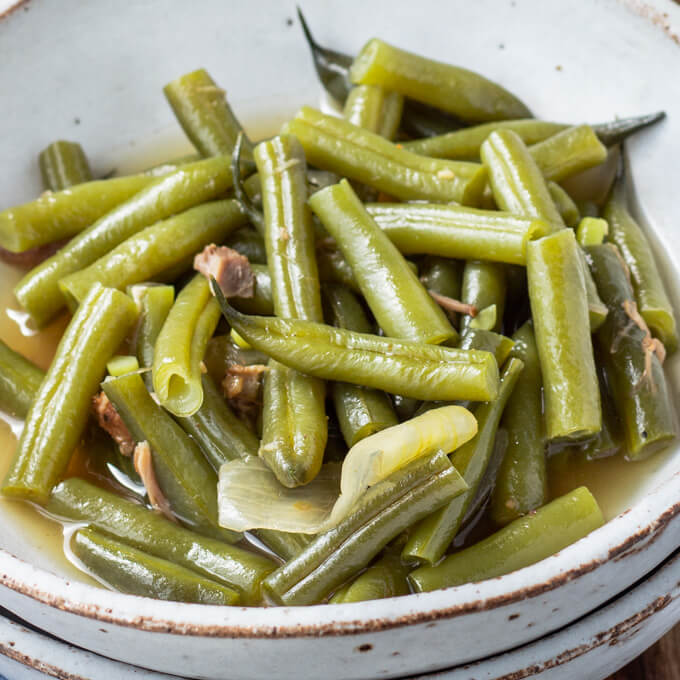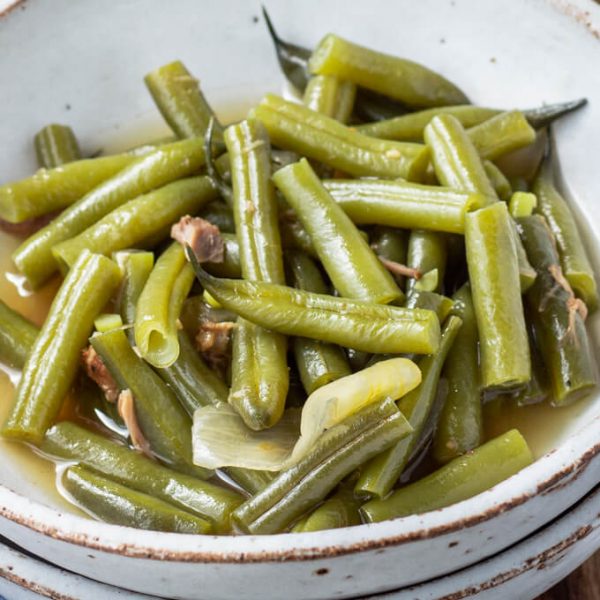 Variations:
Some people cook the beans for hours until much of the liquid has been evaporated.
Some recipes call to add a teaspoon of white or red vinegar to each pound of beans before they cook
Adding a small amount of white or red vinegar after cooking will add a nice acidity to the beans
You can balance the acidity from vinegar with a little sweetener
Simmering the bacon with the beans will make the bacon soft; add the bacon after cooking to keep it crispy
Cooking Times
The total amount of cooking time required depend son how many beans you are cooking, as well as the shape of the pot. A wider shallower pot will cook more quickly than a narrow tall pot. Also, a pot densely packed with beans will take more time. Traditionally, southern green beans are cooked for 1-3 hours until they have lost most of their green color and are very tender. I prefer my beans a little less cooked as reflected in my photos.
Some of my favorite green bean recipes: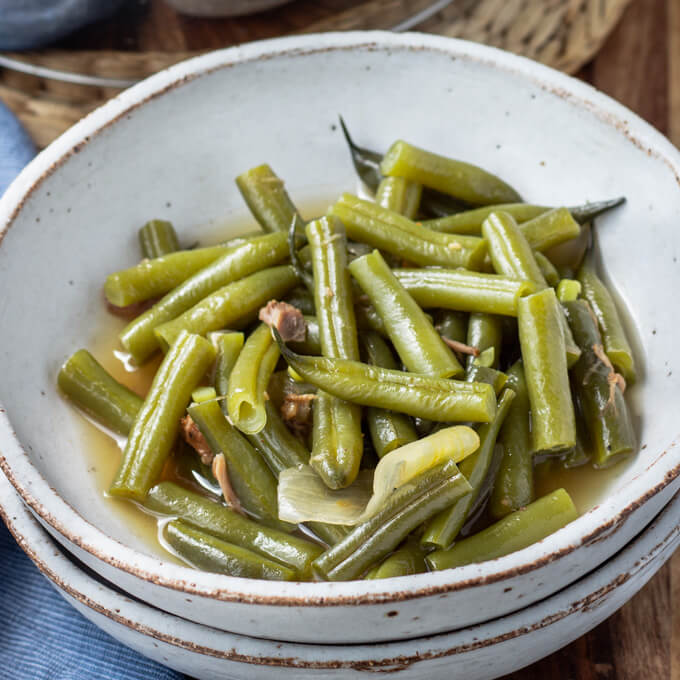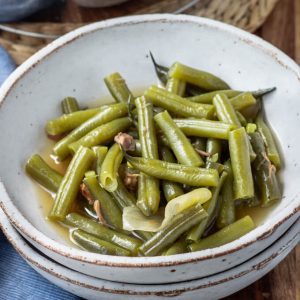 Southern Green Beans
southern style green beans with bacon, ham, smoked turkey, pulled pork, or sausage.
Print
Pin
Rate
Ingredients
1

pound

fresh green beans, trimmed

1/4

cup

onion, chopped

(1 oz)

2

cloves

garlic, sliced

4

slices

thick-cut bacon

(or 3 oz diced ham, pulled pork, smoked sausage or smoked turkey

1

whole

bay leaf

chicken or ham broth to cover beans

salt and pepper to taste
Additions:
1-2

tsp

white or red vinegar per pound of beans

sweetener to taste
Instructions
Dice bacon and cook in the pot over medium heat until crispy, about 6 minutes. If using ham, add 1 tablespoon of bacon grease or oil to the pot and brown the ham. If using smoked sausage, slice or dice the sausage and brown in 1 tablespoon bacon grease or oil. If using smoked turkey, skip this step but add 1 tbsp of bacon grease or oil to the pot for the onions.

Wash and trim beans, chop the onions, and slice the garlic while the bacon is cooking. If you like crispy bacon, remove bacon now, otherwise leave it in the pot to cook with the beans.

Add the onions and bay leaf to the pot and saute until the onions have softened. Add the garlic and beans and add enough broth to just cover the beans. (If you like your beans with vinegar and a little sugar, add it now. I go by taste.)

Bring the pot up to a boil, then turn it down to a simmer and simmer the beans for 40 minutes up to 1 1/2 hours for a pound of beans. I like my beans more firm, so I cook for about 40 minutes or until the beans are tender when pierced with a fork. Traditional southern green beans are cooked for a long time!

Serves 4 at 5 net carbs each.
Nutrition
Calories:
148
kcal
|
Carbohydrates:
9.05
g
|
Protein:
5.68
g
|
Fat:
10
g
|
Cholesterol:
14
mg
|
Sodium:
357
mg
|
Fiber:
4
g
|
Sugar:
1.9
g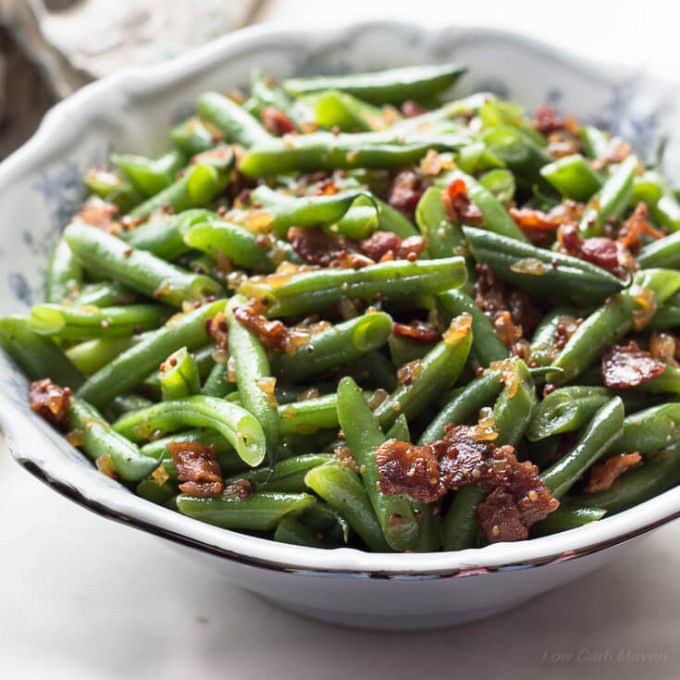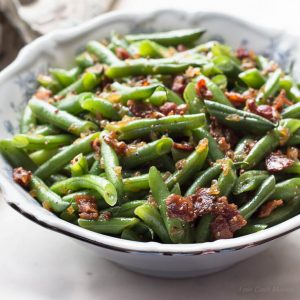 Sweet and Sour German Green Beans