A festive Sour Cream Cake topped with silky whipped cream cheese frosting. Fresh strawberries and blueberries make this beautiful low carb dessert a standout!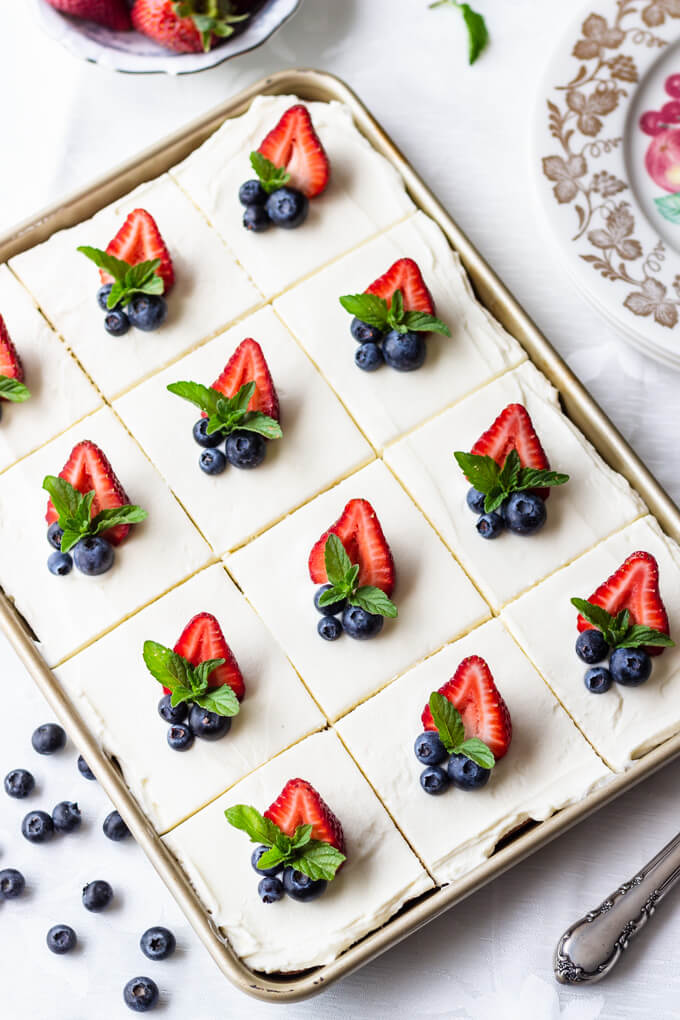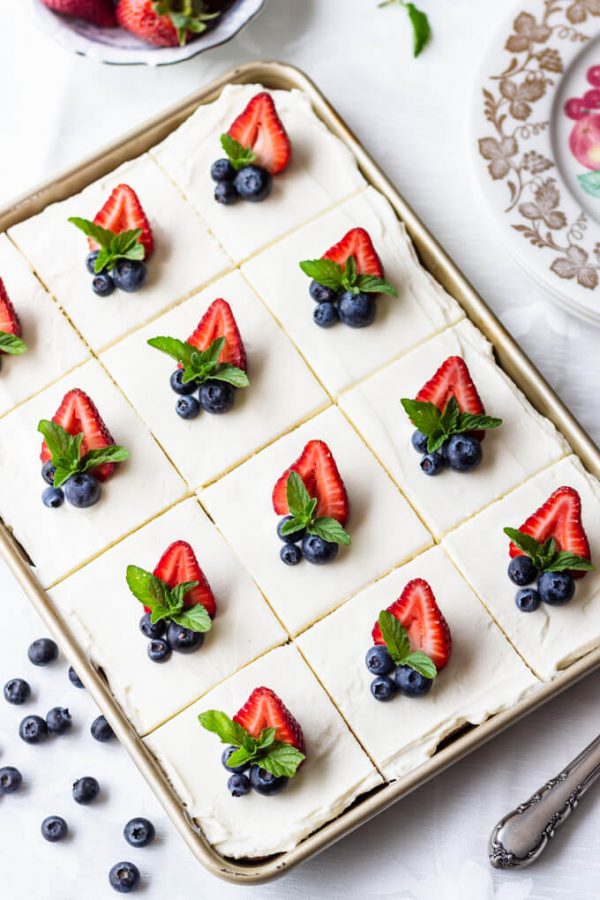 (This post is proudly partnered with Sukrin USA. All opinions are my own.)
July 4th is always a fun day – a time for cooking out on the grill and sharing food and fun times with friends and family. Watching the firework display with my kids, in the neighborhood park, is the climax of the evening.
But, being the baker that I am… I love to wow my guests with dessert!
Part of the Independence Day fun is making delicious red, white and blue desserts to wow friends. Traditional desserts like Blueberry Crumble Bars, Strawberry Shortcake, or Strawberry Cream Pie are always a hit.
Independence Day desserts, festively decorated with strawberries and blueberries, are popular this time of year. Berries provide the perfect "pop" of traditional red, white, and blue color.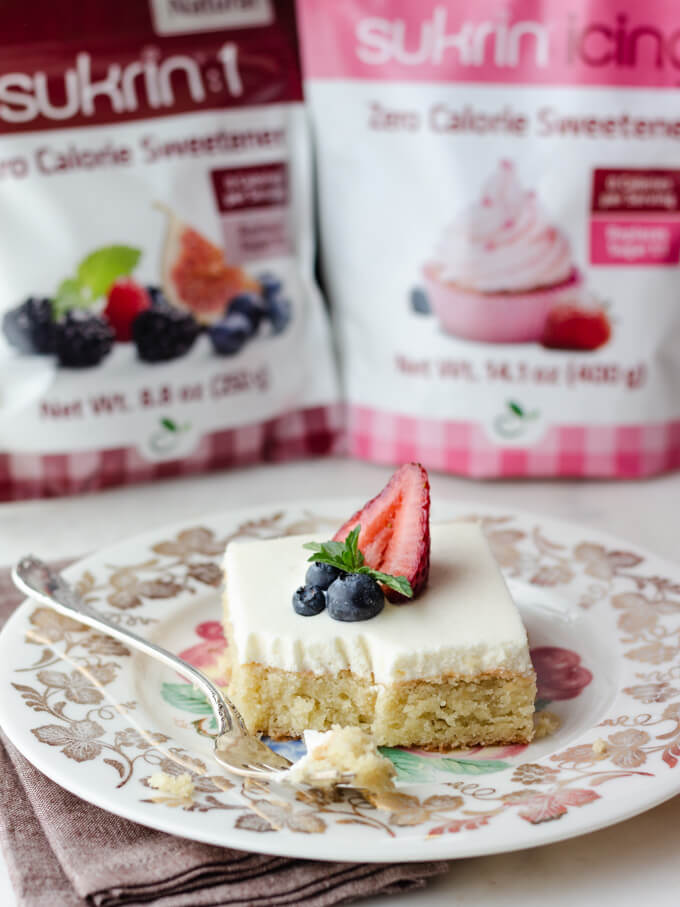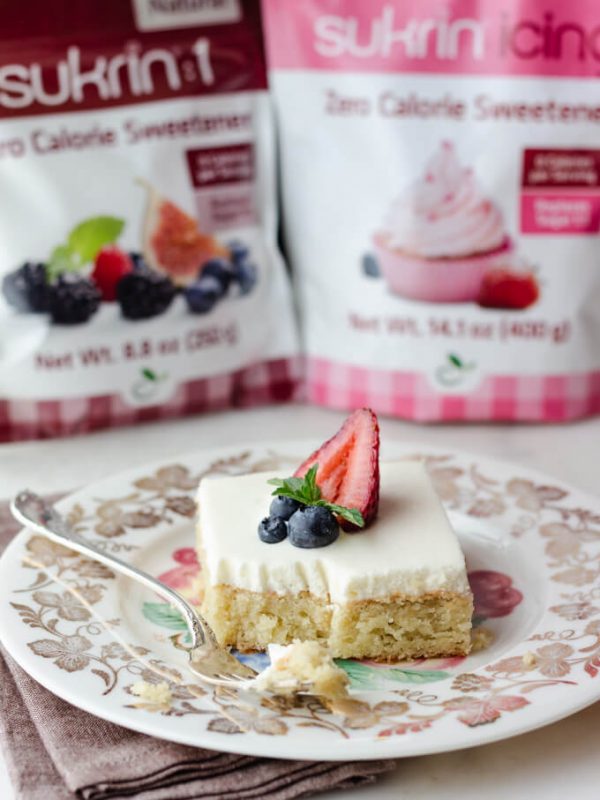 Sour Cream Cake
Boy do I have an amazing cake for you!
An incredibly moist sheet cake topped with whipped cream cheese frosting and decorated with fresh berries. This Sour Cream Cake is perfect for July 4th and all summer.
We low carb Keto dieters keep our fruit consumption to a minimum in order to keep blood sugars low. The judicious use of fresh berries as a garnish allows us to enjoy without out over-doing it. And, it looks so pretty.
I originally tested the cake with buttermilk, but switched to sour cream to lower the carbs. The sour cream imparts a subtle flavor and lush texture. Using all almond flour keeps the recipe simple.
As you know, my low carb sweetener of choice is Sukrin :1, which is a 1:1 natural sugar replacement. It has zero calories or carbs and measures like sugar. I use it in all of my recipes. I order it directly from Sukrin USA. (Remember to subtract the sugar alcohol "carbs" in erythritol since it isn't metabolized by the body.)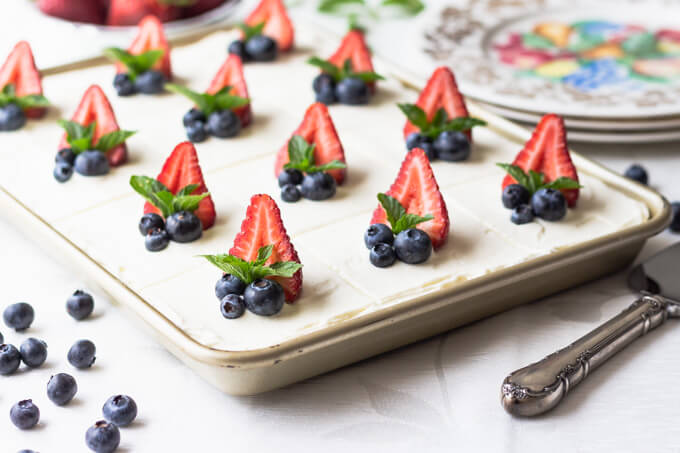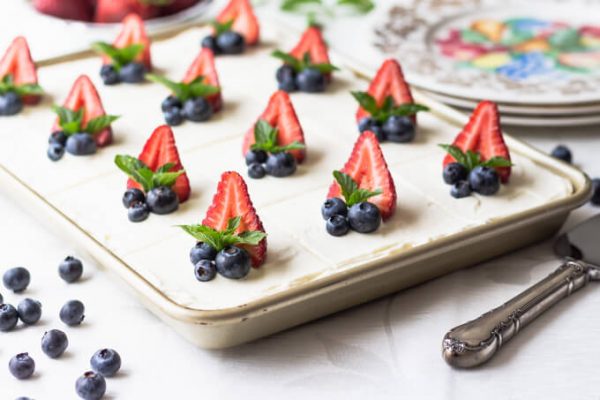 Sugar-free Frosting
This sugar-free whipped cream frosting is my husbands favorite. You'll find a hint of butter in the in the background and just enough vanilla to balance the tartness of the cream cheese. Starting with cold cream cheese ensures that the heavy cream will whip, producing a more stable frosting.
Erythritol based sweeteners can sometimes recrystallize after sitting in the refrigerator – especially in moist confections. We've all experienced "crunchy" frostings or cake fillings. To reduce this effect, I use a finely powdered sweetener like Sukrin Icing Sugar (Melis).
To get the best results in your frosting recipes, make sure to beat the icing sugar with butter or cream cheese for several minutes to encourage it to dissolve. When completely dissolved, less/finer crystals form. Another trick is to use less erythritol and augment sweetness with stevia.
Make sure to read the notes in the recipe to see how I make my cakes at home. I never do it all in one day anymore. Making a dessert in stages reduces stress and produces better results.
Each Serving of this pretty Sour Cream Cake is 4.5 net carbs.
(Post and recipe may contain affiliate links. Purchasing through a link may result in my earning a small consideration at no additional cost to you. See my Privacy Policy for details.)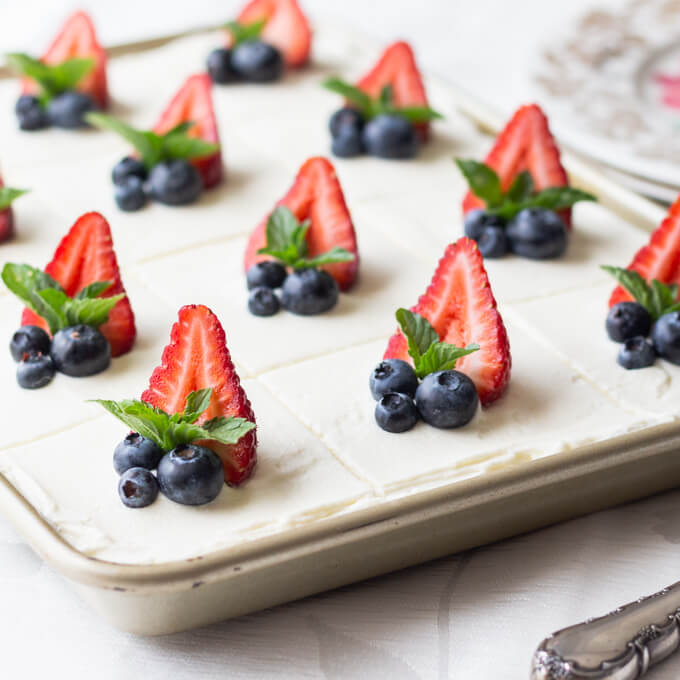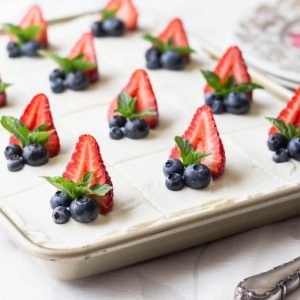 Sour Cream Cake
An incredibly moist low carb sheet cake topped with whipped cream cheese frosting and decorated with fresh berries. This Sour Cream Cake is perfect for July 4th and all summer.
Print
Pin
Rate
Ingredients
Garnish:
6

medium

strawberries, halved

36

small

blueberries

12

mint sprigs

(optional)
Instructions
Cake Preparation:
Preheat oven to 350 degrees F and place rack in middle position. Spray a 1/4 sheet pan (small jelly roll pan) with baking spray. Line the bottom with parchment paper and spray the paper.
Cake Procedure:
Stir almond flour before measuring with a whisk to break up any lumps. Measure all of the dry ingredients into a medium-large bowl. Whisk to thoroughly combine.

Add all of the wet ingredients to the dry ingredients and mix thoroughly with a hand mixer. Scrape the thick batter into the prepared sheet pan and smooth evenly with an offset spatula for best results.

Bake for 20-30 minutes. The cake should spring back when lightly pressed with a finger, but still sound slightly moist. Remove from oven and let cool completely. (I place a clean tea towel over the cake while it cools to trap in the steam.)
Frosting:
Place the cold cream cheese in a small-medium bowl with the powdered sweetener, vanilla extract and stevia glycerite. Beat with a hand mixer until the cream cheese is completely smooth and fluffy, about 1-2 minutes, scraping down the sides to incorporate any stray lumps. Add the soft butter and repeat.

Incorporate the heavy cream, 1/4 cup at a time, whipping well between additions. Beat the frosting until it resembles whipped cream and the sweetener has dissolved.
Assembly:
Frost the cake. Garnish with fruit. Cut and Serve. Serves 12 at 4.5 net carbs each (including the fruit).
NOTES:
I always make my cakes in advance and cool completely before wrapping in cling film and refrigerating until needed. After frosting my cakes, I leave them uncovered in the refrigerator overnight. This helps the frosting "crust" a bit so cling film doesn't stick to it. (If using an all whipped cream frosting, I cover loosely with cling wrap use tooth picks to prevent the wrap from marring the cake. I don't leave it uncovered.)

I baked this cake two days before photographing. I frosted it the night before and left it in the fridge uncovered. Then, I carefully measured and cut my pieces. Lastly, I decorated it just before photographing. The strawberries were medium sized and the blueberries were very small. The biggest blueberries were medium sized with the others the size of small peas. I used mint from my garden, but you could use a larger single leaf of mint or very small triangles of lemon, too.

Always let a low carb cake sit on the counter for 10-20 minutes before enjoying. The fat solidifies in the fridge causing a firm texture which some mistake as being dry. I take my dessert out at dinner time and it is ready by the time we are finished.

This cake keeps well in the fridge for a week and can be frozen.
Notes
Nutrition Facts
Sour Cream Cake
Amount Per Serving
Calories 358
Calories from Fat 311
% Daily Value*
Fat 34.5g53%
Cholesterol 121mg40%
Sodium 362mg16%
Carbohydrates 7g2%
Protein 8.6g17%
* Percent Daily Values are based on a 2000 calorie diet.
Nutrition
Calories:
358
kcal
|
Carbohydrates:
7
g
|
Protein:
8.6
g
|
Fat:
34.5
g
|
Cholesterol:
121
mg
|
Sodium:
362
mg
|
Fiber:
2.5
g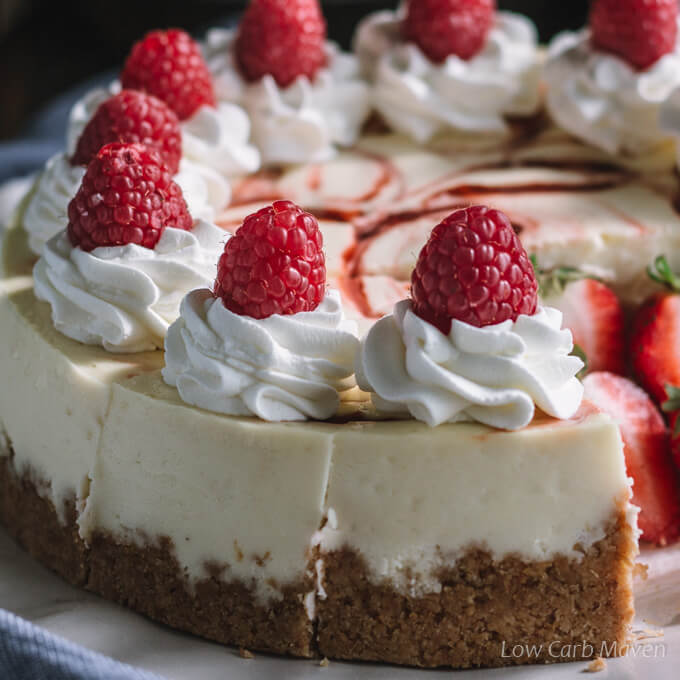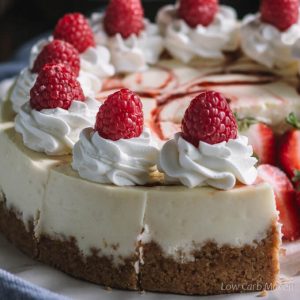 Keto Raspberry Swirl Cheesecake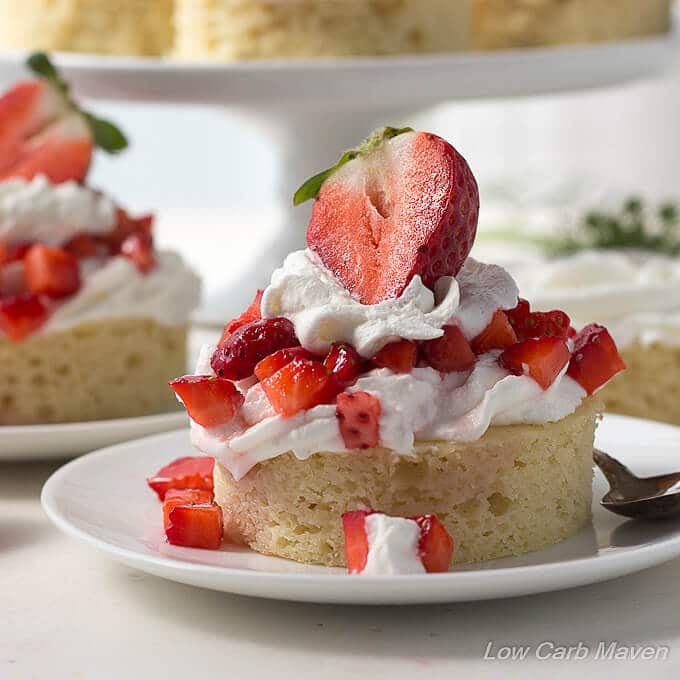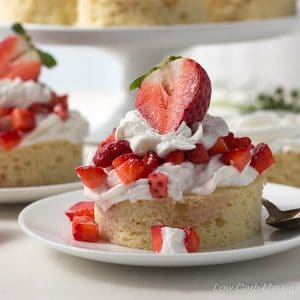 Strawberry Shortcake Dessert (low carb, keto)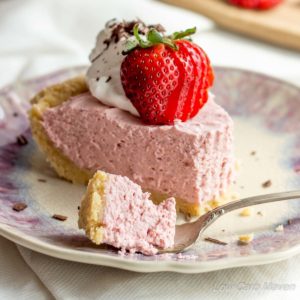 No-Bake Strawberry Cream Pie (low carb, keto)