Tender, juicy smoked chicken leg quarters with a sweet and spicy dry rub are fall-outta-your-chair-good. Pellet grills make smoking easy to do in the backyard.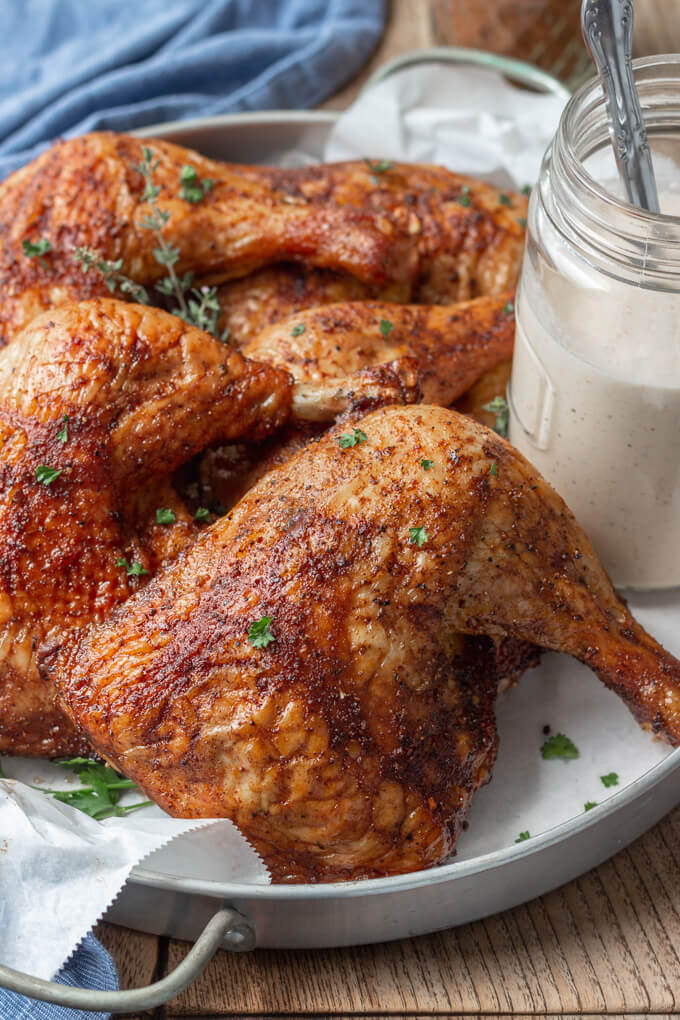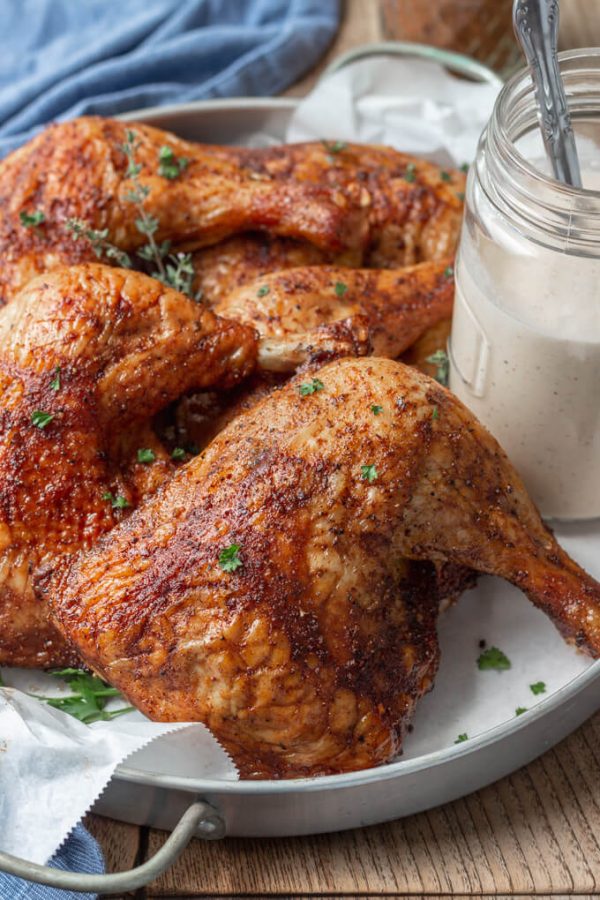 Smoked chicken is a summer favorite. Moist, tender chicken with a sweet-smoke flavor is fall-outta-your-chair-good. Pellet grills make backyard smoking in the suburbs easy and fun.
I can't pass up the great prices on chicken leg quarters this time of year. Their higher fat content and unmistakable flavor make them the perfect choice for low carb dieters and for low and slow cooking.
I season my chicken with a great dry rub, but salt and pepper is just as nice. Just so you know, smoked chicken does NOT have crispy skin. To crisp chicken skin, place the chicken skin-side down over medium heat on a regular grill for a few minutes. Alternately, place under an oven broiler until it crisps. Serve with a mayonnaise based Alabama White Sauce or homemade coleslaw.
This is seriously some of the best tasting chicken – way better than my propane grill!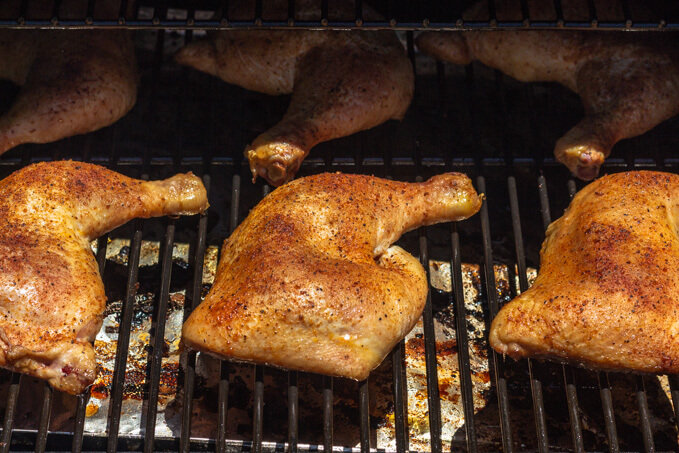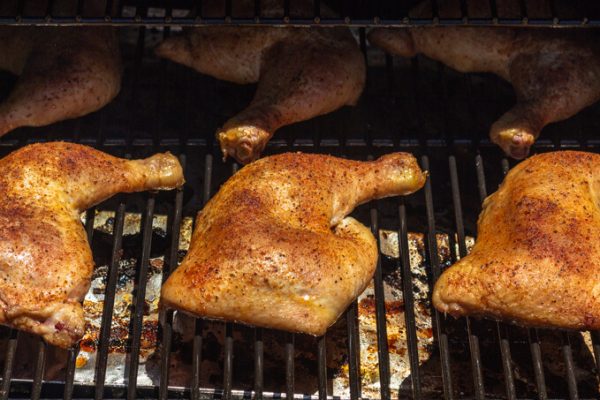 Smoked chicken leg quarters on a pellet grill (Traeger pellet grill)
Cooking smoked chicken leg quarters on a pellet grill is an easy process. Cut off any excess fat from the back of the pieces, season with your favorite rub, place skin side up and cook. Many recipes call for a combination method: 1 hour of smoke time, then 30 – 60 minutes of cooking time at a specified temperature. Because pellet grills and smokers use indirect heat for cooking, legs and thighs cook evenly with no greasy flare-ups.
To Brine or not to brine
A big question in the grilling world is whether or not to brine your chicken before cooking. Brining helps pull flavor into the meat and guards against moisture loss. That's why saline solutions are often added to packaged meats – to help plump up the product and counteract natural water loss that occurs while it sits on the shelf.
If you are cooking a lean piece of poultry you may want to brine your meat. People swear by it. Tasha at Ketogasm uses a simple brine for her smoked whole chicken recipe. Brining is great for larger pieces of meat.
I did NOT brine my chicken pieces and the smoked chicken quarters were tender, juicy, and full of flavor. The dry rub recipe I use flavors the skin beautifully, and results in a gorgeous color. Sweet-smoke flavor permeates the meat and the pieces were pull-apart tender.
How long to smoke chicken leg quarters time and temp
I smoked the chicken leg quarters for 60 minutes then cooked at 350 degrees F for 60 minutes. The chicken leg quarters were fairly large and I cooked 6 of them at once.
The size of your chicken pieces and how many you smoke will affect your cook time so 30-60 minutes at 350 degrees F is a guide. Many pellet grills come with temperature probes to help you cook to the perfect temperature. If not, an instant read thermometer is invaluable. Cook until the thermometer registers 165 degrees F.

How To Smoke chicken with a propane grill
I have successfully smoked chicken with a propane grill. Since smoking uses indirect heat, turn half of the burners on and grill on the other half. A smoke box provides the necessary smoke and flavor and can be purchased at Lowes or Home Depot in the grilling department as well as on Amazon. Look for apple wood or pecan to use in the smoke box. Soak the wood pieces per directions. Place them in the smoker box. Place the smoker box on the side of the grill you will be lighting.
Light the grill to approximately 200 degrees. Cook the chicken for 1 hour. Then turn the heat up to about 350 degrees and cook for 30 – 60 minutes depending on how many chicken pieces you have and how hot your grill gets. You can crisp the skin by finishing the chicken over direct heat for a few minutes.
How to reheat chicken quarters
Microwave: A single cooked chicken leg quarter can be reheated in the microwave for 2-3 minutes at 30% power. Make sure to cover with a piece of waxed paper before reheating. Let it sit a minute, then test to see if it needs more cooking time.
Oven: Wrap the chicken quarters in foil and cook at 350 degrees F for 30-40 minutes depending on how many pieces are being reheaTED. Then, let the chicken rest for 10 minutes before serving.
For those of you looking for a great grilling book, I love Steven Raichlen's, "How To Grill". He also has a definitive work on smoking, "Project Smoke". My current favorite grill blog is HeyGrillHey.com.
[Post and recipe may contain affiliate links. Purchasing through a link may result in my earning a small consideration which helps me maintain the site and provide free recipes.]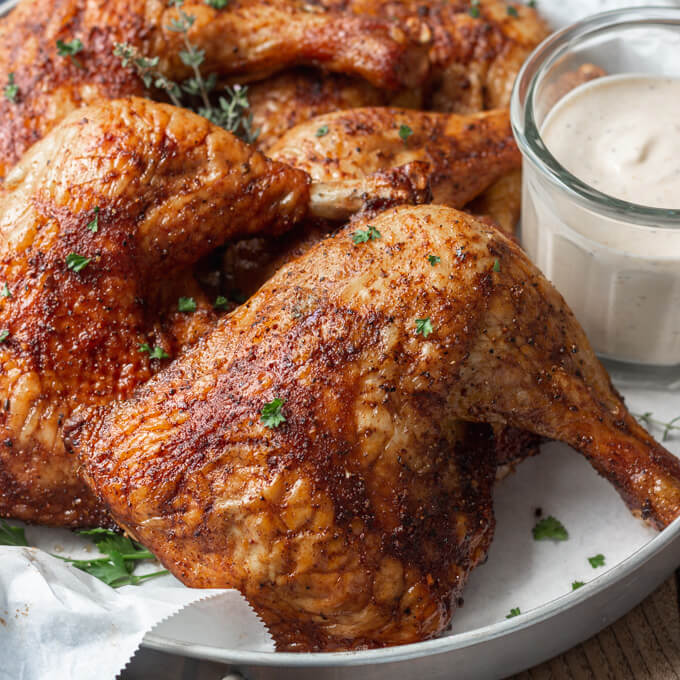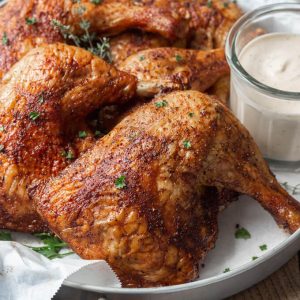 Smoked Chicken Leg Quarters (pellet grill)
Tender, juicy smoked chicken leg quarters with a sweet and spicy dry rub are fall-outta-your-chair-good. Pellet grills make smoking easy to do in the backyard.
Print
Pin
Rate
Ingredients
4

chicken leg quarters

1

tbsp

olive oil
Smoker Pellets
signature blend, apple wood or pecan
Instructions
Dry chicken leg quarters with a paper towel. Remove any extra pieces of fat from the back of the chicken.

Rub the chicken with oil and sprinkle the rub evenly over all surfaces. There is no need to rub it in. Let it sit for 20 minutes to come to temperature.

Turn grill to smoke and let preheat for 10-15 minutes. Place the chicken skin side up and smoke for 1 hour.

Turn the heat up to 350 degrees F and cook for 30 – 60 minutes, depending on how much chicken you are smoking and how big the pieces are. The chicken is done when an instant read thermometer or temperature probe reaches 165 degrees F, when inserted into the thickest part of the thigh.

See post for tips on crisping skin, smoking on a propane/gas grill, and how to reheat leftover pieces.

Serving: 1 chicken leg quarter per person with rub.
Notes
The carbs in this recipe come from the rub which contains onion, garlic, pepper and paprika – all of which naturally contain carbs.
Nutrition Facts
Smoked Chicken Leg Quarters (pellet grill)
Amount Per Serving
Calories 261
Calories from Fat 189
% Daily Value*
Fat 21g32%
Carbohydrates 1.5g1%
Protein 16g32%
* Percent Daily Values are based on a 2000 calorie diet.
Nutrition
Calories:
261
kcal
|
Carbohydrates:
1.5
g
|
Protein:
16
g
|
Fat:
21
g
|
Fiber:
0.1
g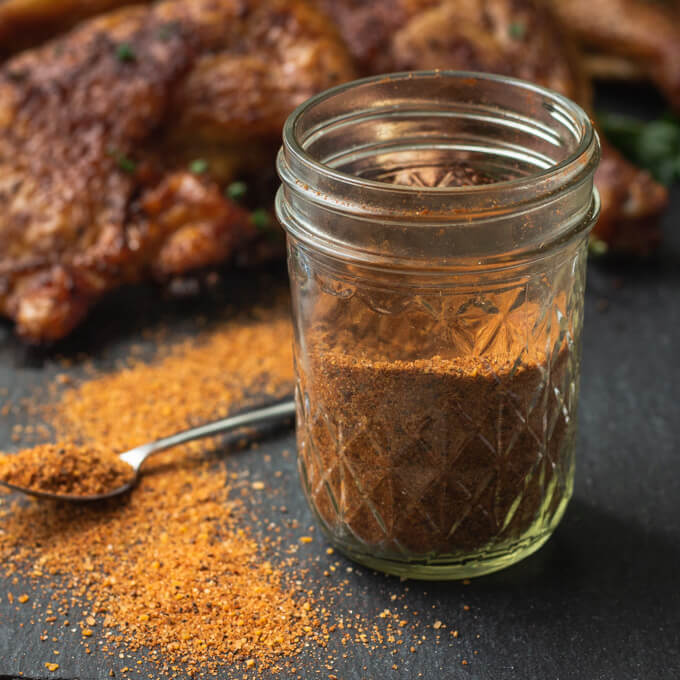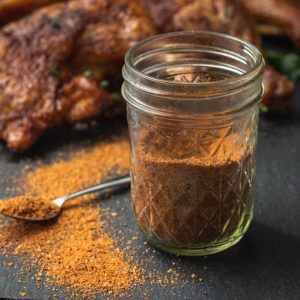 Perfect BBQ Dry Rub for Chicken and Pork