These Six Ingredient Low Carb Peanut Butter Cookies are so easy a 10-year-old can make them. Psst! they're also low carb, gluten-free, dairy-free, keto and terrific!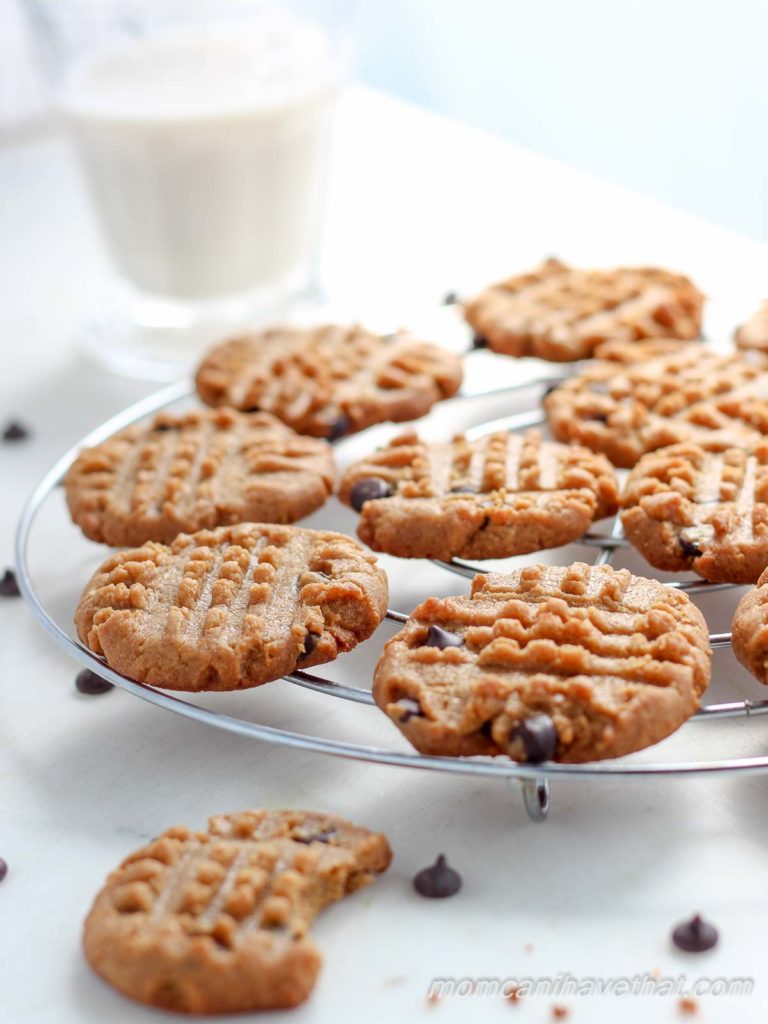 My kids have been begging for these low carb peanut butter cookies all week and I haven't minded indulging them; putting one in their school lunch and letting them have a couple with a glass of milk as an after school snack. I'm careful to remind them that mommy's treats are healthier than regular treats but that they are still treats and "treats are a sometimes food".
Unfortunately since starting this blog a year ago, my family has had access to more treats than in previous years. My son is beginning to expect dessert after dinner and he even gave me the "stink eye" the other day when I told him that there was none! But I do my best to provide balance throughout the week and how could I turn my daughter down when she finally (after many years) expressed a desire to bake with me?
After proclaiming her boredom for the umpteenth time the other day, I pulled-up Pinterest and showed her how to do a search. She immediately found gluten-free things she liked and began to gather some recipes into a cookbook – a special cookbook for only herself and mommy to use together. The original recipe for these peanut butter chocolate chip cookies was full of sugar, but we tinkered with it to make a great low carb and sugar-free version, and one easy enough for my 10 year old to prepare herself.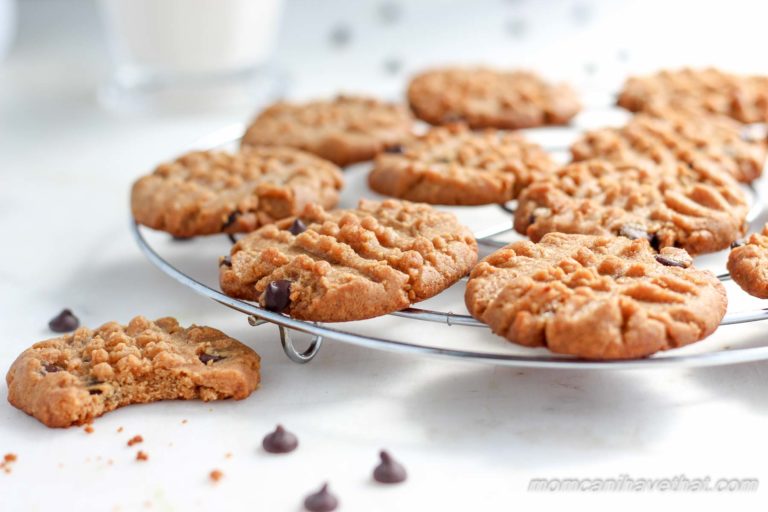 There are a bazillion gluten-free peanut butter cookie recipes available on the internet using nothing but peanut butter as the base. Some call for sugar and others are refined sugar-free and some of the recipes work while others don't. Many recipes use natural organic ground peanut butter and others use almond butter, but I just used regular creamy peanut butter from the grocery store — Skippy Natural Creamy Peanut Butter, and yes, it does have added sugar listed in the ingredients. Boo!
This was the first time I used Lily's Sugar-Free Chocolate Chips, which are sweetened with erythritol and stevia. For those of you unfamiliar with Lily's sugar-free chocolate chips, I found them to be like dark chocolate in flavor and harder in texture than Hershey's Sugar-Free Chocolate Chips which are sweetened with maltitol. Maltitol is a sugar alcohol which can cause blood spikes and/or intestinal distress in some individuals. I can detect a cooling effect in Lily's chocolate chips and do not enjoy eating them out-of-hand, however, they are great in baked goods. FYI, I have heard that the Lily's chocolate bars are very nice.
Since I bought a case a few weeks ago, I will be using Lily's chocolate chips for everything for a while, but you're welcome to use your favorite low carb or low sugar chocolate in these peanut butter chocolate chip cookies. Have I mentioned that these cookies only have 6 ingredients? I know!!! Most of my recipes are pretty long, but NOT this one.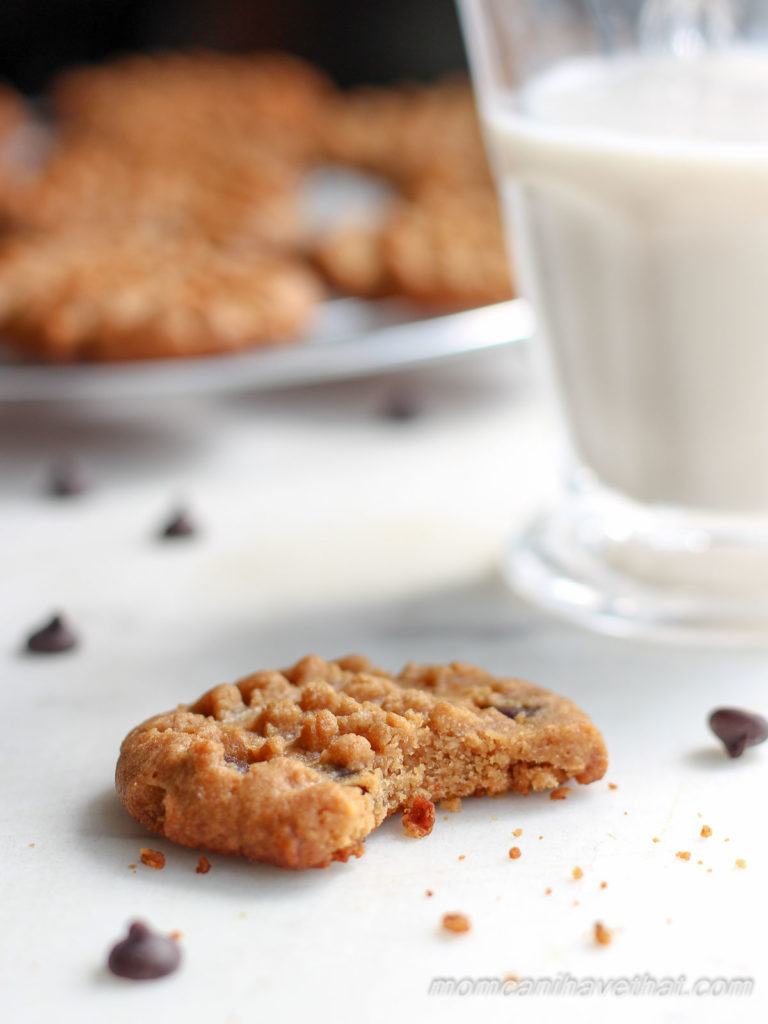 LETS TALK RECIPE TINKERING!
The original recipe called for 3/4 cups of sugar and 1 cup of chocolate chips, resulting in an overly-sweet peanut butter cookie with so many chocolate chips, that it was difficult to work with. Replacing the sugar with erythritol helped cut back on the sweetness, but it was still too sweet and left a nasty cooling sensation in the mouth upon eating. I settled on using 1/3 cup of Sukrin Gold which added a nice brown sugar flavor but using regular erythritol and 1/4 teaspoon of maple flavoring gives a good approximation. Since Sukrin Gold is a 1:1 sugar replacement and erythritol is not, add 1/8 teaspoon of stevia glycerite to bump up the sweetness a bit. I also used 1 T of the Sukrin Fiber Syrup Gold which helped the cookies brown a little better.
NOTE: I like my desserts on the less-sweet side. If you want your cookies sweeter increase the Sukrin Gold to 1/2 cup OR add 1/16 – 1/8 teaspoon Stevia Glycerite.
Let the cookies cool on the pan for a full 5 minutes before removing or they will break apart! They will be crispy once completely cool. I found it best to keep them in an air-tight container the refrigerator which helped mask any lingering cooling effect from erythritol and also kept the cookies crisp.
Six Ingredient Low Carb Peanut Butter Cookies are 2 Net Carbs per cookie
[Disclosure: This recipe contains affiliate links.]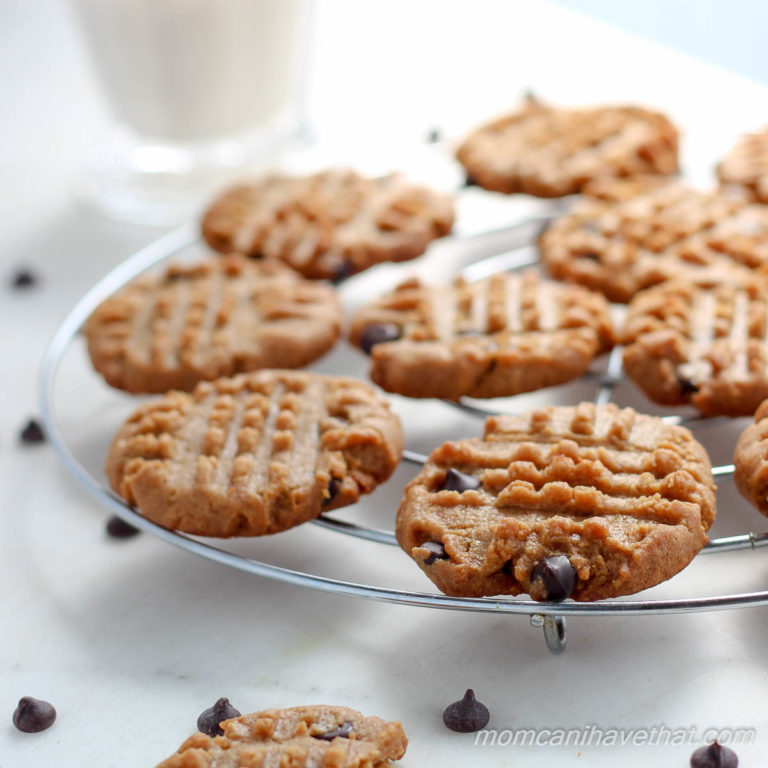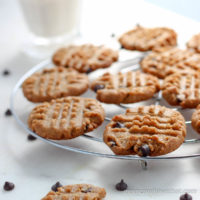 Gluten-Free Low Carb Peanut Butter Cookies (Made With Six Ingredients)
These Six Ingredient Peanut Butter Chocolate Chip Cookies are so easy a 10 year old can make them. They're also low carb, gluten-free, dairy-free, keto and terrific! 2 net carbs per cookie.
Print
Pin
Rate
Instructions
Preheat oven to 350 and place the rack in the middle of the oven and line a sheet pan with parchment.

Put the first 5 ingredients in a medium bowl and mix thoroughly with hand mixer. Add the chocolate chips and mix again.

Weigh 1/2 ounce portions of dough, rolling them into a ball and placing 12 on a cookie sheet at a time. Push down with a fork in one direction and then the opposite direction, making the characteristic peanut butter cookie impressions. Make sure to keep the dough in the refrigerator between batches. This batter performs best when chilled!

Bake for 8-10 minutes until the bottoms begin to brown. Let the peanut butter cookies cool for 5 minutes on the baking sheet before moving to a cooling rack to cool completely.

Store baked cookies in the fridge for several weeks or freeze up to 3 months

Serving size is one cookie at 2 net carbs each.

NOTE: DO NOT OMIT the Fiber Syrup or the cookies will crumble apart. I tried using gelatin and xanthan gum to hold them together and it doesn't work. You need all of the ingredients (except the chocolate chips) to make this recipe work. 
Notes
Each cookie is 2 net carbs!
NOTE: I like my desserts on the less-sweet side. If you want your cookies sweeter increase the Sukrin Gold to 1/2 cup OR add 1/8 teaspoon Stevia Glycerite.
Nutrition Facts
Gluten-Free Low Carb Peanut Butter Cookies (Made With Six Ingredients)
Amount Per Serving
Calories 64
Calories from Fat 45
% Daily Value*
Fat 5g8%
Carbohydrates 3g1%
Protein 2g4%
* Percent Daily Values are based on a 2000 calorie diet.
Nutrition
Calories:
64
kcal
|
Carbohydrates:
3
g
|
Protein:
2
g
|
Fat:
5
g
|
Fiber:
1
g