Shrimp caprese bites are a delicious and easy low carb appetizer. This bite sized take on shrimp caprese salad is perfect for entertaining and won't derail your low carb lifestyle. Perfect for holidays, Superbowl Sunday, and summer occasions.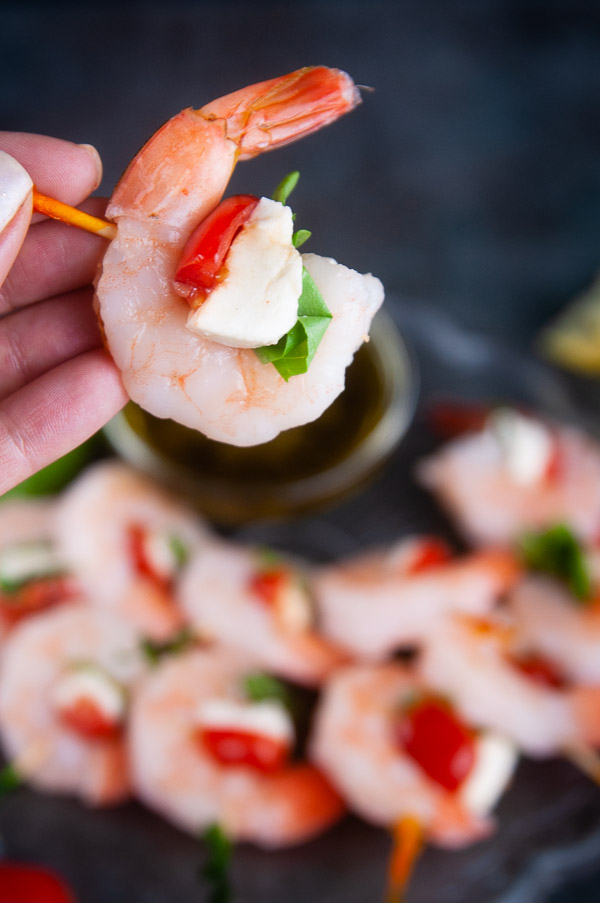 THIS POST INCLUDES AFFILIATE LINKS TO SHARE THE THINGS I LOVE.
When I entertain I really like low fuss snacks and appetizers that are really easy to put together. These shrimp caprese bites certainly fit that bill! I absolutely adore caprese anything with the sweet tomatoes, creamy mozzarella, and slight bite from the basil.
I also love caprese as an elegant appetizer. Years ago, when my husband and I got married, we had caprese skewers with a balsamic glaze at our wedding. So this type of appetizer holds a special place in my heart.
And not just for sentimental reasons either. This easy low carb appetizer recipe is delicious and pretty. Despite looking gorgeous, this appetizer is a snap to put together.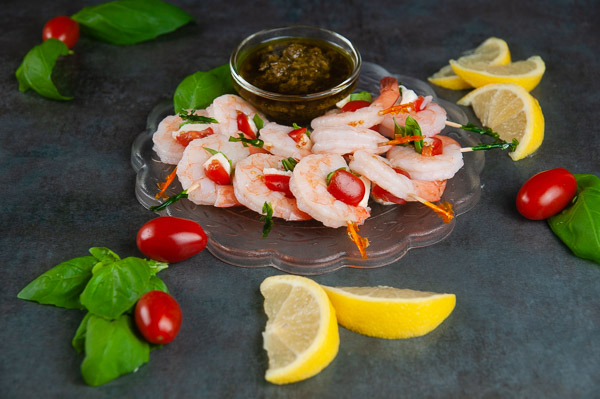 Making them was so easy that my 5 year old daughter helped me put them together. In fact, she named these "little lobster lollipops" and was momentarily horrified that I was skewering the crab from The Little Mermaid.
She has her crustaceans slightly confused.
Even so, these shrimp caprese bites are seriously delicious and appropriate for so many occasions. I'd have no problem serving these as a gorgeous appetizer for the holiday season or a low carb appetizer on Superbowl Sunday. And they are light enough where they'd be perfect for summer entertaining too. So versatile!
Easy Shrimp Caprese Bites – A Quick Low Carb Appetizer!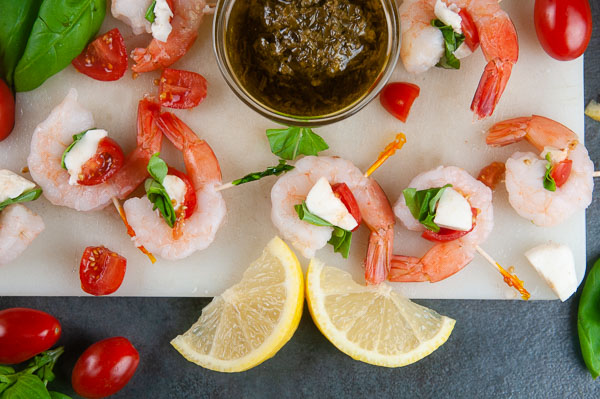 It took us less than 5 minutes to make this whole platter of shrimp appetizers. Even with her "help," which was actually for the most part helpful. Until we were done, of course. Then while I photographed this recipe to share it with you all, she made "salad lollipops" by sticking toothpicks through a bunch of basil leaves.
So there was that. But she ate her salad lollipops so I'm considering that winning and pretending that it counts as a vegetable.
In all seriousness though, making these shrimp caprese bites is so easy. To make them, I started by cutting cherry tomatoes into 8ths, and quartering small balls of fresh mozzarella. Then using precooked extra large cocktail shrimp and stick a toothpick through its back near the tail.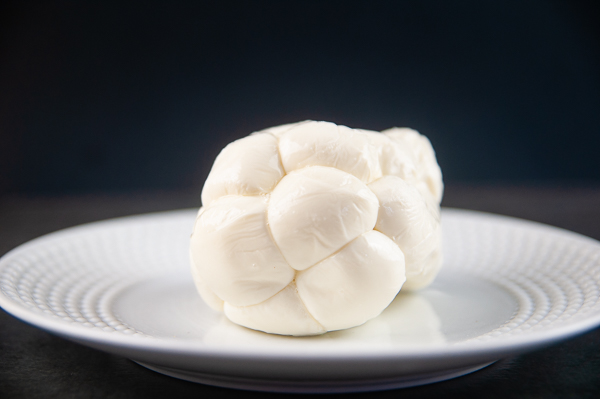 Once you have the toothpick inserted through the tail end of the shrimp, layer on a quartered portion of a cherry tomato, a small piece of fresh mozzarella and a folded up basil leaf. To finish assembling the skewer just push the toothpick all the way through the caprese stuffing and into the other side of the shrimp, near where its head would be.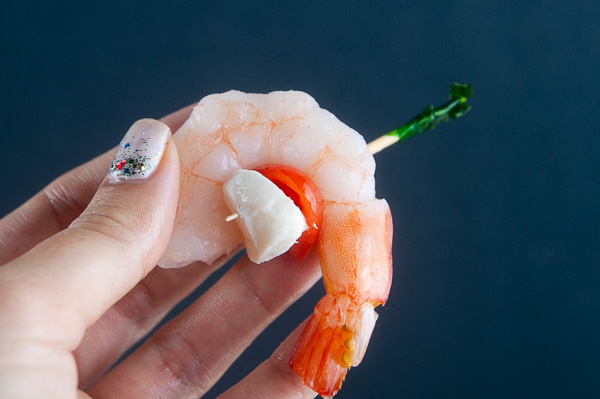 That's it! You are ready to serve this easy low carb appetizer!
Tips and Tricks for Making the Yummiest Shrimp Caprese Bites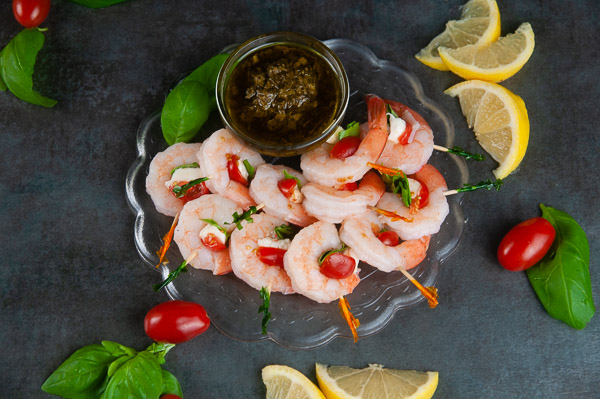 This shrimp caprese appetizer is not hard at all to make, but there are a couple tips and tricks you want to keep in mind to set yourself up for shrimp caprese success.
First, make sure you aren't using whole cherry tomatoes and whole balls of mozzarella unless you are using the pearls. I had purchased a ball that had been divided into 1/3 ounce smaller balls. Those were still too big to fit neatly with the shrimp. Taking the time to cut everything into smaller pieces will make the shrimp caprese bites look really pretty.
I like to toss everything with a squeeze of lemon juice and a touch of olive oil on it to add a pop of brightness and freshness. For these skewers I did that before putting the shrimp on the toothpicks.
To get the basil nicely layered with the shrimp, tomato, and cheese, I found it easiest to use a larger basil leaf and fold it up into a quick little square. You could also roll the leaf as if you were going to make ribbons and put the roll on the skewer.
Lastly, you don't need to serve this with anything. However, I do like it with a little fresh pesto on the side or some of the delicious balsamic that Kim uses on her New York strip steak with plums and balsamic reduction. You could also use some of her amazingly tasty low carb honey mustard as a dipping option.
And, if you are looking for more of a meal than an appetizer, you can definitely serve this as an entree salad the way I do with my shrimp caprese salad with balsamic glaze. To keep it low carb, skip the honey in the balsamic reduction and follow Kim's recipe for that instead.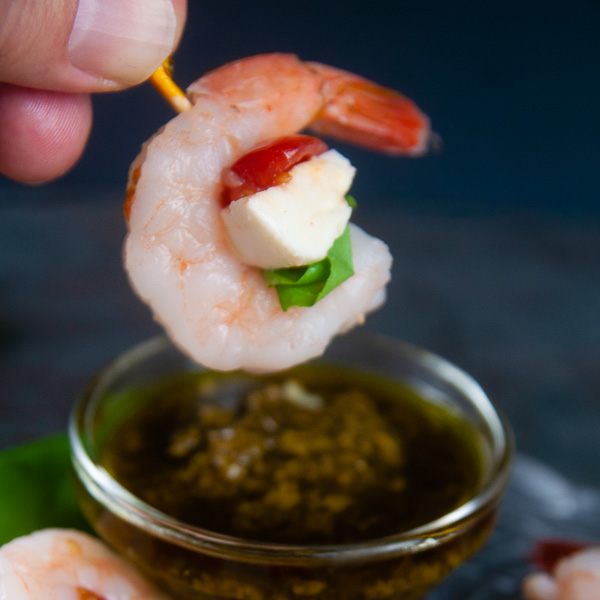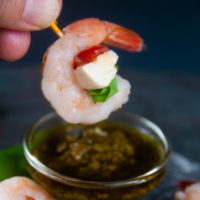 Shrimp Caprese Bites
Shrimp caprese bites are a bite sized take on shrimp caprese salad is perfect for entertaining and won't derail your low carb lifestyle. Perfect for holidays, Superbowl Sunday, and summer occasions.


Print
Pin
Rate
Ingredients
12

extra large

cocktail shrimp

1

tsp

freshly squeezed lemon juice

1

tbs

olive oil

1 1/3

ounce

mozzarella cheese

(I used 4 1/3 ounce balls)

2

cherry tomatoes

cut into 8ths

12

basil leaves

salt and pepper to taste
Instructions
Add the shrimp, whole cherry tomatoes, and mozzarella to a small bowl. Add lemon juice and a tbs of olive oil to the bowl and season with salt and pepper to taste. Toss to combine.

Cut the tomatoes into 8ths and the mozzarella balls into 3rds.

Once your cheese and tomatoes are ready, you can begin assembling the skewers. Insert a toothpick through the back of the shrimp, just above a tail. Then add a tomato piece and mozzarella piece so that they sit in the inner "c" shape of the shrimp. Fold up one basil leaf and slide that onto the toothpick. Finish by pushing the toothpick into the other side of the shrimp so that the toothpick pierces the inner side of the shrimp near where its head would be.

Serve immediately as is or garnish with extra lemon, basil pesto, or low carb vinaigrette. Enjoy!
Nutrition
Calories:
79
kcal
|
Carbohydrates:
1
g
|
Protein:
6
g
|
Fat:
6
g
|
Saturated Fat:
2
g
|
Cholesterol:
53
mg
|
Sodium:
200
mg
|
Potassium:
33
mg
|
Sugar:
1
g
|
Vitamin A:
169
IU
|
Vitamin C:
3
mg
|
Calcium:
74
mg
|
Iron:
1
mg