Mushrooms are earthy and delicious when sautéed in butter and wine and seasoned with thyme. Make this easy low carb side dish to accompany almost any protein.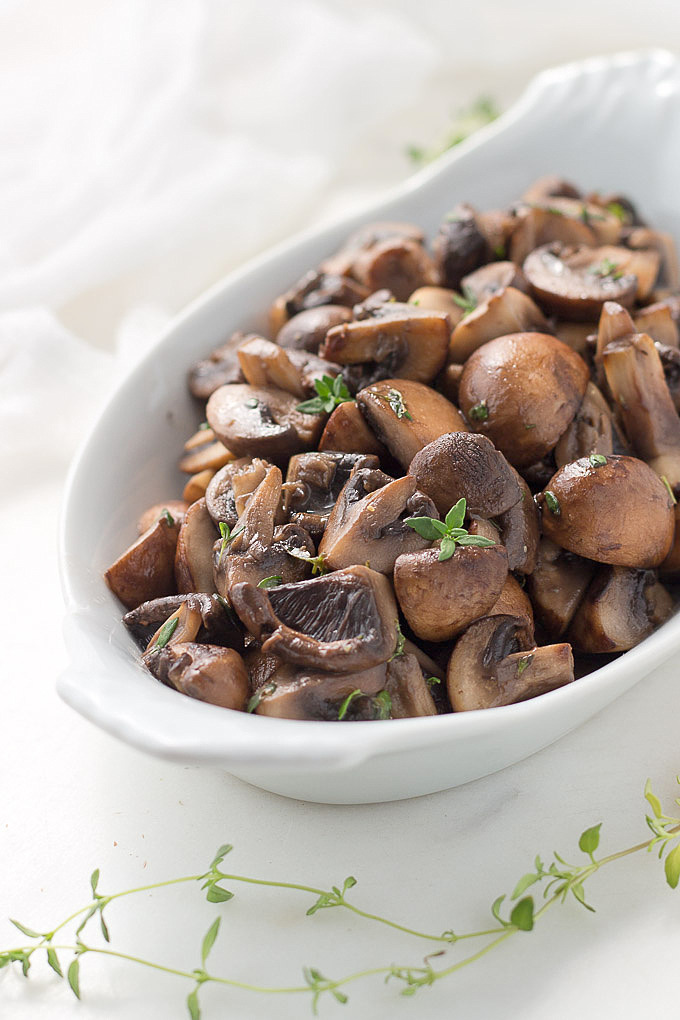 Many people don't appreciate mushrooms the way I do. I love their earthiness and somewhat nutty flavor when they're sautéed and browned in a pan – especially when browned in butter or ghee. I like how their rich umami flavor compliments a variety of meats, vegetables, and even cheeses.
The meaty texture of mushrooms is perfect in vegetarian dishes where they often stand-in for traditional protein, and they taste great served hot or cold. Mushrooms are also a great low carb option for low carb and keto diets.
While there are millions of varieties of mushrooms through out the world, I most often cook with Italian brown mushrooms (crimini mushrooms) or white button mushrooms simply because they are affordable and widely available. I appreciate many of the gourmet varieties also, but my family does not share my enthusiasm.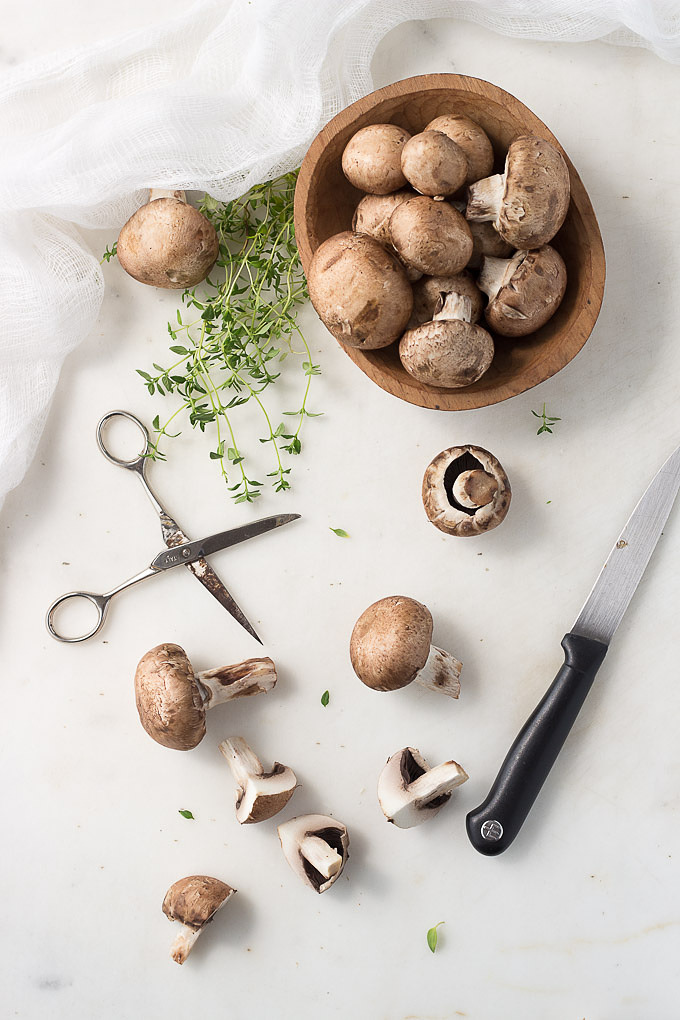 There are millions of varieties of mushrooms and fungus throughout the world, but only a fraction are edible and a much smaller portion of those are cultivated.
If you are an avid forest-hiker, you may encounter many edible varieties, but don't pick unless you know what you are doing. Here are some photos and descriptions of some common edible mushrooms, but make sure to go out with a guide the first time you go mushroom hunting. For kicks, check out this link for some really cool (and creepy) mushroom varieties, some of which are NOT edible.
Although humble in appearance, mushrooms are a healthful low carb option in the grocery aisle. They contain b vitamins, minerals (copper, potassium and Selenium), and beta-glucans which are thought to stimulate the immune system.
Some mushroom compounds are being explored in cancer research due to their ability to shrink tumors or suppress cancer cell growth. With 5 million known species of mushrooms/fungus and more being discovered every year, who knows what exciting compounds may be discovered in the near future.
What I like about an easy side like sautéed mushrooms is that it's easy to vary. Some things I like to add are shallots, garlic, rosemary, tarragon, white wine, or balsamic vinegar. Simple additions keep the dish easy and earthy. But, it's just as nice to add heavy cream and a few extra ingredients to make something elegant.
If you want a sauce to really impress guests, check out what I did with mushrooms and cream in my recipe for tarragon chicken thighs. It is delicious!
Serve these sauteed mushrooms with any grilled or sautéed meat.
This Easy Sauteed Mushrooms in White Wine Sauce With Thyme is 4 net carbs per serving.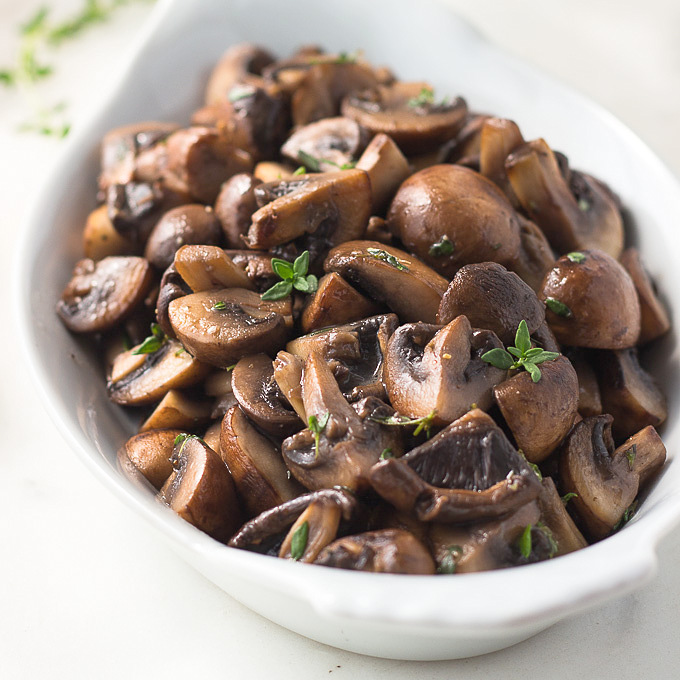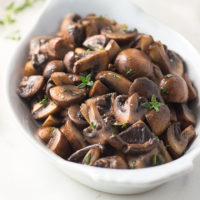 Easy Sauteed Mushrooms in White Wine Sauce With Thyme
Easy sauteed mushrooms in white wine sauce with thyme: quartered m

ushrooms are earthy and delicious when sautéed in butter and wine and seasoned with thyme.
Print
Pin
Rate
Ingredients
1

pound

mushrooms

2

tablespoons

butter or olive oil

1

teaspoon

fresh thyme, chopped

1

tablespoon

butter

or ghee

2

tablespoons

dry white wine

1-2

teaspoon

red wine vinegar

salt and pepper to taste
Variations:
1

tablespoon

of minced shallot

or

1

clove

minced garlic

or

chopped rosemary

or

balsamic vinegar

two

pieces

bacon use rendered fat instead of butter and olive oil
Instructions
Wash the mushrooms in a colander and dry well on a tea towel. Cut off the dried part of the stem end and then quarter each mushroom.

Heat a 10 inch saute pan over medium heat. When hot, add 2 tablespoons of butter or olive oil and swirl to coat the pan. When the surface of the oil shimmers, add the mushrooms. Stir the mushrooms around until they are coated with the butter or oil. (They will absorb the oil.) Cook the mushrooms for 3 minutes and then stir. Cook another 2-3 minutes. Turn down the heat and add the butter, wine and thyme, cooking until the thyme is fragrant.

Remove the mushrooms from a pan and add 1-2 teaspoons of red wine vinegar. The vinegar helps balance the richness of the butter. Salt and pepper to taste.

Serve.
Notes
Nutrition Facts
Easy Sauteed Mushrooms in White Wine Sauce With Thyme
Amount Per Serving
Calories 113
Calories from Fat 90
% Daily Value*
Fat 10g15%
Carbohydrates 5g2%
Protein 2g4%
* Percent Daily Values are based on a 2000 calorie diet.
Nutrition
Calories:
113
kcal
|
Carbohydrates:
5
g
|
Protein:
2
g
|
Fat:
10
g
|
Fiber:
1
g
Tarragon Chicken Thighs (low carb, keto)