Cauliflower roasted with bacon and caramelized green onions is an easy low carb side with knock-out flavor.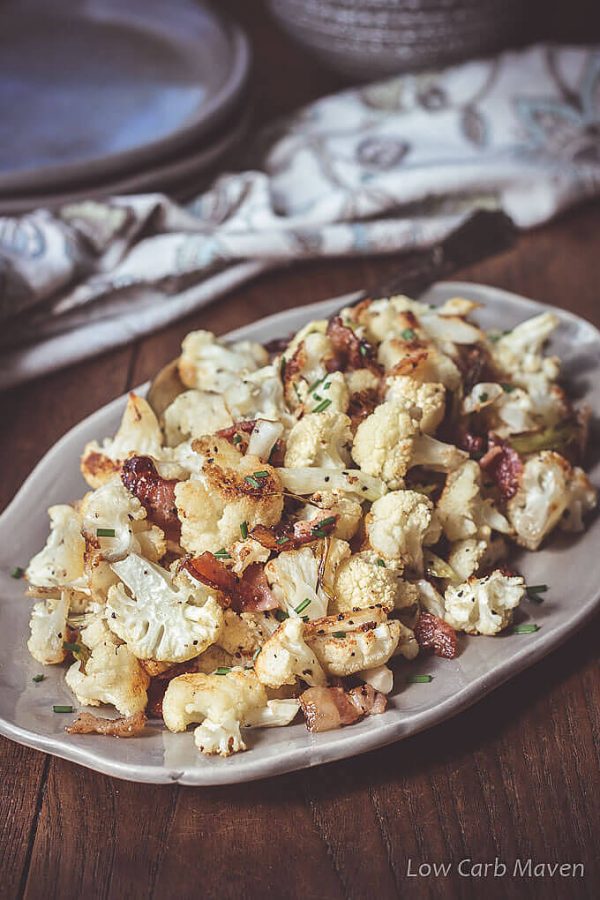 Cauliflower is the workhorse of a Low Carb keto diet.
Cauliflower serves as rice for our Indian and Thai dishes, as an accompaniment to our meats, it can be made into Chinese fried rice, pureed into mock mashed potatoes, and even used as a base for a low-carb pizza.
Although cauliflower is rarely the star of dinner, to me it is the unsung hero. It never steals the show. It never competes. It's just there supporting all the other players and making sure that everyone else looks good. That is until now!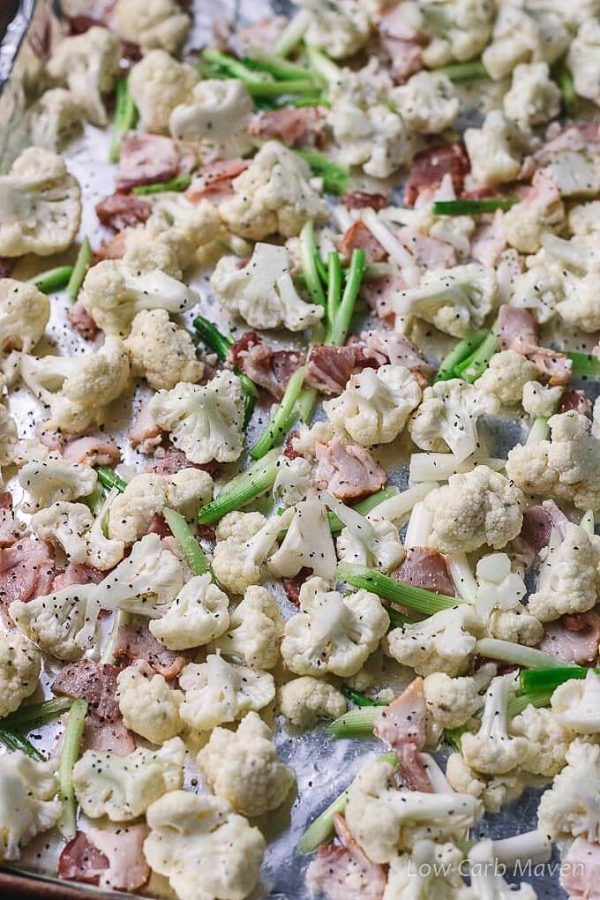 Cauliflower Roasted with Bacon and Green Onions
If you haven't roasted cauliflower then you are in for a treat. Roasting cauliflower, or any vegetable, brings out natural sugars which brown and caramelize during cooking. This produces a rich and mellow flavor. It's one of my favorite methods for cooking vegetables in the cooler months of the year.
What I like about this roasted cauliflower recipe is that it's so easy. It just takes a few minutes to cut the cauliflower, bacon, and green onions and the oven takes care of the cooking.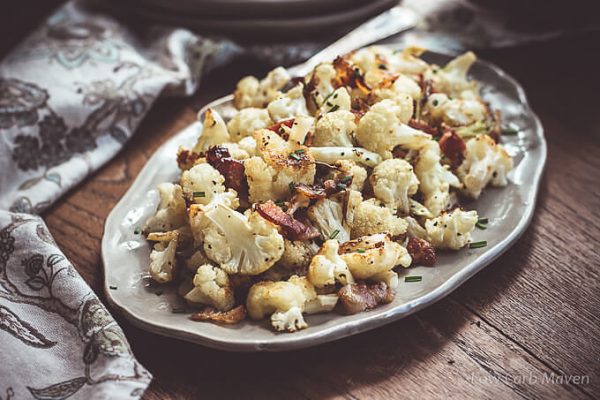 Letting the oven do all of the work for this side leaves plenty of time to fix a quick protein. I love my frying pan and usually opt for pan seared chicken or boneless pork chops. Another option is cooking your protein of choice on another sheet pan in the oven at the same time.
One thing is certain. This delicious side makes the whole house smell amazing!
This tasty side has 4 net carbs per serving!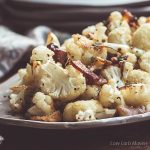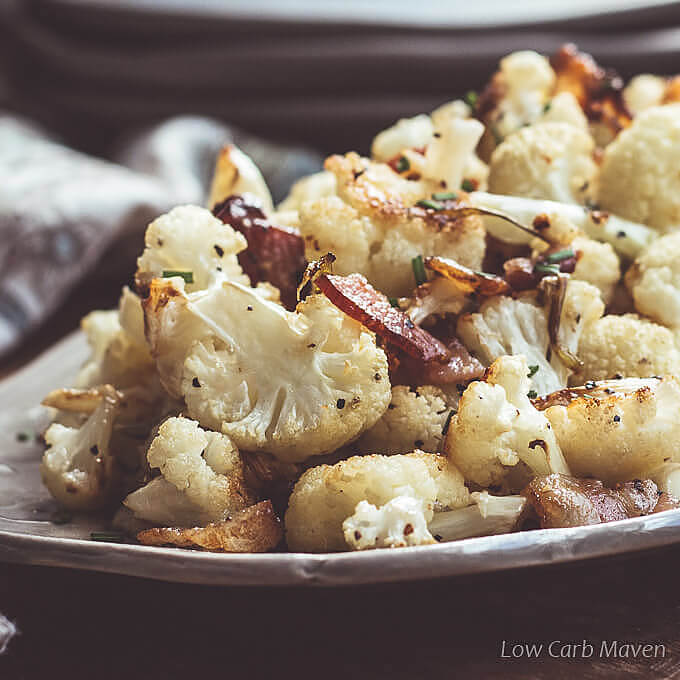 Cauliflower Roasted with Bacon and Caramelized Green Onions
Cauliflower roasted with bacon and caramelized green onion is an easy low carb side with knock-out flavor. So simple to make: chop, toss, arrange and bake!
Ingredients
1

pound

cauliflower

3

strips

thick cut bacon

4

scallions

sliced into 1/2 inch pieces

1

tablespoon

olive oil

1/4

teaspoon

salt

1/4

teaspoon

pepper
Instructions
Preheat oven to 400 degrees F and place rack to middle position.

Cut the cauliflower into bit sized pieces. Slice the green onions into 1/2 inch pieces using only the while and light parts. Slice the bacon into chunks.

Toss the cauliflower, green onion, and bacon with the olive oil and spread on a sheet pan. Season with the salt and pepper.

Cook the cauliflower 10 minutes, stir, then cook for 15 minutes more or until the cauliflower starts to brown.

Place under the broiler for a few minutes if you want more caramelization. Add more salt and pepper to taste. Serve.

Serves 4. Net carbs per serving: 4.
Recipe Notes
Nutrition Facts
Cauliflower Roasted with Bacon and Caramelized Green Onions
Amount Per Serving
Calories 224
Calories from Fat 162
% Daily Value*
Total Fat 18g 28%
Total Carbohydrates 7g 2%
Protein 11g 22%
* Percent Daily Values are based on a 2000 calorie diet.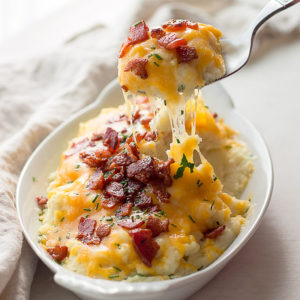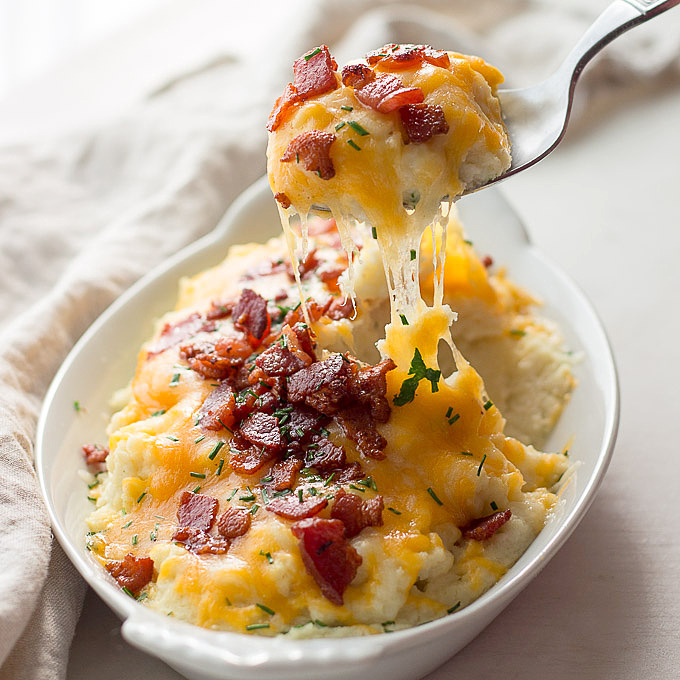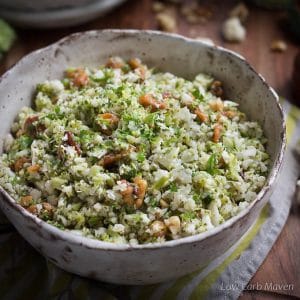 Broccoli Cauliflower Rice Salad with Walnuts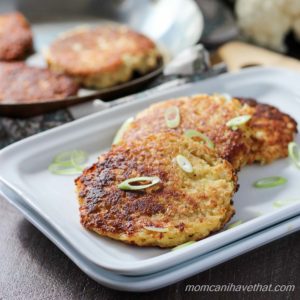 Cauliflower Fritters (Low Carb Hashbrowns)
Signup for my Newsletter
Subscribe to get our recipies by email.