Moist Pumpkin Spice Latte Cupcakes made with coconut flour are a great gluten-free and sugar free treat for your low carb holidays.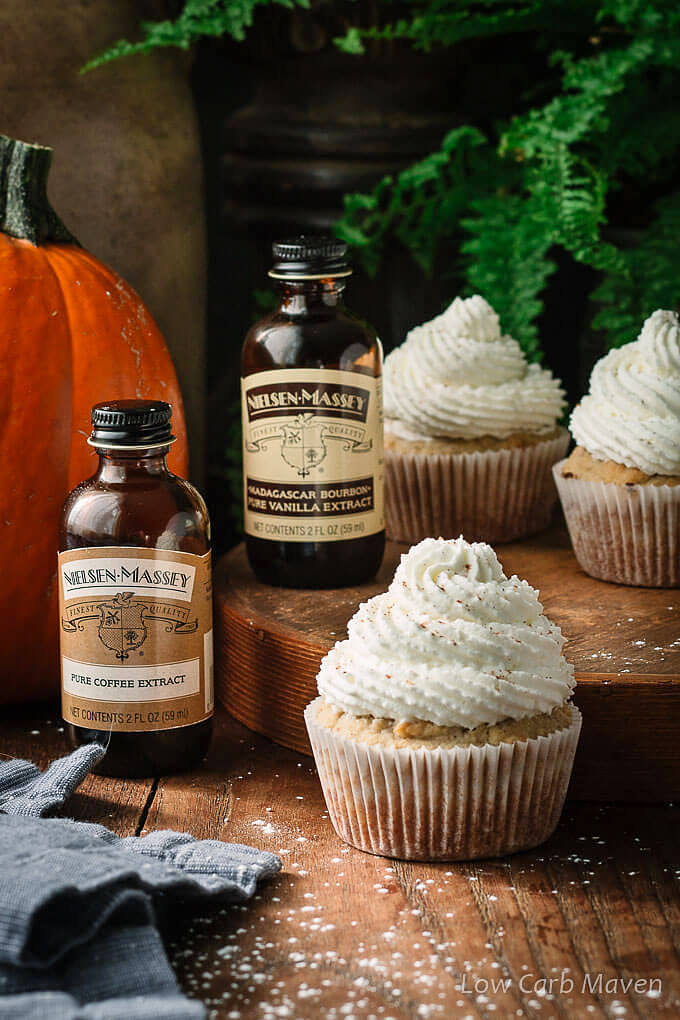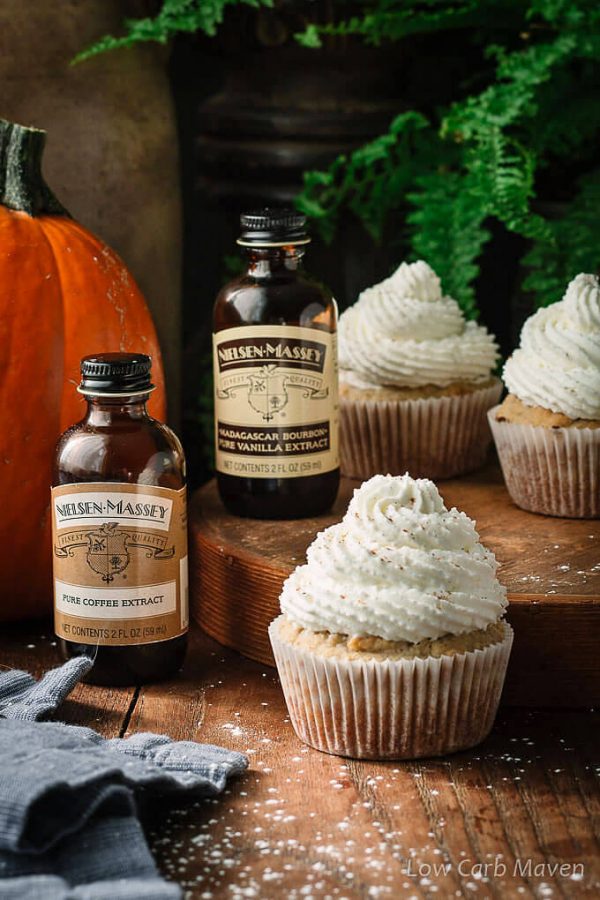 [This post is partnered with Nielsen-Massey, founded in 1907 and owned and operated by 3rd generation Nielsens, today. All thoughts and opinions are my own.]
Holiday festivities are upon us. Soon we'll attend gatherings filled with the laughter and love of our family and friends. To me, Thanksgiving and the December holidays are my favorite times of the year because THIS is the time for getting hygge with warm fall flavors and cozy desserts.
For cooks and bakers, it's our time to shine by sharing our favorite recipes. We pull out all the stops and splurge on the best ingredients to make those memorable dishes all the more memorable. This means choosing high quality ingredients like organic butter, fresh seasonal fruit, European chocolate or Nielsen-Massey vanilla and pure flavor extracts.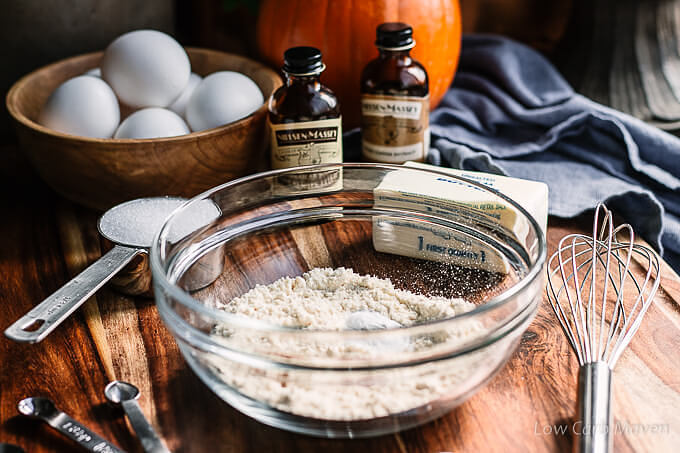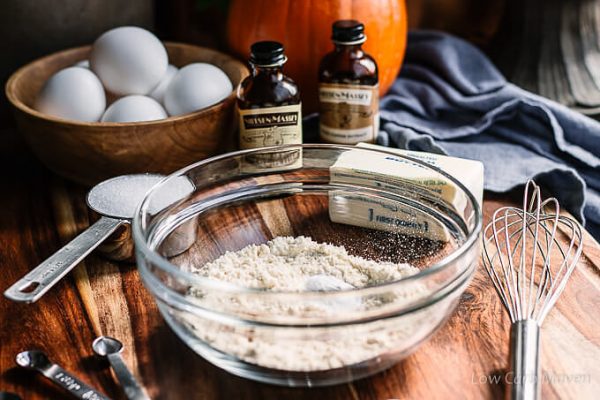 Pumpkin Spice Latte Cupcakes
I love to bake and transform popular recipes into low carb desserts and treats. Last year I made delicious Vanilla Latte Cupcakes, but this holiday season I'm serving Pumpkin Spice Latte Cupcakes with whipped cream. Since the recipe is sugar-free, I can indulge in all things pumpkin spice without the guilt or carbs.
To get a nice coffee flavor in my pumpkin spice latte cupcakes, I use 2 teaspoons of Nielsen-Massey Pure Coffee Extract. It provides just the right amount of coffee flavoring without being overpowering. And using a small amount of coffee extract in your best holiday chocolate recipes truly enhances the chocolate flavor – don't worry, you can't taste the coffee. It's a trick used by the best bakers.
I'm particularly fond of vanilla and keep 4-5 different vanilla products in the pantry to use as inspiration hits. Nielsen-Massey Pure Vanilla Extract is right in front. Its flavor is light and complex: the special cold extraction process developed by Nielsen-Massey preserves many of its 300+ flavor compounds. The aroma is beautiful and the hint of vanilla in this recipe helps to round out the subtle flavors of coffee and pumpkin spice.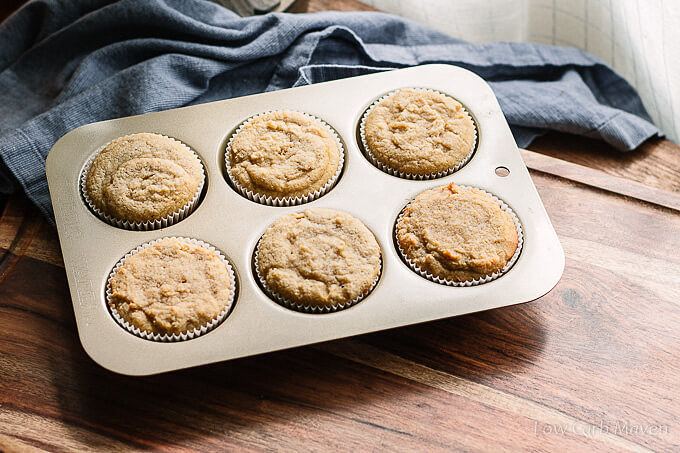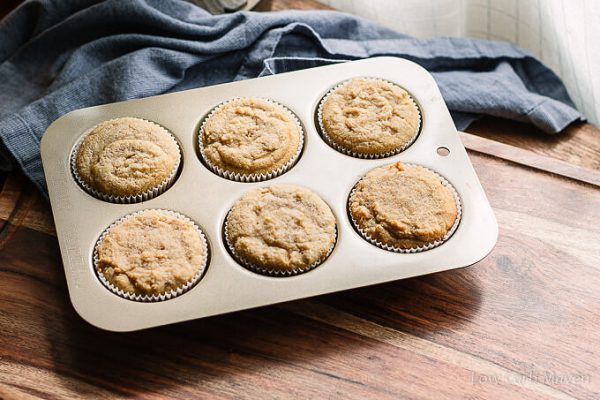 Back to these Pumpkin Spice Latte Cupcakes…
A few weeks ago I asked the Barista at my popular local coffee shop (you know which one) how they make their Pumpkin Spice Latte? Answer: They add pumpkin spice syrup to the cup before adding the coffee and steamed milk – there's no pumpkin purée or real spices in the drink. Hmmm.
I'd rather choose wholesome ingredients when I can and I always have leftover pumpkin puree this time of year. Adding puréed pumpkin to the batter results in super-moist cupcakes.
The batter for these pumpkin spice latte cupcakes is very thick and a little wet. It does not have the typical consistency of regular cupcake batter. Coconut flour can be tricky to use sometimes and I've found that thicker batters are often better.
The best way to fill the cupcake liners is to put the batter in a zip-loc bag and squeeze it into mounds. This helps eliminate extra air bubbles and results in a more even surface.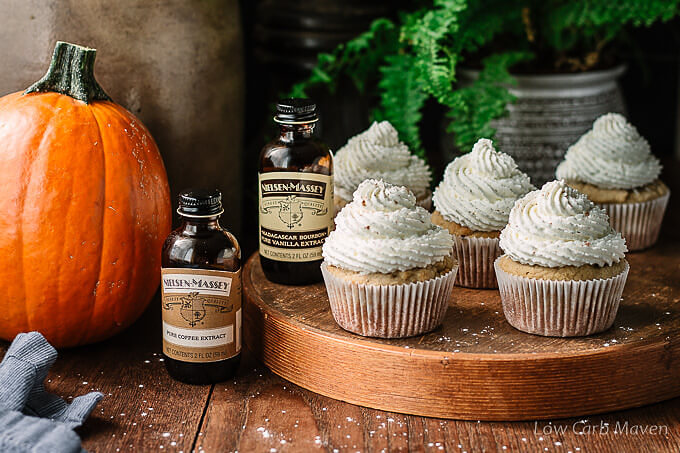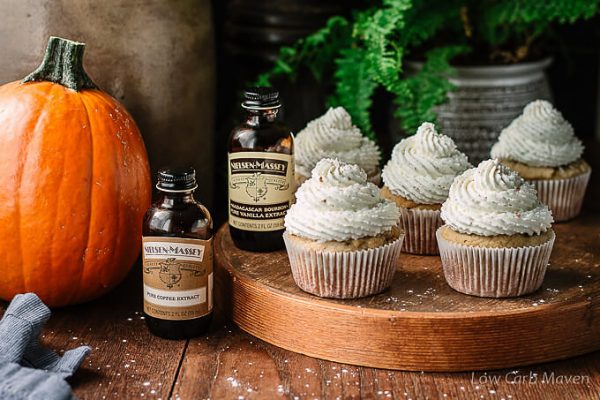 Like all gluten-free baked goods, the cupcakes will shrink a little upon cooling and the domed tops should flatten slightly. This provides a nice flat base for the whipped cream frosting which can be piped or applied with a knife as you wish.
Mmmm. Perfect for a festive brunch or dessert table!
——————–
Nielsen-Massey's premium ingredients are sourced world-wide then inspected to meet the highest standards. Their​ ​products​ ​are​ ​all-natural,​ ​certified​ ​gluten-free,​ ​certified​ ​Kosher, allergen-free​ ​and​ ​GMO-Free. As a mom who carefully selects her family's food, that's important. Their proprietary cold extraction process preserves delicate flavors which are lost in heat extraction. As a baker, this means my baked goods will have a delicious natural flavor.
Please learn more about Nielsen-Massey and their products online and check out Nielsen-Massey Vanillas Facebook Page for recipe inspiration.
Each Pumpkin Spice Latte Cupcake is 4 net carbs.
[This recipe may contain affiliate links. Purchasing through a link may result in my earning a very small consideration at no cost to you.]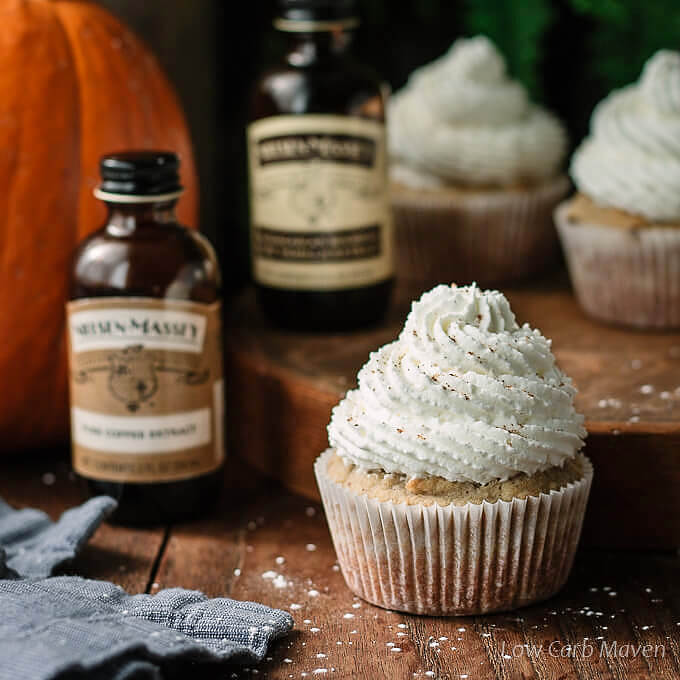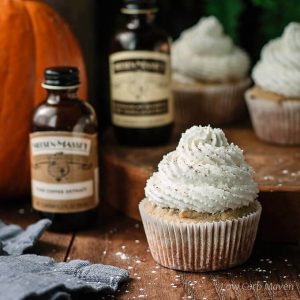 Pumpkin Spice Latte Cupcakes (Sugar Free, Low Carb)
Moist Pumpkin Spice Latte Cupcakes made with coconut flour are a great gluten-free and sugar free treat for your low carb holidays.
Print
Pin
Rate
Ingredients
Wet Ingredients:
2

oz

unsalted butter, very soft

2

oz

cream cheese, very soft

1/3

cup

Low carb brown sugar

(or my brown sugar substitute)

2

tbsp

pumpkin puree

3

large

eggs, cold

(use divided)

1/4

cup

heavy cream

2

tsp

Nielsen-Massey Pure Coffee Extract

1

tsp

Nielsen-Massey Pure Vanilla Extract

1/2

tsp

stevia glycerite
Whipped Cream Topping:
3/4

cup

heavy cream

2

tbsp

low carb powdered sugar

(or Swerve Confectioners)

1/4

tsp

Nielsen-Massey Pure Vanilla Extract

Pumpkin pie spice to sprinkle on top
Instructions
Preparation:
Preheat the oven to 350 degrees F and place rack in the middle position. Line 6 regular sized muffin wells with parchment or paper liners. Combine the dry ingredients in a bowl and mix together.
Method:
In a food processor fitted with a metal blade, add the cream cheese, butter, and Sukrin Gold and process until combined. Scrape the bowl. Add 1 egg, the Nielsen-Massey Vanilla and Coffee Extracts and stevia glycerite to the processor. Process until combined and scrape the bowl.

Add 1/2 of the dry ingredients to the food processor and process. Scrape the bowl, add 1 egg and process until smooth. Repeat with the remaining dry ingredients and last egg. Finish with the addition of 1/4 cup of heavy cream.

Spoon the cupcake batter into a quart zip-loc bag and snip off a corner (cut should about 1/2 – inch in length). Place the tip of the bag into a lined cupcake well and begin squeezing a fat mound into the well, filling about 3/4 full. Smooth/flatten the tops with your finger.
Bake:
Bake the cupcakes for 30-35 minutes or until the cupcakes are springy to the touch but still sound a little moist. Cool for 5 minutes in the pan before removing to a cooling rack. Place in an airtight container in the refrigerator until ready to top with whipped cream. (NOTE: They taste better the next day!)
Whipped Cream Topping:*
Place the whipped cream, sweetener and Nielsen-Massey Pure Vanilla Extract in a small bowl and whip until very thick. Top cupcakes. Sprinkle with pumpkin pie spice.

Serves 6 at 4 net carbs each.
Notes
*NOTE: Heavy cream will double in volume when whipped. (3/4 cups will make about 1 1/2 cups of whipped cream yielding 1/4 cup per cupcake) If  you wish to stabilize the whipped cream, add 1-2 very small pinch(s) of xanthan gum to the whipped cream when it begins to thicken. Continue beating until the cream is so thick it is almost clumpy. It can then be piped and will keep it's integrity for a week. (Stabilizing the whipped cream will decrease yield to about 3 tablespoons per cupcake.)
Nutrition Facts
Pumpkin Spice Latte Cupcakes (Sugar Free, Low Carb)
Amount Per Serving
Calories 316
Calories from Fat 261
% Daily Value*
Fat 29g45%
Carbohydrates 7g2%
Protein 6g12%
* Percent Daily Values are based on a 2000 calorie diet.
Nutrition
Calories:
316
kcal
|
Carbohydrates:
7
g
|
Protein:
6
g
|
Fat:
29
g
|
Fiber:
3
g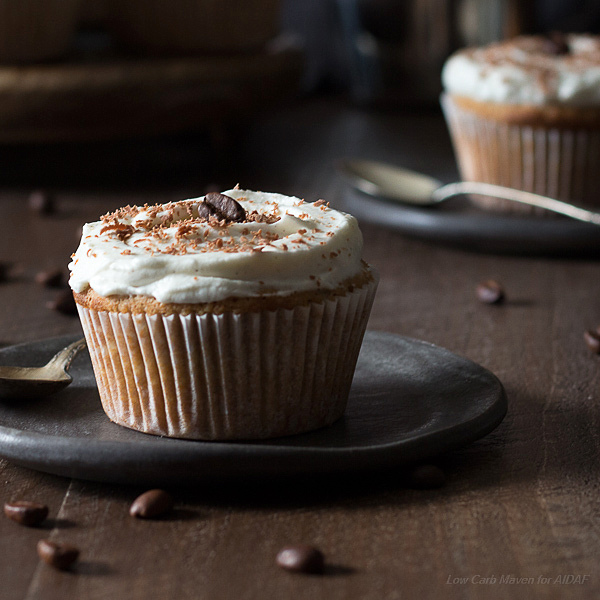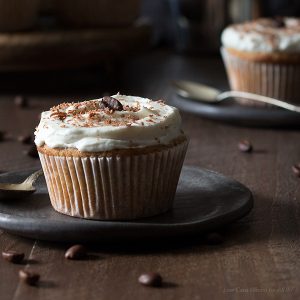 Vanilla Latte Cupcakes (low carb, sugar-free)