This homemade instant pot vegetable beef soup recipe features fall-apart tender pieces of beef and tasty vegetables in a rich flavorful broth. It promises to keep you warm this season.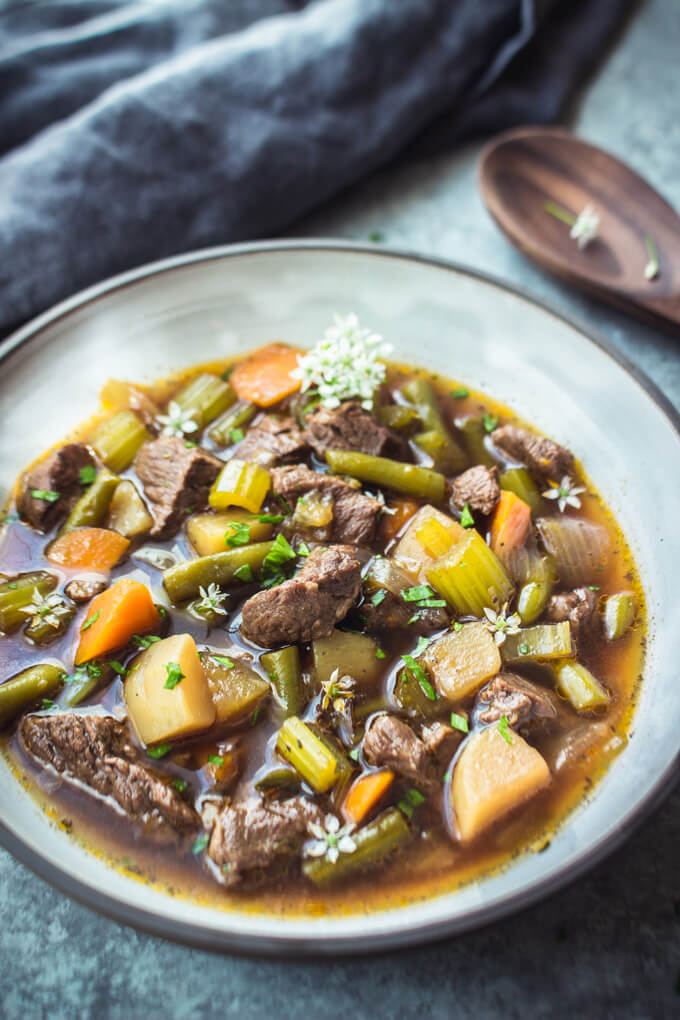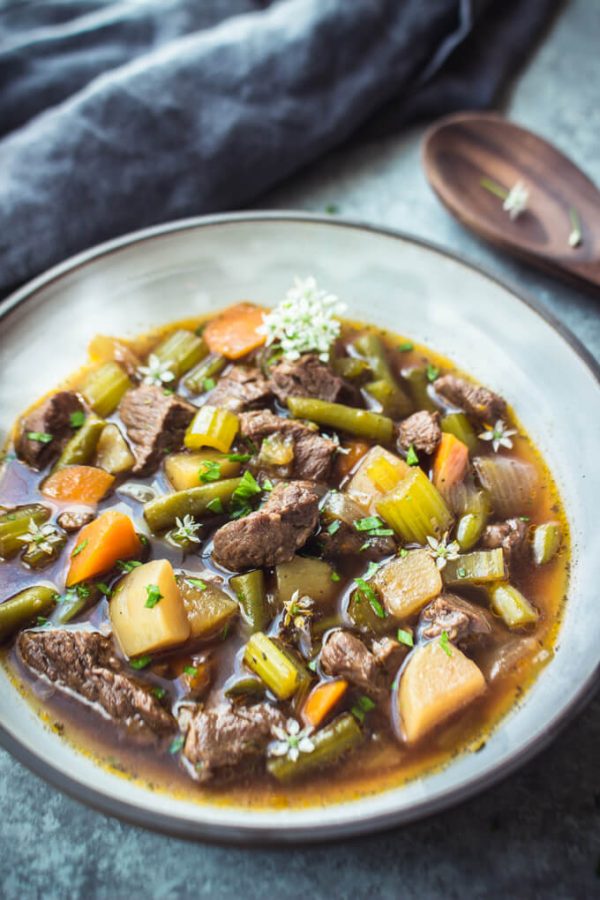 THIS POST INCLUDES AFFILIATE LINKS TO SHARE THE THINGS I LOVE.
I finally bought an electric pressure cooker (Instant Pot) last Amazon Prime Day. Yes, I know, I'm behind on the trend. Call me old fashioned, but I find comfort cooking with my pots and pans on the stove!
Admittedly, there is a little intimidation (and perhaps fear) attached to a device that could steam your face off or blow-up under pressure. Reading the ENTIRE manual and paying attention to what you are doing is a must when operating one of these things.
I don't profess to be an instant pot or electric pressure cooker wizard like other bloggers, but I was pleasantly surprised with my first result. After a few tweaks, I was happy with this delicious vegetable beef soup.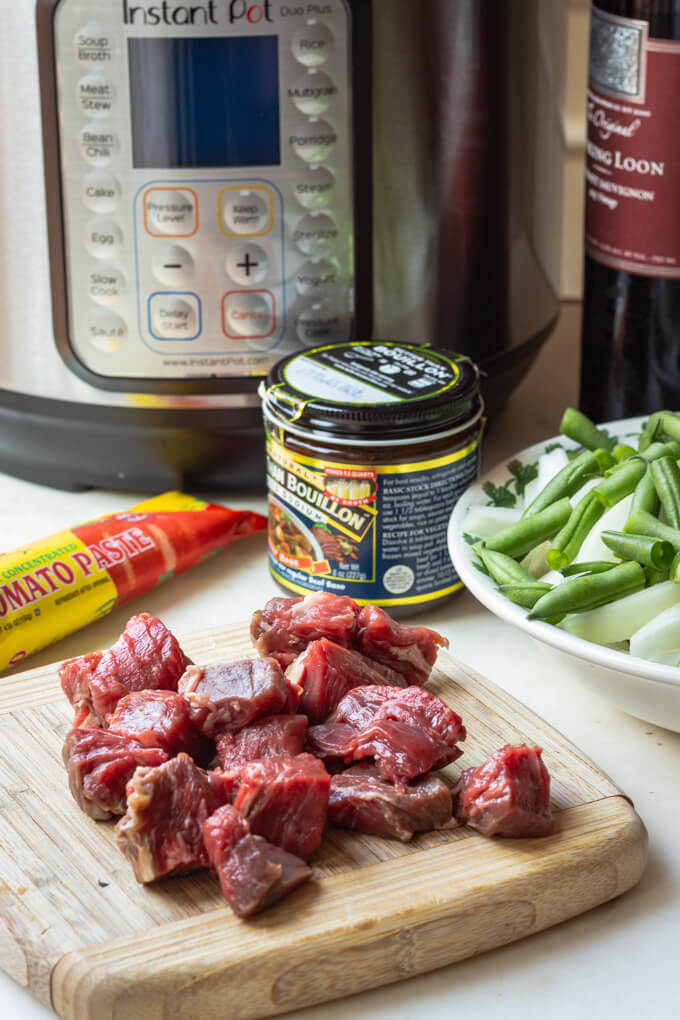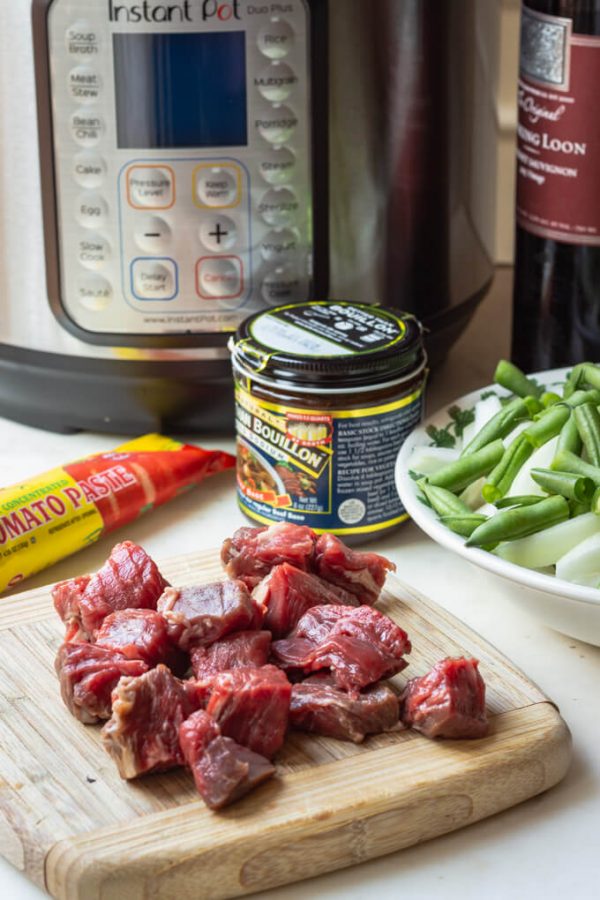 Learning How to Use My Instant Pot
The first dish I made with my instant pot was a pot roast.
I didn't know that electric pressure cookers, like slow cookers, make liquid. I put my chuck roast and vegetables in the Instant Pot and used the pre-programmed soup button. I had to do it twice since the meat wasn't tender. By that time, the vegetables were mush and I had enough accumulated liquid to qualify the meal as a soup. But, it was pretty darn good!
After a bit of tinkering and using my knowledge of slow cookers, I achieved a pretty amazing vegetable beef soup recipe. Not too bad for an Instant Pot newbie.
What I found is that like slow cookers, electric pressure cookers make liquid, which weakens flavor. Recipes need to be engineered to be suitable for cooking in pressure cookers. Reducing the amount of liquid in a recipe is a must to achieve full flavor. Here's why…
Slow cooking a stew or soup on the stove or in the oven concentrates flavor as liquid boils-off as steam. There is much less evaporation in a slow cooker or pressure cooker. Building and adding concentrated flavor is a must for that WOW factor.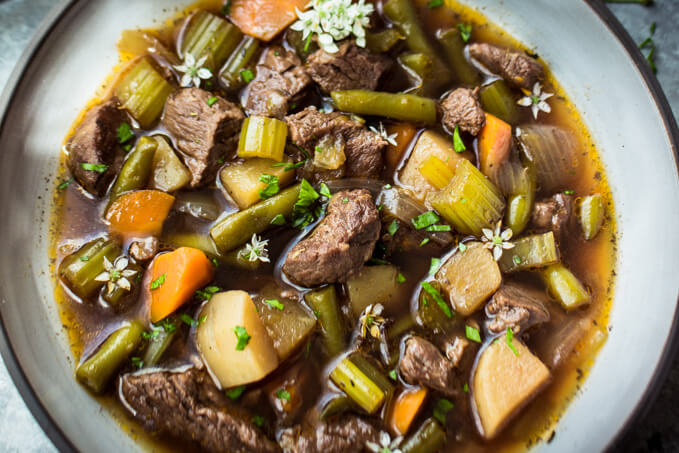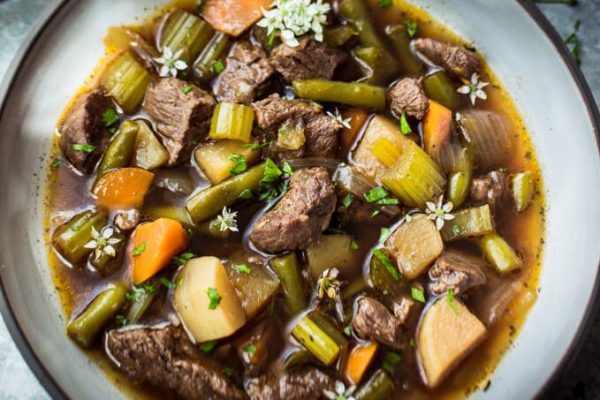 How to get the best flavor in your pressure cooker (Instant Pot)
Brown your meat in the cooking pot when you can. Doing so adds visual appeal to the meat but also leaves caramelized bits (fond) in the pot. These bits provide the base flavor on which to build.
Use less liquid but make it count. Subbingna great low sodium chicken, beef, or vegetable stock for recipes that call for water is a great way to introduce more flavor. I bump the flavor even more with the addition of beef or chicken base. Yes, there is sodium and sugar in the concentrated base, but the extra flavor is absolutely worth it!
Acidic ingredients help break down the protein in meats and brighten flavor: wine, vinegar, or lemon juice are the three common acids used in American cooking.
If using a lot of dried herbs, be careful that they don't blog the steam vent. Tie dried herbs in a sachet or add them at the end of cooking. I also top my food with chopped fresh herbs before serving for a pop of intense fresh herb flavor.
Potato Substitute for Soups and Stews
I'm often asked what I can use as a potato substitute for soup? There are many great substitutes for potatoes in soup; turnips, rutabaga, radish, jicama and celery root come to mind. Of these, my favorite is celery root because it has a celery/parsnip flavor.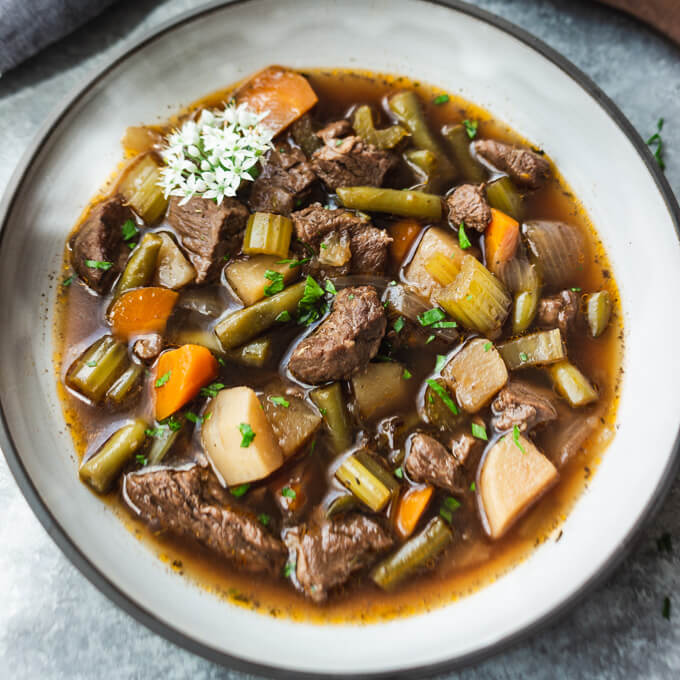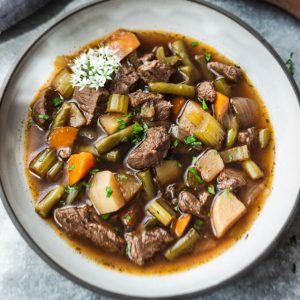 Hearty Vegetable Beef Soup – Instant Pot (Low Carb)
This homemade instant pot vegetable beef soup recipe features fall-apart tender pieces of beef and tasty vegetables in a rich flavorful broth. It promises to keep you warm this season.
Print
Pin
Rate
Ingredients
Brown:
1 1/2

pounds

beef chuck, trimmed and cut into cubes

1

tbsp

olive oil
Add To The Pot:
6

oz

turnip, peeled – large dice

(smallish turnip)

5

oz

celery, sliced

(about 1 1/3 cups)

4

oz

carrots, rolled

(1/2 a large carrot)

4

oz

string beans, cut

3

oz

onions, diced

(about 3/4 cup)

2

cloves

garlic, sliced

32

oz

low sodium beef broth

1/2

cup

red wine

2

tbsp

tomato paste

2

tsp

beef base

(I use Better Than Bouillon)

2

tsp

gelatin powder

(optional – adds body)

1

tbsp

porcini mushroom powder

(optional – adds so much umami flavor)

2

whole

bay leaves

2

whole

cloves
Add After Cooking:
4

tbsp

butter

(added after cooking)

1

tsp

dried thyme, rubbed

1/2

tsp

dried marjoram, rubbed

salt and pepper to taste
Instructions
Preparation:
Trim the beef chuck of fat and silverskin (tough sinewy membrane) and cut into 1/2 – 3/4 inch cubes. Peel and cut vegetables. Gather remaining ingredients.
Method:
Turn on the saute function of your electric pressure cooker and brown the beef in batches. Add all the beef back to the pot and turn off the saute function. (Alternately, brown the beef in a pan on the stove in batches. Add the meat to the pressure cooker pot. Use a little beef broth to scrape up the browned bits in the pan and add this to the pot.)

Add the rest of the ingredients to the pot (except those added after cooking) and stir together. Secure the lid to the pressure cooker and press the "Soup" button. Let the pressure cooker do its thing.

When cooking is finished, carefully release the pressure manually. When all of the pressure is released, remove the lid. Stir in the thyme and marjoram. Adjust seasoning with salt and pepper to taste. Stir in the butter and serve.

Makes 10 cups. Serves 6 with 1 1/2 cups per serving, at 7.5 net carbs each serving.
Notes
Nutrition Facts
Hearty Vegetable Beef Soup – Instant Pot (Low Carb)
Amount Per Serving
Calories 321
Calories from Fat 134
% Daily Value*
Fat 14.87g23%
Sodium 368mg16%
Carbohydrates 10g3%
Protein 32.83g66%
* Percent Daily Values are based on a 2000 calorie diet.
Nutrition
Calories:
321
kcal
|
Carbohydrates:
10
g
|
Protein:
32.83
g
|
Fat:
14.87
g
|
Sodium:
368
mg
|
Fiber:
2.5
g
|
Sugar:
3.73
g