Low carb pork piccata features tender boneless pork loin medallions cooked until crisp and served with a delicious lemon butter caper sauce.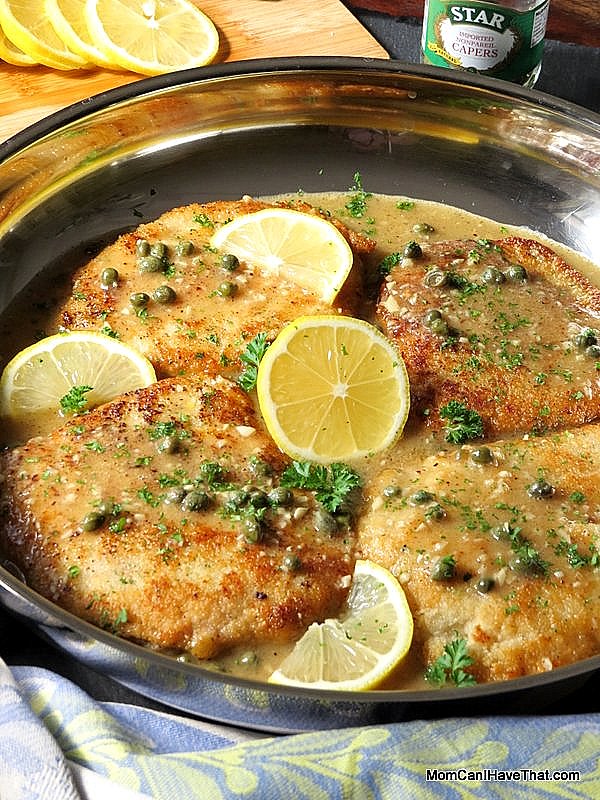 Piccata is a great tasting and versatile dish. I first time I had Chicken Piccata was in a restaurant. But its one of those recipes in which you can sub veal, pork, or even fish.
I like recipes that can be changed to suit a mood or the availability in your freezer! I like using pork loin for my Piccata because it is tender like veal – more tender than chicken, and tastes absolutely fabulous prepared this way.
I have been preparing Chicken and Pork Piccata for many years, but only gluten-free and low carb for the last seven. I have tried ingredients in different combinations, but I enjoy this recipe the best.
For those low carbers who are surprised about the addition of cornstarch or arrowroot powder in the coating, it's needed to help thicken the sauce. The pork loin ends up crispy and the sauce will have a nice body.
Of course, feel free to tailor the recipe to your needs, that's what I do in order to feed my family and create recipes for this blog. But, if you can, try it this way first because it's delicious.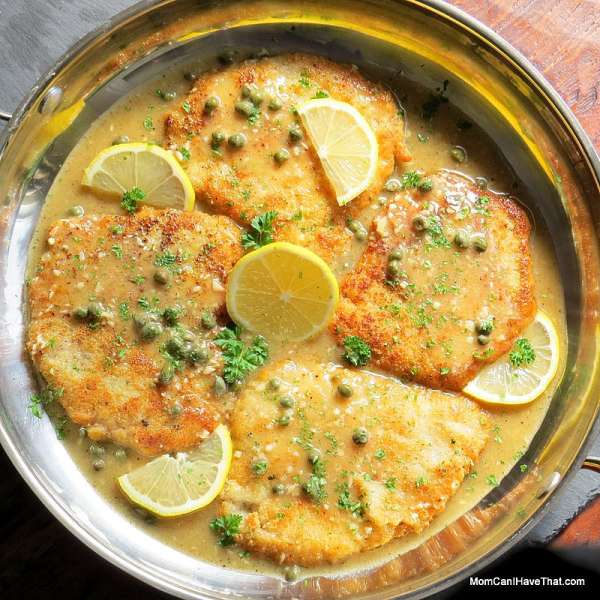 I have streamlined the breading procedure and it not only saves time, but it eliminates the messy egg and helps keep the carbs down to a minimum. There is no "flouring" or "egging" here — just a nice, thin, crispy, low carb, gluten-free crust.
From start to finish, this dish took me about 40 minutes to prepare. That was including gathering dishes, ingredients and everything. The good thing is that while the pork lion is cooking, there is plenty of time to rinse off plates and put them in the dishwasher and clean-up – or make a nice side of salad or pasta.
Low Carb Pork Piccata is 7 Net Carb per serving
[This post may contain affiliate links.]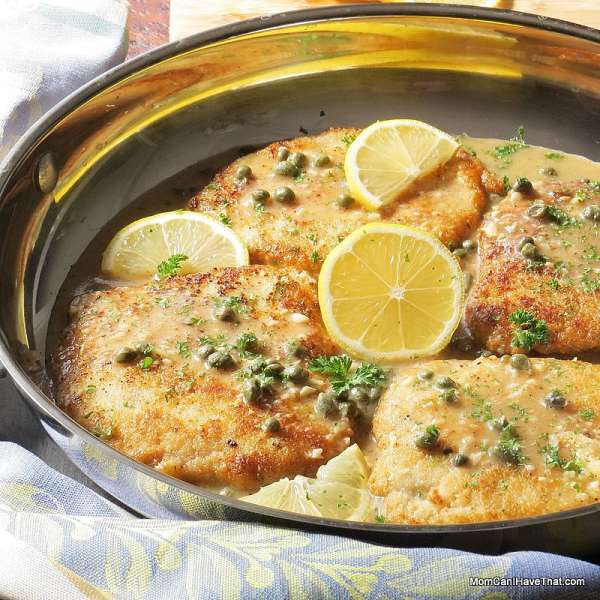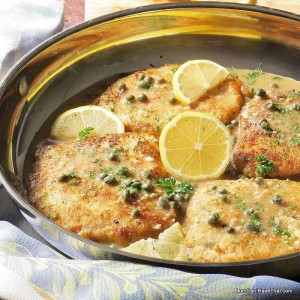 Low Carb Pork Piccata
Low carb pork piccata features tender boneless pork loin medallions cooked until crisp and served with a delicious lemon butter caper sauce.
Print
Pin
Rate
Ingredients
1 1/2

pounds

boneless pork loin chops

2

teaspoons

cornstarch*

or arrowroot

1/2

cup

almond flour

1

teaspoon

dried parsley

1/8

teaspoon

salt

pinches

a few pepper

1/2

cup

dry white wine

2

cloves

garlic

minced

1/2

cup

chicken broth

(or more as needed)

1/3

cup

lemon juice

2

tablespoons

whole capers, drained

2

tablespoons

chopped fresh parsley

salt and pepper to taste

oil for frying

thinly sliced lemon for garnish
Instructions
*The small amount of cornstarch or arrowroot powder helps thicken the sauce.
Preparation:
Line a sheet pan with foil, spray with baking spray and set aside. Mince the parsley, mince the garlic cloves and measure the wine, chicken broth, lemon juice, and capers. Have them all ready near the stove. Place the serving platter near the stove.

Preparing the Pork: Dry the pork with a paper towel. Place a portion of pork loin in a large zip loc bag, leaving it unzipped, and pound each cutlet thinly with a meat mallet, flipping the bag over to pound both sides. Place the flattened pork loin cutlets on the sheet pan. Season one side with salt and pepper, and then the other. Stack pork on a dinner plate.
Breading:
On a dinner plate, mix the cornstarch (or arrowroot) with the almond meal, 1 teaspoon of dried parsley, salt and pepper.

With your fingers, pick up a pork cutlet and place it into the low carb coating. Push and wiggle the pork in the coating then flip to coat the other side. Do this a few times to get a nice even coating. Pat off any excess. Place the coated pork loin cutlet on a sheet pan and continue the process until all of the cutlets have been coated.
Cooking:
Heat a large frying pan on medium-high heat. When it is hot, add the oil and then add 1-2 of the coated pieces of pork loin in the pan. Brown on one side, flip with a fork and brown on the other side. This doesn't take very long if your pork loin is thin. Transfer the cooked pieces to the serving plate and cover loosely with foil. Continue browning all of the pork loin.
Piccata Sauce:
Turn the heat off under the pan. Pour the wine into the pan and then turn the heat back on to medium. Scrape-up all of the brown bits from the pan and add the garlic. Saute the garlic for a moment, then add the lemon juice and the chicken broth. Let it come up to a simmer. The sauce should be thickening by now.

If sauce gets too thick, simply add more stock. Add the capers and heat through. Add the chopped parsley and swirl around in the pan. I like to add about 2 tablespoons of butter to finish it off but you can add olive oil, or leave as it is.

Pour the sauce over the pork and serve. Serves 6.
Notes
As with other recipes that call for frying in oil, I did not even attempt to account for the amount of fat the coated pork loin may of soaked up during cooking.
Also, if the capers are added to the sauce too early, the sauce will turn a weird grayish-brownish-greenish color. It's best to wait to the end.
Nutrition Facts
Low Carb Pork Piccata
Amount Per Serving
Calories 276
Calories from Fat 135
% Daily Value*
Fat 15g23%
Carbohydrates 8g3%
Protein 25g50%
* Percent Daily Values are based on a 2000 calorie diet.
Nutrition
Calories:
276
kcal
|
Carbohydrates:
8
g
|
Protein:
25
g
|
Fat:
15
g
|
Fiber:
2
g