Enjoy this recipe for avocado on toast with poached egg with ham and blender Hollandaise while keeping it low carb and gluten-free. Eggs Benedict? Scrumptious!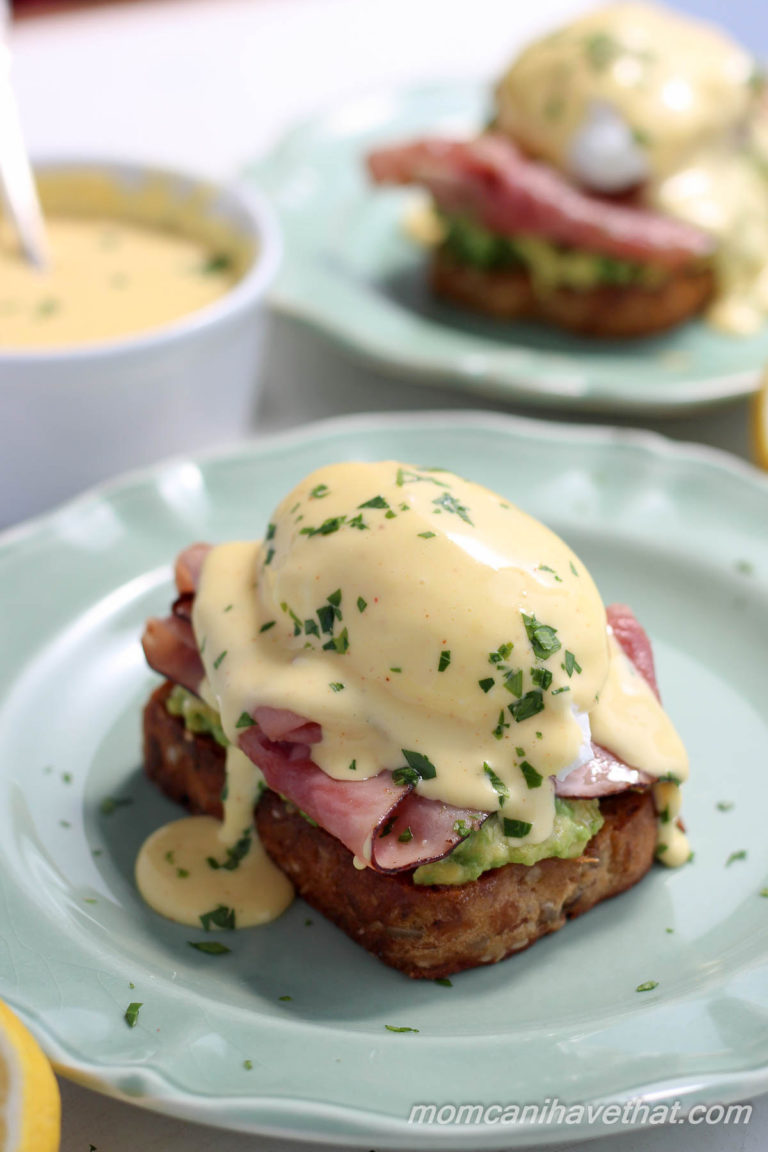 I know, I'm joining the bandwagon really late. I always seem to be on my own cosmic time clock, but avocado toast!!! Yes, this is what my nice Sunday breakfast or brunch dreams about. Avocado plus toast equals a super yummy combination all on its own, but then add a poached egg and blender hollandaise and like I said…. Sunday breakfast dreams people!
Other bloggers have been posting avocado toast on their blogs and Instagram accounts for the last few years or so. The avocado earned almost over-night fame several years ago when low carbers, cross-fitters and those following a Paleo diet decided to embrace fat. Avocado, and it's bff bacon, suddenly appeared in almost everything sweet or savory. And toast became really popular last year. Everything imaginable was put on toast and even burned toast scrapings were used to top some of the most innovative dishes in some of the top restaurants. So, I'm sure all of you are jaded when you hear the words poached egg on avocado toast, but….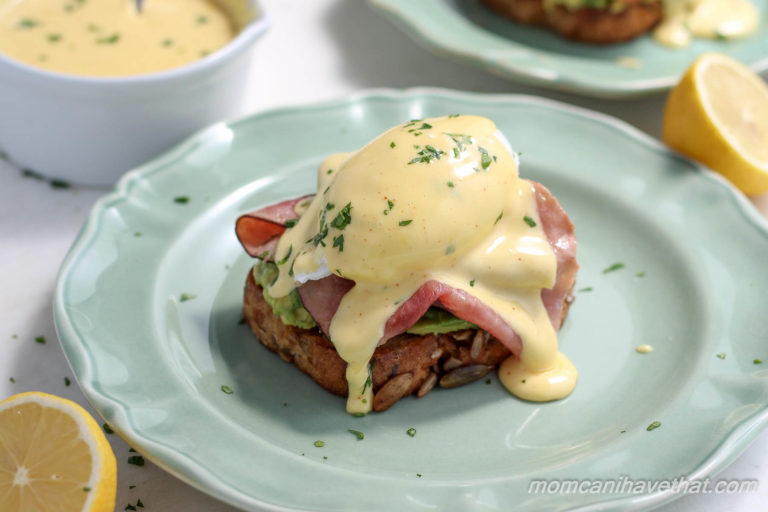 This is one of the yummiest things I have had for breakfast in a long time! I have been making a lot of poached eggs lately after deciding I needed a change from eating the same Spinach, Bacon & Onion Crustless Quiche every day for breakfast — for years. I did a review of Sukrin's low carb and gluten-free Sunflower Pumpkin Seed Bread last month and was super excited to try it out as a base for poached eggs. Why? It's to die for and I love a good chewy, seedy bread. I'll admit it, I MISS BREAD! Am I the only one? Using this bread as a base for poached eggs was absolutely perfect. I'm in-love with the combination.
I know, you're going to balk at the price of the bread mix and I wouldn't blame you. But, let me talk about the bread for a minute. It really tastes phenomenal. As my readers know, I'm the kind of person who likes to bake and make almost everything from scratch. And while I don't mind taking a short cut by using a prepared product to save time, I can't even name one mix I'm willing to buy. That's not true. I like King Arthur's Gluten-free Bread Mix and make it sometimes for my kids. But this is definitely something I like to have in my pantry for a nice breakfast or brunch. I got 8 thick slices of toast out of the bread and was still able to enjoy the ends with butter. (Come on, I know it's your favorite part, too!) Just so you know, the mix serves 12 — I just cut my slices thicker to use in this recipe.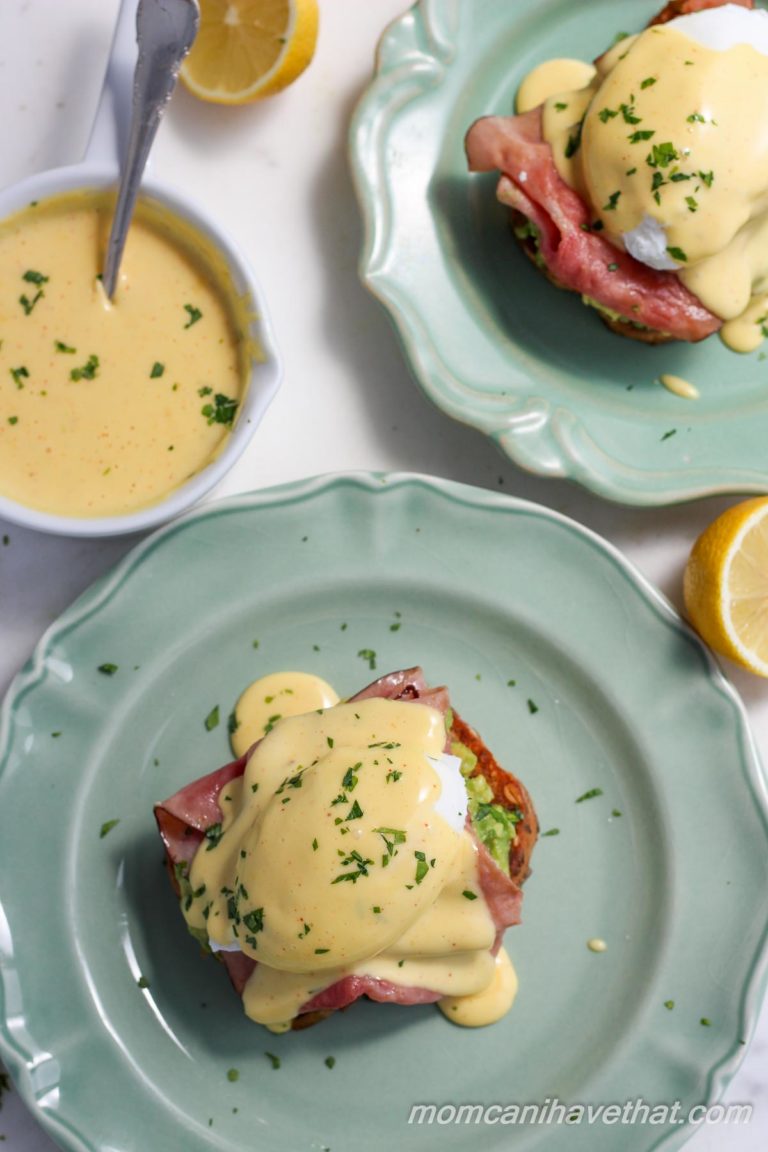 Let's talk about the recipe. It is not very hard to put together, but does require that the bread be already made. Let me assure you that this "just-add-water-to-the-mix-and-bake-in-the-cute-little-aluminum-pan-provided-in-the-box" mix is as simple as can be, and my post provides some nice tips and tricks to help you get a really pretty loaf. If you don't have or aren't interested in the low carb bread mix and you want to MAKE THIS RECIPE RIGHT NOW, then use your favorite low carb bread option.
Like this recipe? Perhaps you'd also like: Zucchini Fritter Eggs Benedict with Prosciutto & Tomato or Heirloom Tomato and Swiss Chard Eggs Benedict
Looking to snazz up that Hollandaise sauce? This Blender Hollandaise post has lots of ideas!
This Avocado on Toast With Poached Egg and Blender Hollandaise is 7 net carbs per serving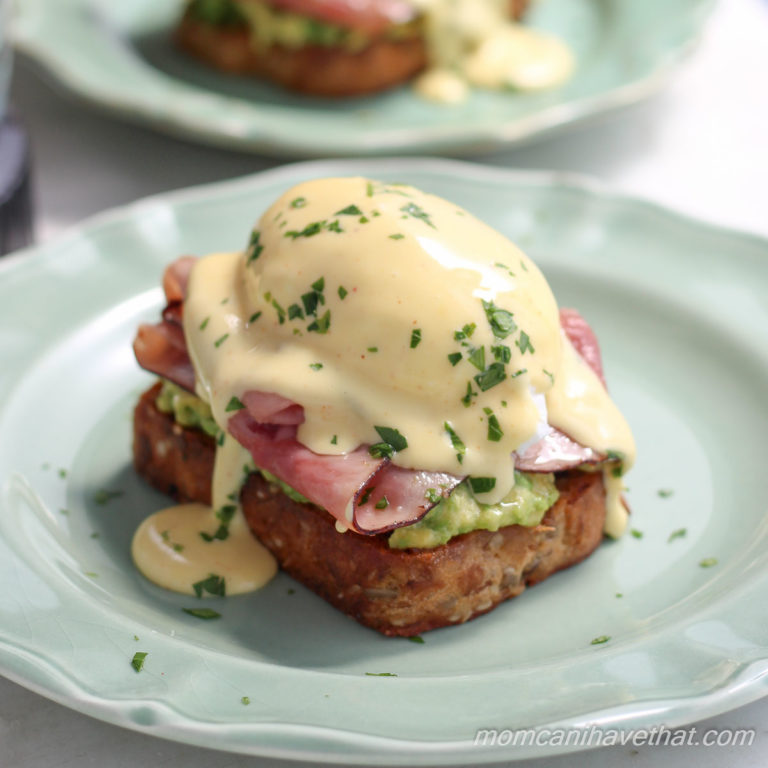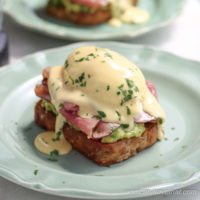 Avocado on Toast With Poached Egg and Blender Hollandaise
Enjoy this recipe for poached egg on avocado toast with ham and blender Hollandaise while keeping it low carb and gluten-free.
Print
Pin
Rate
Ingredients
Toast
4

pieces

low carb bread

(I used Sukrin Sunflower Seed Bread Mix)

1 1/2

tablespoons

of butter
Blender Hollandaise
4

ounces

salted butter

(113 g)

3

large

egg yolks

2-3

teaspoons

lemon juice

(10-15g)

1/8 – 1/4

teaspoon

cayenne pepper or white pepper
The Benedict
1

avocado

1

tablespoon

lemon juice

salt to taste

4

ounces

deli ham

4

large

eggs
Instructions
Toast:
Place a medium to large frying pan or skillet over medium heat. Spread a thin layer of butter on the top side of each piece of the low carb bread. When the pan is hot, place the bread buttered side down in the pan to toast. Butter the other sides while it they are cooking then flip and toast the other side. Remove to serving plates.
Blender Hollandaise:
Meanwhile, add the three egg yolks to the blender. Heat the 4 ounces of butter in the pan until it is very hot and stops foaming. Turn the blender on low and begin pouring the hot butter into the blender – very slowly at first, and then a little faster as the Hollandaise begins to emulsify Add the lemon juice and pepper and turn the blender to a faster speed. Scrape down the sides and add the middle back to the top of the lid. Let the sauce sit in the blender until ready.
Avocado:
Coarsely mash the avocado and add the lemon juice and salt to taste. Divide it among the four pieces of toast.
Ham:
Place the ham into the butter coated frying pan and cook it over medium heat until it warms and begins to crisp. Divide it among the four servings and place on top of the avocado.
Poached Eggs:
Meanwhile, fill a medium – large frying pan ¾ fill of water, add two teaspoons of vinegar and a big pinch of salt. Turn the heat to medium high until it begins to simmer slowly, then turn it down to medium. Crack the eggs one at a time and gently open them into the barely simmering water. Watch the heat under the pan because we don't want the water to boil. Cook the eggs 1 minute, then with a spatula, gently loosen the eggs from the bottom of the pan so they can float freely. Poach the eggs for another minute, then gently roll them over with a slotted spoon. Continue poaching for about 2 minutes more. Remove the eggs from the pan and drain on paper towels.

Place a poached egg on each serving and add divide the Hollandaise by spooning it on top.

Garnish with parsley, cilantro, capers, black pepper or cayenne.
Notes
Nutritional information assumes the low carb bread that I used: Sukrin Sunflower Seed Bread Mix. That I made, baked and divided into 8 slices. I used 4 of the slices.
Nutrition
Serving:
1
g
|
Calories:
584
kcal
|
Carbohydrates:
24
g
|
Protein:
21
g
|
Fat:
53
g
|
Fiber:
17
g