Pistachio Raspberry Rose Tartelettes
A crispy, almond-shortbread-cookie, tart shell encasing a deliciously cool and creamy, almond-rose flavored pastry cream topped with fresh ripe raspberries and crunchy, salty chopped pistachios and finished with a drizzle of berry flavored chocolate!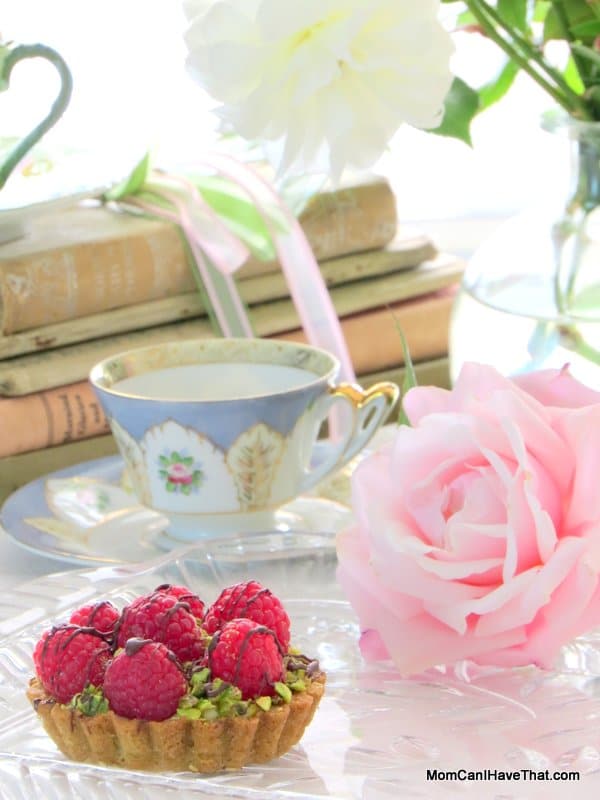 Have you ever made something so utterly delicious that you completely surprised yourself and wanted to give yourself a fist-bump? That's how I felt when I made these raspberry tartelettes. Not only were they beautiful, but they really, really taste delicious! They are the perfect bite for spring.
The special thing about these low carb raspberry tartlettes is that they are completely casein free – which is important in my house. We use a lot of ghee due to a child with food sensitivities. You can use melted butter, but if you know someone who has to steer clear of gluten and casein, these are the perfect make-ahead dessert for a special occasion.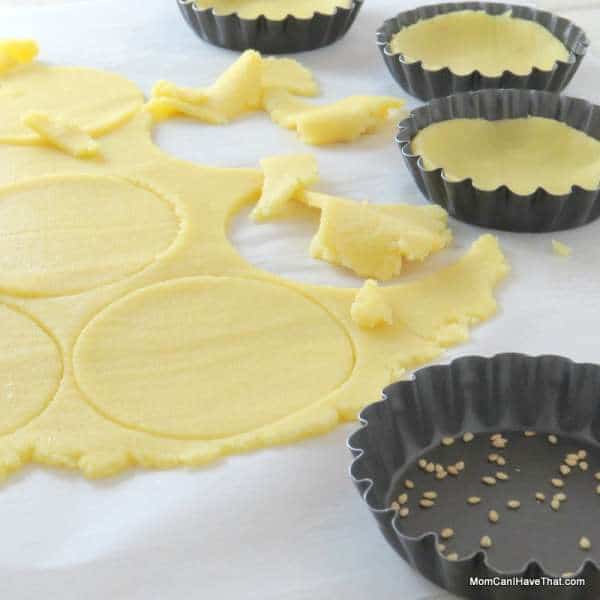 I wish I could give you a bite of these low carb tarts! The crust is firm and crispy – much like a shortbread cookie and tastes of almonds and butter and coconut. The dough was easy to work with when rolled out between two pieces of parchment paper. If it is sticky, chill it in the refrigerator for about 30 minutes and then try rolling. I used cold canned coconut milk, straight from the refrigerator for this recipe. We always have coconut milk in the fridge for pancakes, cakes, curries and I even use it in my coffee sometimes. It's very versatile and makes a heavenly dairy-free pastry cream!
See the sesame seeds in the tart pan above? That's my secret for a tart dough that does't stick to the bottom on the pan. The seeds provide a little air pocket and a little extra oil when baked, making for easier removal. It works will with quiches, too, and gives a really nice nutty flavor.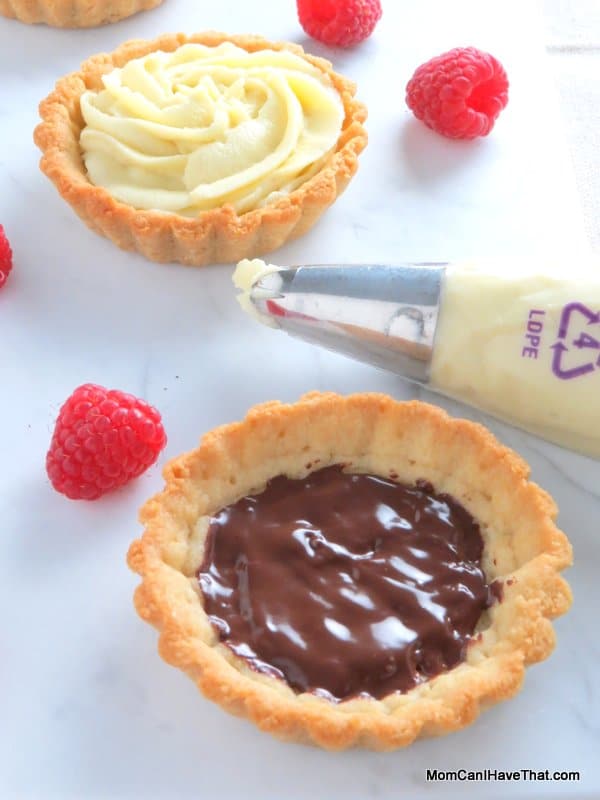 Look at that glossy chocolate!
You'll be happy to know that these pistachio raspberry rose tartlettes are not only easy to make but they hold well in the refrigerator. The key? The thin layer of chocolate in the bottom. It prevents the bottom from sogging-out. If you have ever had a soggy tart crust, then you know what I'm talking about. This trick works every time and adds a nice chocolate surprise as well as preventing a soggy tart crust.
The tarts lasted about 5 days in the fridge for us (I had made several batches for testing and photographs) and they were still delicious.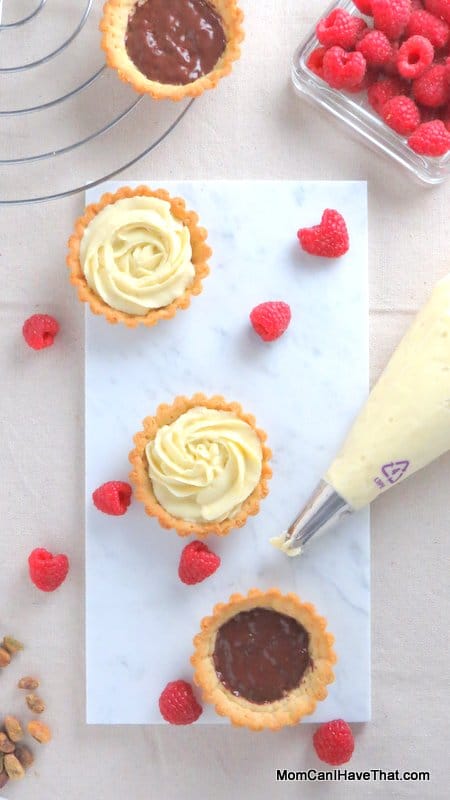 Have I mentioned yet that I am in love? Totally in love? Head over heels – completely gaga – out of my mind in love with these raspberry tarts? I am! Just look at these beautiful little pistachio tarts. You would never guess that they are low carb, gluten-free, dairy-free and Ketogenic. I would be proud to serve these to any guest or to serve them on any special occasion, like:
Valentine's Day!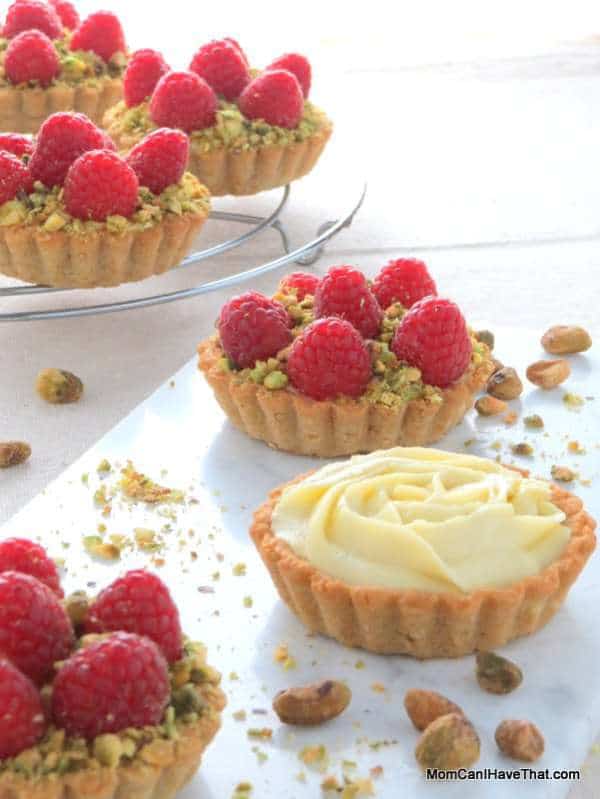 I have already mentioned that they are easy to prepare. (I keep repeating this because looking at the tarts they seem complicated, but they really aren't.)
The tart dough takes minutes to put together, a little longer to get it in the shells, but after rolling and cutting with a cookie cutter, they just press in. The low carb coconut pastry cream can be made in 20 minutes or less. And, the tartelettes are filled and decorated in minutes! I piped the filling in, but spooning works just as well. And chopping roasted-salted pistchios and melting chocolate are both easy to do.
[TIP] To make it easier on yourself, bake the tart shells and prepare the pastry cream the day before. Cover and refrigerate the coconut pastry cream and keep the tart shells in an air tight container. The next day, chop the nuts and melt the chocolate just before assembly.
These pistachio tarts are something you are going to have to make for yourself or a loved one – not just for Valentine's Day – but just because.
Are you looking for more Valentine's Day Recipes? Try these:
These Pistachio Tart With Almonds and Raspberry Topping are 7 net carbs each.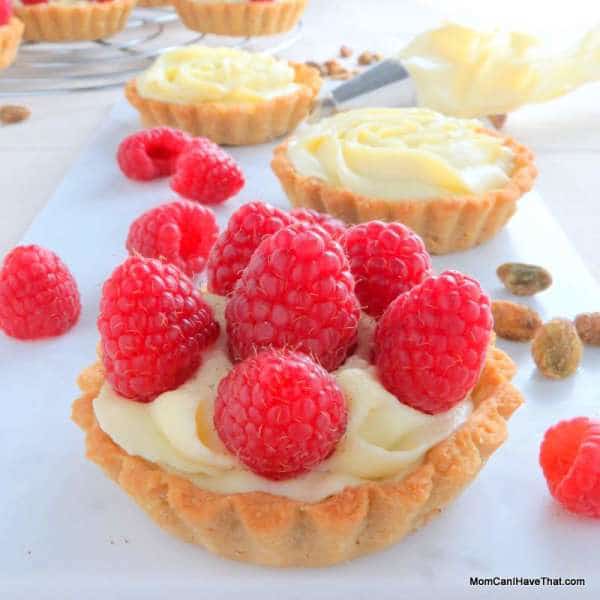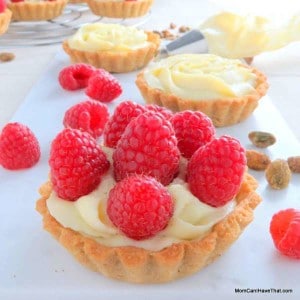 Pistachio Tart With Almonds and Raspberry Topping
These raspberry tartelettes have a crispy shortbread cookie crust are filled with a creamy almond-rose flavored pastry cream, and are topped with ripe raspberries, pistachios and chocolate. A beautiful experience in every low carb, gluten-free and dairy-free bite!
Print
Pin
Rate
Ingredients
Shortbread Crust
1

cup

almond flour

1/4

cup

erythritol

1

Tablespoon

cornstarch

1/4

teaspoon

baking soda

1/4

teaspoon

salt

1

large egg

cold egg

1

teaspoon

full fat coconut milk

cold from a can

1

tablespoon

coconut oil

melted

1/4

teaspoon

almond extract

1/2

teaspoon

sesame seeds
Almond Rose Pastry Cream
1

cup

coconut cream

1/4

cup

erythritol

1

large egg yolk

1

large egg

1/2

tablespoon

cornstarch

2

tablespoons

ghee

1/4

teaspoon

vanilla extract

1/4

teaspoon

rose water

1/4

teaspoon

almond extract

1

ounce

pistachios

roasted, salted, chopped fine

4

Ghirardelli Cabernet Matinee chocolate squares

1

pint

raspberries
Instructions
To make the Shortbread Crust for the Pistachio Raspberry Rose Tartelette

: Preheat oven to 350. Spray 8 small tartelette tins with baking spray. Sprinkle a few sesame seeds in the bottom of each tin so the shortbread crust doesn't stick to the bottom of the tins. In a coffee grinder, powder the 1/4 cup of erythritol

In a medium bowl, combine the almond flour, erythritol, cornstarch (or arrowroot powder) and salt. Mix well. In a small bow, beat the egg, extracts and coconut milk together. Pour the warm, melted coconut oil in a thin stream into the egg mixture while mixing. Remove 1 tablespoon of the mixture. Add the egg mixture to the dry ingredients and combine thoroughly. Gently roll the dough between two pieces of oiled parchment paper to a thickness of 1/4 inch. Cut 8 circles with a 3 inch cookie or biscuit cutter and place the rounds in the tartelette pans. Gather and roll the left over scraps of dough, and cutting strips, fill in the sides of the tartelette shells. Do not overwork the dough or it will become tough. This step takes some time but it is an important step. Bake right away or refrigerate until ready. When ready to bake, turn the oven to 350 degrees. Place a rack at the lowest position in the oven. Place a sheet pan on the rack to preheat. Dock the dough with a fork (poke holes into the dough on the bottom and sides of the tart tins). Pull the oven rack with the cookie sheet out and place the tartelettes onto the sheet pan. Bake 10 – 20 minutes or until the tartelettes are golden brown. Remove them from the oven and let cool completely. Remove the pastry shells from the tins. If not using right away, store in an airtight container.

To make the Almond – Rose Pastry Cream

: In a medium bowl, add the erythritol, a pinch of salt and cornstarch. Mix to combine. Add the egg and yolk and whisk until combined. Heat the coconut milk in a small pot until it is simmering and hot. While whisking the egg mixture, slowly pour in the hot coconut milk, tempering the eggs so that they do not scramble. Pour the pastry cream mixture back into the pot and turn the heat to medium low. Stir with the whisk constantly until the mixture – all at once – becomes thick. Turn the heat down just a tad and continue to whisk for one more minute to cook the taste of the starch out of the pastry cream. Add the ghee, extracts and rose water. Stir. Cool completely. I like to put the pot into a larger bowl, that is half filled with ice and just a little water. I stir the pastry cream until it is completely cool.

To assemble and garnish the Pistachio Raspberry Rose Tartelettes

;Finely chop the pistachios. Break the chocolate up into little pieces and gently heat until melted. Stir the pastry cream. Place the tartelette shells in a line, on a flat surface. Spoon 1/2 teaspoon of chocolate into the bottom of each pastry shell and spread so that the bottom of the pastry is completely covered – this helps keep the bottoms from getting soggy. Next, spoon the rose pastry cream into each tartelette, evenly distributing. Place one raspberry into the middle of each tartelette and then 5-6 raspberries around each center raspberry. Now sprinkle the chopped pistachios around the raspberries, covering any pastry cream. Drizzle the tops of the Pistachio Raspberry Rose Tartelettes with the chocolate.

These keep in the refrigerator for a few days, but the shortbread does become softer – not soggy – but softer.
Notes
Nutrition Facts
Pistachio Tart With Almonds and Raspberry Topping
Amount Per Serving (1 g)
Calories 269
Calories from Fat 207
% Daily Value*
Fat 23g35%
Carbohydrates 11g4%
Protein 7g14%
* Percent Daily Values are based on a 2000 calorie diet.
Nutrition
Serving:
1
g
|
Calories:
269
kcal
|
Carbohydrates:
11
g
|
Protein:
7
g
|
Fat:
23
g
|
Fiber:
4
g