Easy pesto keto chicken stuffed peppers make a flavorful main dish everyone will love. With a quick pesto chicken filling inside tender bell peppers, this chicken stuffed pepper recipe is sure to please.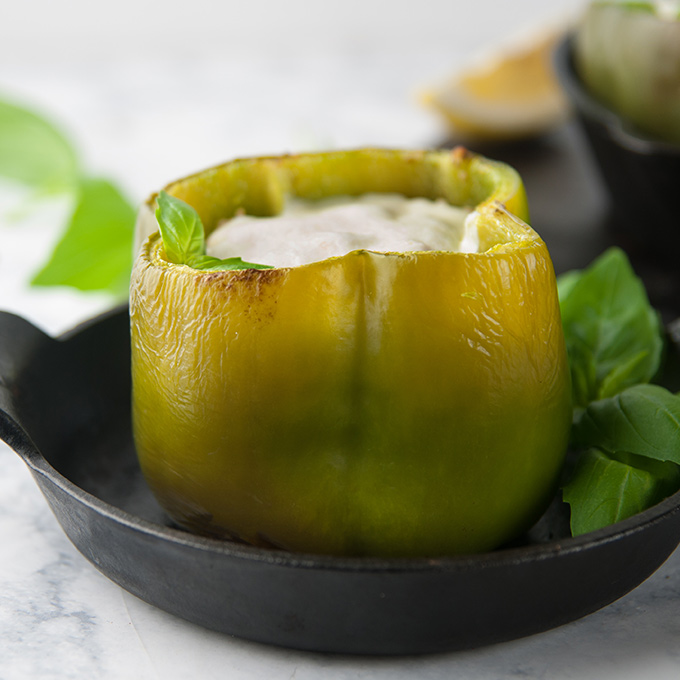 THIS POST INCLUDES AFFILIATE LINKS TO SHARE THE THINGS I LOVE.
Ever since I had my kids, I have been super conscious about what I am eating. I want my food to taste delicious because my Italian DNA runs strong, but I also want my food to be reasonably healthy because someday I aspire to wear non maternity jeans again. And aside from being delicious and healthy, my meals need to be easy with two small children. I'm talking one skillet, minimal prep kind of meals. It's what I live for.
Correction: it's those one skillet meals that keep me alive with my time in the kitchen being at a premium and my attention always being divided.
These keto pesto chicken stuffed peppers check all my boxes. You only need two skillets to make them. They are full of lean protein, big pesto flavor, and veggies while being delightfully low carb. Better yet? The active prep time is minimal so I can make them even on the most chaotic of nights. I'm all about that.
Keto Chicken Stuffed Peppers- An Interesting Way to Switch up a Classic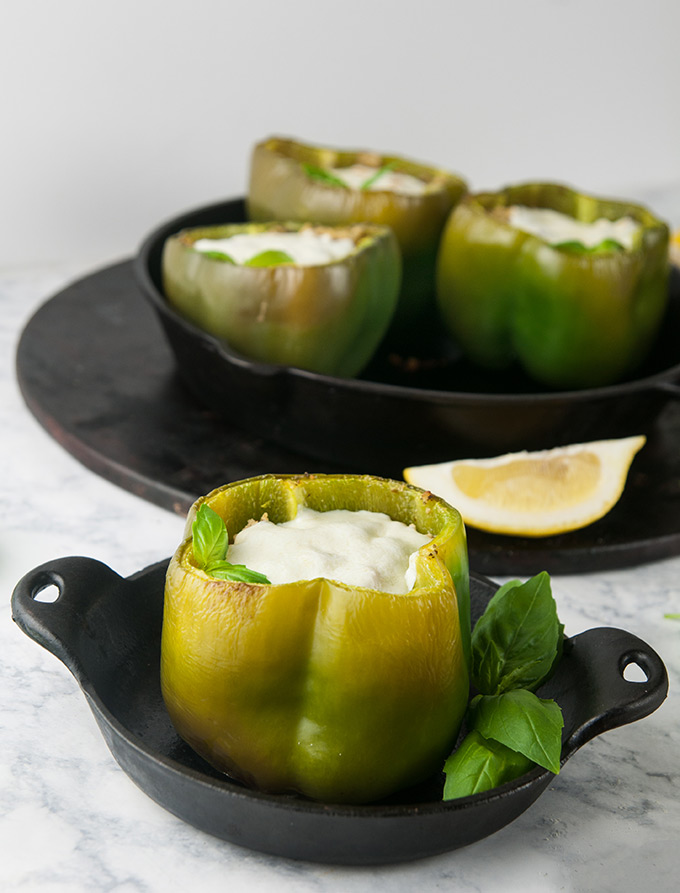 Classic stuffed peppers are delicious and I make ground beef stuffed peppers a few times each winter with the classic tomato sauce and cheese combination, but unique twists really make me happy. Plus making variations on stuffed peppers makes it easy to keep them keto and low carb friendly without missing the grains that classic stuffed peppers normally have.
Plus, the variety of flavors keeps dinnertime fresh and exciting. The chicken filling calls for ground chicken breast, fragrant basil pesto, a squeeze of lemon, and enough garlic to please my Italian roots. Those flavors mixed with the mellow bell pepper flavor create a dish that's unexpected but still satisfying and even comforting.
Is pesto keto?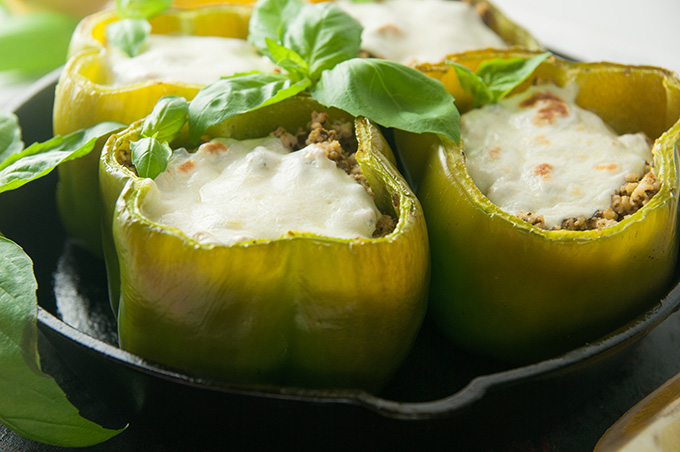 The answer- it depends. Not all pesto is created equal when it comes to following a low carb diet. If you want to buy a premade pesto at the store to make it easy on yourself, read the labels. Many store bought dressings and sauces have sneaky sources of sugar in them that can wreak havoc on a keto lifestyle.
You can make pesto yourself. My kale pesto is easy to make, serves 4, is loaded with veggies and has 5 net carbs per serving. If you want to do a shortcut like I did here, Delallo Foods makes a pesto sauce called Simply Pesto Traditional Basil that has only 2 grams of carbs per quarter cup serving. Not only is it low carb and no sugar, but it's really delicious. Plus this brand uses real olive oil instead of other, lesser oils that some other store pestos use.
Pesto chicken made easy!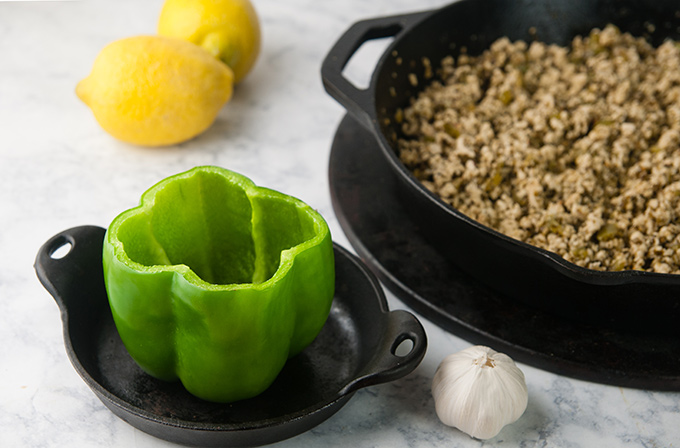 When I make dinner, I'm really looking to keep it fast and easy. These chicken stuffed peppers do that with a couple of tricks. First, I used pre-made pesto as mentioned above to save myself the step of breaking out my food processor to do homemade pesto. Then, instead of using whole chicken breasts, I used ground chicken breasts. It cooks a bit faster and doesn't require the time marinading to infuse it with flavor.
I also used Kim's method of partially cooking the peppers before I stuffed them like she she does for her buffalo chicken stuffed peppers and her sloppy Joe stuffed peppers. This makes this dinner easier for a couple of reasons:
Partially cooking the peppers before baking the chicken stuffing inside the peppers cuts down on total cook time, meaning dinner is on your table faster.
The partially cooked peppers are easier to stuff because they are more pliable. This gives you neater looking peppers with less hassle.
Making Chicken Stuffed Peppers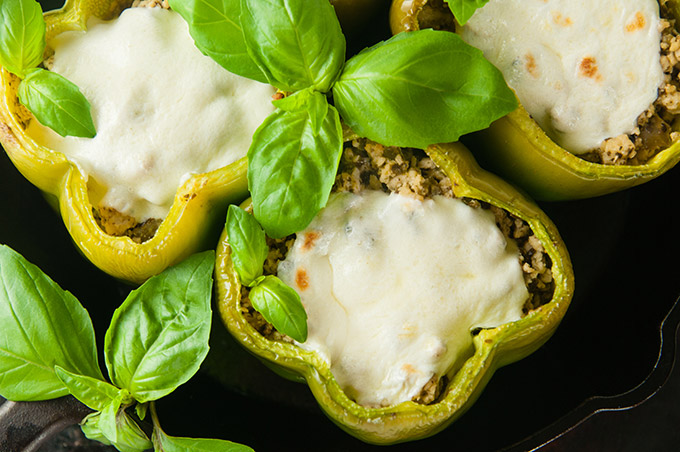 I kept these keto chicken stuffed peppers as easy as possible for a meal I can make even on my worst days when my kids have refused to sleep or are both hanging off me while I get dinner together.
To start, I heated up olive oil in a large cast iron skillet over medium heat. While I let the oil heat, I cut the tops off of the peppers and cleaned out the white ribs and seeds from the peppers. Then I popped the clean peppers into a 350 degree oven to let them soften while I prepared the filling.
After the bodies of the peppers were cleaned and baking, I diced the pepper tops and added them to the oil. I let them cook for about two minutes until they started to soften prior to adding 4 pressed garlic cloves. Immediately after adding the garlic, I added 1 pound of ground chicken breast to the skillet with the peppers and garlic. Season the chicken with salt and pepper and a tablespoon of fresh lemon juice, which is the juice from half a lemon. Let the chicken cook until all the pink is gone and the meat is slightly golden, drain any excess oil out of the pan. There shouldn't be much.
Once any excess liquid is drained, add the pesto sauce and the Parmesan cheese to the skillet and mix the meat until the pesto and cheese is well combined. Then pull the peppers out of the oven and drain any liquid that has collected inside them. Next you can stuff each pepper with the chicken mix. Top each pepper with mozzarella cheese and pop it into the oven to bake until the cheese is beautifully melted. Then you're ready to enjoy.
Perfect for Low Carb Meal Prep!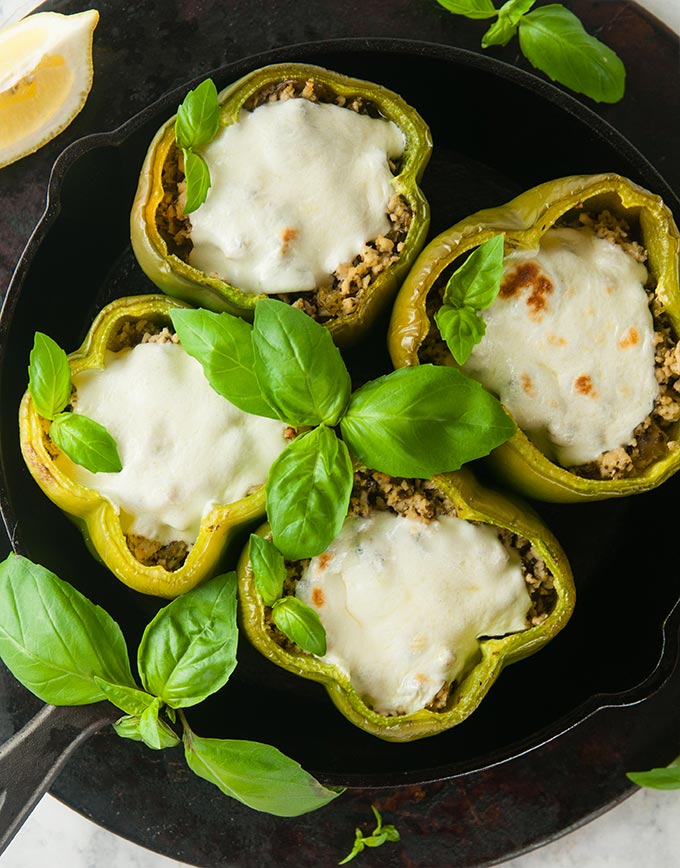 If you don't want to eat them right away, that's fine. These peppers actually taste even better the next two days as the flavors meld longer.
To use them as a make ahead meal prep option, let them cool when you take them out of the oven. After that cover with them tightly foil. Then store in your fridge to reheat in the oven over the next few days. To reheat, bake them in a 375 oven for 30 minutes or until the cheese melts and the pepper is warmed through.
Make these peppers the way you like them!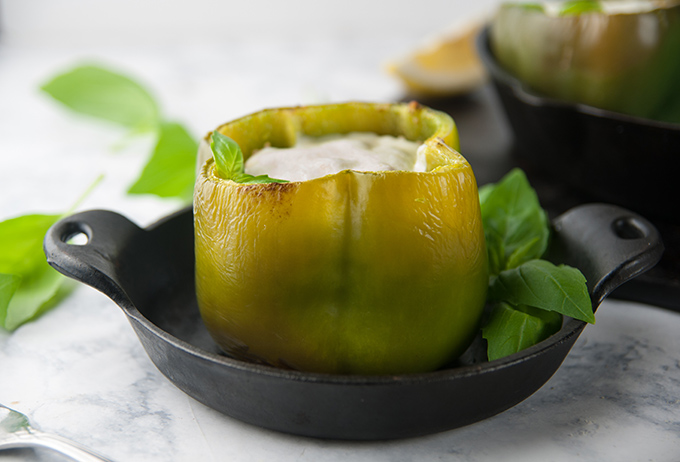 You can make a few substitutions to customize this to really suit your taste. For example, if you're not as fond of garlic as I am, feel free to adjust down and use only a clove or two when you cook the chicken.
If you aren't a fan of cheese, you can get rid of the cheese. To make this meal dairy free, you'd have to omit the Parmesan in the filling as well as the mozzarella topping. Plus, you'd want to make your own pesto sauce and make it with no Parmesan or romano cheese in it. The Minimalist Baker has a good vegan pesto recipe that you could use. Her recipe uses nutritional yeast to get the same cheesy flavor and has only 1.2 grams of carbs per serving.
Other things you can do to really make this recipe your own:
add a pinch of red pepper flakes
stretch the filling out with some cauliflower rice
use a different cheese- smoked provolone would be really good on top of these peppers
to cut your active cook time down, you could stuff these peppers with shredded rotisserie chicken breast tossed with pesto, lemon juice, and garlic instead of cooking ground chicken
Thank you Jenna for this tasty keto bell pepper recipe!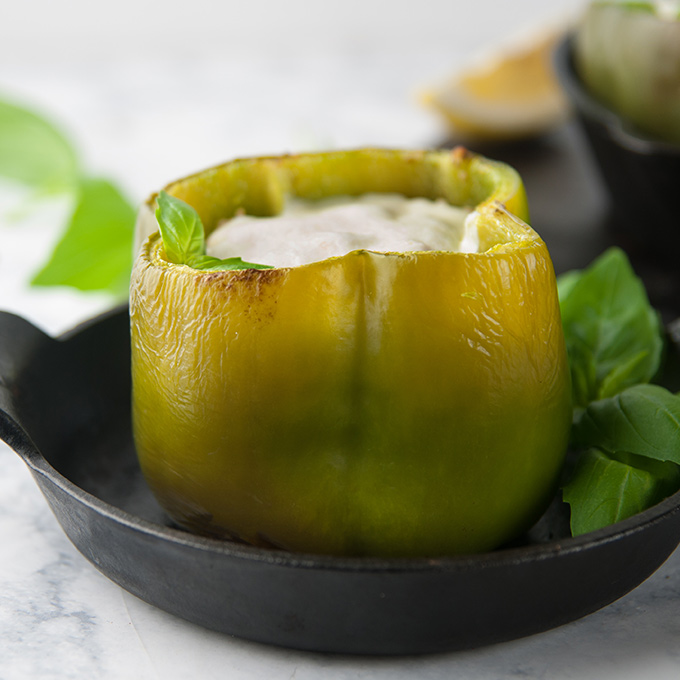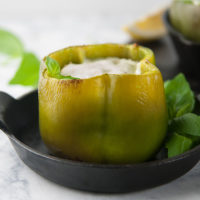 Pesto Keto Chicken Stuffed Peppers
Easy pesto keto chicken stuffed peppers make a flavorful main dish everyone will love. With a quick pesto chicken filling inside tender bell peppers, this chicken stuffed pepper recipe is sure to please.


Print
Pin
Rate
Equipment
cast iron skillet

garlic press
Ingredients
4

large

bell peppers

2

tbsp

olive oil

1/2

tsp

granulated garlic

1

pound

ground chicken breast

1

pinch

salt

1

tsp

pepper

1

tbsp

lemon juice

1/2

cup

pesto

1/4

cup

Parmesan cheese

shredded

4

slices

fresh mozzarella cheese
Instructions
Preparation
While the oven is heating, cut the tops off the peppers and set them aside. Then remove the seeds, core, and white ribs from the peppers to hollow them out. Bake on a tray or in a skillet in the preheated oven for 15 minutes, while you prepare the filling.
Method
While the prepared peppers bake, heat 2 tbsp olive oil in a large cast iron skillet over medium heat. Dice the usable pepper from the top parts of the peppers and cook for 2 to 3 minutes or until the peppers start to soften. Add the ground chicken breast, seasoning it with granulated garlic, salt, pepper, and 1 tbsp of lemon juice.

Cook until the chicken is slightly golden and no longer pink, stirring with a spatula frequently. Drain the excess liquid off of the chicken then add the pesto and Parmesan cheese. Stir to combine, then remove from heat.

Remove the peppers from the oven and pour out any liquid that has collected in the center of the peppers. Spoon the chicken filling into each pepper. Top with mozzarella cheese and return to the oven to bake for 20 minutes or until the cheese is perfectly melted. Serve immediately or cover and store in the fridge for 3 days. Reheat in a microwave or cover and bake at 350 until warmed through.

Serving size is 1 whole pepper at approximately 9 net carbs each.
Nutrition
Calories:
468
kcal
|
Carbohydrates:
11
g
|
Protein:
39
g
|
Fat:
30
g
|
Cholesterol:
86
mg
|
Sodium:
456
mg
|
Fiber:
2
g
|
Sugar:
3.79
g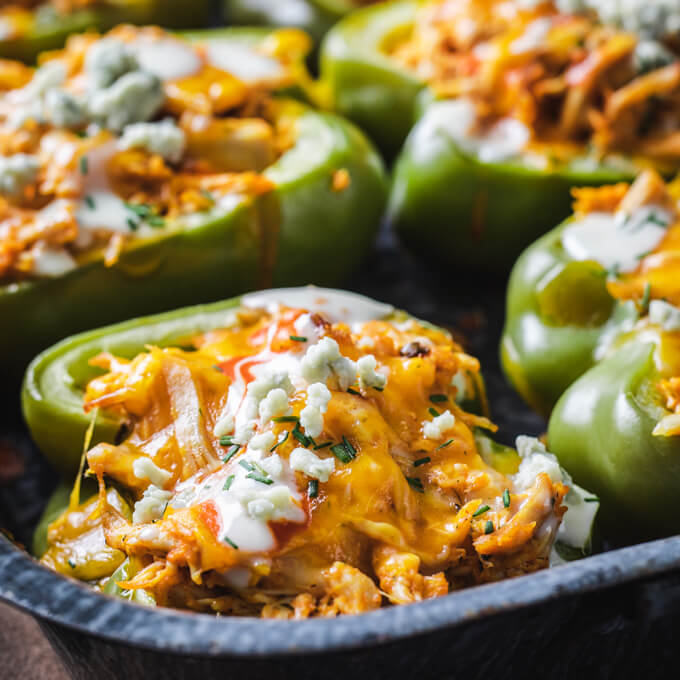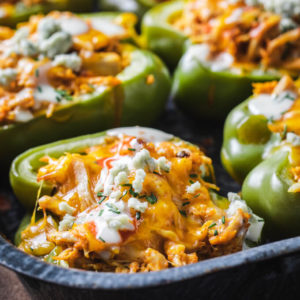 Buffalo Chicken Stuffed Peppers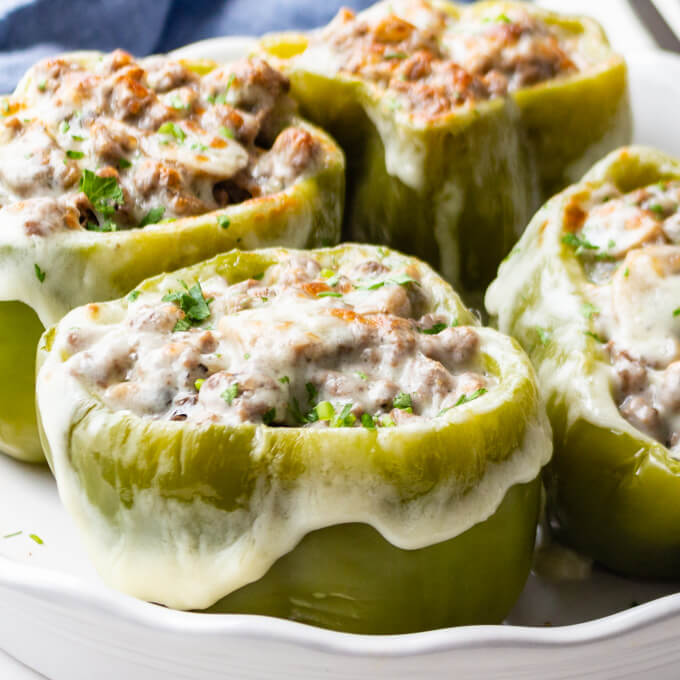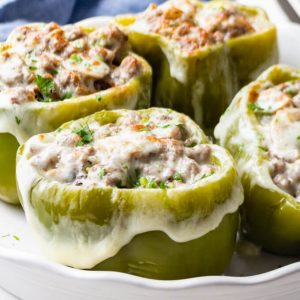 Philly Cheesesteak Stuffed Peppers