A super moist low carb birthday cake peanut butter chocolate filled with a rich homemade chocolate pudding and frosted in peanut butter whipped cream. Your low-carb-and-ketogenic-layer-cake dreams have come true!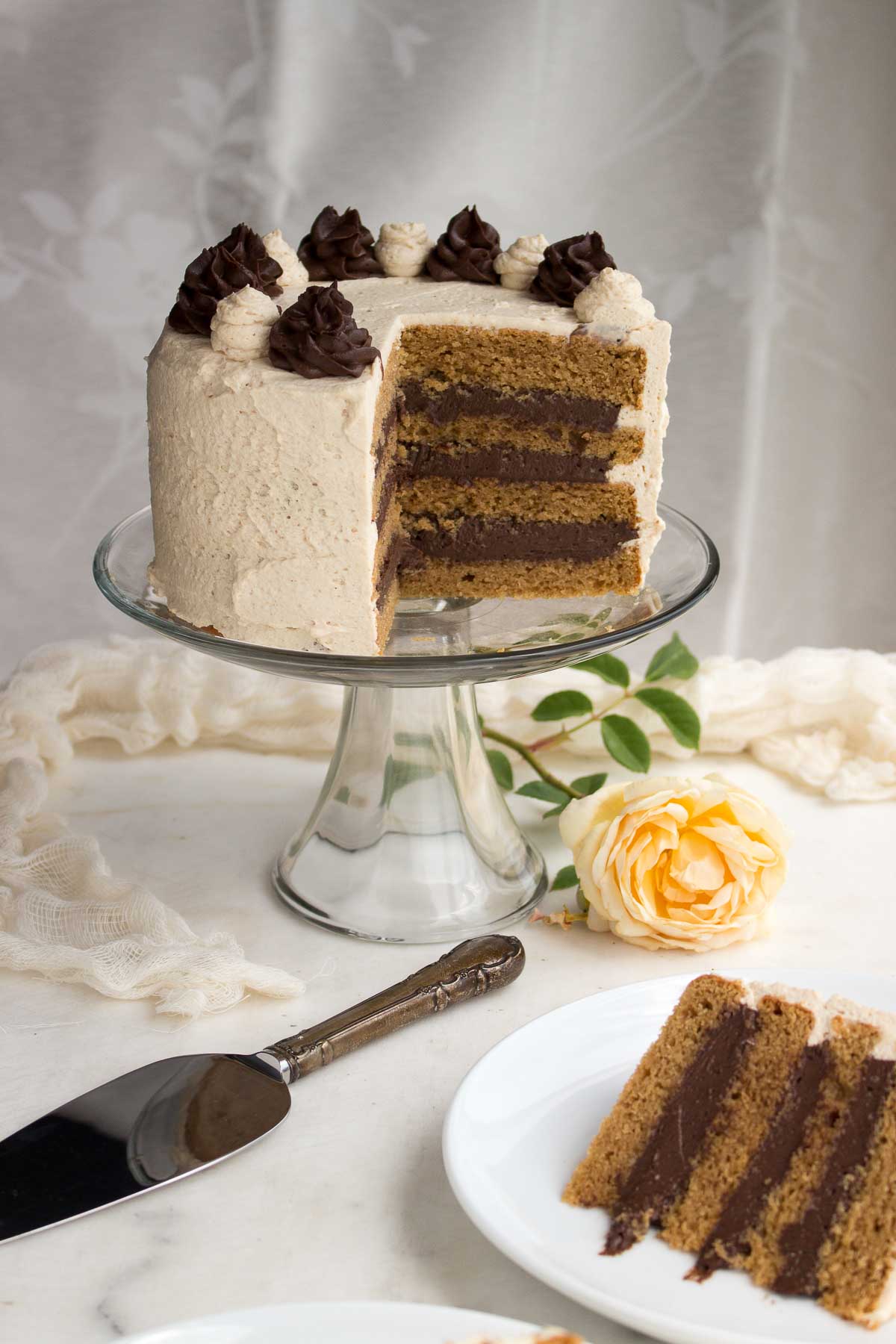 [Before I begin, I would like to thank the kind folks at Sukrin USA for sponsoring this post.]
HOLYMOLY!
Do I have a cake for you!
A low carb birthday cake with peanut butter chocolate filled with chocolate pastry cream (homemade pudding) and frosted with peanut butter whipped cream…. I know, I'm a little impressed myself. And everyone knows that chocolate and peanut butter = best flavor combo ever, right?
This low carb birthday cake is a little different than the other low carb cakes I've posted on the blog so far – a little fancier. Or, maybe not fancy but definitely more of specialty cake or a special occasion cake. Not everyone is going to be into making this cake and I get that. It's not hard to make, but it won't appeal to everyone.
BUT, there are a few of you out there who actually enjoy baking and have tried to keep-up your baking skills — even with with low carb / gluten-free ingredients, which can be tricky sometimes. This amazing peanut butter chocolate birthday cake is especially for you.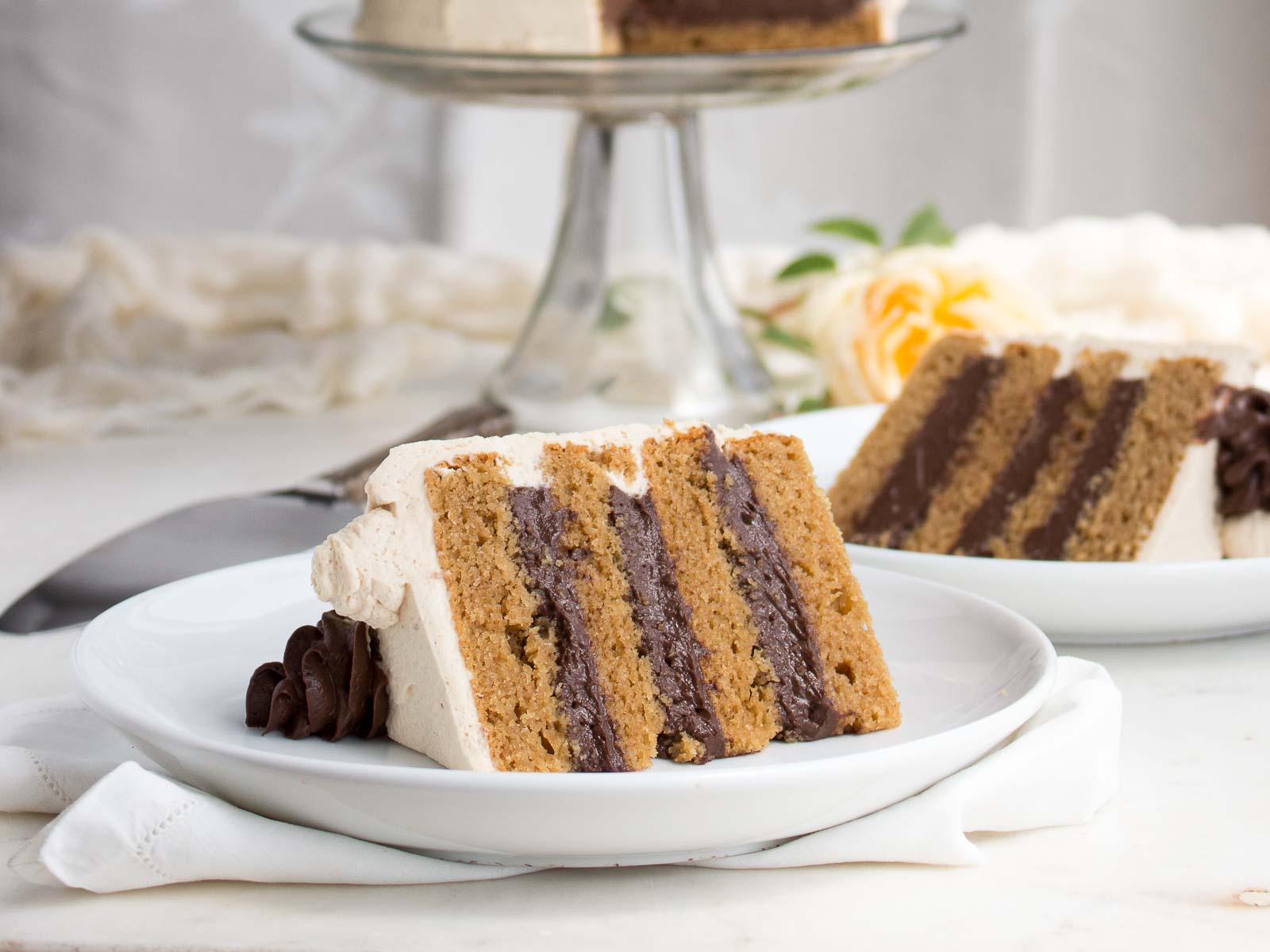 I have a confession to make. This cake doesn't have any peanut butter in it – at all. Instead, it incorporates peanut flour – Sukrin Peanut Flour to be exact. It's a product I absolutely love right now. I've been using it in smoothies, pie crusts, pies, almond milk, and in my kids oatmeal. Well, and in this amazing "peanut butter" cake!
If you are unfamiliar with defatted peanut flour, lemme tell you what it is and what it isn't. This product is not simply ground raw peanuts. These peanuts are roasted, milled, and then some of the oil is pressed out (think peanut oil extraction).
The result? A soft, powdery, lower fat peanut flour perfect for baking or for flavoring your favorite foods. It's tan in color and smells exactly like roasted peanuts or peanut butter!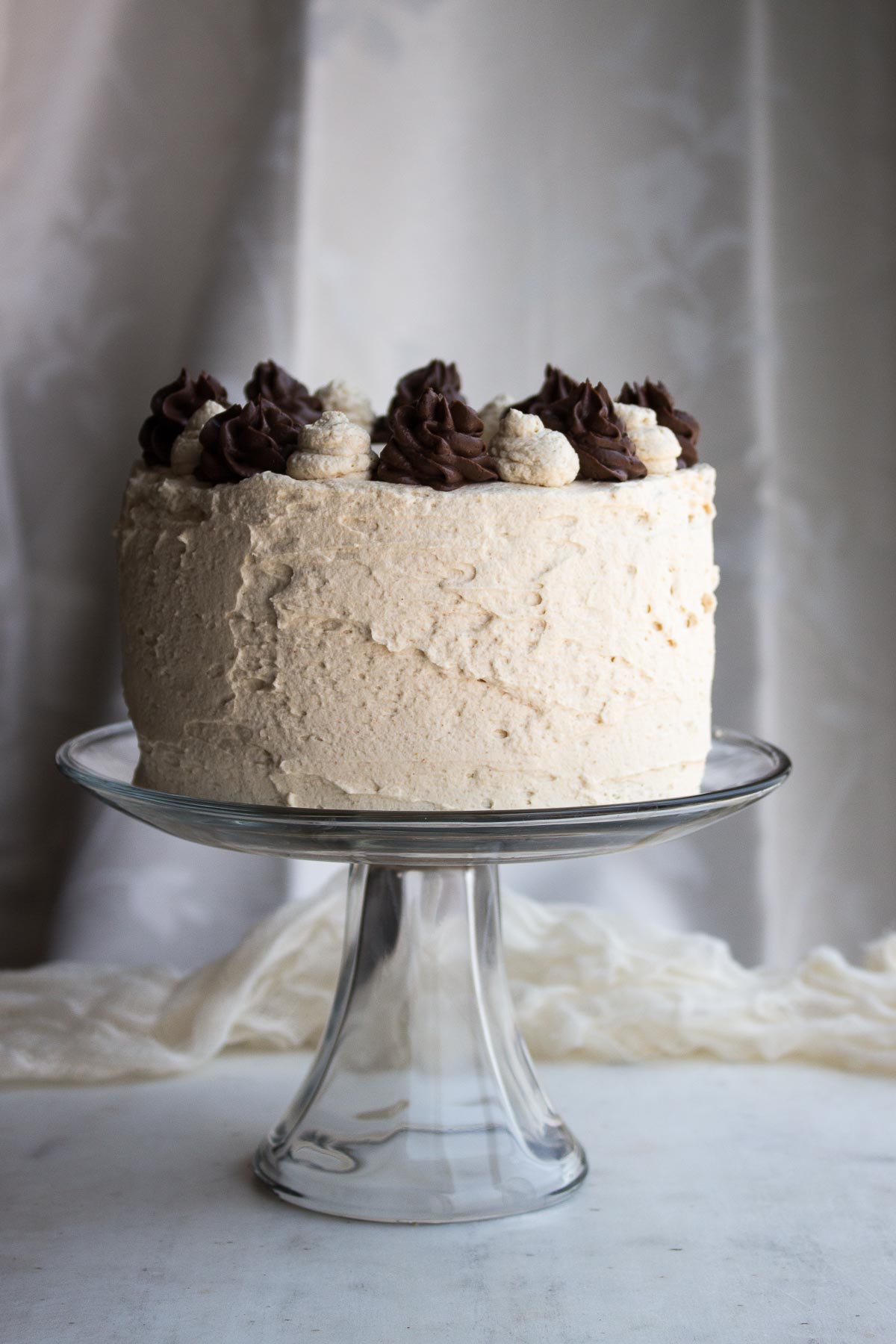 Sukrin's peanut flour is organic and non-GMO which are two great things in my book. And, if you mix it with a little water, you get a nice low carb, low-fat, and lower-calorie peanut butter. I'm all about guilt-free peanut butter!
Check out these other great recipes I have that also use peanut flour – Peanut Flour Pie Crust, Peanut Butter Pie and Peanut Butter Sex In A Pan Dessert. They look delicious, right? They absolutely are!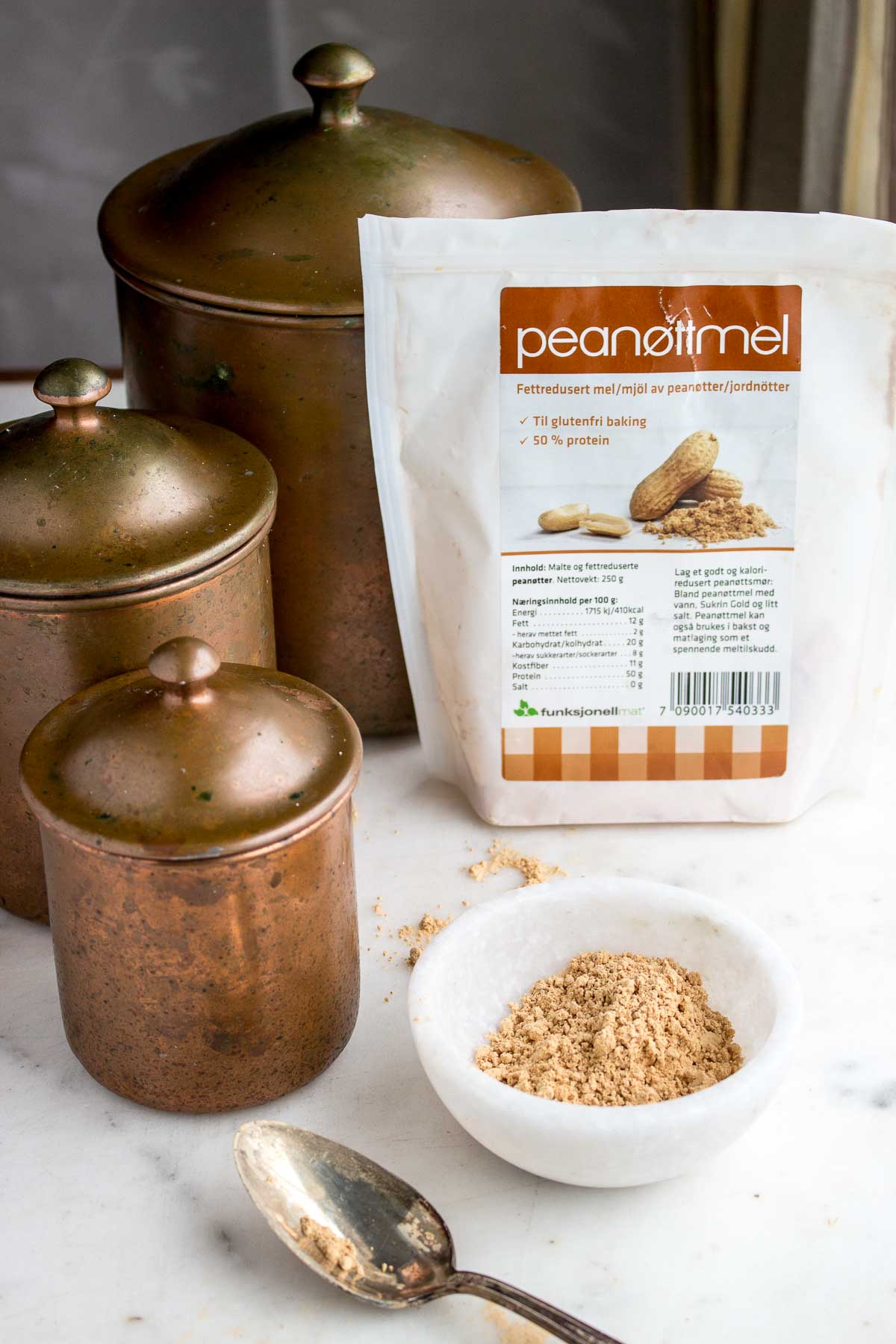 [RECIPE] To cream or not to cream, that is the question. Does creaming the butter and sugar for this low carb peanut butter Chocolate Birthday Cake matter? Yes, it does.
Most of the cake and cupcake recipes on the blog are simple dump cakes. Dump cakes are easy to make and since we're using low carb / gluten-free ingredients we don't have to worry about overworking, over-stirring, or over-mixing. But creaming the butter with the natural low carb sweetener introduces tons of micro-fine bubbles into the batter. This results in a lighter texture and a finer crumb — just what you want for your low carb special occasion cakes.
Low Carb Birthday Cake With Peanut Butter Chocolate Birthday Cake is 6 net carbs per serving
[This post or recipe may contain affiliate links]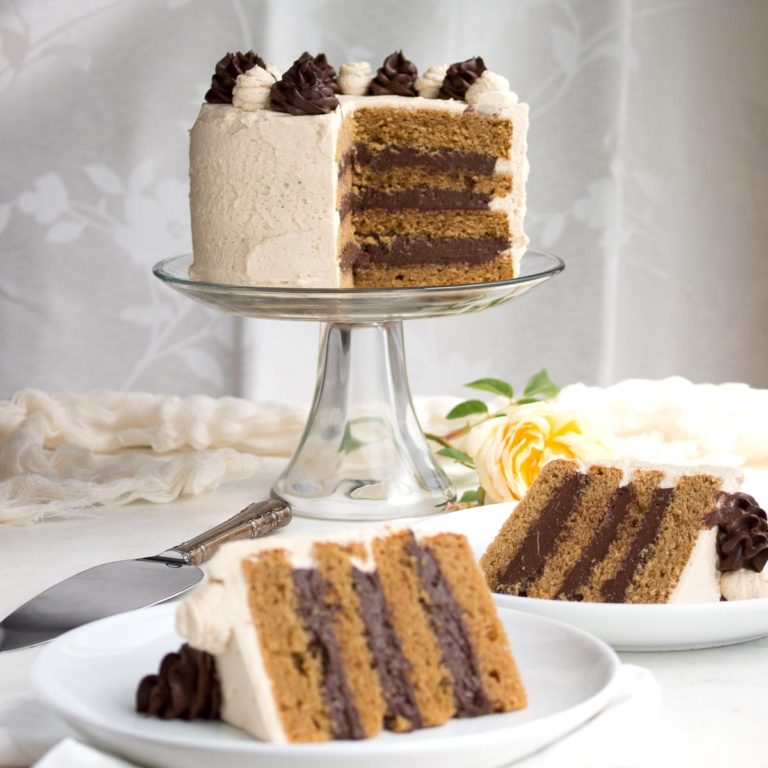 Low Carb Birthday Cake With Peanut Butter Chocolate
A moist, low carb peanut butter Birthday Cake filled with rich chocolate pudding and "frosted' with peanut butter whipped cream. Gluten-free, Sugar-free, Low carb
Print
Pin
Rate
Ingredients
Peanut Butter Cake
1

stick

(4 oz) salted butter

softened

2/3

cup

low carb powdered sugar

2

cups

almond flour

3/4

cup

Sukrin Peanut Flour

1/2

teaspoon

baking soda

1

teaspoon

baking powder

1/2

teaspoon

salt

1/4

teaspoon

xanthan gum

1

teaspoon

vanilla

3

large

eggs

1

large

egg white

1/3

cup

buttermilk

(or 1/3 cup almond milk and 2 teaspoons white vinegar)

1/2

teaspoon

stevia glycerite
Peanut Butter Whipped Cream
Other
2

six inch pans

1

large

closed-star tip,

optional

1

large

round tip,

optional

1

pastry bag or plastic ziploc bag,

optional
Instructions
Chocolate Pastry Cream:

Follow the instructions for the pastry cream and keep refrigerated until needed. Make at least the day before.

Prep: Preheat the oven to 350 and place the rack into the lower third. Trace the bottoms of the 6-inch round pans on a piece of parchment and cut out so that they fit inside the pans. Spray the pans with baking spray and place the parchment circles in the pans. Measure and powder the erythritol if not using Sukrin Icing Sugar.

In a smallish bowl, add the two whole eggs, the egg white, buttermilk, vanilla, and stevia glycerite. In another bowl, add the almond and peanut flours, baking powder and soda, salt, and xanthan gum. Mix thoroughly with a whisk until combined.

"Peanut Butter" Cake: In a medium bowl, mix the butter with a hand mixer until soft and smooth. Add the sweetener and beat on medium-high speed until light and fluffy (about 1 1/2 minutes). Add 1 whole egg and beat until completely incorporated and still light and fluffy (1 minute) making sure to scrape down the bowl at least once.

Remove the beaters from the butter mixture and give the liquid ingredients a quick mix. Add half of the dry ingredients into the butter mixture and mix on medium-high speed until fully incorporated. Add half of the liquid ingredients and mix again, making sure to scrape down the bowl completely at least once. Repeat the procedure with the dry and wet ingredients making sure to scrape the bowl with each addition. The mixture should be well beaten, thick and almost mousse-like in texture.

Visually divide the mixture in half and spoon into the cake pans. Lift the cake pans, one at a time, a few inches off of the counter and let them fall, ridding the mixture of large air bubbles. Do this twice each. Then with a small off-set spatula, spread the batter to the edge of the pans and smooth the tops. I left a very slight dome in the center of my pans.

Bake: Place the pans into the oven and turn the heat up to 400F for 8 minutes. Then, turn it back down and bake for another 30-35 minutes or until a toothpick inserted in the middle comes out clean. Cool the cakes completely before assembly.

Peanut Butter Whipped Cream: (make the day of assembly) Add the peanut butter, sweetener and 1/4 cup of whipped cream into medium bowl. Mix until smooth. Gradually add the remaining whipping cream while beating on low. When added, whip the cream until it forms soft peaks. Sprinkle the xanthan gum and whip until stiff. Put 1/3 of the whipped cream into a pastry bag fitted with the large open round tip.

Pastry Cream: remove the chocolate pastry cream from the refrigerator and whip on medium-high until lighter in color and smooth (about 2 minutes).

Cake Assembly: Carefully slice the dome off of the tops of the cakes. Carefully, cut the cakes in half horizontally. Lay one cake layer on top of your cake plate. Pick-up the pastry bag with the peanut butter whipped cream and squeeze a "thick ring" of whipped cream around the inside edge of the cake. This serves as a dam to hold the chocolate pastry cream inside. Now, add 1/4 of the whipped chocolate pastry cream and smooth all-the-way-out to the whipped cream, with a small off-set spatula. Add another layer of cake, checking to make sure the cake is as level as possible. Repeat the process and add the last layer of cake. Put the remaining whipped chocolate pastry cream into a pastry bag fitted with a closed star tip.

Decorate: With a large off-set spatula, smooth the peanut butter whipped cream around the sides and top of the cake. Pipe tall rosettes with the chocolate pastry cream. I piped 8 of the chocolate "rosettes". Then squeeze the peanut butter whipped cream into smaller mounds in-between each of the chocolate rosettes.
Notes
Nutrition Facts
Low Carb Birthday Cake With Peanut Butter Chocolate
Amount Per Serving (1 g)
Calories 414
Calories from Fat 351
% Daily Value*
Fat 39g60%
Carbohydrates 10g3%
Protein 12g24%
* Percent Daily Values are based on a 2000 calorie diet.
Nutrition
Serving:
1
g
|
Calories:
414
kcal
|
Carbohydrates:
10
g
|
Protein:
12
g
|
Fat:
39
g
|
Fiber:
4
g