A crispy Parmesan crust makes these Parmesan crusted pork chops juicy and flavorful. This easy keto recipe is perfect for any low carb diet.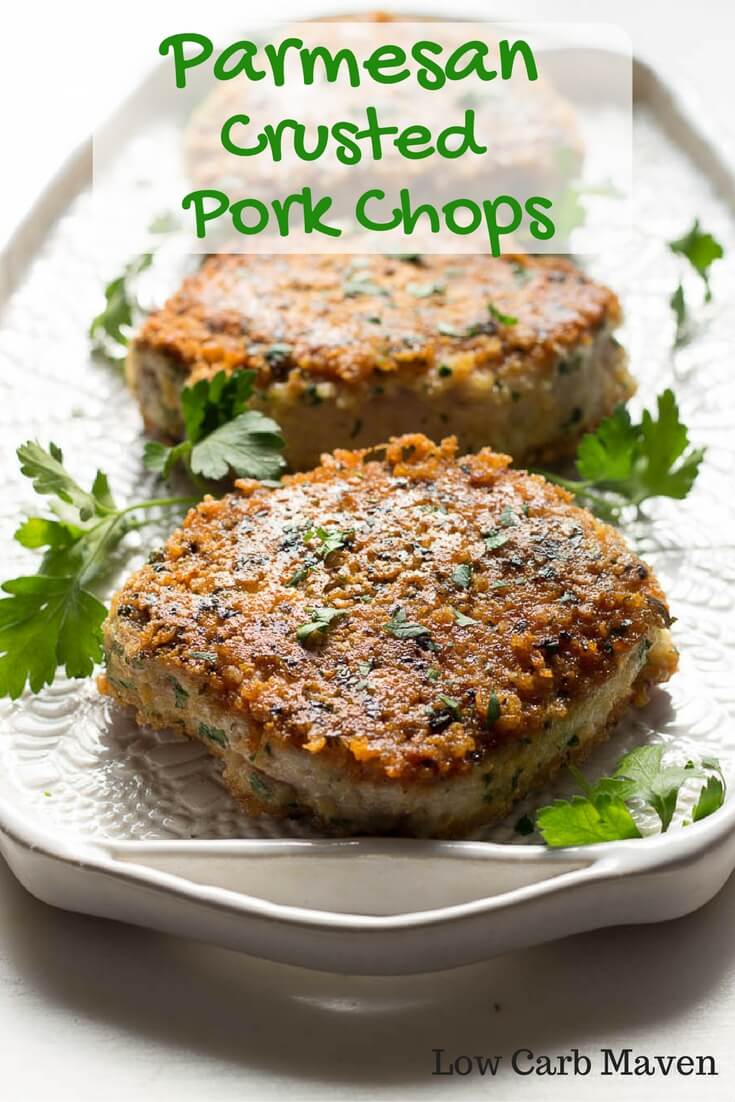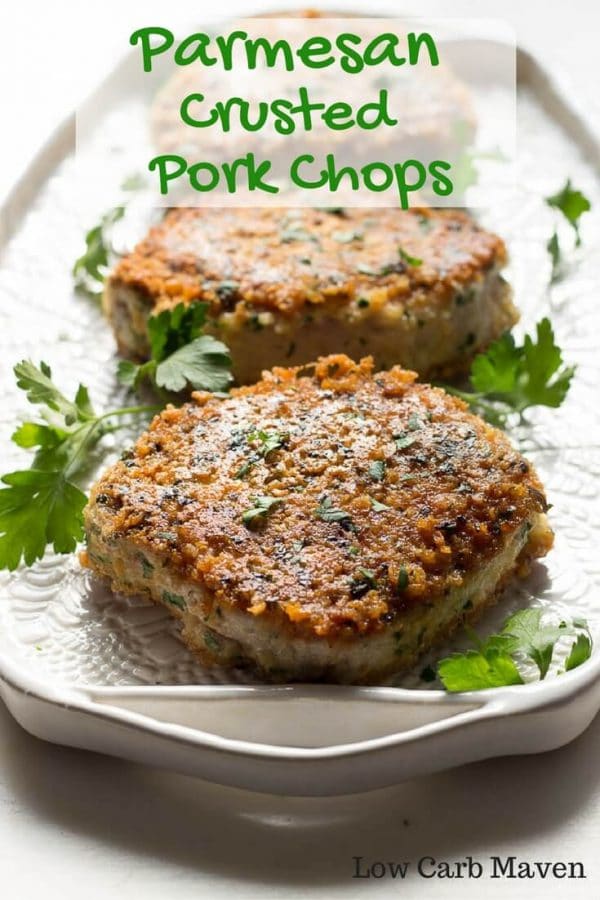 THIS POST INCLUDES AFFILIATE LINKS TO SHARE THE THINGS I LOVE. LCM may earn small commissions through the Amazon affiliate program and others.
Look at the crispy Parmesan crust on that boneless pork chop! Is there any doubt in your mind that it's delicious? This Parmesan crusted pork chop recipe makes a quick and easy weeknight dinner. Pair with loaded cauliflower and sauted green beans for a meal the family will rave about.
TIP: Although chicken is the protein of choice at my house, pork is a close second. Tender and flavorful, pork is just as versatile as chicken and can be subbed in many keto chicken recipes.
Keto Breaded Pork Chops
These boneless pork chops come out juicy with a crispy crust every time. But since this is a low carb recipe, there are no bread crumbs in the keto breading.
How is this possible, you ask? A combination of crushed pork rinds and grated Parmesan cheese makes the perfect crispy crust and helps lock juices inside.
NOTE: If you don't have pork rinds, you can use almond flour instead, but watch for burning.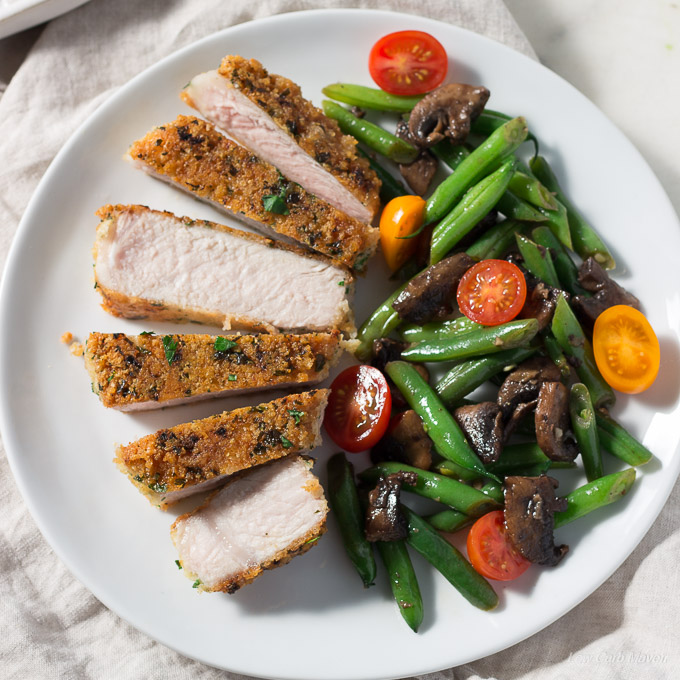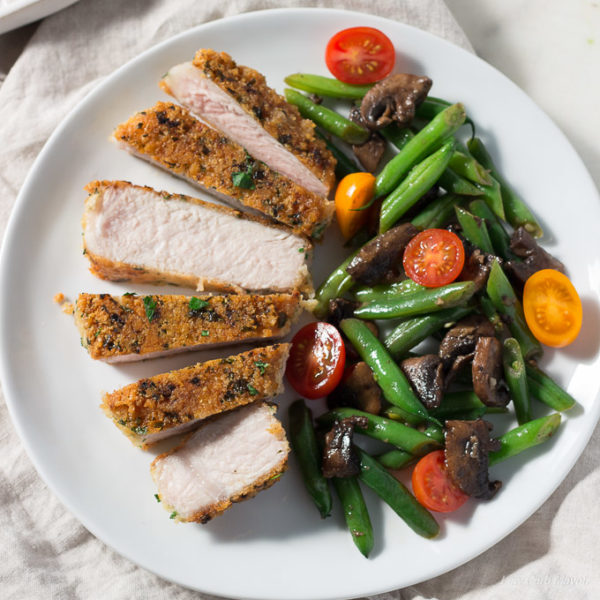 The Secret to Juicy Pork Chops
I've been making pork chops for my family for over 20 years, so I have learned a thing or two – the hard way!
In my experience, the secret to juicy pork chops is to pan fry them in a cast iron skillet. A well seasoned cast iron skillet is worth its weight in gold because it heats evenly and allows for a great sear.
A nice sear provides color, flavor, and helps lock in juices. It's what gives these Parmesan crusted pork chops their crisp coating and juicy interior. DON'T try to flip your chop until the coating is nice and brown!
My second secret is: Don't over-cook the pork. Modern pork does not need to be cooked until it is dried-out. The recommended cooking temperature for today's pork is 140 F. (Carryover cooking will bring it up to 145 F as it rests.)
NOTE: If you like it cooked more, remember that the longer the pork cooks the more moisture it loses.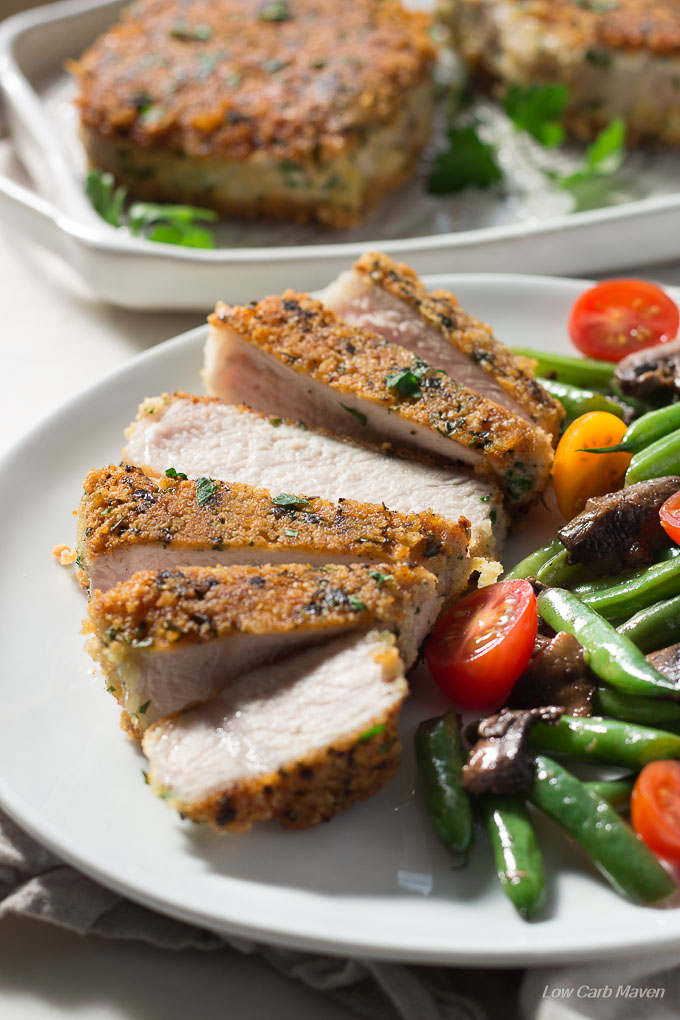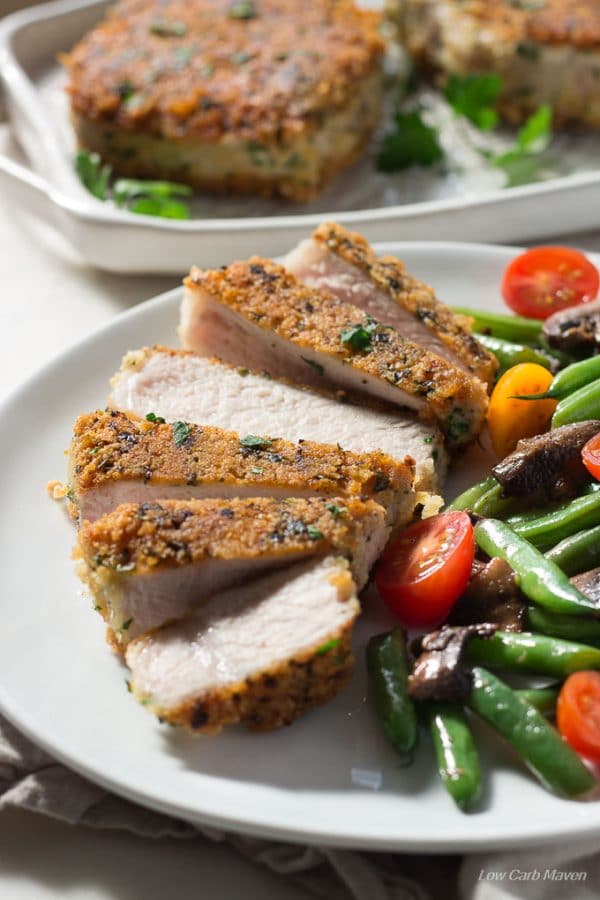 How to Make Keto Pork Chops
As I've said, we've had a lot of pork chops over the years. Knowing your product is as important as how you prepare it and on what it's cooked. Bone-in pork chops are great with a sauce like these Mexican Pork Chops and Keto Smothered Pork Chops while a thick cut boneless Bacon Wrapped Chop requires more time.
NON-STICK SKILLET
In my opinion, a non-stick skillet is the way to go when cooking any type of meat. I favor cast iron because heats evenly, holds on to its heat. Also, you can use thin metal spatulas to get under your protein without tearing it (the meat/pan) apart.
I also like ceramic coated pans like Greenpan, which do not release harmful chemicals into the air or my food.
TIP: Look for cast iron pans in thrift stores and antique stores. Buy pans with smooth cooking surfaces and look for instructions on how to re-season the pan on-line.
KETO BREADING
A crispy keto bread coating is a game changer for vegetables and meats. I find that a Parmesan – pork rind coating is the best, but almond flour and other nuts and seeds make fine low carb crumb coatings, too. Add seasonings to give it a punch!
EGG WASH
To get your Parmesan crust to stick to your pork chops, use an egg wash. Without it, the coating may stick to the pan and not the pork chop.
SEAR THE CHOP – Temperature is important!
Start the cast iron skillet on medium-high heat, then turn it down to medium-ish once it's hot. Place the Parmesan crusted pork chops into an oiled pan and DON'T FLIP UNTIL THE BOTTOM CRUST IS BROWNED, about 3 minutes per side.
OIL THE PAN
Oiling the pan is important. Oil the pan (even non-stick pans) or your Parmesan crust may stick to the pan and not the pork chop. The oil is ready when it begins to shimmer and separate. It does not have to smoke.
PRO TIP: Always let your pork chops come to room temperature for 20-30 minutes before cooking. Cooking cold meat in a hot pan will shock the meat, making it tough. It also creates a layer of moisture between the pork chop and the Parmesan crust which leads to the keto breading sticking to the pan and not the chop.
This recipe for Parmesan Crusted Pork Chops is 1 net carb per serving.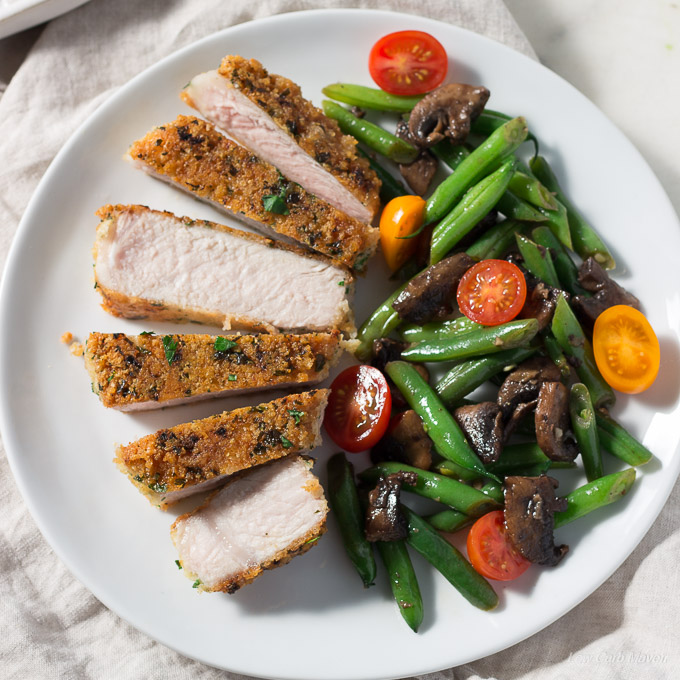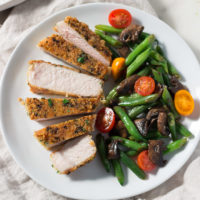 Parmesan Crusted Pork Chops (Boneless)
A crispy Parmesan crust makes these Parmesan crusted pork chops juicy and flavorful. This easy ketogenic recipe is perfect for any low carb diet.
Print
Pin
Rate
Ingredients
1 1/4

pound

boneless pork chops

(4 chops)

salt and pepper

2

tbsp

avocado oil or olive oil
Low Carb Parmesan Crust
1/2

cup

grated Parmesan cheese,

(2 oz)

1/2

cup

crushed pork rinds

1

tbsp

minced fresh parsley,

1/2

tsp

minced fresh garlic

1/2

tsp

lemon zest

1

large

egg, beaten

(for egg wash)

2

tsp

water
Instructions
Preparation:
Let the pork come to room temperature for 20-30 minutes before beginning. Pat the pork dry with a paper towel. Season well with salt and pepper. Beat the egg and water in a shallow bowl large enough to fit a pork chop. 
Low Carb Coating:
Place the grated Parmesan cheese and crushed pork rinds onto a large dinner plate. Mince the garlic and parsley and add to the cheese. Zest a small lemon, adding the zest to the plate. Mix well with fingers to combine ingredients.
Procedure:
Heat a large frying pan over medium heat until hot. Using a fork, place a pork chop into the egg mixture, flipping it over a few times to fully coat. Let any extra egg run off before placing the pork chop into the Parmesan coating. Push and wiggle it into the mixture, making sure it is completely coated. (I use my fork to flip the pork and the other hand to sprinkle and pat the mixture over all surfaces). 

Pour the oil into the pan and swirl to coat. Add the crumbed pork chop and put it into the pan. Repeat the breading procedure with the remaining pork chops.

When the pork chops are all in the pan, set the timer for 3 minutes. When time is up flip the 1st pork chop. Wait 1 minute and flip the next. Wait another minute and flip the third pork chop. Wait 1 minute and flip the last pork chop.

Set the timer again for 3 minutes. Check the pork by pressing the top lightly with the finger. If it's squishy, it's not done. If it's firm, it's done. Pork should be cooked until the internal temperature is 140 F. (Carry-over cooking will take it to 145 F as it rests.) Use an instant read thermometer to check. 

When time is up, remove the 1st chop to a place and tent loosely with foil. Remove the remaining pork chops to the plate 1 minute apart just like you did for flipping in step 4. Let rest for 10 minutes and serve.

Cooking time will vary depending on the thickness of the pork chops and the temperature of your pan. Please use common sense and a thermometer to make sure your pork is cooked to your liking.
Notes
NOTE: 
I had three thick pork chops (3/4 – 1 inch each). Cooking time should be increased or decreased for thicker or thinner chops and depending on how cold your meat is to start with. Please use an instant read thermometer to check your temperature before removing from the pan: 145 for medium and 160 for well. Let the meat rest for 10-15 minutes before cutting. 
The Parmesan crust mixture is just enough for 4 pork chops. At three, I had some left over. This recipe halves, nicely, but it will effect cooking time. Try 4-5 minutes per side. 
Nutrition Facts
Parmesan Crusted Pork Chops (Boneless)
Amount Per Serving
Calories 348
Calories from Fat 189
% Daily Value*
Fat 21g32%
Carbohydrates 1g0%
Protein 37g74%
* Percent Daily Values are based on a 2000 calorie diet.
Nutrition
Calories:
348
kcal
|
Carbohydrates:
1
g
|
Protein:
37
g
|
Fat:
21
g