Crisps, chips and crackers CAN be part of a keto and low-carb diet. These Parmesan crisps take minimal time to prep and are the perfect cheesy transportation method for your favorite dips and spreads.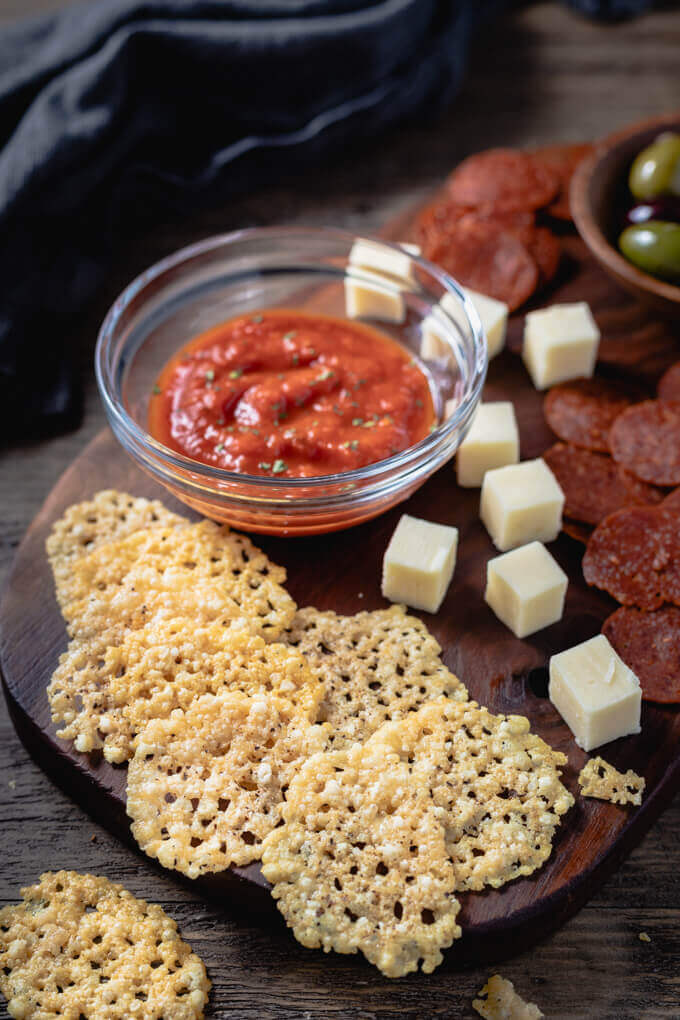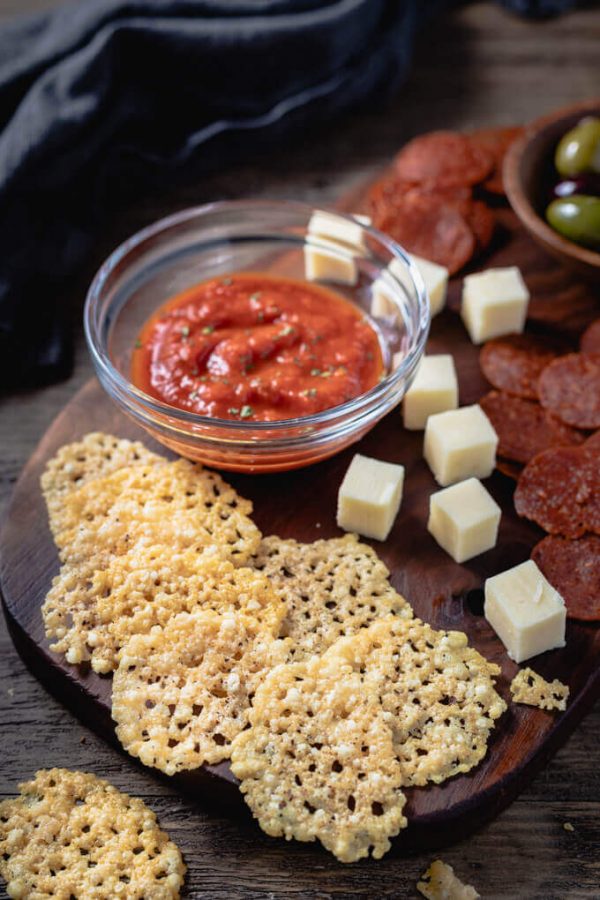 THIS POST INCLUDES AFFILIATE LINKS TO SHARE THE THINGS I LOVE.
One thing I frequently hear form my low-carb/ keto reasers is that it's hard to find keto friendly crisps and crackers. Without access to gluten-free crisps with low net carb counts, snacking, dipping and even adding crunchy garnishes is sometimes difficult.
The right keto-friendly chips make great soup and salad toppers, simple appetizers, and the perfect low-carb snack. Try pairing with a dip like this low carb chicken enchilada dip!
I love making these simple Parmesan crisps as an easy snack for my family. Even though these cheese chips are the perfect dip companion, they 're a great snack on their own. You can't go wrong.
KETO CHEESE CRISPS MAKE SNACKING EASY
Low-carb snacking is easy once you get used to alternative treats. I have many low carb keto cracker options on the blog. My kids love these cheddar cheese crackers but my favorite are these crispy almond sesame crackers. They take a little time to prepare since the dough needs to be rolled out and cut.
Luckily this is one keto snack that is easy to make. And making my own keto chips lets me control what goes in them. These Parmesan crisps make keto snacking easy and fun!
All you have to do is bake shredded cheese or Parmesan cheese until it's nice and golden and crispy and let them cool flat like a cracker. One thing that my kids and I have fun with (and to stay creative) is to shape them into mini bowls and use them to hold one of my family's favorite dips, this killer low carb pizza dip.

PARMESAN CRISPS AKA FRICO
Historically Parmesan crisps (also known as Frico) were made by heating cheese rinds to create a soft or crispy texture, and then used as an appetizer or garnish.
Naturally, these cheese crisps are low-carb and keto-friendly. Traditionally they were created with either potatoes and/or other ingredients, or just by adding shredded cheese to a frying pan. However, for the sake of keeping it low-carb, and using less oil, I like to bake them in the oven.
While I'm making baked cheese chips instead of fried, they still retain the same taste and consistency and really do make the perfect low-carb snack.
HOW TO MAKE PARMESAN CRISPS
This is undoubtedly one of the easiest (and maybe most satisfying) recipes out there, however the quality of Parmesan cheese that you use matters. Some brands of Parmesan use anti-caking agents that can slightly increase the carb count, so using a high-quality brand not only creates a high-quality snack, but it also keeps your net carbs lower.
I use Costco's Parmesan cheese: Parmigiano Reggiano, which I then cube and then turn into small crumbles in my food processor. You'll want to make sure that the crumbles are even and not too large, so they bake flat and crispy.
You can buy the pre-processed Parmesan, just be mindful of the net carbs per serving, especially if you are on a keto diet.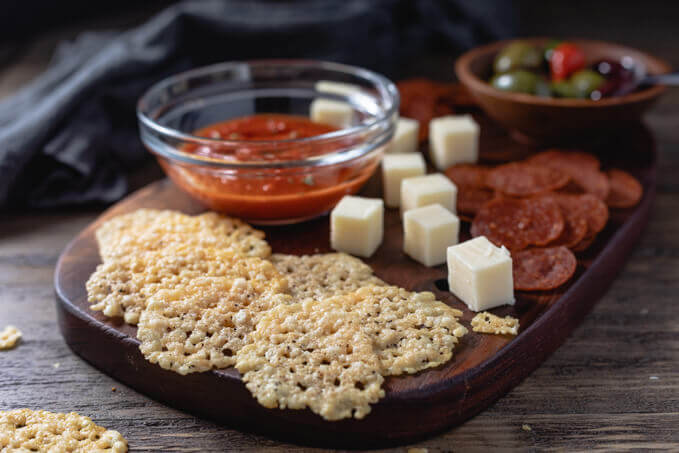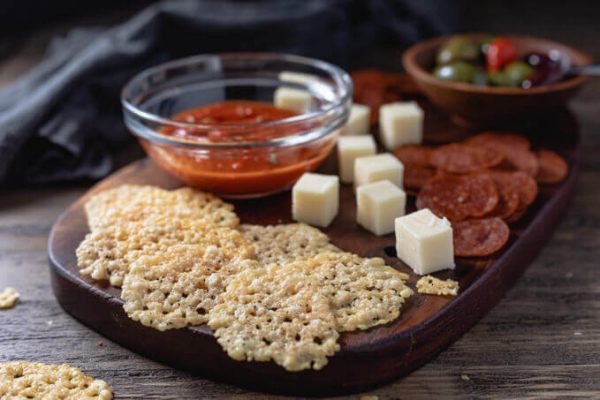 Then, simply preheat your oven to 400F, line a large baking sheet with parchment paper, and create small parmesan rounds on the baking sheet. You can add any spices or herbs that you'd like to before baking, then simply bake for about 6-8 minutes, or until they start to turn golden.
Remove from heat and let cool so that they crisp up. One of my tried and true seasoning variations for these parmesan crisps is a sprinkle of garlic powder mixed with Italian seasoning.
WHAT TO SERVE WITH PARMESAN CRISPS
You can use these cheese crisps as a way to scoop dips, like the ones mentioned above. They also work wonders as croutons on the top of salads or soups, or you can simply use them as a cracker with a variety of different toppings.
The kids love to make cheese crisp sandwiches with crispy pepperoni chips and tomatoes. I also
Love creating snack plates using olives, low carb hummus and some chopped vegetables.
There are plenty of different ways to use these parmesan crisps, especially for a keto or low-carb diet. They're an amazing way that I add crunch and texture to some of my favorite meals.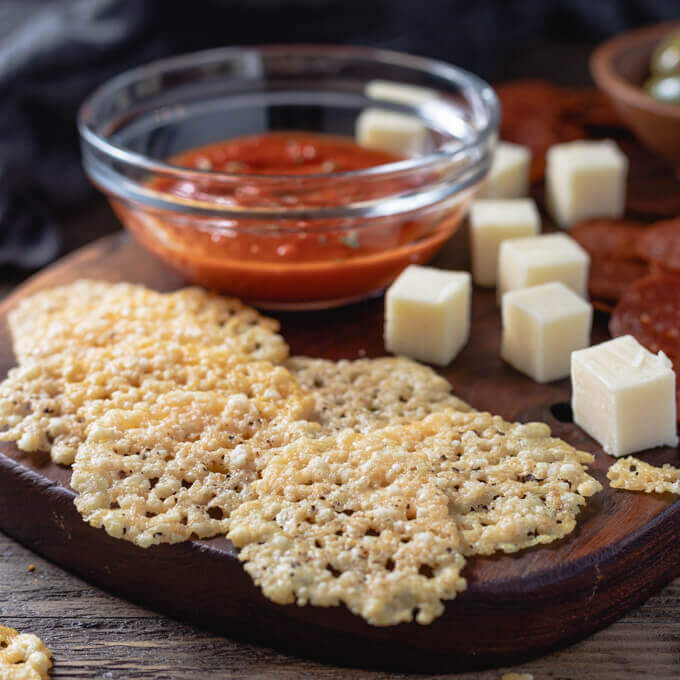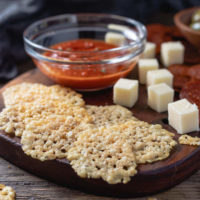 Parmesan Crisps – Keto Cheese Chips
Parmesan crisps take minutes to prep and make the perfect keto and low carb chip, crouton, cracker and crisp for soups, salads, or delicious snack boards.
Print
Pin
Rate
Ingredients
4

oz

Parmesan Cheese

(see note)
Optional:
Herbs, spices, spice blends
Instructions
NOTE: Pre-grated Parmesan cheese includes anti-caking agents which slightly increase carbs. I used the good-stuff; Parmigiano Reggiano from Costo, which I cubed and finely crumbled with a serrated metal blade, in my food processor. Yield may vary depending on whether you use store bought grated Parmesan cheese or process the cheese yourself.
Preparation:
Preheat oven to 400 F and place rack to middle position. Line a large baking sheet with parchment paper. Process cheese into very fine crumbles if you do not have grated Parmesan.
Method:
Measure the cheese by the teaspoonful and place onto the parchment lined pan (I got 16 per pan). Gently pat each mound of cheese into a circle with your finger (about 1 1/4 – 1 1/2 inches). Sprinkle any herbs, spices, or flavorings on before baking.

Bake the Parmesan crisps until they start to turn golden brown, 6 – 8 minutes. Let cool completely before storing in an airtight container on the counter for a week or in the fridge up to 30 days.

Makes 32 crisps with 5 crisps per serving at 0.61 NET CABRS. Serves 6.
Nutrition
Calories:
74
kcal
|
Carbohydrates:
0.61
g
|
Protein:
6.76
g
|
Fat:
4.88
g