Flavorful bone-in pan seared pork chops with cream pan sauce cooked in one skillet for an easy low carb weeknight meal.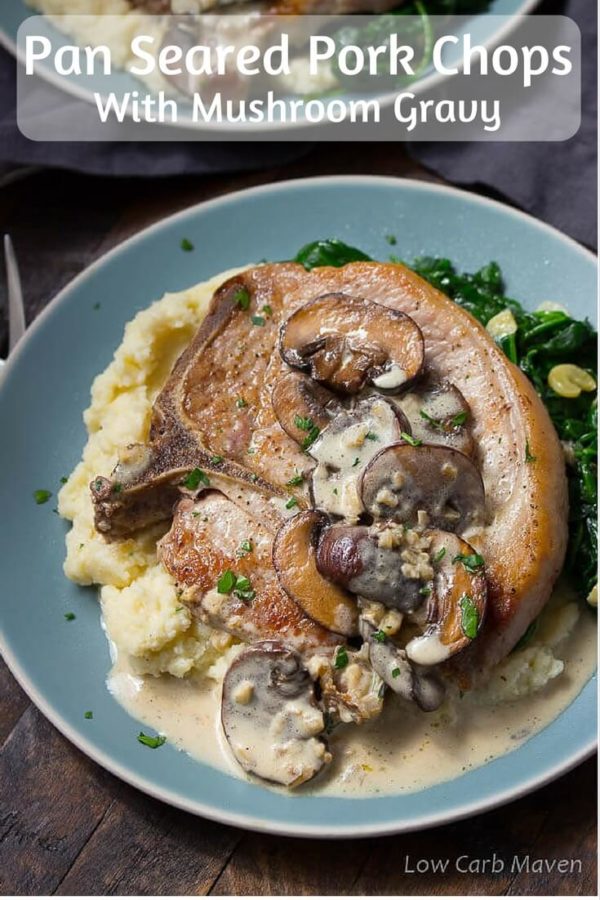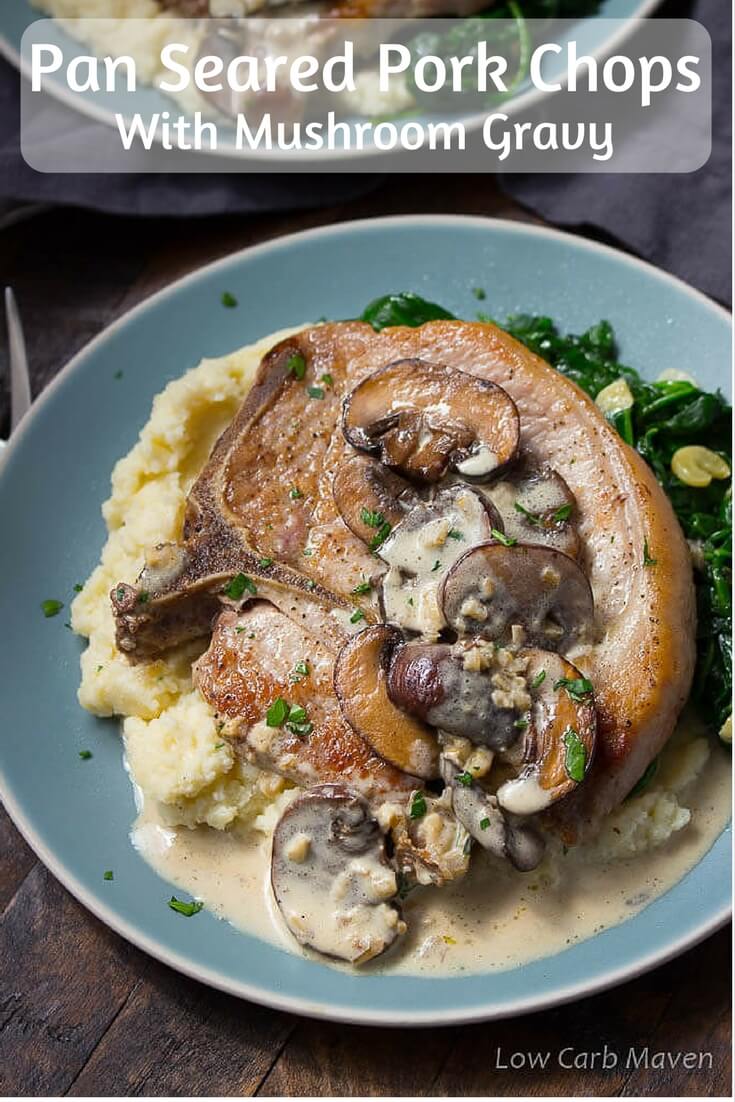 One can never have enough fast and easy dinner recipes. My favorites are those that combine vegetables in the preparation – like this recipe for pan seared pork chops with cream pan sauce. Earthy mushrooms add a nice rich flavor to the gravy and double as a side.
Typically, I love a nice thick boneless pork chop recipe like this Parmesan crusted pork chop, but bone-in pork chops are a great option, too. Thinner bone-in pork chops are full-flavored and cook in minutes, making them perfect for a quick weeknight meal.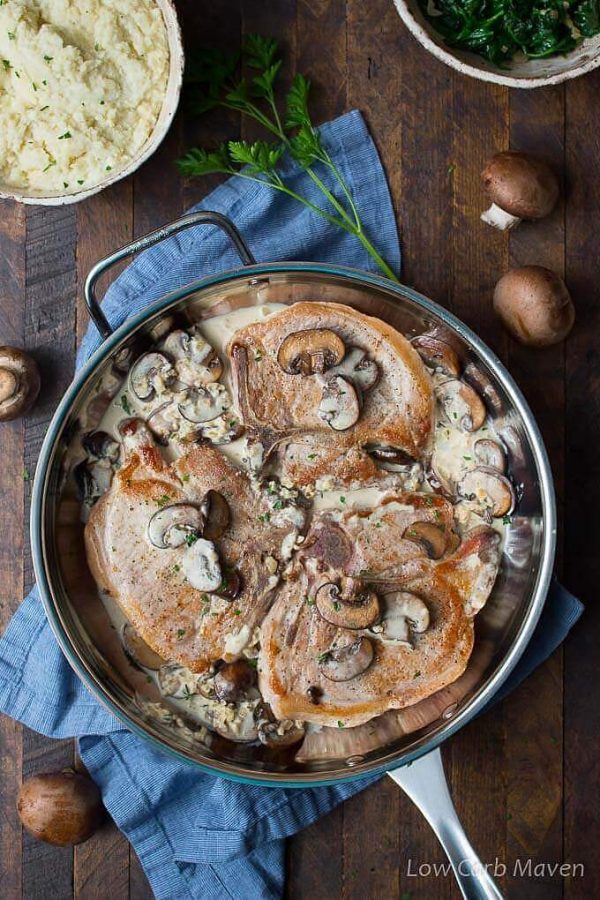 It's my experience that sometimes pan seared pork chops can get a bit dry. It took me a while to learn how to cook juicy pork chops. I believe that letting them come to room temperature for 20-30 minutes is key. Why? They cook more evenly, avoiding the dreaded raw meat at the bone and dried exterior. And, the hot pan doesn't shock the cold meat causing it to toughen.
Some people think that meat bones conduct heat. That's' false. They actually work as insulators. That's why the meat near the bone is often under-cooked or raw.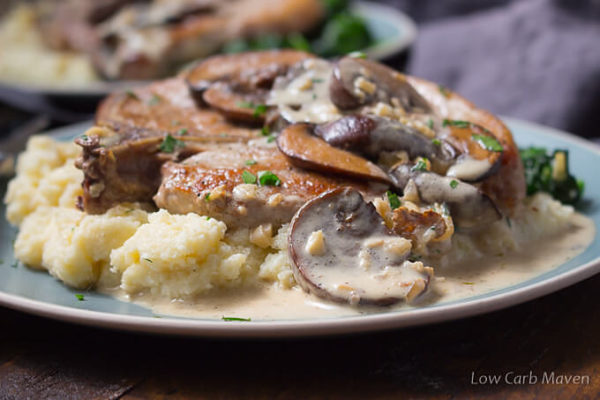 While these pan seared pork chops with creamy pan sauce recipe doesn't quite qualify as a smothered pork chop recipe, it does have a nice pan sauce. Many recipes for smothered pork chops call for cream of mushroom soup, this recipe does not. Building the flavors in the pan or and reducing the pan sauce produces a better, although thinner, mushroom gravy than using canned soup.
If you've spent any time on Low Carb Maven looking at my low carb dinner recipes then you know I like to use my pan. What can I say? It's easy and I like a little sauce with my skillet diner.
Seared pork chops with cream pan sauce is 5 net carbs per serving.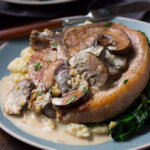 Easy Pan Seared Pork Chops with Cream Pan Sauce
Flavorful bone-in pan seared pork chops with cream pan sauce cooked in one skillet for an easy weeknight meal.
Ingredients
4

thin, bone-in pork chops (1/2 inch each)

2 1/2

tbsp

avocado oil (olive oil or bacon grease), divided

1

pound

sliced mushrooms

1

tbsp

onion, minced

1

clove

garlic, minced

1/3

cup

dry white wine

1/3

cup

unsalted chicken broth

1/2

cup

heavy cream

1/8

tsp

powdered dried sage

1/4

tsp

fresh thyme leaves, chopped

salt and pepper
Instructions
Preparation
Let the pork chops come to room temperature for at least 20 minutes. This ensures they cook evenly and don't get tough. Then rub both sides of the pork with approximately 2 teaspoons of oil and season with salt and pepper. (My pork chops were 1/2 inch thick.) Mince the onion and garlic and chop the thyme. Pour the wine and chicken broth together in a small bowl.
Method
Heat a large pan over medium high heat. When hot, add 2 -3 tsp. oil or enough to swirl and coat the bottom of the pan. The oil is hot when the surface shimmers. Add the pork chops to the pan and turn the heat down to medium. Cook for about 3 1/3 minutes per side. (If your pork chops are thicker or cold, add more cooking time.) Remove to a plate and tent with foil.

Add 1 tbsp of oil to the pan and swirl to coat. When the oil shimmers, add the mushrooms and stir to coat. Cook undisturbed for 2 minutes. Stir the mushrooms and add the onions and garlic to the pan. Cook for 1 minute and stir. Cook for an additional minute then add the wine and chicken broth scraping all of the brown bits off the bottom of the pan. Let simmer and reduce by half.

Add the heavy cream, powdered sage and fresh thyme, cooking until the sauce thickens (this is a thinner sauce). Season with salt and pepper to taste.
Serve
Either nestle the pork chops into the pan and bring to table or pour the mushrooms and sauce over the pork chops and serve. I served with aged cheddar cauliflower mash and sauteed greens with garlic.
Recipe Notes
Nutrition Facts
Easy Pan Seared Pork Chops with Cream Pan Sauce
Amount Per Serving
Calories 483
Calories from Fat 360
% Daily Value*
Total Fat 40g 62%
Sodium 142mg 6%
Total Carbohydrates 6g 2%
Protein 21g 42%
* Percent Daily Values are based on a 2000 calorie diet.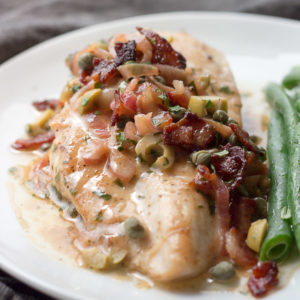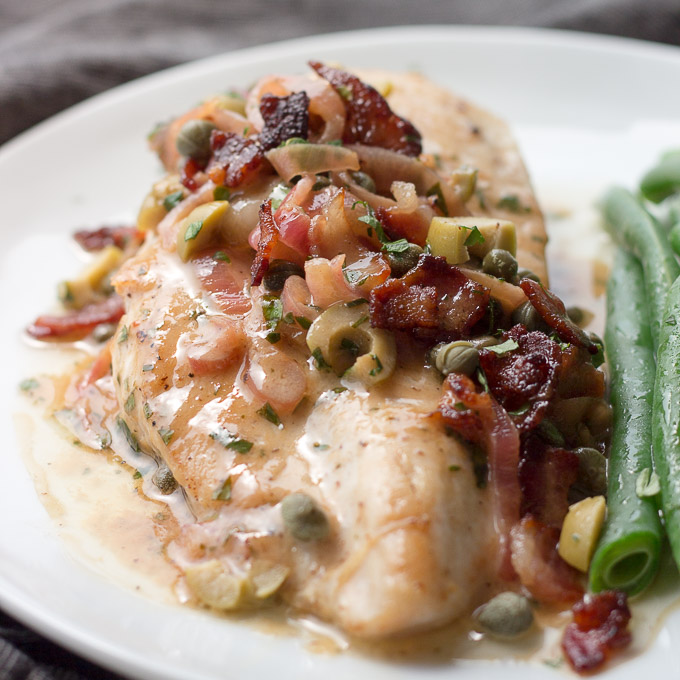 Pan Seared Chicken Breast with Sauce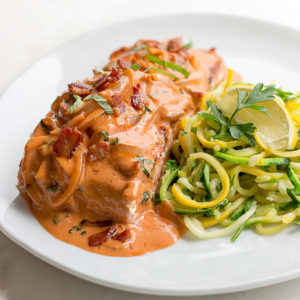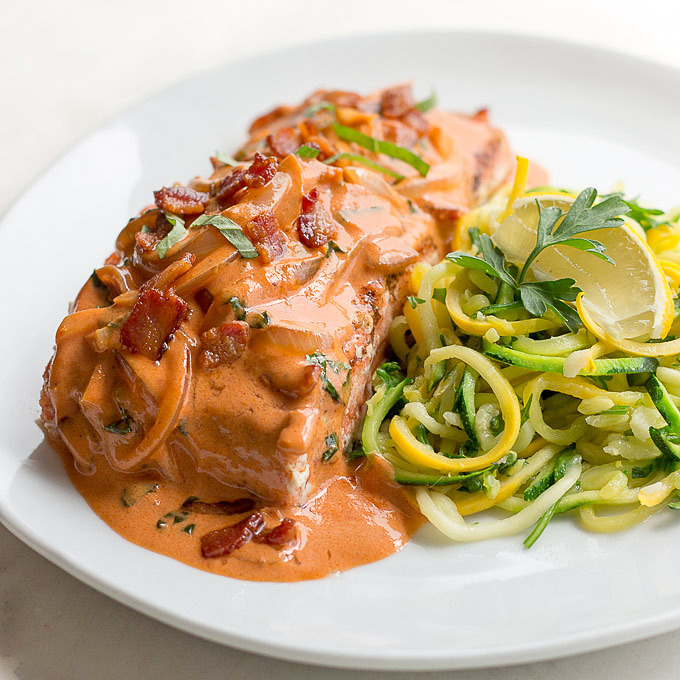 Salmon with Bacon Tomato Vodka Cream Sauce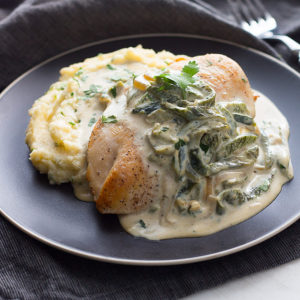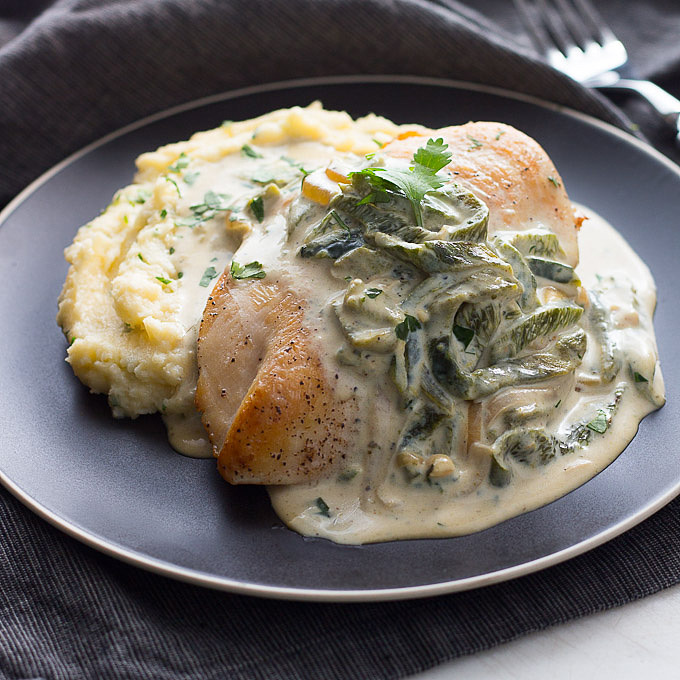 Chicken With Poblano Peppers and Cream
Signup for my Newsletter
Subscribe to get our recipies by email.