This easy chicken tapenade recipe boasts juicy pan seared boneless-skinless chicken breast with a piquant sauce of bacon, caper, olives lemon, and butter. It's a great one pan, 30-minute entre with stand-out flavor. Perfect for low carb and keto diets.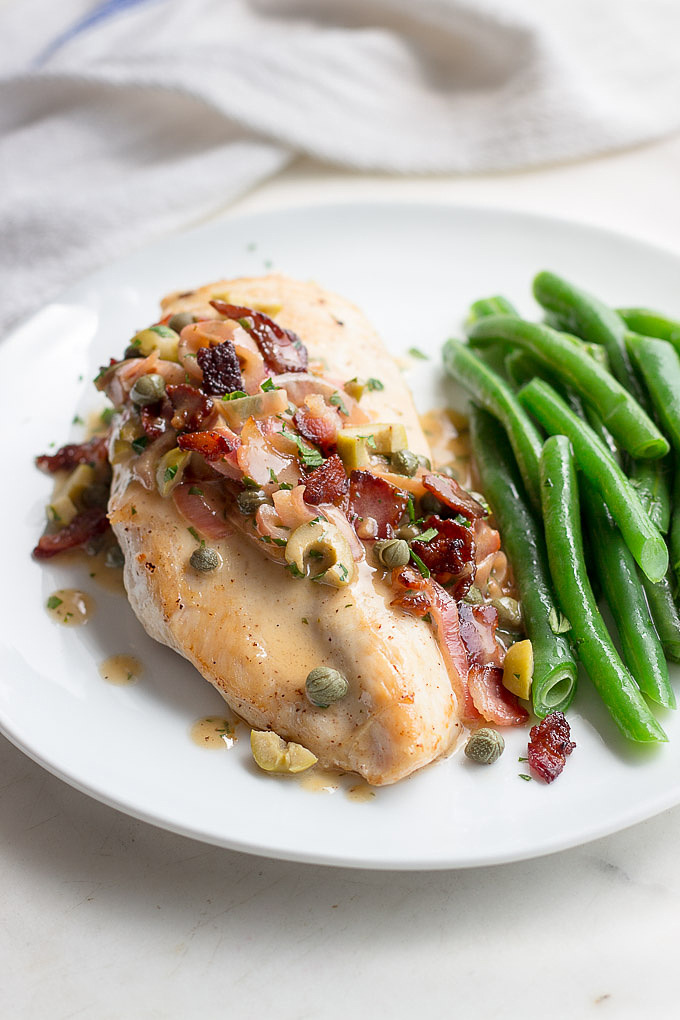 THIS POST INCLUDES AFFILIATE LINKS TO SHARE THE THINGS I LOVE.
Although I am a bona fide steak-lover, chicken is the protein of choice at my house. I have tons of chicken recipes on the blog, some of which include this chicken cacciatore, chicken tarragon, and my favorite chicken with poblano cream sauce. We really get our chicken on in this house! Lol.
One of the things I like about chicken is that it's easy to cook and its neutral flavor goes well with many spices, seasonings, and sauces. It also tastes great served with any low carb vegetables (see low carb vegetable list). Chicken can be grilled, smoked, poached, roasted, baked, fried, or sautéed. But for me, searing or sauteing chicken in a pan is one of the easiest and fastest cooking methods – at least that's my experience.
This chicken tapenade is full of piquant (pleasantly appetizing) flavor. Did you say the word "piquant" in a Thurston Howell III accent like I did? I just couldn't help myself. For those of you who were not children of the '70's, that was a "Gilligan's Island" reference! Anyhoo…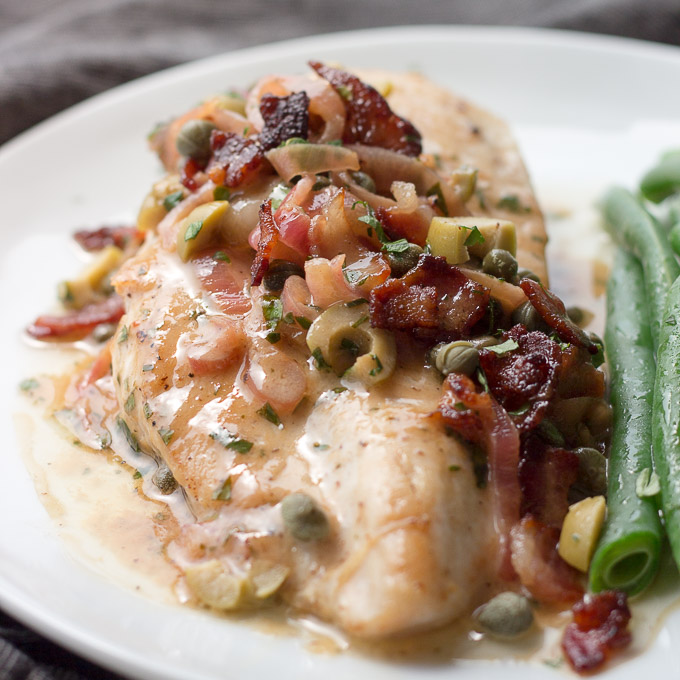 Tapenade with Bacon
I played around with tapenade recipes for a client. I liked this one so much, I kept it for myself. It goes great with chicken, pork and fish.
Tapenade is made of chopped olives, garlic, capers, herbs, an acid, and olive oil. It can be left more chunky or processed into a paste-like consistency. It's a great condiment to slather over bread or added as a pop of flavor to roasted vegetables or meat.
This tapenade version has a smoky component via bacon. Its chunky texture beautifully shows-off each ingredient, which is striking against the chicken breasts. A little wine, cream, butter and lemon juice combine to make a flavorful glistening sauce.
How to Make Chicken Tapenade
Like many of my favorite recipes, this one starts with cooking bacon. Then, boneless-skinless chicken breasts are seared and browned in the pan. Next, a quick-and-dirty pan sauce is made with more of my favorite things like shallots, lemon juice, white wine, capers, and cream. This chunky sauce is poured over the chicken and you're good to go with restaurant quality flavor.
Conclusion
This chicken tapenade is the perfect week night dinner because the prep-work for the dish is completed while the bacon cooks. Then, there's time to prepare a side while the chicken cooks resulting in a whole meal that's ready in 20-30 minutes. I don't know about you, but that sounds pretty great to me.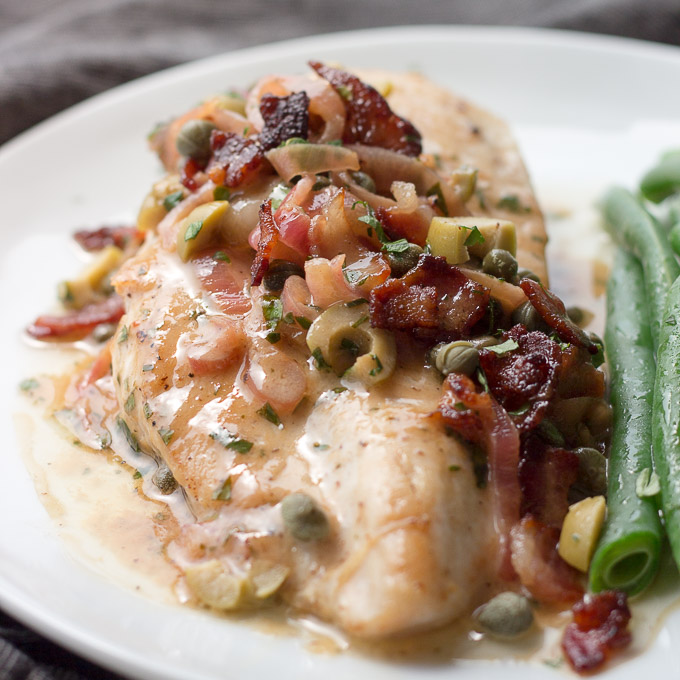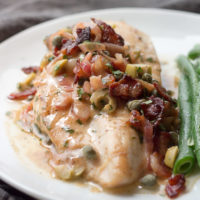 Chicken Tapenade with Bacon
This easy chicken tapenade recipe boasts juicy pan seared chicken breasts with a piquant sauce of bacon, capers, olives, lemon, and butter. 
Print
Pin
Rate
Ingredients
1 1/4

pounds

boneless-skinless chicken breasts

2

slices

bacon,

cubed

1/4

cup

shallot, sliced

1/4

cup

white wine

2

tablespoons

heavy cream

2

tablespoons

water

2

tablespoons

butter

2

tablespoons

fresh lemon juice

1

tablespoon

chopped parsley

1

tablespoon

capers,

not rinsed

5

small

green olives

chopped

salt and pepper to taste
Instructions
Preparation:
Let the chicken breasts or cutlets come to room temperature for 30 minutes.

Pound the cutlets until they are more uniform in thickness for even cooking.

Dry the chicken, rub all surfaces with 1 tablespoon of oil, then salt and pepper both sides.

Slice the bacon into 1/4-1/2 inch squares.
Bacon:
Place a frying pan (not a cast iron skillet or your sauce will turn gray) over medium heat and add the bacon. Stir after two minutes and continue to cook, stirring occasionally, until crisp – about 6 minutes total. Remove the bacon and leave 2 tablespoons of fat in the pan. If your bacon was lean, add olive oil.
Chicken:
Place the chicken in the pan so it isn't touching and cook for 4 minutes or until the chicken turns white 1/2 way up the thickest part. Flip the chicken and cook for 4 minutes more or until the chicken is firm when pressed with your finger, or the internal temperature is 160 degrees. Remove to a plate and cover loosely with a piece of foil.
Sauce:
Add the shallots to the pan. Turn the heat down to medium-low and saute the shallots for 1 1/2 minutes. Remove the pan from the heat and add the wine. Turn the heat back to medium and scrape the brown bits from the bottom of the pan. Cook until the about 1 tablespoon of wine is left and then add the cream and water; stir. Add the butter, lemon juice and the accumulated juice from the chicken to the pan and bring to a simmer, reducing slightly until it sauce looks glossy and velvety. Add the capers, bacon, olives and parsley, heating through.

Serve: Place the chicken on individual serving plates and top with the sauce.

Serves 4 at 2 g carbs each.
Notes
Salt until the flavors in the sauce stand out but aren't salty. Then, add enough pepper to make the sauce taste savory.
Nutrition Facts
Chicken Tapenade with Bacon
Amount Per Serving
Calories 330
Calories from Fat 198
% Daily Value*
Fat 22g34%
Carbohydrates 2.11g1%
Protein 28g56%
* Percent Daily Values are based on a 2000 calorie diet.
Nutrition
Calories:
330
kcal
|
Carbohydrates:
2.11
g
|
Protein:
28
g
|
Fat:
22
g
|
Fiber:
0.04
g