Crave delicious, fall-off-the-bone ribs? This easy method shows you how to make the perfect, flavorful, juicy keto ribs baked in your oven.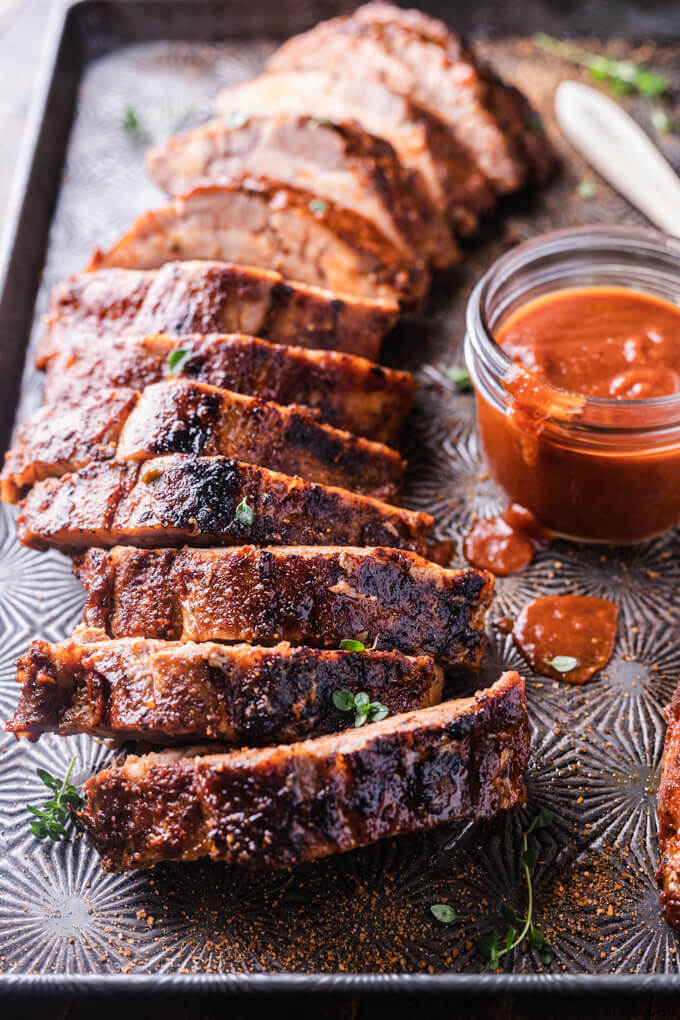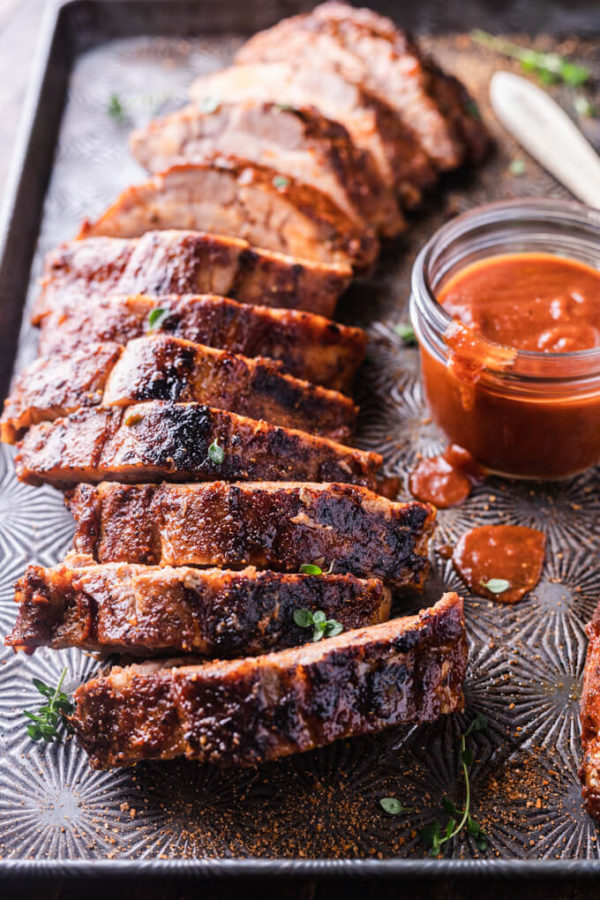 THIS POST INCLUDES AFFILIATE LINKS TO SHARE THE THINGS I LOVE.
Summer has me craving tender, juicy barbecue ribs. But you don't need a smoker and 6 hours to cook tasty ribs. I got you with this OVEN BAKED RIBS RECIPE! And because I use a homemade rib rub and sugar-free barbecue sauce, these babies are low carb and keto.
Oven baked pork ribs are a thing, y'all, I promise. You won't believe how easy it is to make great tasting pork ribs in your oven. If you love tender and flavorful baby back ribs without all the muss and fuss, you will love this recipe. The only equipment you need is a sheet pan and some foil.
These ribs cook up tender and juicy in about 2 hours, leaving plenty of time to prepare fixin's or to socialize with a great keto adult beverage. This keto blueberry mojito looks delicious!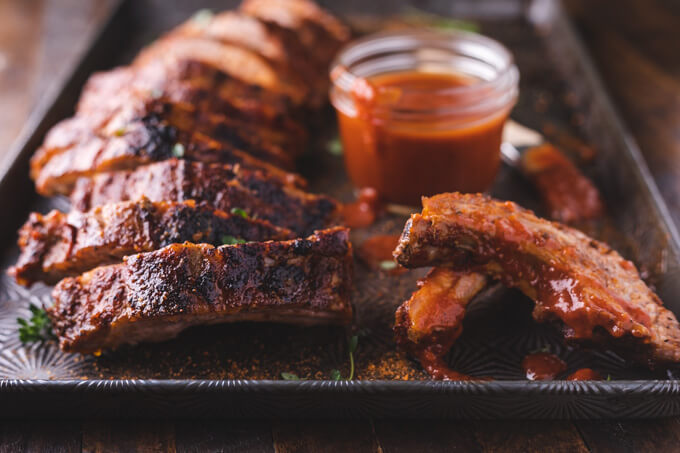 Keto Oven Baked Ribs – Tender and Juicy!
As I said, making oven baked ribs is very easy. Most people expect a complicated procedure and lots of basting and watching. Not at all! Just let the oven work its magic.
How to bake ribs in the oven:
Remove the sheath from the back (bone side) of the ribs.
Lay the oiled and seasoned rack of ribs on a sheet pan.
Cover them with foil.
Bake in a 275 F preheated oven for 2 – 2 1/2 hours until tender.
Brush the ribs with your favorite barbecue sauce.
Broil.
NOTE: When using a convection oven, remember to lower your oven temperature 25 degrees if your oven doesn't do it automatically.
Finish Under the Broiler or Finish on the Grill
After cooking, slather the barbecue sauce on the rack of ribs and finish under the broiler or on the grill. This step caramelizes the sauce. When the sauce caramelizes, it tightens up a bit, giving it that sticky, finger licking texture that makes these ribs so delicious.
Whether you grill or broil is up to you. The grill imparts a smoky flavor, but finishing under the broiler is easy, especially if you don't own a grill. It's good both ways.
Dry Rub Ribs or Sauced?
It's up to you! These baked ribs turn out delicious either way. Make dry rub ribs by coating them in my bbq dry rub recipe or your favorite rub before cooking. Once cooked, give them another dusting, cut, and serve.
Maybe you like your ribs sauced? Sure! Slather them in keto bbq sauce and pop them under the broiler. Or, compromise by serving dry ribs with sauce on the side. But if you want ultimate flavor, do both: season the ribs with dry rub, then finish them with your favorite barbecue sauce.
Barbecue sauce preference is based on region. Luckily, I have 3 great keto barbeque sauce recipes from which to choose:
Keto Saint Louis Style – a more traditional sauce great on barbecue chicken and pork.
Low carb Carolina Style – a thin vinegar sauce popular on pulled pork.
Alabama White Sauce which is more of a finishing sauce. It's best on chicken but some people like it on pork. It's the ultimate keto sauce.
But don't discount a great Keto Ranch Dressing as a dipping sauce. My kids put ranch on everything – even ribs!
What style ribs should I use in the oven?
For a great BBQ rib style, I prefer baked pork ribs. Baby back ribs are my favorite because they are a little leaner and have more meat than St. Louis Style. And because they are cooked low and slow, oven baked baby back ribs come out tender and juicy. They typically cost a little more, but my grocery store has them frequently on sale. I made my most recent rib purchase at Costco where they came 3 racks to a package.
How Many Ribs per person?
Each rack of baby back ribs has approximately 12 ribs and will feed 3 people at 4 ribs per person. If serving other meats, it's customary to serve two ribs per person. Of course, if your family has big appetites, all bets are off!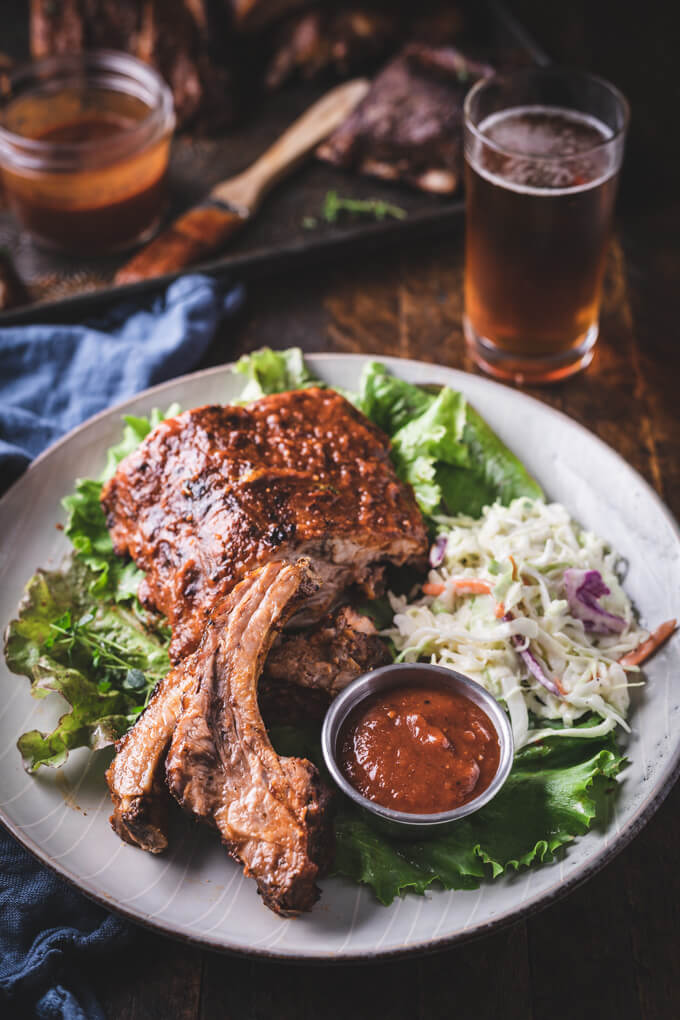 Favorite Sides to Serve With Keto Ribs
A rack of great ribs deserves delicious sides. I love them with:
Keto cornbread
Keto coleslaw from my friend Melissa at How to This and That
A tall glass of homemade iced tea – think southern Sweet Tea
A low carb beer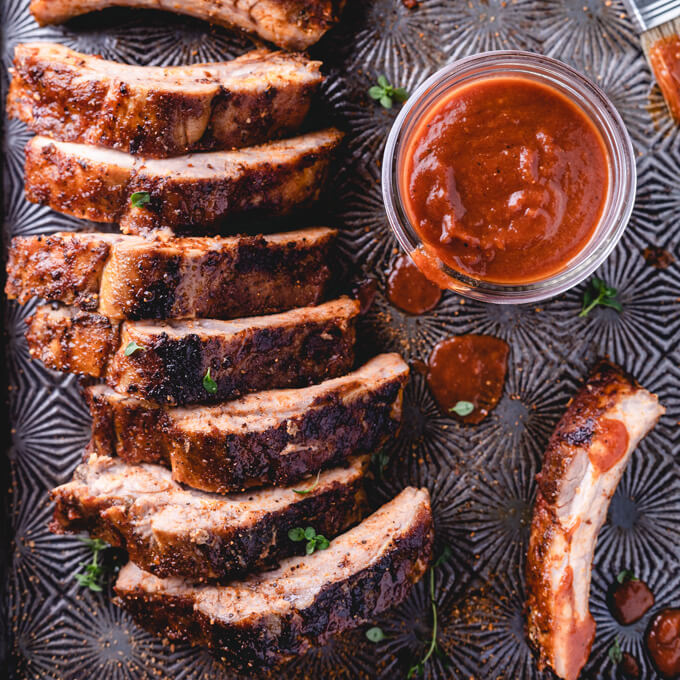 Juicy Keto Oven Baked Ribs Recipe
Crave delicious, fall-off-the-bone ribs? This easy method shows you how to make the perfect, flavorful, juicy keto ribs baked in your oven.
Print
Pin
Rate
Equipment
large sheet pan

aluminum foil
Instructions
Preparation:
Remove the skin off the back (bone side) of each rack of ribs: Using a thin paring knife (or flathead screwdriver), slide it under the clear membrane over one of the bones. Lift up to separate and pull-off with your fingers or with a paper towel. It comes off in sheets and takes a little time. Be patient.

Line a large sheet pan with aluminum foil. Preheat oven to 275 F and move rack to middle position.
Method:
Dry the ribs with paper towels and rub olive oil on both sides of ribs, 1/2 tbsp per side. Season the back of the ribs with salt and pepper, then apply 1/2 tbsp of the dry rub and massage into the ribs. Flip the racks over and repeat on the meat side.

Cover the ribs with foil, sealing around the outside rim of the baking sheet, and cook 2 – 2 1/2 hours or until the tines of a fork slide easily between the ribs.
For Keto Dry Ribs:
Remove the foil cover and place the ribs on a rack fitted into the sheet pan. Sprinkle more salt and pepper and dry rub over the ribs and cook an additional 20-30 minutes uncovered.
For Sauced Keto Ribs:
Turn the broiler to high and place the oven rack to the closest position. Remove the foil cover and flip the ribs bone side up. Slather the back of the ribs with bbq sauce, approximately 2 tbsp each. Place the ribs under the broiler for 3-5 minutes or until the sauce begins to darken in spots. The time will depend on your oven broiler. Remove the ribs from the oven, flip them over and repeat.
Serving:
Serve 4 ribs per person. Net Carbs per 4 ribs with ingredient amounts stated: 2.79g net carbs
Nutrition
Calories:
445
kcal
|
Carbohydrates:
3.39
g
|
Protein:
37
g
|
Fat:
32.5
g
|
Saturated Fat:
11
g
|
Cholesterol:
134
mg
|
Sodium:
582
mg
|
Potassium:
467
mg
|
Fiber:
0.6
g
|
Sugar:
0.79
g
|
Vitamin A:
40
IU
|
Calcium:
59
mg
|
Iron:
1.4
mg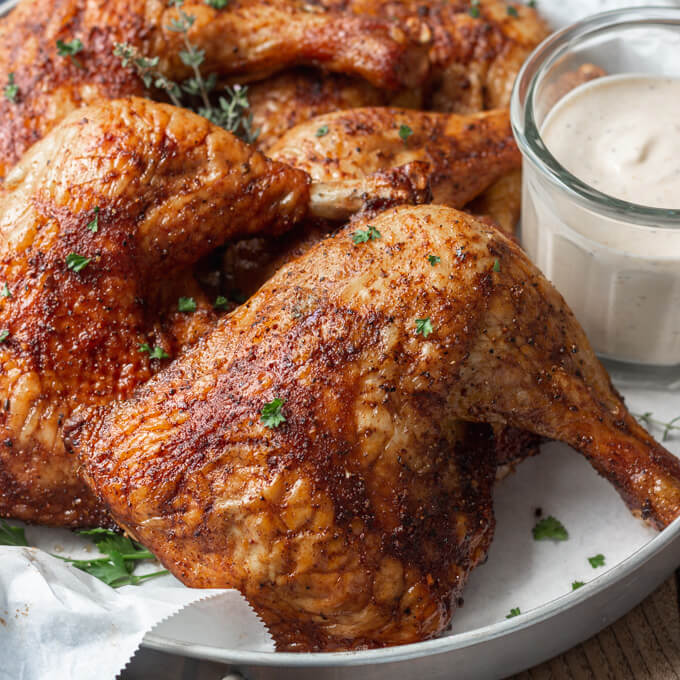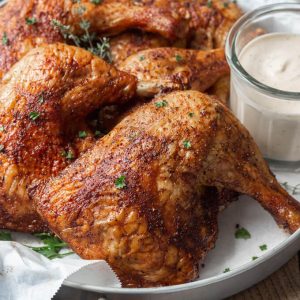 Juicy smoked Chicken Leg Quarters