Are you on the lookout for low carb and ketogenic snacks for your LCHF diet? Do you find it exciting to find and try new low carb snack options? Read my November Keto Krate review and learn about the latest and greatest keto products!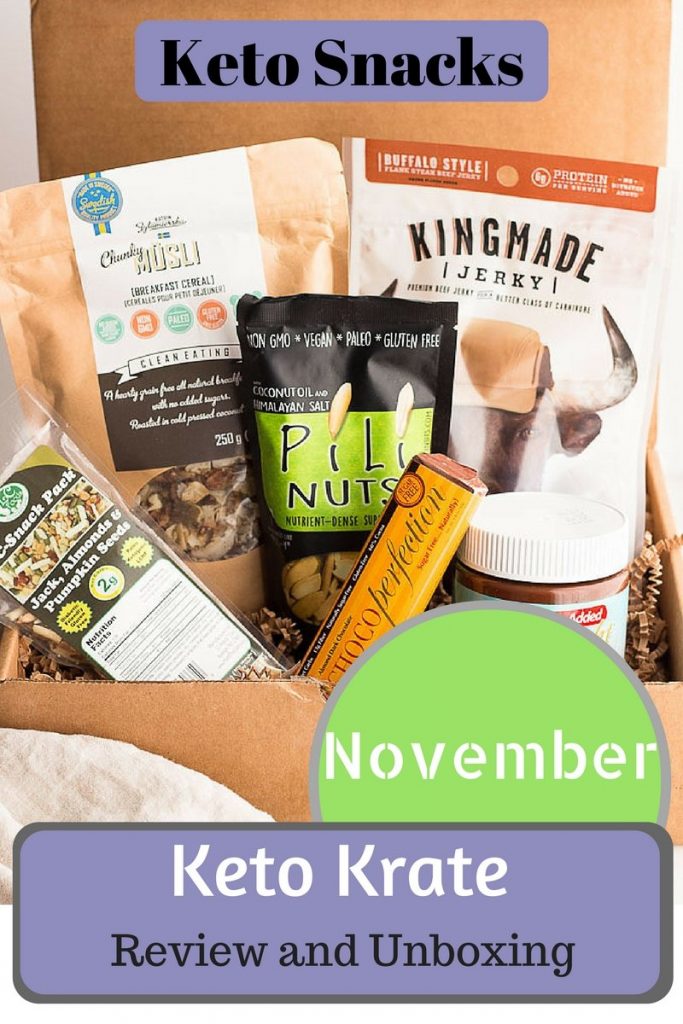 Well, I just can't wait to tell you how much I loved the selections in the November Keto Krate! I mean I really, really, loved them. This months Keto Krate contained 6 high quality products that I am going to rave about.
But first…
Here's what's special about Keto Krate. They search out the best keto snacks to be able to offer a nice variety of quality products. Then, they package them up and send them to your front door. You can expect to receive 6-8 keto items in your keto krate along with $20 in discount codes. The products range from savory or sweet snacks, protein bars, breakfast items, drinks, dressings, flavorings and sweet treats. None of the products contain maltitol – your blood sugar and tummy will thank you for that one!
Not everyone will be interested in subscribing, but if you are a bonafied new product junkie like I am, it's a great way to sample new products. It's also the perfect gift for those people in your life who are hard to buy for – we all have someone like that in our families, right? Keto Krate might be the perfect thing for them! Also, if you're the type to get bored of food quickly and are always on the hunt for something new, this service may especially appeal to you.
What was in my November Keto Krate? A beef jerky I literally couldn't stop eating – we're talking the-best-jerky-ever! A new type of nut (soaked!) that is quite possibly the best most buttery nut I've ever had. A Choco Perfection bar – always a great thing because they are so smooth and beautifully perfect. A low carb snack-pac with freeze-dried cheese which was an interesting tasty mix and a Swiss Musli my husband "claimed" for his morning yogurt. Last but not least was a scrumptious low carb hazelnut spread that we enjoyed as-is on tiny gelatto spoons the first night for dessert.
———————————————————————————
What's Inside the November Keto Krate?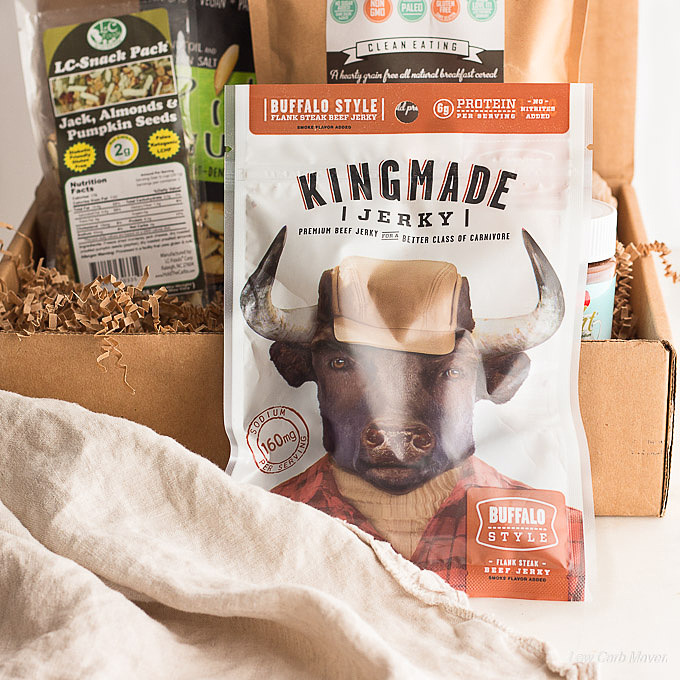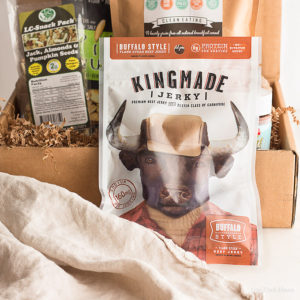 Kingmade Jerkey is some of the best beef jerky I've ever had. Listen to the description on the bag: "Tender cuts of beef flank steak (are marinated) then meticulously slow cooked to perfection." Yeah, you can actually feel the love in this product in each and every bite and you can bet that I'm going to order more. Beef jerky is a great portable snack to bring on trips – especially on an airplane. I just pop a bag in my purse and I have a ready low carb snack the kids and I can share. Order directly from the company NOT Amazon (toooo expensive). 2 servings per bag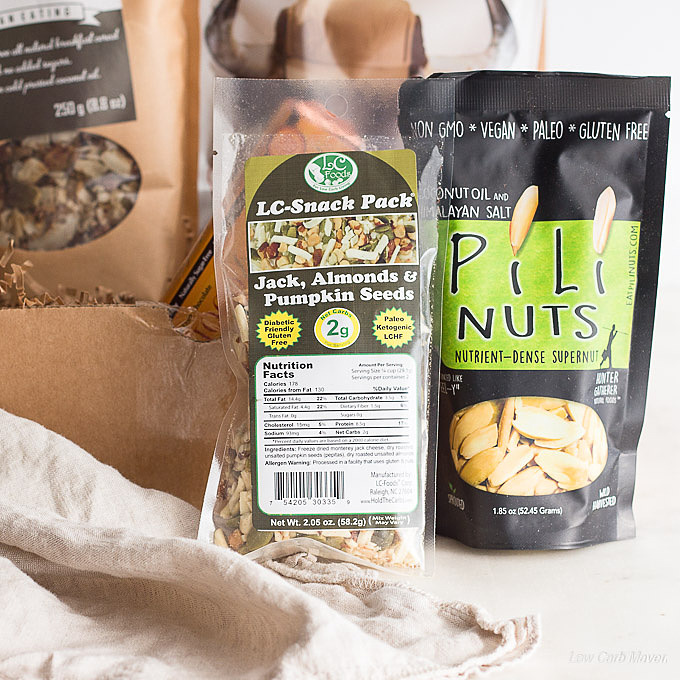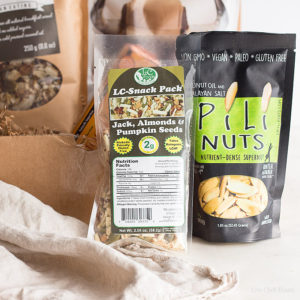 Pili Nuts – These Philippine nuts have the highest fat content of any other nut. They've been soaked to render the nutrients more easily absorb-able. Awesome! Lightly fried in coconut oil and lightly salted with sea salt, Pili Nuts are crispy, buttery, and absolutely delicious – like dangerously delicious. I'm usually okay with a serving of nuts, but I found it very hard to stick to a single serving because the were so good. Two servings per bag.
LC-Snack Pack by LC Foods was a snack mix consisting of Freeze-dried Monterey jack cheese, unsalted dry roasted almonds & unsalted dry roasted pumpkin seeds. They were pretty good but a little harder to eat since the pieces were small. LC Foods has many, many low carb snacks available on their website. Visit the link above to see. This snack was 2 net carbs per serving and 2 servings per bag.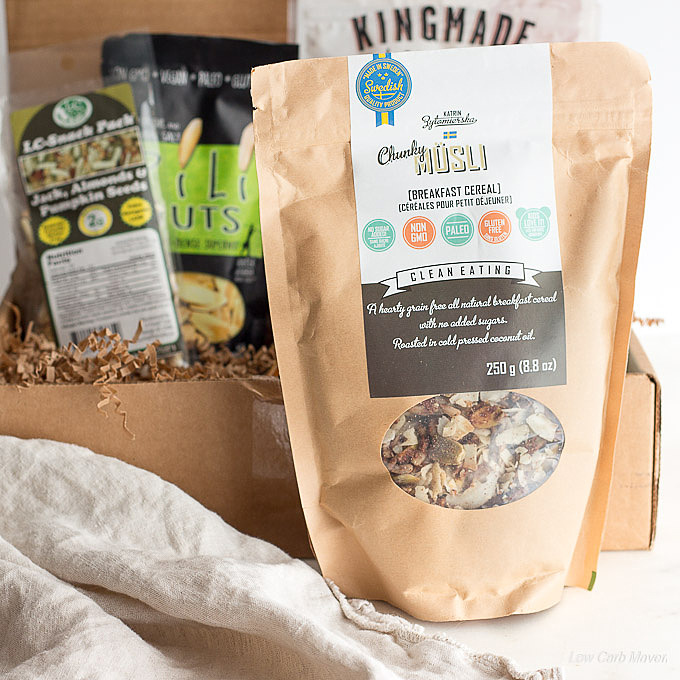 Katrin Zytomierska Chunky Musli Breakfast Cereal is made in Sweden from high quality ingredients like nuts, seeds, coconut and coconut oil and sweetened with erythritol. It tastes very nice and my husband loves it on his yogurt. Check out KZ Clean Eating for this great Chunky Musli and other great products.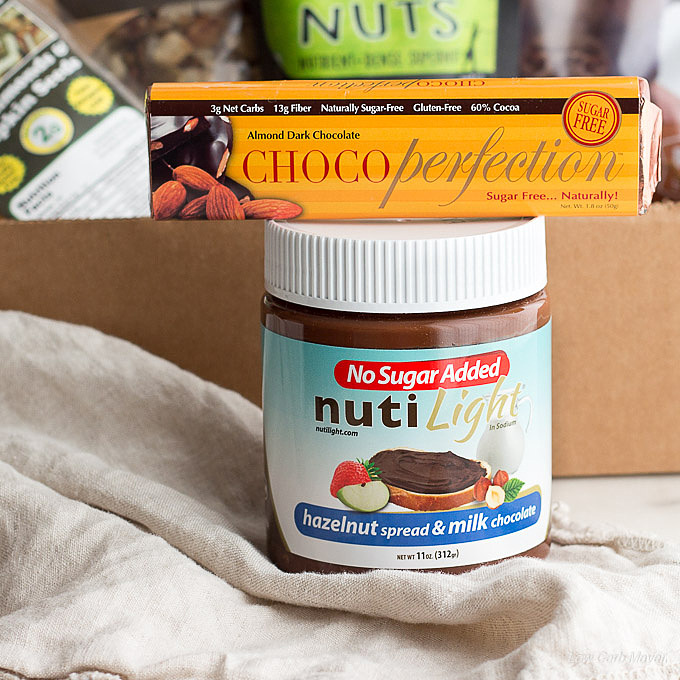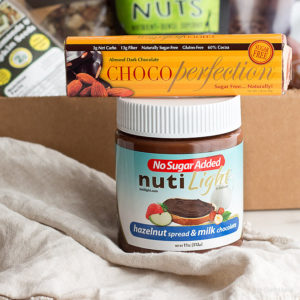 Choco Perfection Dark Almond Chocolate is sweetened with chicory root fiber and erythritol. Each bar is 3 net carbs and has very little cooling effect as it melts on the tongue. It's one of the best tasting sugar free and low carb chocolates on the market. Choco Perfection bars come in several flavors and I love them all. The only thing to watch for is that they are very high in total carbs so if you follow a strict keto diet, I suggest enjoying half a bar.
Nuti Light Hazelnut Spread by nuti Light provides a smooth chocolate hazelnut product that is much less sweet than the traditional nutella hazelnut spread. At 2 net carbs per 2 tablespoons, it's not only delicious but the perfect low carb chocolate hazelnut spread replacement. It, too, is sweetened with chicory root fiber and erythritol delivering a hefty dose of total carbs tempered by a large amount of fiber. This product is silky smooth and opening a jar is much easier than making your own gritty homemade low carb hazelnut spread.
ENJOY THE KETO KRATE PRODUCTS. I DID!
————————————————————————
One more thing. I really like how Keto Krate is creating brand awareness for small businesses by including their products in the Keto Krate. They get two-thumbs-up and a bunch of feel-good-points from me.
(This post contains affiliate links. Purchasing through these links earns me a very small commission at no extra expense to you.)