These Keto Coconut Flour Crepes are not only easy to prepare but result in perfect, thin pancakes. Fill them with sweet or savory low carb fillings for the perfect breakfast, lunch, dinner or dessert!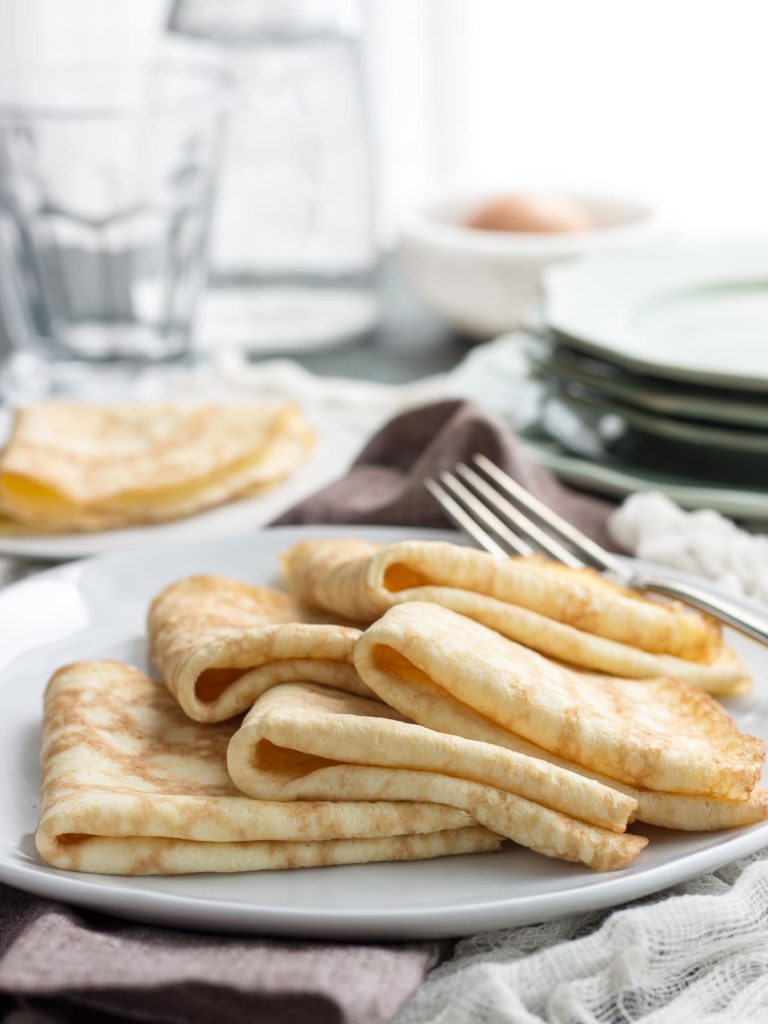 THIS POST INCLUDES AFFILIATE LINKS TO SHARE THE THINGS I LOVE. LCM may earn small commissions through the Amazon affiliate program and others.
I am so excited to bring these crepes to you today because….. I. LOVE. CREPES!
I could have crepes a different way, EVERY DAY, and be so happy.
Just look at those beautiful, soft, golden, perfect little French pancakes. Yum!
You'd be hard pressed to find a more versatile food as crepes can be filled with almost anything savory or sweet. I confess to like sweet crepes the best; filled with sweetened whipped cream and low carb berries, then topped with more whipped cream and a little melted chocolate. I can't think of an easier dessert.
And breakfast can be as simple as a little cream cheese and low carb jam. But, there is nothing like a savory crepe; with a delectable filing, baked in the oven, and topped with a creamy or cheesy sauce — that's good eatin' right there!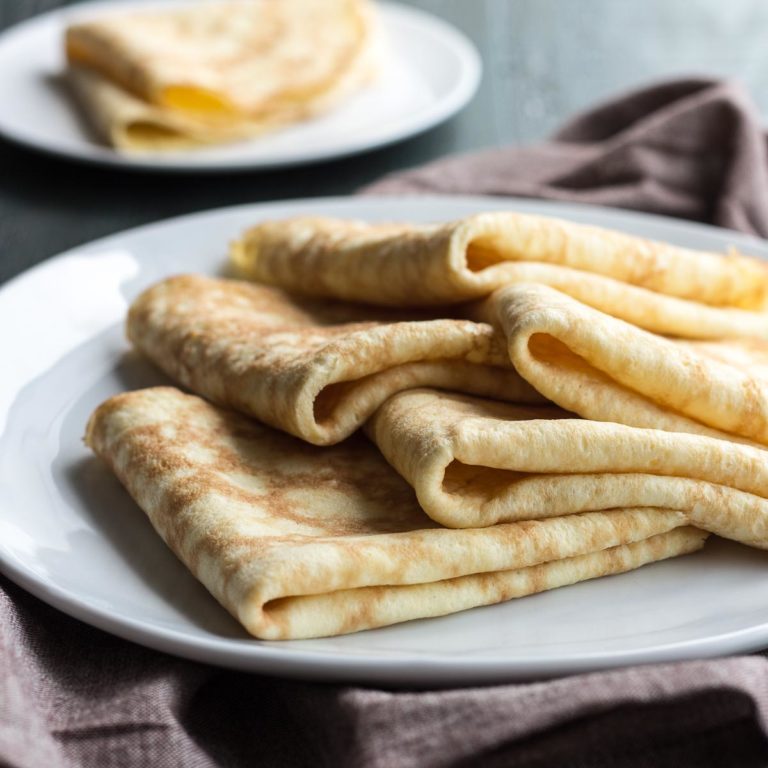 I've been meaning to bring you a keto crepe recipe for quite some time now. But because crepe making is an art which takes practice to master, crepes are not always a popular dish. The pan has to be the right temperature. The batter needs to sit for a few minutes. And of course the first crepe almost always breaks – but not with this keto crepe recipe!
Not only is this coconut flour crepe recipe gluten-free and low carb, but it is easy and almost no-fail. You won't need any special equipment for these crepes except for good non-stick pan. The only technique to master is the pan-tilt-and-swirl to spread the batter — no "crepe-batter-spreader-thingies" needed.
I've been using a Green Pan for about a year now and I think it has one of the nicest ceramic non-stick surfaces around. I also have a French steel crepe pan that I purchased from Williams-Sonoma many years ago, but it just isn't needed for these low carb crepes.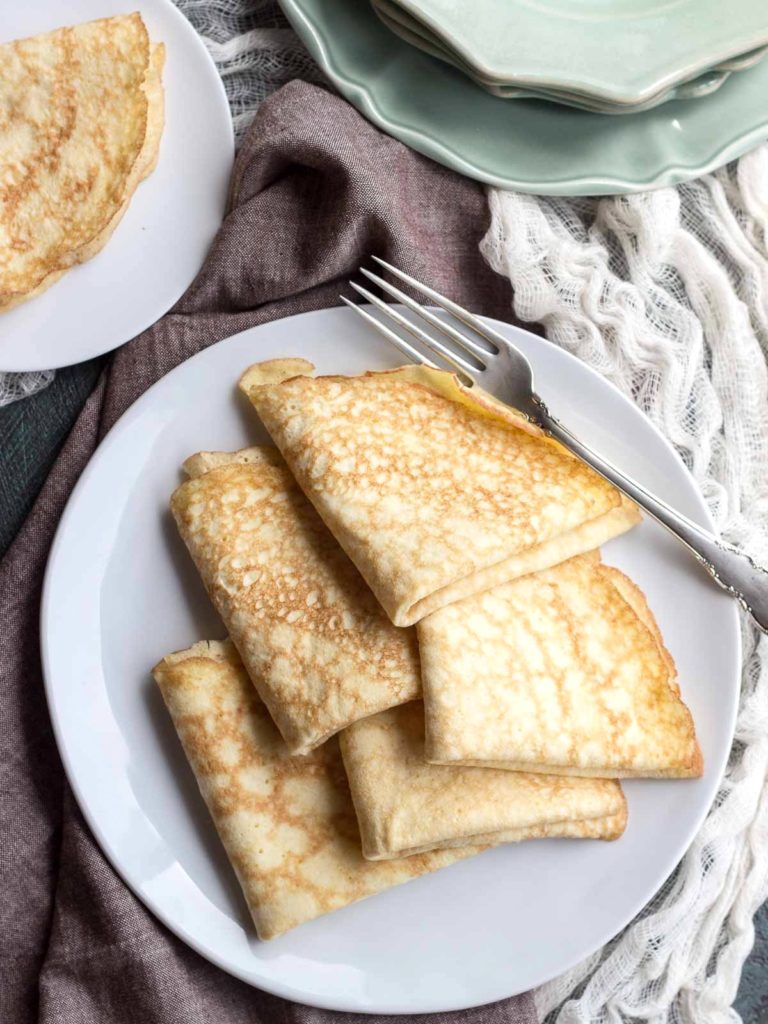 I spent many hours and used many, many, eggs to get this recipe just right. And, I must have tried every known low carb ingredient combination possible to get it there. I tested almond flour, coconut flour, a combination of almond and coconut flours, ricotta cheese, cream cheese, heavy cream, almond milk.
I found that the secret ingredient was Parmesan cheese. Yeah, I know. It's a weird ingredient, but it worked. Somehow, the cheese gives these keto crepes flexibility and strength — resulting in virtually no-fail crepes. And the coconut flour is pretty important as it provides some thickness.
If you're worried about the time commitment to make these coconut flour crepes, don't! The whole recipe only only takes 20-30 minutes from start to finish and they don't need to be baby-sat while they are cooking. Set your kitchen timer and flip when it goes-off.
These stack very well without sticking and also refrigerate like a dream. To freeze crepes, place a piece of waxed paper between each cooled crepe and place in a zipper freezer bag.
Make sure to read the tips on how I flip them so they don't tear.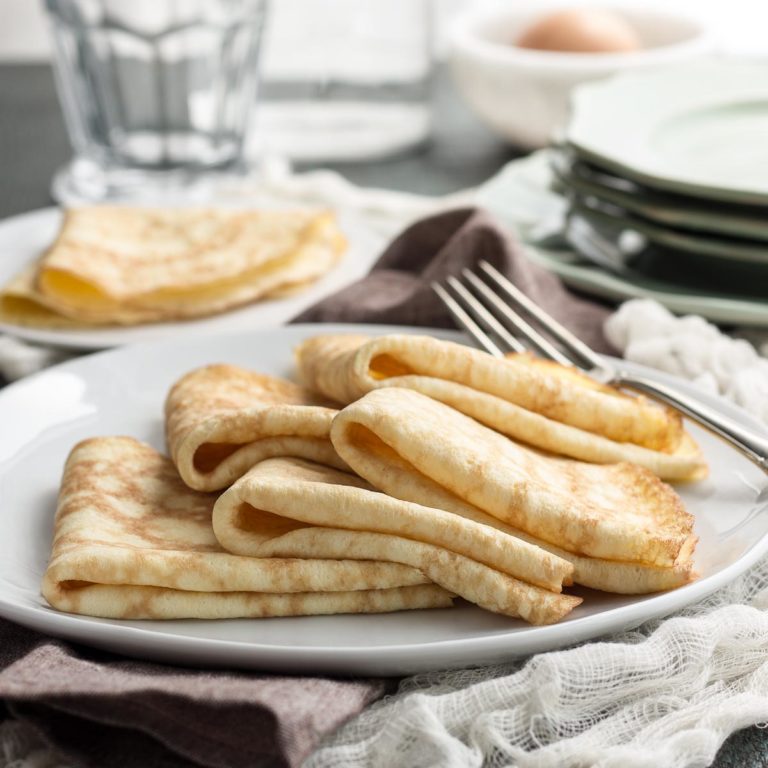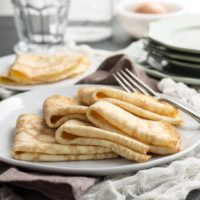 Keto Crepes (Coconut Flour)
These low carb crepes with coconut flour are not only easy to prepare but result in perfect, thin pancakes. Fill them with sweet or savory low carb fillings for the perfect breakfast, lunch, dinner or dessert!
Print
Pin
Rate
Ingredients
Crepe Recipe
6

ounces

very soft cream cheese

(170 g)

6

large

eggs

1/3

cup

grated Parmesan or Asiago cheese

(45 g)

1 1/2

tablespoon

coconut flour

(whisk before measuring)

1

teaspoon

erythritol,

(optional but rounds flavors)

1/8

teaspoon

xanthan gum
Have Near the Stove and Ready
1

tablespoon

melted butter or ghee

(for the pan)

a pastry brush

1/4 cup measuring cup

a thin wide, spatula

a dinner plate on which to stack the cooked crepes
Instructions
Blender:
Place the eggs, cream cheese, Parmesan cheese, and erythritol in the blender. Blend on low until the ingredients are completely combined. With the blender running, sprinkle the coconut flour and the xanthan gum over the batter and continue blending until thick, scraping the sides down at least once. Finish with the blender on medium speed for a few seconds. Let the batter sit for a few minutes.
Prep the Pan:
Put a non-stick pan over medium heat. When a drop of water sizzles and jumps across the surface, it is ready. Turn the heat down just a tiny bit and lightly brush the pan with butter. Lightly brush the spatula, too.
Tilt and Swirl:
Stir the batter. Pour the batter into a 1/4 cup measure and then into the middle of the pan. Resist the urge to scrape the measuring cup out with your finger. Grasp the pan by the handle and begin tilting it in a circular motion to spread the batter into a circle. It won't be perfect and that's okay. I can get the batter to go around the pan 3 times, ever increasing the size of my circle before it stops, resulting in a 6-7 inch crepe.
Cook, Shimmy and Flip:
Let the crepe cook for about 1 1/2 minutes or until the top of the crepe looks dull and the edge browns. You can touch it with your finger to see if it's still wet or just about set. Now, gently work the spatula under the edge of the crepe by shimmying it and lift the edge. With the fingers of your other hand, gently grasp the crepe and lift it a little higher while sliding the spatula under the crepe further. Flip the crepe and let it cook for about 15-20 seconds more.
Stack:
Remove the crepe to the plate and begin the process again making sure to lightly butter the pan and the spatula after each crepe. Stack the crepes one on top of the other. Let cool and refrigerate or use right away. To freeze, place a piece of waxed paper between each crepe before putting into a zip-loc bag and placing into the freezer. Makes 8-10 crepes.

Serving size is 1 crepe. Each crepe is 2.3 g NET CARBS.
Notes
The heat may need to be adjusted up and down just a little while cooking the crepes. I have a gas stove and I find that heating the pan at medium and then turning the heat down just a touch is perfect. With an electric burner, one may need to watch the heat a little more closely as the rate at which it heats up and cools down is a little slower.
Nutrition
Serving:
1
crepe
|
Calories:
160
kcal
|
Carbohydrates:
3.1
g
|
Protein:
8.5
g
|
Fat:
12.2
g
|
Sodium:
226
mg
|
Fiber:
0.8
g
|
Sugar:
1.24
g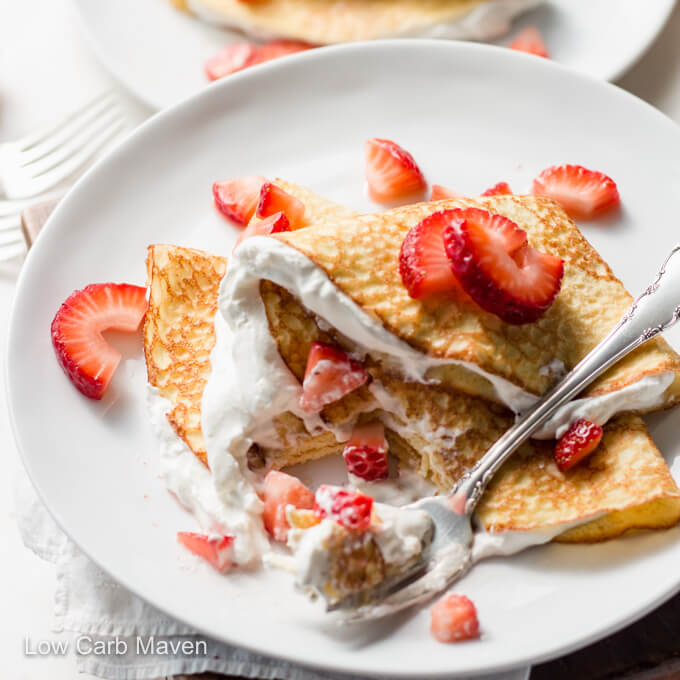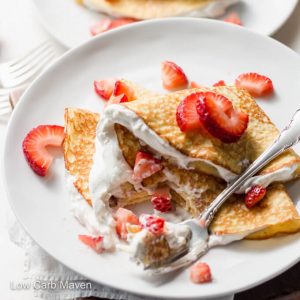 Coconut Flour Crepes with Strawberries and Cream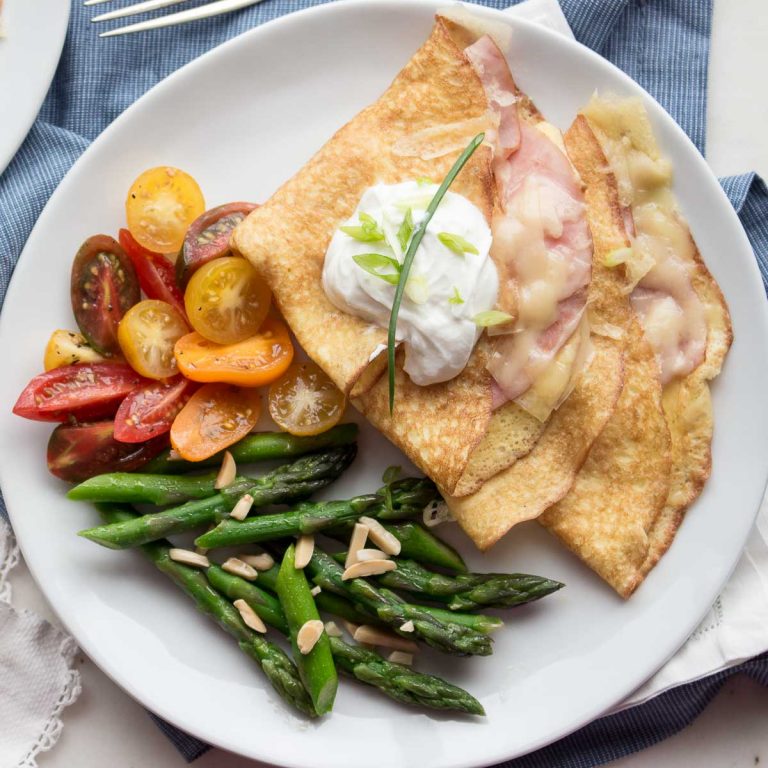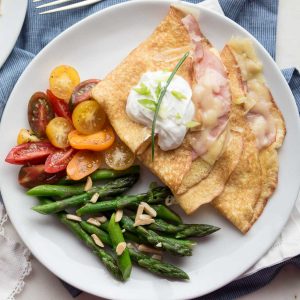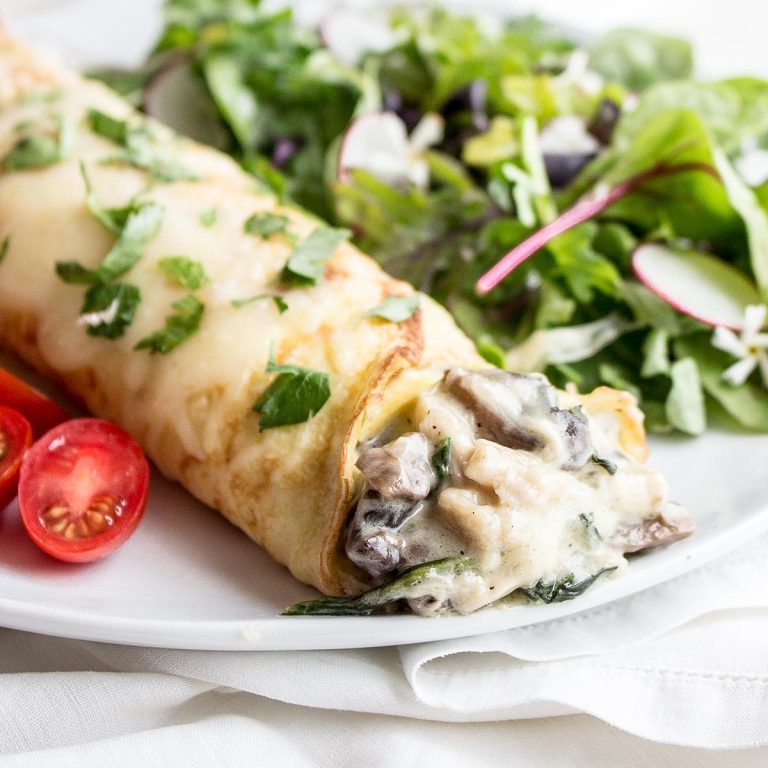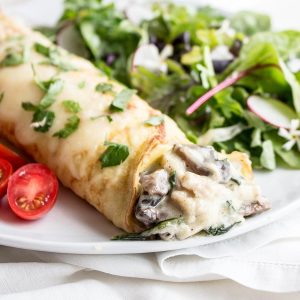 Low Carb Chicken Florentine Crepes