An easy crustless mushroom quiche with perfect custard texture and nice rich flavor. It's a great breakfast option for rushed mornings or a nice lunch with a friend. Low carb and ketogenic recipe.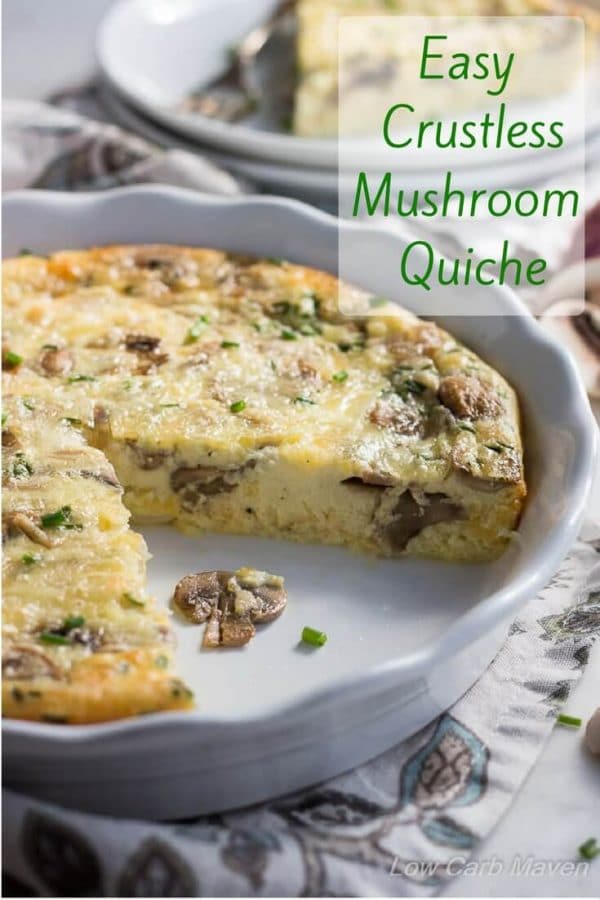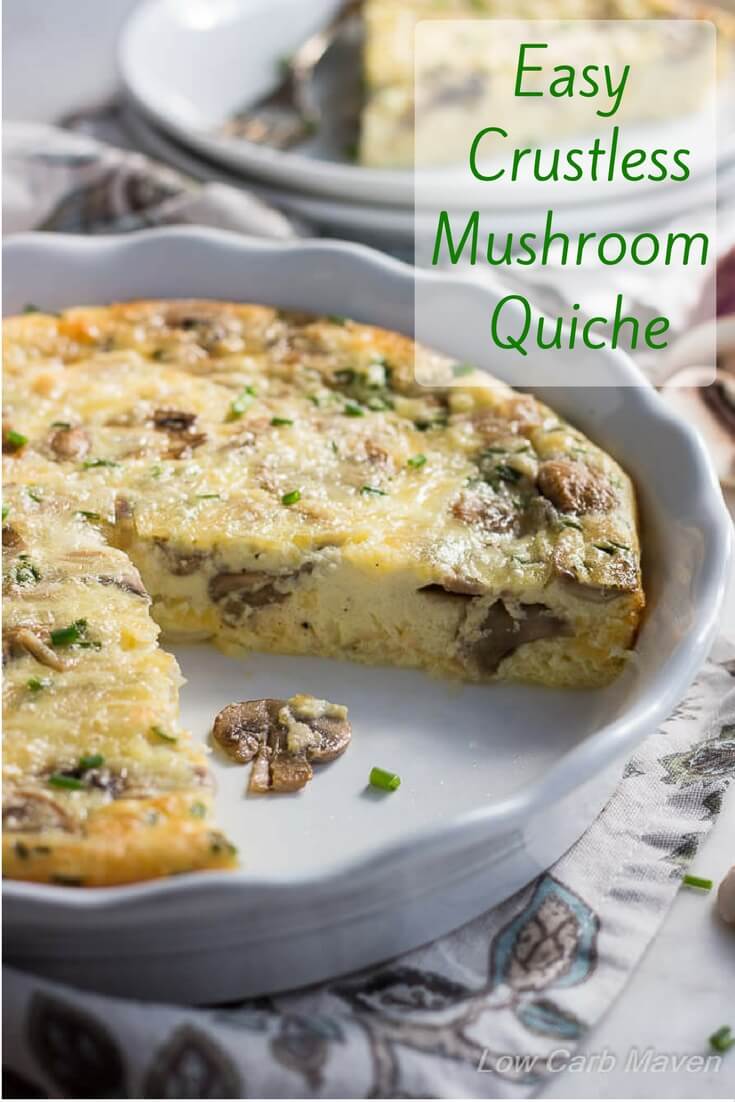 I have some stand out quiche recipes on this blog – my most popular being a easy crustless quiche with spinach and bacon. Then, I have two large quiche recipes perfect for brunch: Ham Quiche Lorraine and Ham and Arugula Quiche. If you need something portable, check out the spinach feta quiche muffins. They taste amazing – really. But, if you are looking for a mushroom quiche with a luxurious custard texture and a rich smoky flavor, this is the one.
Now, I admit to being a mushroom lover. I love them stuffed with spinach artichoke dip. and as a base for super cheesy portobello burgers. I even love them sauteed in butter and thyme or even a good green bean mushroom saute. Tossing mushrooms in Indian spices and roasting them in the oven is sublime. You see where I'm going here? I have a lot of easy mushroom recipes on the blog.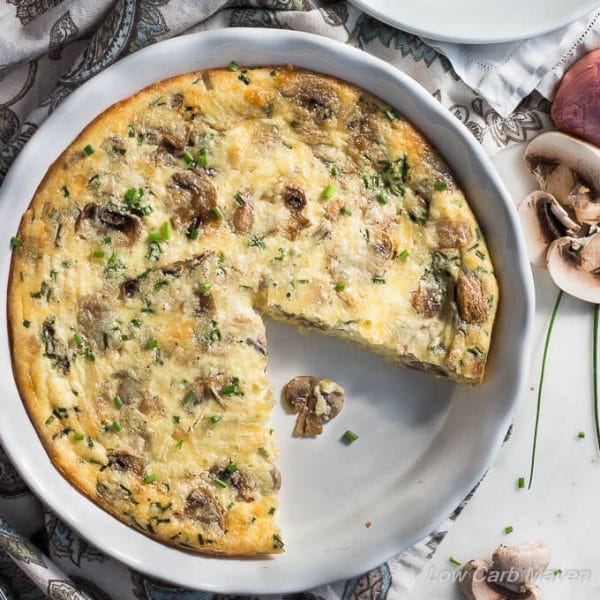 There's something special about the flavors in this crustless mushroom quiche recipe. Usually, I'll add a little fresh ground nutmeg and thyme to a quiche recipe like this. However, keeping the ingredients to a minimum this time let each ingredient shine.
I'm sure we can all agree that quiche with a flaky crust, even a nice low carb crust, is a beautiful thing. But sometimes I just want an easy quiche recipe and that means crustless! Who wants to fool with making a crust for quiche every time? Not me. And nixing the crust keeps it low carb and lower in calories.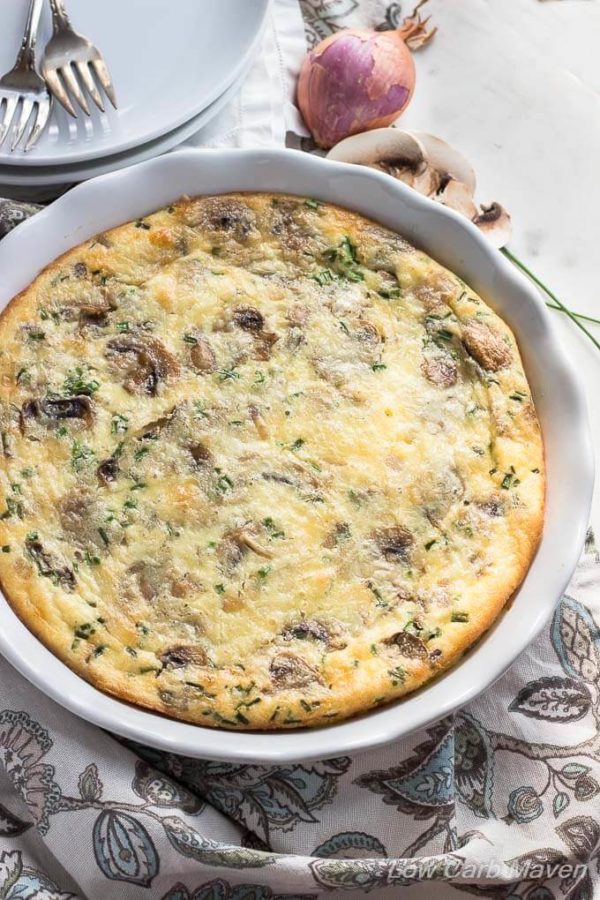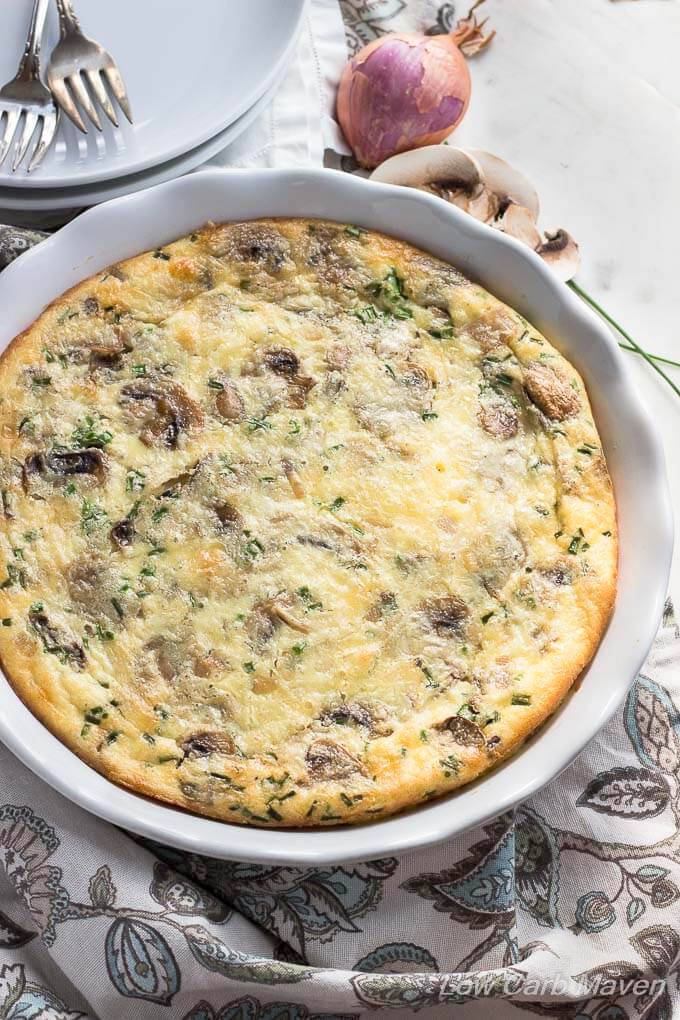 This easy crustless mushroom quiche is full of mushrooms, sauteed onions, and smoked gouda cheese. Layering the ingredients in the dish prevents them from sinking to the bottom, ensuring an even distribution of ingredients throughout the custard. The salty-buttery smoked gouda cheese provides enough richness that the crust won't be missed.
[TIPS] If you want to bump up the flavor saute the onions with a sprig of thyme or some white wine. It will produce a subtle flavor that won't overpower the delicate custard.  Adding just a little grated nutmeg lends a sweet-spicy flavor which enhances the richness of flavor. Lastly, the addition of Dijon mustard (1 tsp) adds a little sharpness to cut the richness of flavor.
This Easy Crustless Mushroom Quiche is 5 net carbs per serving.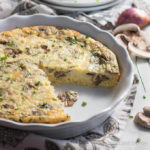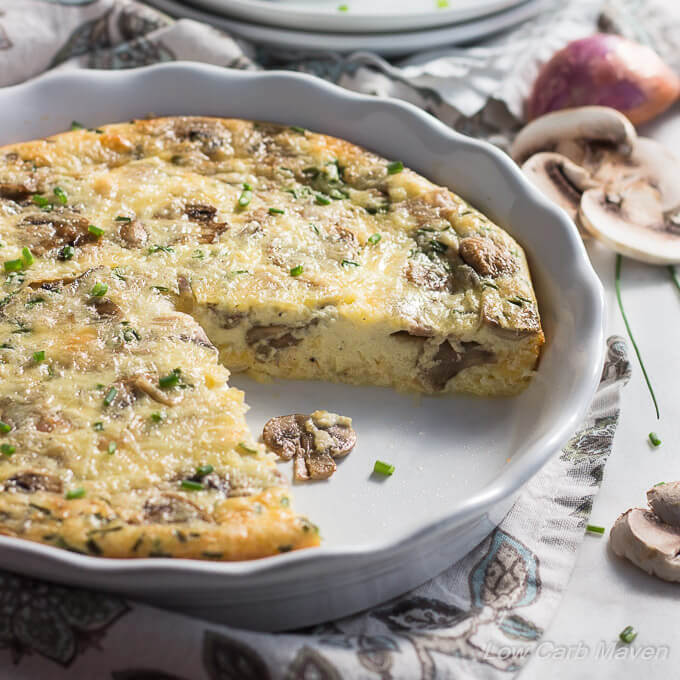 Easy Crustless Mushroom Quiche
An easy crustless mushroom quiche with perfect custard texture and nice rich flavor. It's a great breakfast option for rushed mornings or a nice lunch with a friend. Low carb and ketogenic recipe.
Ingredients
8

ounces

sliced mushrooms (white or brown)

3

tbsp

butter,

divided

1/4

cup

shallot or onion, minced

5

large

eggs

1 1/4

cup

heavy cream

1/4

cup

water

4

ounces

smoked Gouda cheese

1

tbsp

snipped chives

1/2

tsp

salt

1/4

tsp

black pepper
Instructions
Preparation: Preheat oven to 375 and place rack to the middle position. Spray a 9-inch pie dish with baking spray. Mince the shallot or onion. Snip the chives. Grate the cheese.

Method: Heat a saute pan over medium heat and when hot, add 2 tbsp butter and the sliced mushrooms. Stir to coat the mushrooms. Saute for two minutes, then stir and saute 1-2 minutes more or until some of the moisture has been removed. Transfer to a small plate to cool.

Place the saute pan back onto medium heat and when hot, add 1 tbsp butter and the onions. Stir to coat the onions and saute until softened. Remove from heat.

Add the eggs, heavy cream, water, salt and pepper to a medium bowl. Beat at high speed until combined and frothy.

Layer: Add 1/3 of the cheese to the bottom of the pie dish, spreading it so that it is even. Arrange 1/2 of the onions, 1/2 of the mushrooms and 1/2 of the chives evenly over the cheese. Add another layer of cheese, followed by the rest of the onions, mushrooms and chives. Slowly pour the custard over the ingredients.

Bake: Bake for 15 minutes at 375, then for 15 minutes at 350 or until the top is browned and the middle is just set. It may puff up a bit. Let cool to room temperature before serving or cover (after cooling) and refrigerate until needed.

Serves: 6

NOTE: If you have a convection oven or a hotter oven, you may need to adjust cooking temperature and time.
Recipe Notes
Nutrition Facts
Easy Crustless Mushroom Quiche
Amount Per Serving
Calories 313
Calories from Fat 252
% Daily Value*
Total Fat 28g 43%
Total Carbohydrates 5g 2%
Protein 12g 24%
* Percent Daily Values are based on a 2000 calorie diet.
Signup for my Newsletter
Subscribe to get our recipies by email.