Low carb Russian coffee is a warm coffee cocktail that will keep you cozy on the chilliest days. Infused with vanilla vodka, this boozy coffee cocktail is the perfect adult beverage for low carb diets.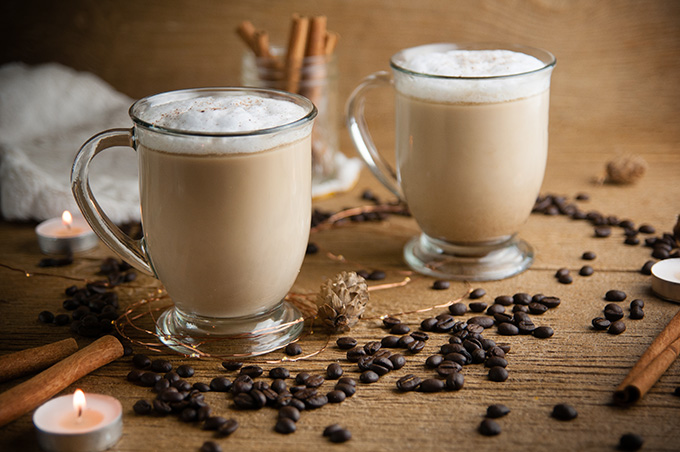 Tis the season for warm drinks. Finally! I live for this season of chilly days full of delicious oatmeal cookies fresh from the oven and cozy beverages. Not quite the Jack Frost nipping at your nose days, but the brisk days that make it fun to snuggle up under a blanket and warm your finger tips with a cup of hot something. It's my idea of perfection.
But, something that's not perfect when it comes to hot drinks. Most of them are not exactly a dieter's dream. So many seasonal drinks are loaded with sugary syrups. Yeah, I'm looking at you hot chocolate and pumpkin spice lattes. And forget cocktails.
So many cocktails need the sugary alcohols and mix ins to taste good. Especially the hot coffee ones that base themselves on Bailey's or Kahlua. 1.5 ounces of Bailey's has 11.3 grams of carbs. Too many for a low carb diet for sure!
A Low Carb Boozy Hot Coffee Drink to Warm You Up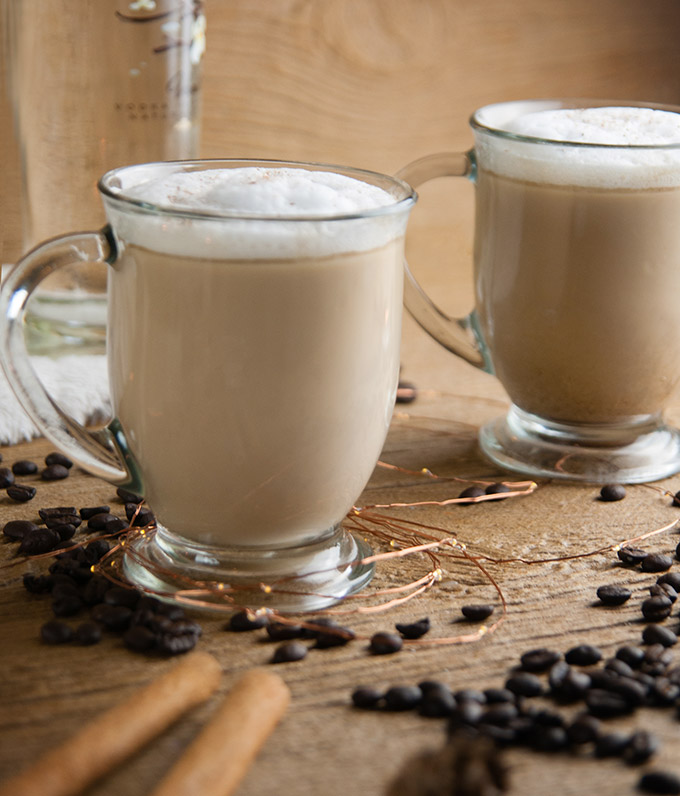 But you can still enjoy a hot coffee cocktail while keeping to your low carb lifestyle and save the high carb boozy coffee drinks other occasions. This low carb Russian coffee gives you the warmth of coffee in a hot coffee cocktail that makes a delightful after dinner drink. The secret?
Vanilla vodka. No carb laden Irish creams or coffee or chocolate liqueurs in sight!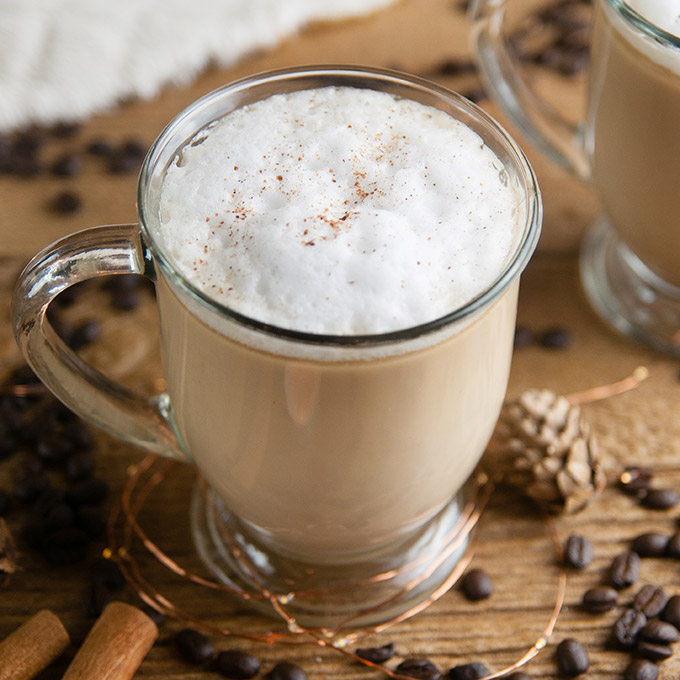 Healthline recognizes vodka as one of the lowest calorie alcohols. And even though vodka is made from very carb heavy foods like potatoes and wheat, the distilling process removes most, if not all of the carbohydrates. This makes for alcohol that you can enjoy from time to time on a low carb diet.
Now if you're like me straight vodka is not super appealing. But flavored vodkas are another matter entirely. They add a little something to make vodka way more enjoyable.
Are flavored vodkas low carb?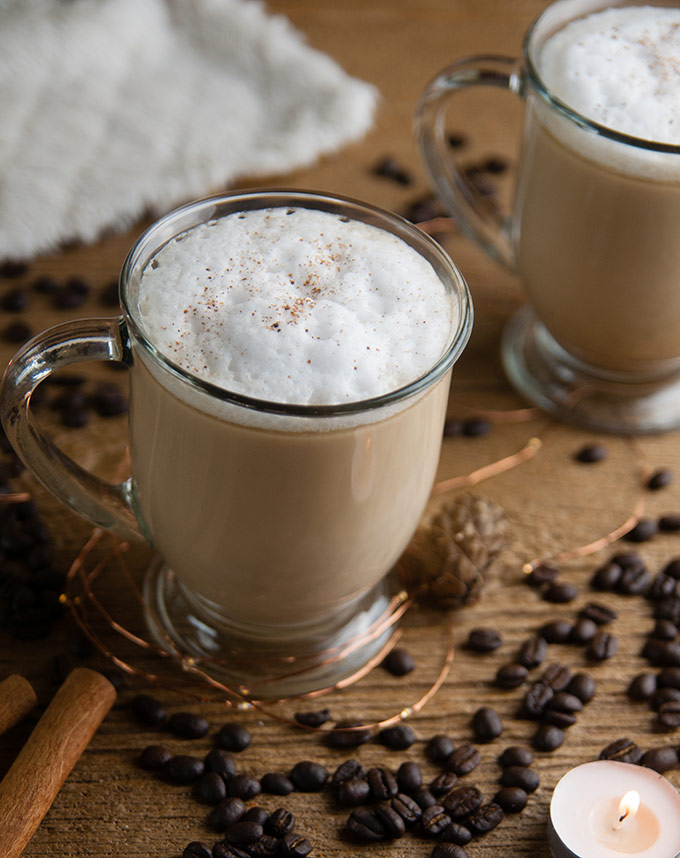 According to Absolut's website, their Vanilla vodka is zero carbs and zero grams of sugar. That makes this flavored vodka an excellent choice to add to your coffee when you want to enjoy a hot cocktail and stick to your low carb lifestyle. Just watch out and make sure you are using low carb mixers and sweeteners to make your drink.
Making a Russian Coffee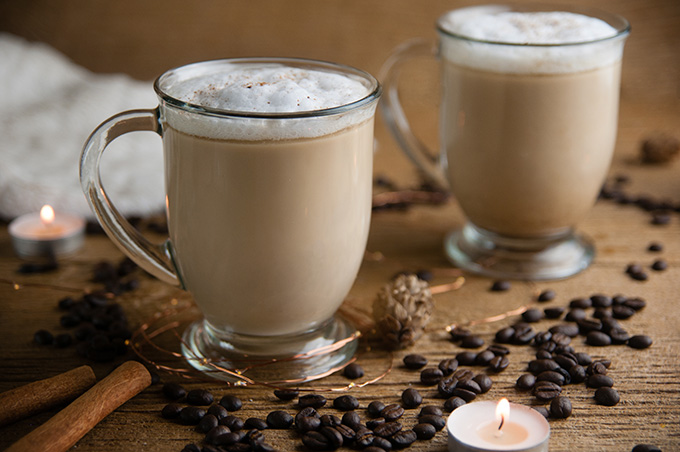 Russian coffee is basically coffee, vodka, and cream. Think a White Russian but hot and without the sugary coffee liqueur.
To make a Russian coffee just pour yourself 1 cup of freshly brewed, good coffee. Don't skimp on quality here. I like buying fresh coffee beans and grinding them myself for optimal flavor. Then, add 1.5 ounces of vanilla vodka and an ounce of heavy cream. You can top it with milk foam or sugar free whipped cream if you desire. I'm going with milk foam here that I made. You could make your own like I did for my keto pumpkin spice chai teas or you could use these premade milk foams by Skinny Syrups if you prefer to take a shortcut. I like the French Vanilla whipped topping here.
Either way, the drink will turn out delicious and feel luxuriously warm. The perfect after dinner cocktail to enjoy on a special occasion with a warm keto chocolate mug cake.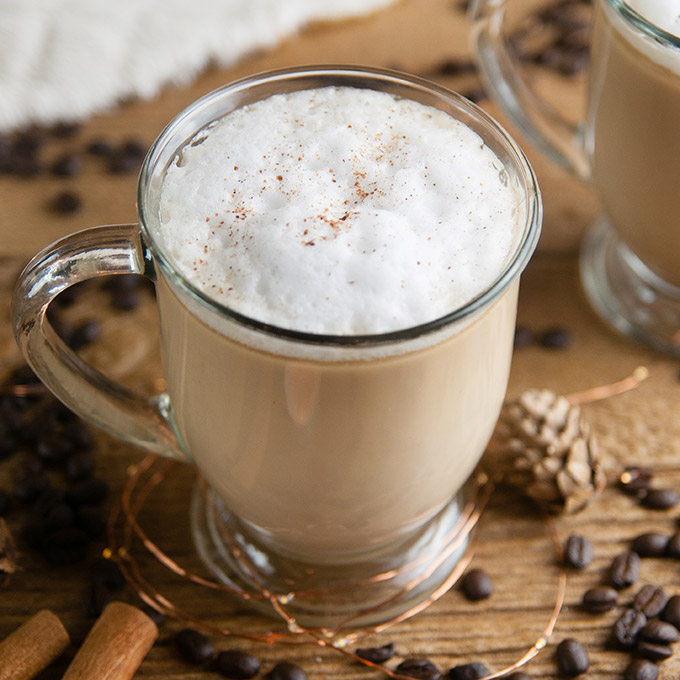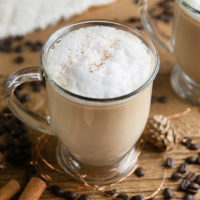 Keto Russian Coffee
Low carb Russian coffee is a warm coffee cocktail that will keep you cozy on the chilliest days. Infused with vanilla vodka, this boozy coffee cocktail is the perfect adult beverage for low carb diets.

Print
Pin
Rate
Ingredients
2

cups

brewed coffee

good quality

4

tablespoons

heavy cream or unsweetened almond milk

2

tablespoon

no carb sweetener of your choice

3

ounces

vanilla vodka
Milk Foam
1/4

cup

heavy cream or almond milk

1/4

tsp

vanilla

1

stick

cinnamon

1-2

pumps

Sugar Free French Vanilla Whipped Foam Topping from Skinny Mixes

Instructions
Brew enough coffee for two cups of coffee based on your machines. All machines will be slightly different. Once you've got your coffee brewed, add 1 cup of coffee to each mug. Then add 2 tbs of heavy cream or almond milk, 1 tbs of sweetener, and 1.5 ounces of vanilla vodka. Top with milk foam if desired.
For Milk Foam
add your heavy cream or unsweetened almond milk to a jar with 1 cinnamon stick and 1/4 tsp of vanilla extract. Put the lid on the jar tightly and shake the jar vigorously for about 30 seconds. The cream or almond milk should expand in volume and get frothy. Remove the lid from the jar and microwave for 10 seconds. Spoon two tablespoons onto each drink. If the foam deflates due to high fat content, top with a pump of Skinny Mixes French Vanilla whipped topping.
Notes
You will have leftover foam.
To reduce the fat and calorie count, use almond milk instead of heavy cream.
Nutrition
Calories:
214
kcal
|
Carbohydrates:
3
g
|
Protein:
2
g
|
Fat:
22
g
|
Saturated Fat:
14
g
|
Cholesterol:
82
mg
|
Sodium:
28
mg
|
Potassium:
161
mg
|
Fiber:
1
g
|
Sugar:
1
g
|
Vitamin A:
878
IU
|
Calcium:
56
mg
|
Iron:
1
mg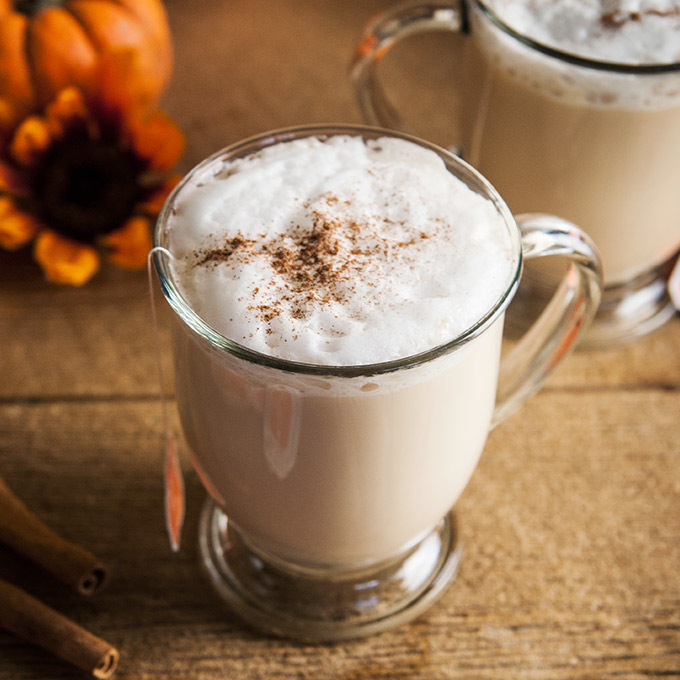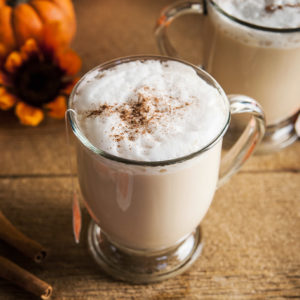 Sugar Free Pumpkin Spice Chai Latte