Low Carb Tortillas, Wraps and Chalupa Shells keep sandwich wraps and Mexican food on the menu. They are a wonderful gluten and grain-free option.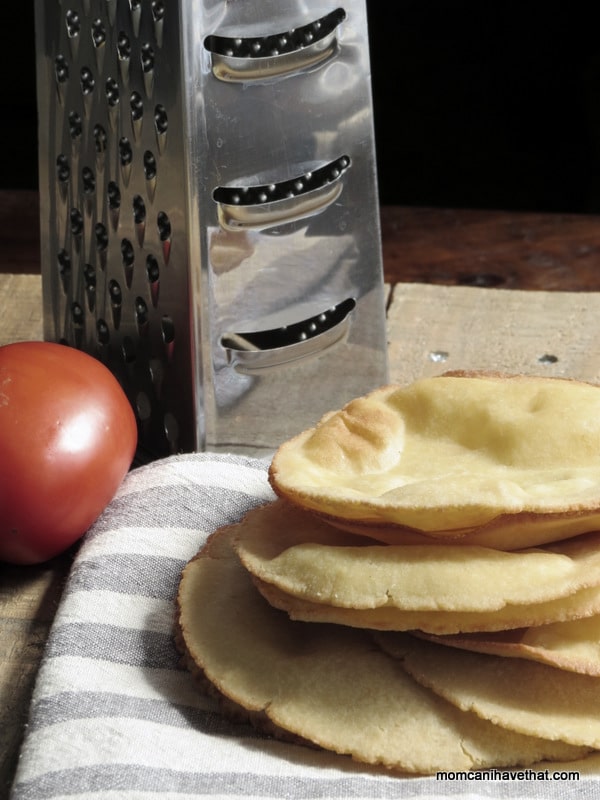 If you live a low carb lifestyle then you have been reaping the benefit of modern low carb ingredients and products. Once limited to oopsie rolls, soy flour, and lettuce leaves, our choices have expanded to include flax buns, almond bread and even low carb tortilla wraps made with resistant wheat: what's even more pleasant is that they all taste great! But, what if you can't have dairy or gluten? Choices just got a lot smaller, huh?
Not to worry, though. I'm sharing two great recipes that are not only easy to make, but are also high in fiber, low in carbs, versatile, and taste pretty darn good — low carb tortillas and wraps. One recipe can be used to create a flatbread to be used as tortillas or wraps and the other can be used as tortillas for soft tacos and enchiladas, or fried for chalupas and tostadas.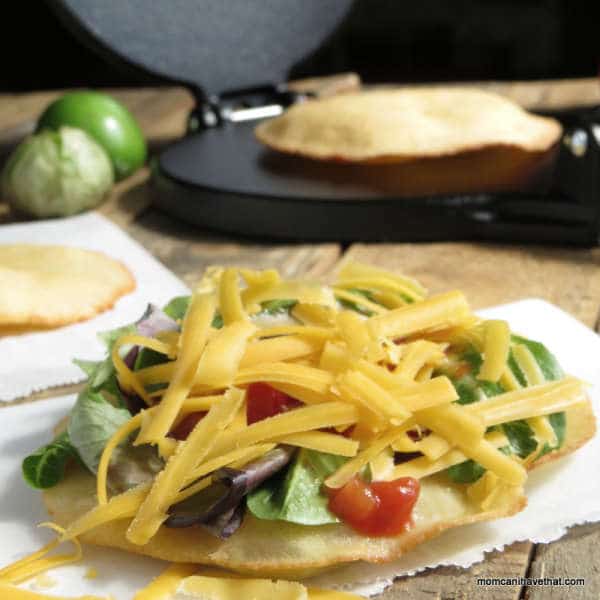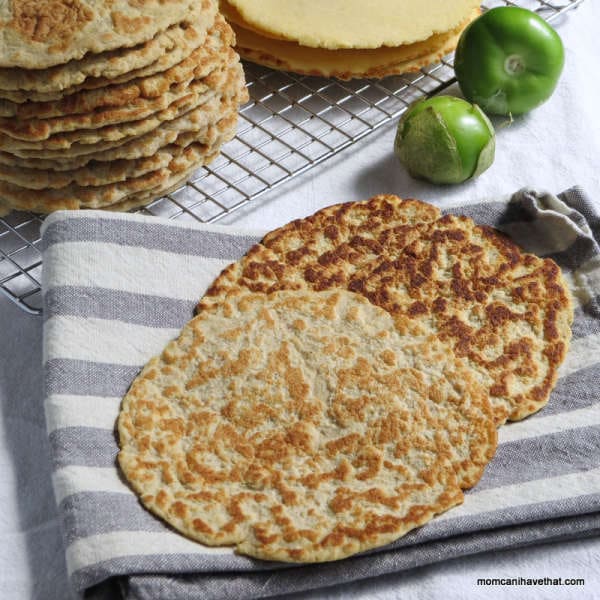 The first recipe for low carb tortillas is a Low Carb Maven original. It's called the One-carb, gluten-free tortilla. We enjoy this recipe at least once a month in one form or another, for our soft tacos, enchiladas, chalupas and tostadas. This gluten-free recipe uses glucomannan powder — the same ingredient used to make Miracle Noodles. My kids love these! I can't take any credit for the next recipe. It comes from Maria Emmerich's fantastic blog mariamindbodyhealth. She has many innovative recipes and I use this recipe for gluten free tortillas when I want a flat bread or soft taco wrap for my dinner. I especially like using it for thickened stews like green chile stew or pork carne guisada (better picture coming soon). This recipe forms a forgiving dough that is easy to work with. However, I have a few tips to help this recipe turn out right, every time…
Assemble all of the ingredients before hand. Measure the dry ingredients into the bowl and mix them thoroughly with a hand mixer or a whisk. Boil the water and have it ready. Beat the eggs well. Add the beaten egg to the dry ingredients and mix quickly and thoroughly, then immediately add the hot water and mix until combined, but do not over mix. Wait several minutes before forming the dough so that the psyllium can absorb the moisture. I like using NOW brand psyllium powder because it is affordable and does not turn purple like many health food bulk brands do.
Maria provides good instruction, but I felt it necessary to provide the tips because I am constantly interrupted by my kids and having to stop mid way is not a good idea.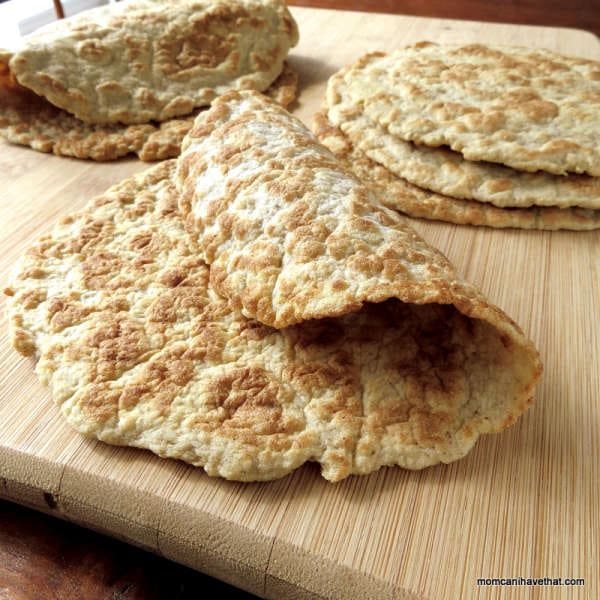 Let's have a reality check here: Do these low carb tortillas, wraps and chalupa shells taste like the real thing? No. But they are a more than satisfactory substitution and we love them. I am currently working on some alternate formulations for low carb tortillas, wraps and chalupa shells.
Here's a helpful tip:
I used to roll out my low carb tortillas, sandwiched between two pieces of parchment, with a rolling pin and it was time consuming. I now get perfectly round low carb tortillas every time in a quarter of the time it took me before. What's my secret? I use a tortilla press that I bought on Amazon. I also use it to make crackers. I use it all of the time. It was well worth the money.
Here are two more recipes for low carb tortillas: One-Carb, Gluten-Free Tortillas or Zucchini Tortillas for Soft Tacos
Need something to put in those tortillas? These are sooooo good! Traditional Beef Fajitas
Both of the low carb tortilla wraps recipes below are 2 net carbs each, per tortilla. The numbers in the parentheses in the nutritional information, are for those made with coconut flour.
[Disclosure: This recipe contains affiliate links .]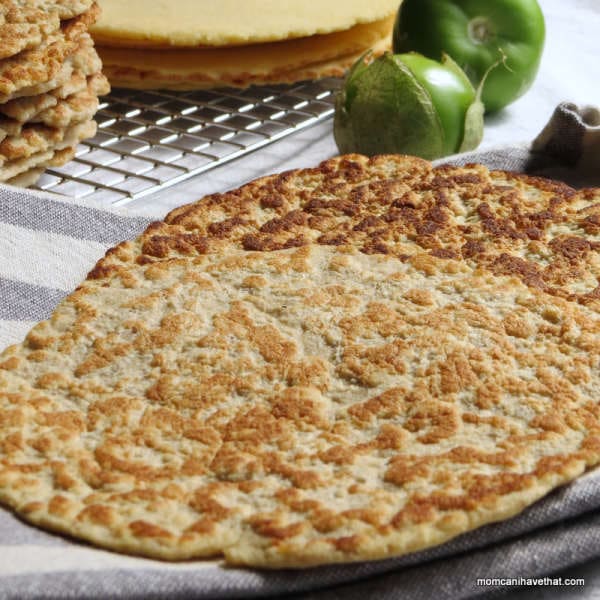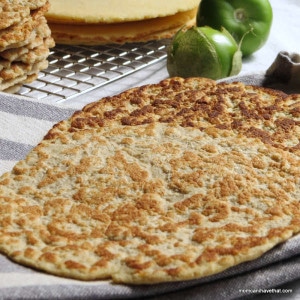 Low Carb Tortilla Wraps and Chalupa Shells
These
Gluten Free Tortillas
from Maria Emmerich are great as a soft tortilla or a flatbread. I especially love them with a thickened stew.
Print
Pin
Rate
Ingredients
Almond Flour Tortillas
1¼

cup

almond flour

5

Tablespoons

NOW psyllium husk powder

1

teaspoon

salt

2

large

eggs

1

cup

boiling water
Coconut Flour Tortillas
3/4

cup

coconut flour

5

Tablespoons

NOW psyllium husk powder

1

teaspoon

salt

4

large

eggs

1

cup

boiling water
Instructions
***I use NOW brand psyllium powder and I regrind it to make sure it is as fine as can be.

Boil the water and keep it hot.

Grind your psyllium powder and measure 5 tablespoons into a medium bowl. Add the almond flour (or coconut flour), psyllium powder and salt. Mix together thoroughly with a whisk or a hand mixer.

Into a smaller bowl, crack the eggs and blend with a fork.

Pour the boiling water and have it ready.

Pour the eggs into the dry mixture and with the hand mixer, blend until just mixed in. Add the boiling water and mix again until a dough forms. It will be cool enough to handle almost immediately, but let it sit for a few minutes to give the psyllium time to absorb the water.

Heat a skillet or a large pancake griddle on the stove on medium high heat.

Shape the dough into a large ball and split in half. Roll each half into a short snake and divide each section into five pieces. Roll each piece into a ball.

Put a piece of dough between two oiled sheets of parchment paper and roll into a flat disk shape with a rolling pin or use a tortilla press to press it flat.

Spray the hot pan or griddle with oil. Cook the tortilla until it is browned on one side, then flip over and cook the other side.
Notes
These low carb tortillas and wraps stay soft and pliable. They are perfect for a wrap. They DO NOT fry crisp in oil. I have tried it.
Nutrition Facts
Low Carb Tortilla Wraps and Chalupa Shells
Amount Per Serving
Calories 105
Calories from Fat 68
% Daily Value*
Fat 7.5g12%
Carbohydrates 5.6g2%
Protein 4.1g8%
* Percent Daily Values are based on a 2000 calorie diet.
Nutrition
Calories:
105
kcal
|
Carbohydrates:
5.6
g
|
Protein:
4.1
g
|
Fat:
7.5
g
|
Fiber:
3.8
g