Making crispy cheese taco shells is easier than you think. These cheese taco shells are crunchy, delicious and taking the keto world by storm! Gluten-free, too.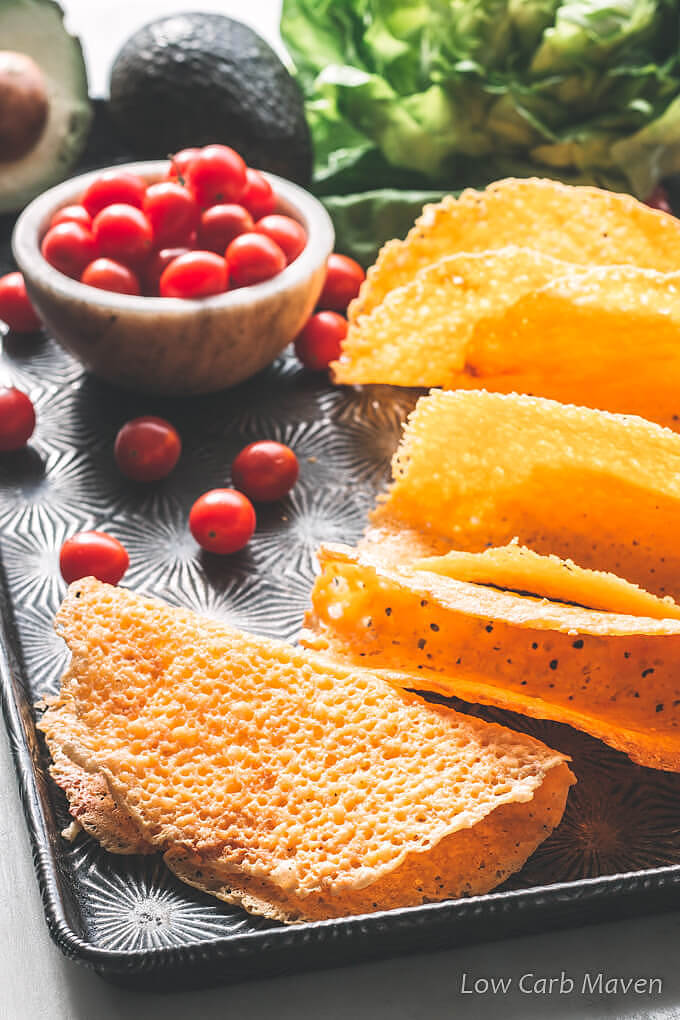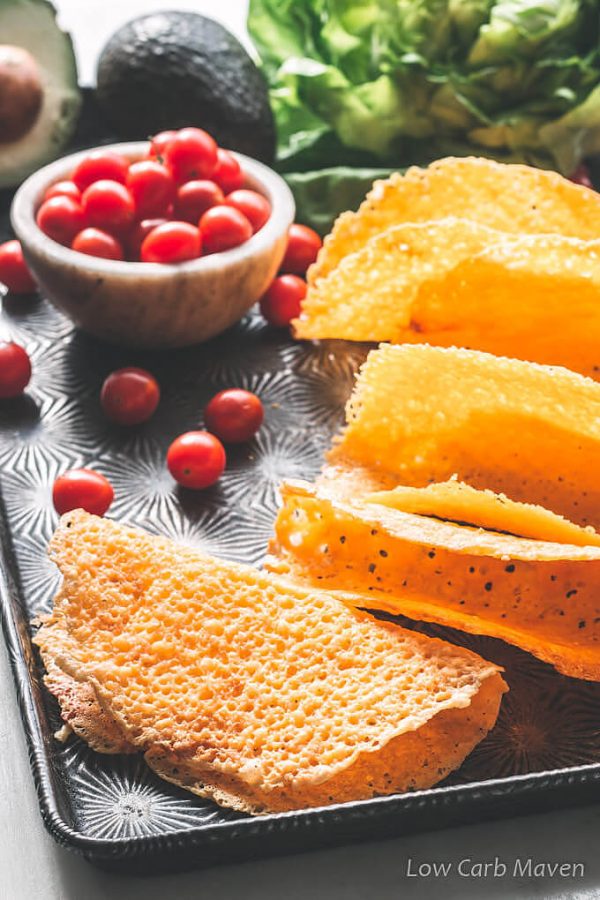 If you've missed eating crunchy tacos like I have, then you are in for a treat. Low carb taco shells made from cheese are the new "in" thing.
We've baked cheese into cheese chips for dip, taco shells, chalupa or tostada shells and bowls for salads or appetizers. They are very versatile and my family loves them.
Looking to make low carb beef tacos? Take a peek at my recipe for low carb taco seasoning and then see how I make the BEST tasting ground beef taco filling. It's super easy.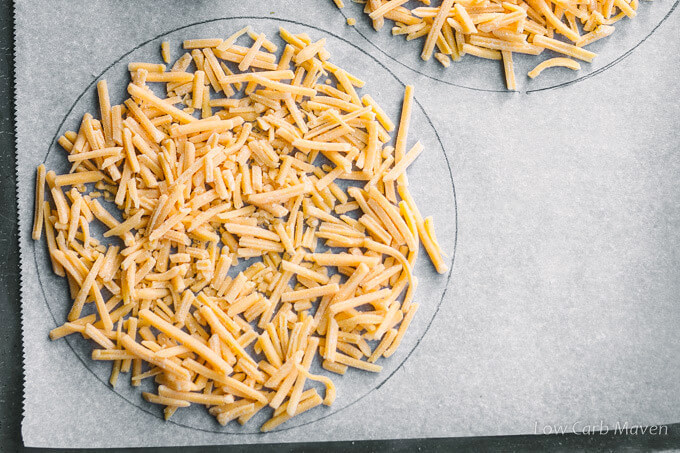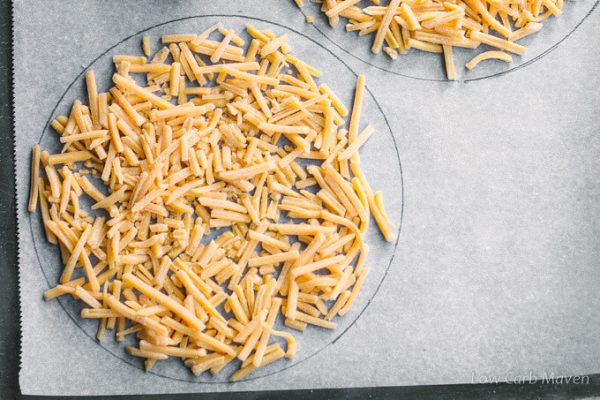 Cheese Taco Shells Recipe
A Google search for low carb tortilla recipes yields many options for crepe-like and wrap-like tortillas. My recipe for Almost Zero Carb Wraps, which we use as breakfast wraps or fill with thick Southwestern stews, is right there on page 1.
Crunchy low carb keto taco shells recipes have been elusive… until a year or two ago, when cheese taco shells made their appearance.
Lowcarbers and Ketonians have used cheese to make chips for years now, so making them bigger to accommodate fillings is just a natural progression – and genius! I get a kick out of all of the possibilities these fun snacks provide.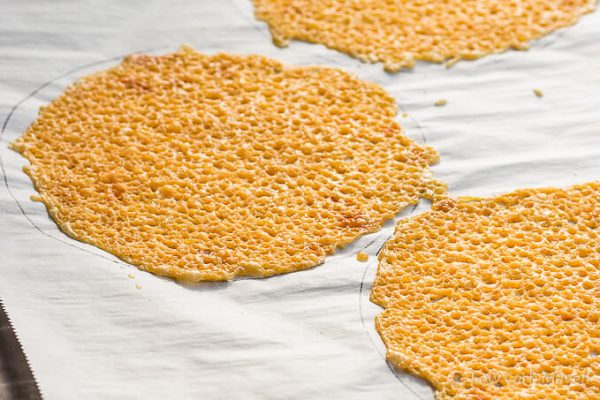 All kinds of cheeses can be used to make cheese taco shells and they all have different flavors and levels of crispness. Some yield a cheese shell that is more crisp while others are a little more tough in texture.
The shells can be made with shredded cheese or cheese slices. They can also be made in the oven, on the stove or in the microwave.
Celiacs: If you are looking for gluten-free taco shells, this may be the recipe for you. Make sure that the pre-shredded cheese you use, is free from gluten and you will be fine.
Do low carb taco shells have carbs?
Yes, a small amount of carbs comes from the lactose in cheese. Most cheese has 1 carb per ounce. Many brands will list zero carbs because of FDA rules that say if a product is below 1 carb per serving it can be listed as zero even if it has .8 carbs. So, I generally count 1 ounce of cheese as 1 carb. The cheese taco shells are 1 carb per shell.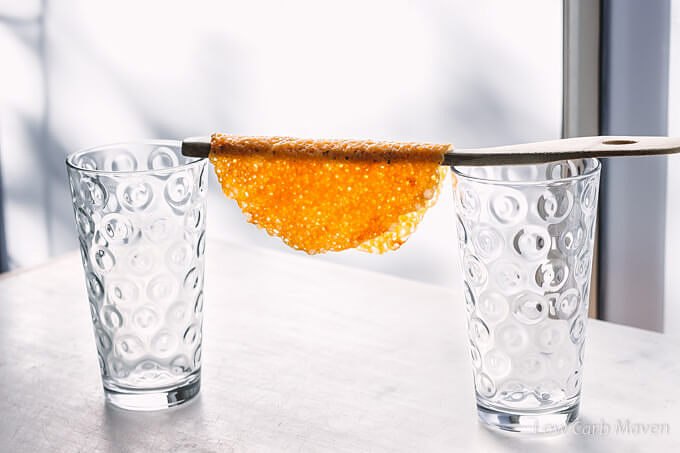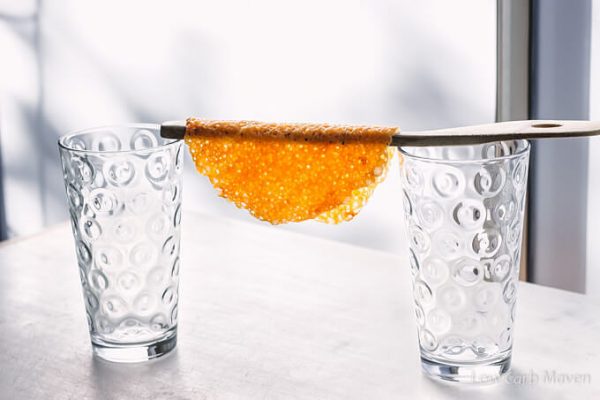 How to Make Low Carb Keto Taco Shells
Making low carb cheese taco shells is easy. Place slices of cheese or a pile of shredded cheese on a prepared surface and cook:
Crisp in a frying pan
Bake on Parchment or a silpat in the oven
Place on parchment and cook in the microwave for single tacos
Once cooked, give the cheese shells just a second to cool before removing, but work fast! They need to be shaped while still pliable. Simply drape them over a wooden spoon or dowel until the cool and are crispy.
They can also be stuffed into a muffin tin cup to make into a bowl for appetizers. For chalupa or tostada shells and chips, simply let cool on the baking pan, then cool completely on a cooling rack before storing in an air-tight container.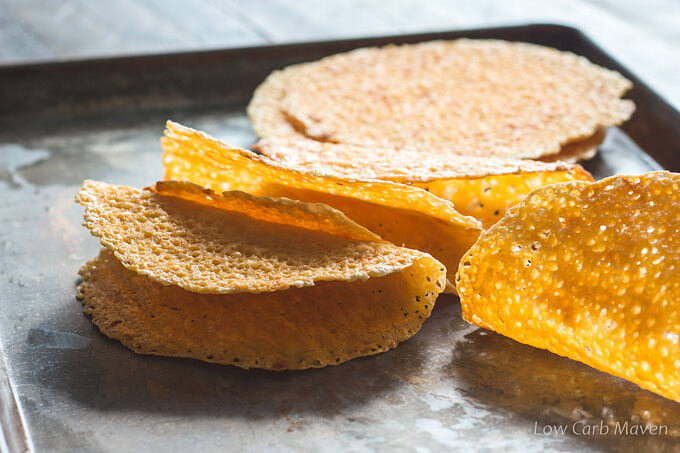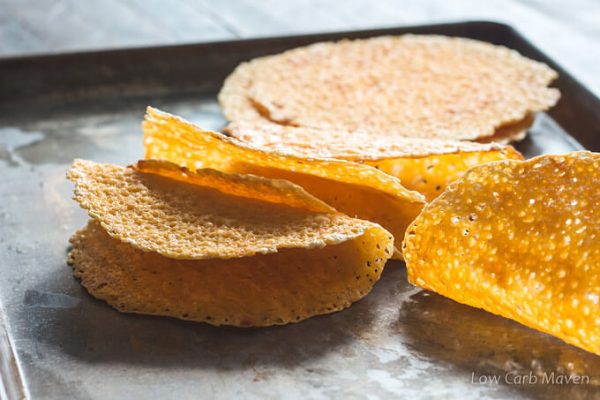 Recently, I have been using a taco shell maker for making cheese taco shells. I think it's much easier than using wooden spoons.
I tried several kinds of cheese and found that pre-shredded cheddar cheese from the grocery worked the absolute best. Also, the sharp variety became more crispy than the mild. Monterey jack and Colby jack cheese didn't get as crispy but also worked well. Parmesan cheese made delicious chips which we enjoyed on our salads.
Each cheese taco shell is 1 carb.
[Post and recipe contain affiliate links. Purchasing through a link may result in my earning a small consideration at no additional expense to you. These pennies help me continue to provide great free content.]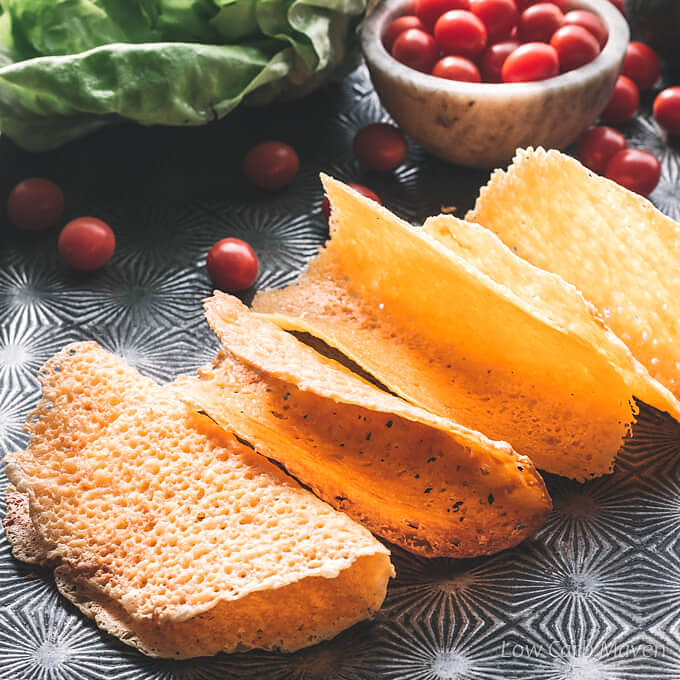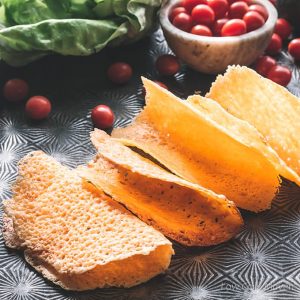 Crispy Cheese Taco Shells (Low Carb Keto Taco Shells)
Making crispy cheese taco shells is easier than you think. These low carb taco shells are crunchy, delicious and taking the keto world by storm!
Print
Pin
Rate
Ingredients
9

oz

pre-shredded cheddar cheese*

(from a bag)
Equipment
Parchment Paper

(NOT WAXED PAPER)

2

large

sheet pans

(half sheet pans – 18×13 inches)
Instructions
Preheat the oven to 375 degrees F and place one rack in the upper third and the other rack in the lower third of the oven. Line two large sheet pans with parchment paper. I like to trace 3, 6-inch circles on each parchment, so my shells are the same size. (Flip the parchment over so you don't get pencil or pen on the cheese.)

Measure 1/3 cup (1 1/2 ounces) of shredded cheese per circle and spread evenly to the edges of the circle.

Bake for 5 minutes and swap the positions of the baking sheets. Bake another 5-10 minutes or until little holes have appeared in the surface of the cheese and the edges begin to brown. 

Remove from the oven and blot with a paper towel before removing to wooden spoons or spatulas suspended by glasses to shape taco shells. (I now use a taco shaper which I have linked to in the post and it is much easier to shape the shells.) Leave on the pans to cool flat for chalupa or tostada shells. 

Cool completely and store in an air-tight container on the counter for a few days or in the refrigerator for up to two weeks.

* Make sure to use ONLY pre-shredded cheddar cheese from a bag like Kraft brand. This never sticks to the parchment. I tried a mixed blend of Mexican cheese and it stuck a little and didn't get crispy. ALSO, if the cheese isn't cooked enough, it will stick. Make sure it starts to turn evenly browned – not dark, but not bright orange any more.

1 carb per shell.
Notes
To make a single serve cheese taco shell in the microwave, spread 1/3 cup of cheddar cheese into a circle (see photos in post) and microwave for approximately 2 minutes. This will take more or less time depending on the strength of your microwave. My microwave is not very strong.
Nutrition Facts
Crispy Cheese Taco Shells (Low Carb Keto Taco Shells)
Amount Per Serving (1 shell)
Calories 171
Calories from Fat 122
% Daily Value*
Fat 13.6g21%
Cholesterol 38mg13%
Sodium 273mg12%
Potassium 38mg1%
Carbohydrates 1g0%
Protein 10.6g21%
Vitamin A 2732IU55%
Calcium 1821mg182%
* Percent Daily Values are based on a 2000 calorie diet.
Nutrition
Serving:
1
shell
|
Calories:
171
kcal
|
Carbohydrates:
1
g
|
Protein:
10.6
g
|
Fat:
13.6
g
|
Saturated Fat:
7.6
g
|
Monounsaturated Fat:
3.8
g
|
Cholesterol:
38
mg
|
Sodium:
273
mg
|
Potassium:
38
mg
|
Vitamin A:
2732
IU
|
Calcium:
1821
mg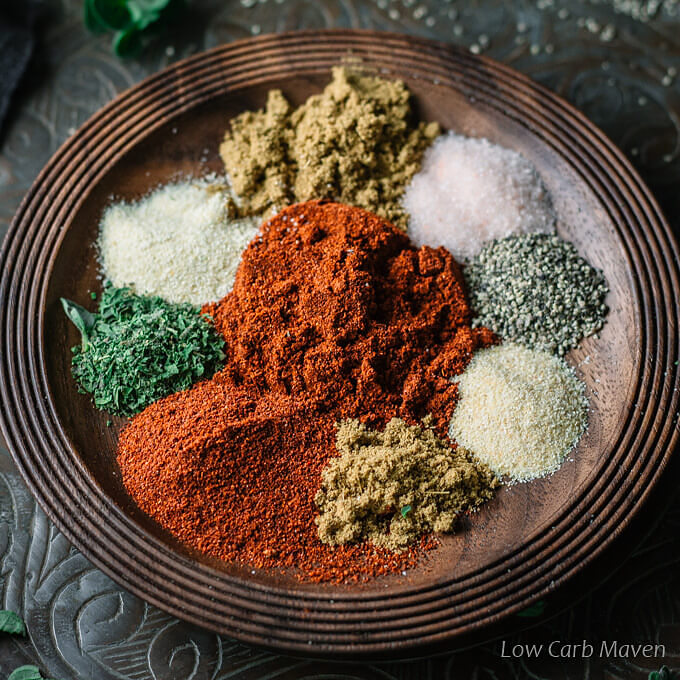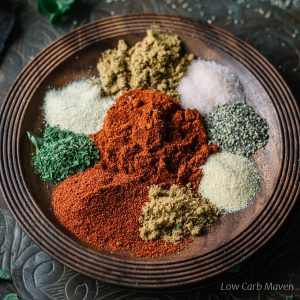 Low Carb Keto Taco Seasoning Recipe