An easy, gluten-free keto taco seasoning mix for ground beef that's perfect for Taco Tuesdays or any day.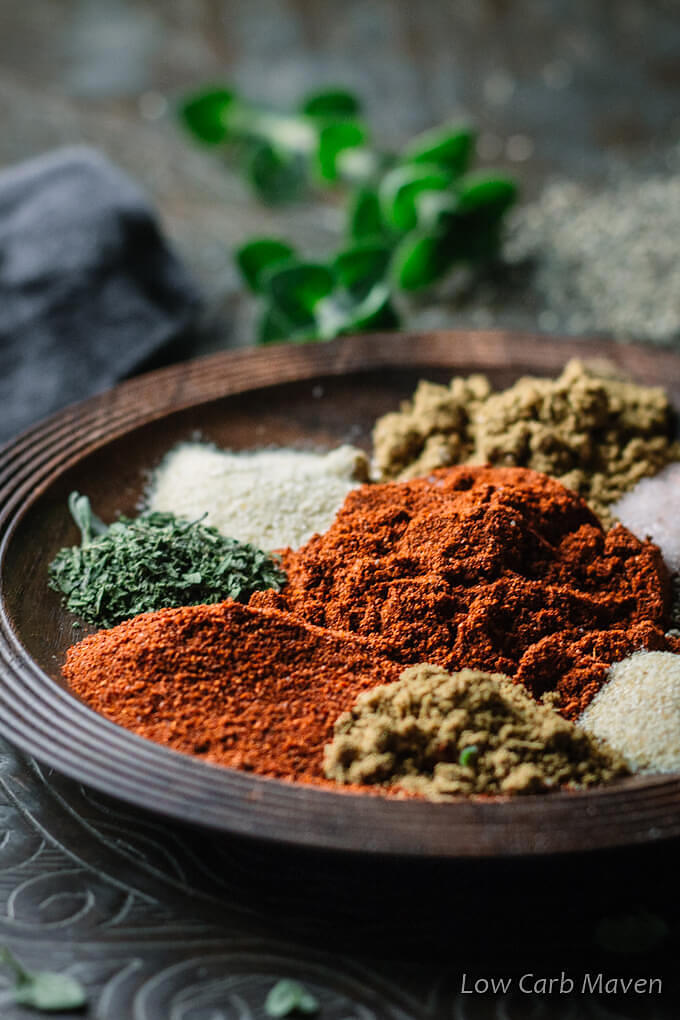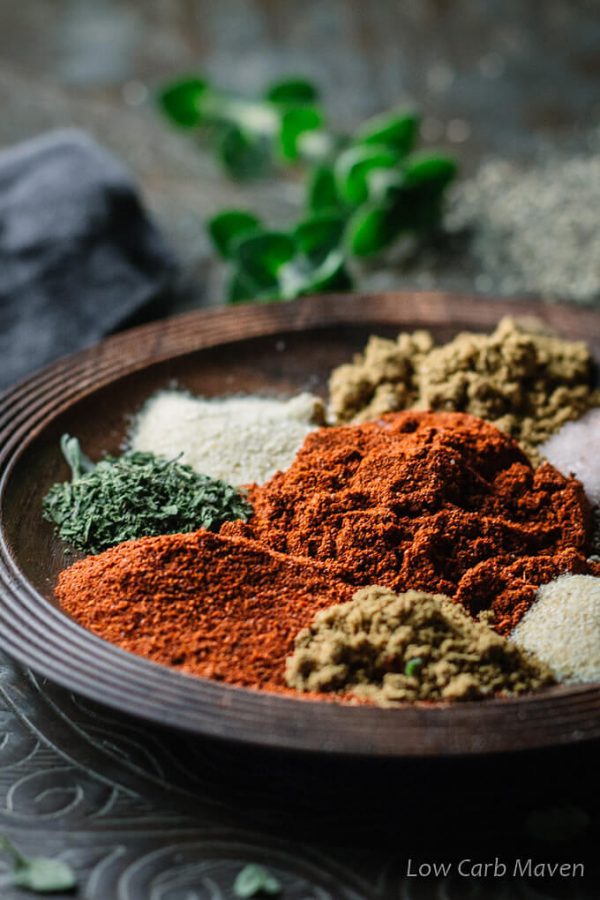 I grew up in the Southwest were tacos were a part of life! Of course, authentic tacos back then meant seasoned shredded chicken (or shredded beef) served in soft or fried corn tortillas. That's quite different than what usually comes to mind when one hears "Taco Tuesday"; thanks in part to elementary school cafeteria lunches and Taco Bell!
What most people know as tacos is ground beef mixed with a taco seasoning packet and stuffed into a yellow preformed taco shell. My mother made tacos this way when she was pressed for time and needed an easy family friendly meal. She browned her ground beef and added a packet of taco seasoning from the store. She layered taco meat, cheese, sour cream, black olives and lettuce into the shells and they were tasty.
Homemade Keto Taco Seasoning
The problem with the taco seasoning packets you get in the store, is that they contain sugar and starch and are not gluten-free. You can get a similar flavor with ingredients you already have at home without the sugar, carbs or gluten.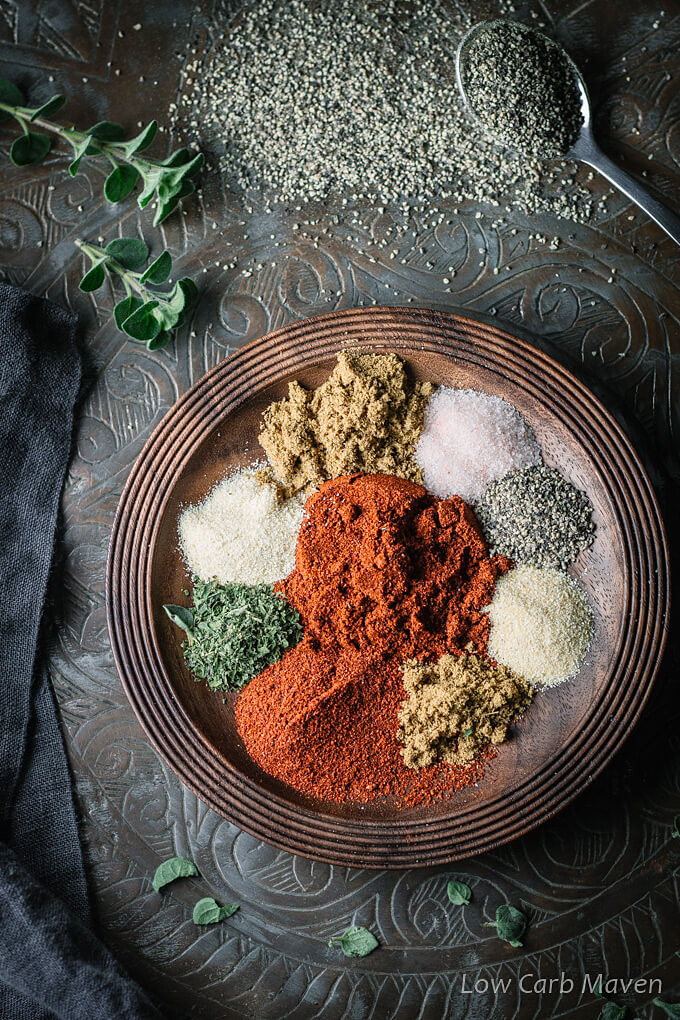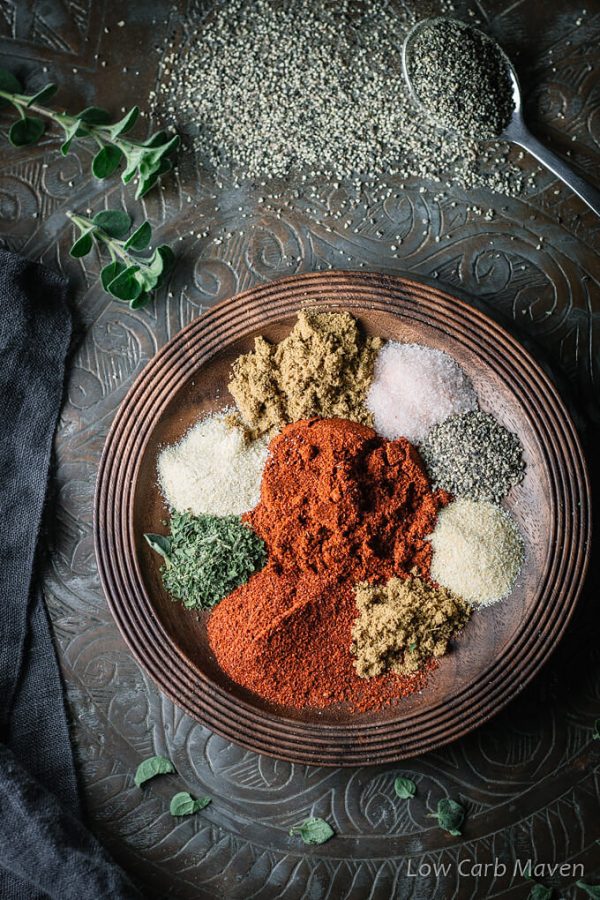 One ingredient I strongly recommend for a more authentic flavor is pure ground chile powder. It's the ingredient that makes my low carb gluten-free enchilada sauce so good. It's mandatory in my mind. It's found in the Mexican aisle in the grocery store. I buy both California Ground Chile Powder and New Mexico Ground Chile Powder and mix them together.
Keto Taco Seasoning Ingredients
The ingredients most often found in homemade taco seasoning are chile powder, cumin, paprika, garlic powder, onion powder, oregano, salt and pepper. Honestly, I add a little sugar-free sweetener to mine because I think it mellows the sharpness in the chile powder and makes a bridge to pull all of the flavors together. Of course, it can be omitted. If you want your taco seasoning spicy, add some cayenne pepper.
NOTE: Although this is a low carb taco seasoning recipe, it is not a no-carb recipe. All powdered ingredients like chile powder, cumin, garlic powder, onion powder and pepper are going to have carbs. But, since this recipe does not contain the milk powder, sugar, or starch (often found in store bought products), it's much lower in total carbs.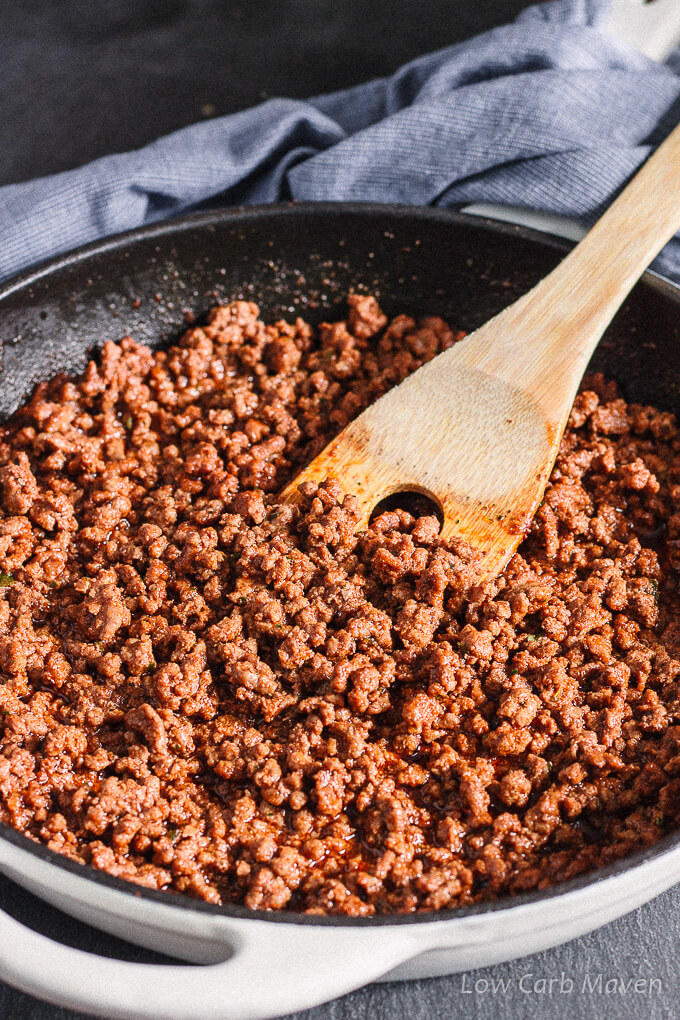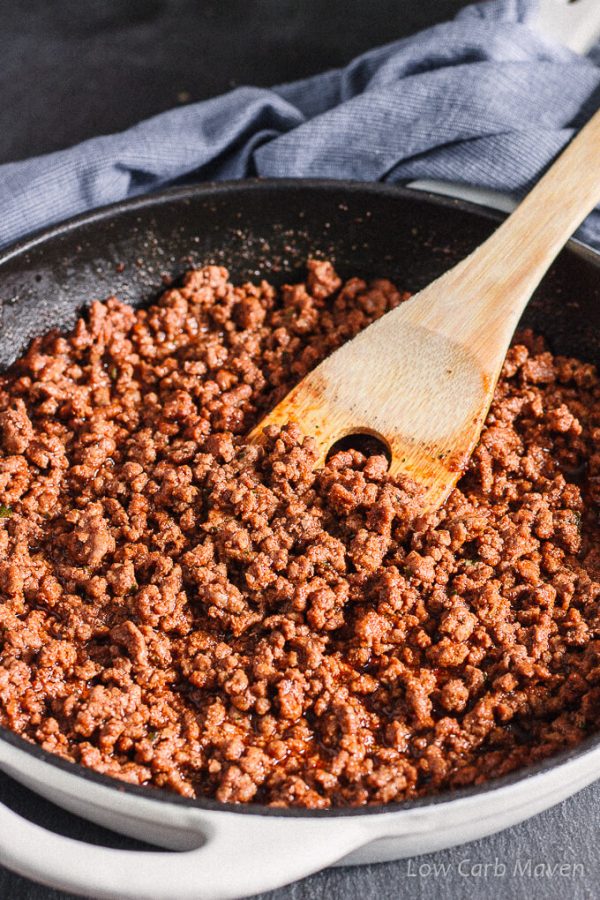 How Much Taco Seasoning To Use Per Pound of Meat or Per Person
The taco seasoning packets you buy in the store are made for 1 pound of meat, contain roughly 2 tablespoons of seasoning and list 6 servings. That equates to 1 tsp per person. My low carb taco seasoning recipe yields about ¼ cup of seasoning and can be used to season 1 – 2 pounds of ground beef (enough to feed 6-12 people). It really depends on how much flavor you want.
Keto Taco Seasoning is 1 carb per 2 teaspoons or .5 carbs per 1 teaspoon.
[Recipe and post may contain affiliate links. Purchasing through a link may result in my earning a small consideration.]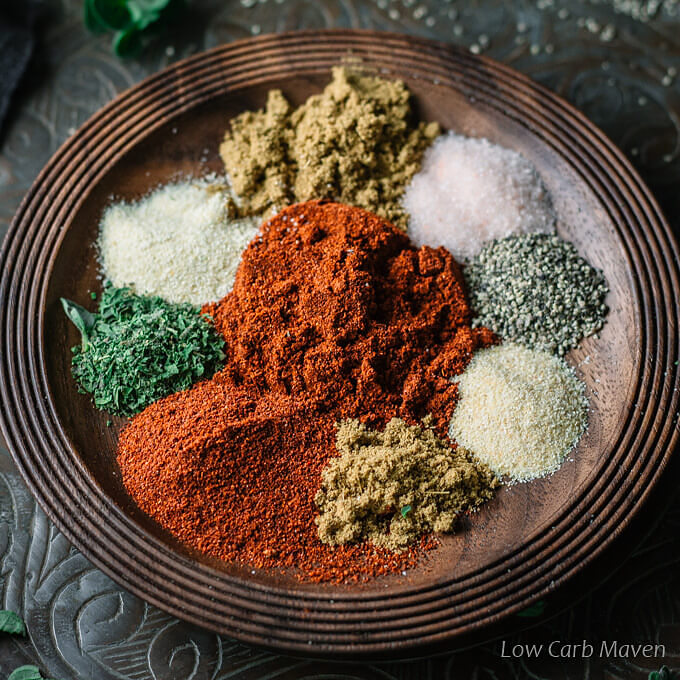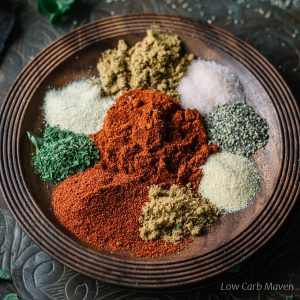 Keto Taco Seasoning Recipe (gluten-free)
An easy gluten-free and low carb taco seasoning mix for ground beef that's perfect for Keto Taco Tuesdays.
Print
Pin
Rate
Ingredients
1

tbsp

ground chile powder

1 1/2

tsp

ground cumin

1

tsp

paprika

1/2

tsp

granulated garlic

1/2

tsp

granulated onion

1/2

tsp

dried oregano, rubbed

1/2

tsp

salt

1/4

tsp

pepper
Instructions
Method:
Measure all of the ingredients into a small bowl and whisk with a fork. Keep in a airtight container.

Serves 6-12 depending on your taste. 1 carb per 2 teaspoons of seasoning or 1/2 carb per 1 teaspoon of seasoning.
To Use:
Brown 1 pound of ground beef in a pan. Add 2 tbsp – 4 tbsp (half of the recipe or the whole thing) to the ground beef along with 2 tbsp of tomato paste and 1/2 cup beef broth. Simmer gently until most of the sauce evaporates. Adjust seasoning with salt and pepper.

Carb counts will depend on how much seasoning you use.

Note: Pure ground chiles can be bitter. Temper any bitter flavor with a little more sweetener.
Notes
This recipe makes 1/4 cup of seasoning. You may use the whole recipe for 1 pound of ground beef or half of the recipe (2 tbsp per pound of meat) depending on your taste. Nutritional Facts assume the whole mix divided between 6 people. 
Nutritional Facts for whole mix per 6 people or 2 tsp per person: Calories: 5g, Total Fat: trace, Total Carbs: 1g, Fiber: trace, Protein: trace.
Nutrition
Calories:
5
kcal
|
Carbohydrates:
1
g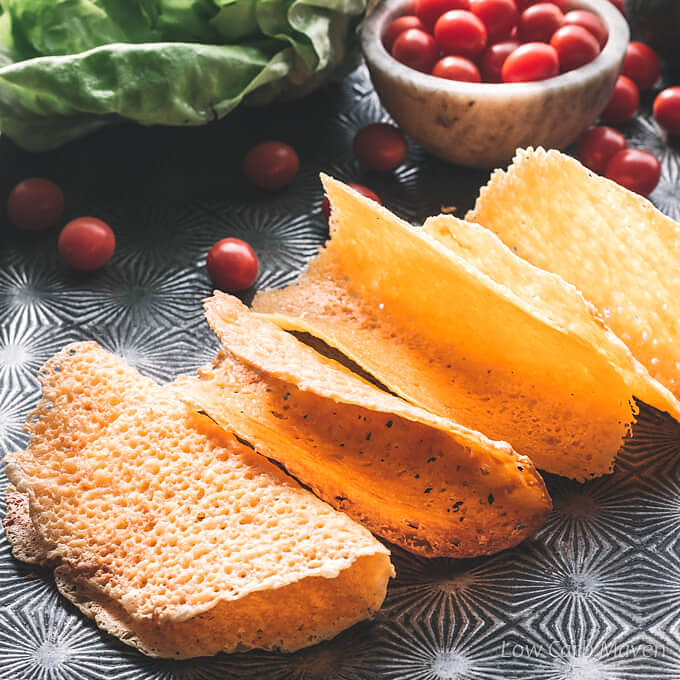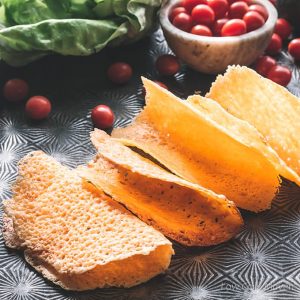 Low Carb Keto Taco Shells (Cheese Taco Shells)