A sugar-free strawberry jam recipe perfect for low carb and keto diets. This no pectin jam recipe is thickened with gelatin and super easy to make.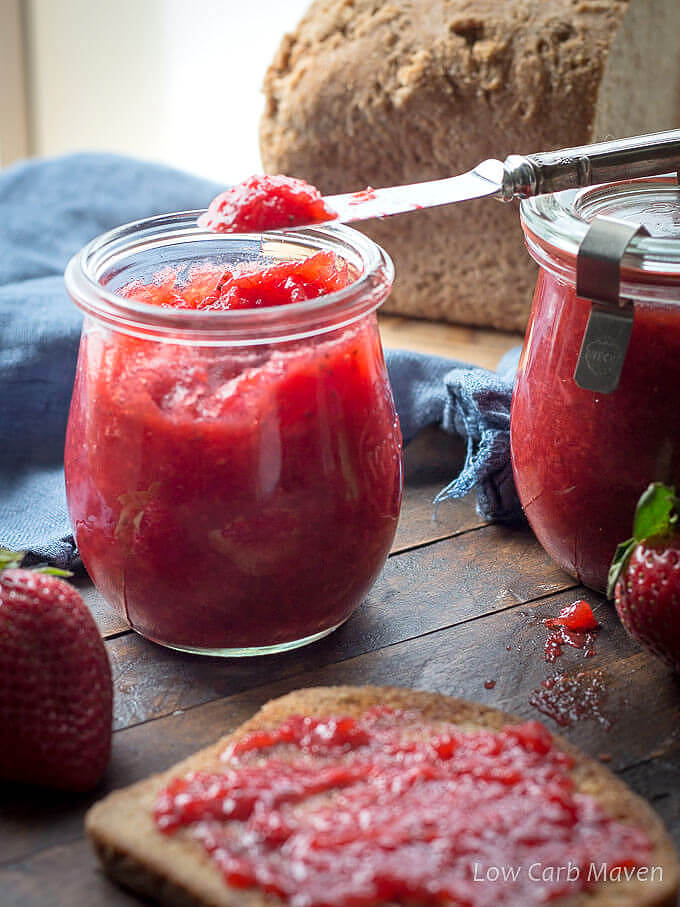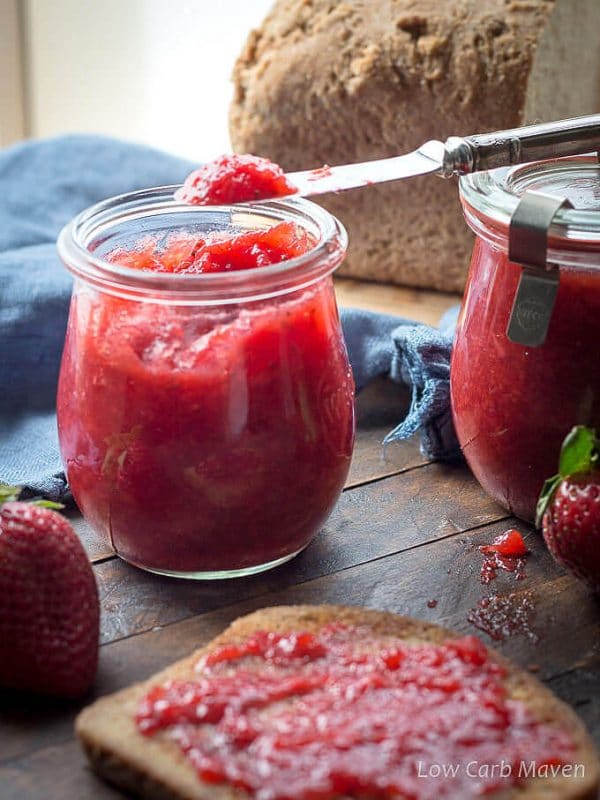 THIS POST INCLUDES AFFILIATE LINKS TO SHARE THE THINGS I LOVE.
There's nothing like biting into hot buttered piece of toast slathered in homemade jam. When I was a kid, my mother made all kinds of jams and jellies. I especially liked her peach jam, concord grape jelly, and strawberry jam. Homemade jams and jellies always taste better!
I had great success with the sugar-free raspberry jam I made a few weeks ago. People have said it's the best tasting low carb jam they've had. Yay. So, faced with a plethora of strawberries from recent recipe testing, I knew a sugar-free strawberry jam was next.
I love how simple this strawberry jam is to make! Some all-fruit jam recipes cook and concentrate the fruit, and their sugars, until thick. This recipe cooks for 20 minutes and uses gelatin to thicken. The result is approximately one cup (8 oz) of sugar-free strawberry jam that still tastes like fresh strawberries.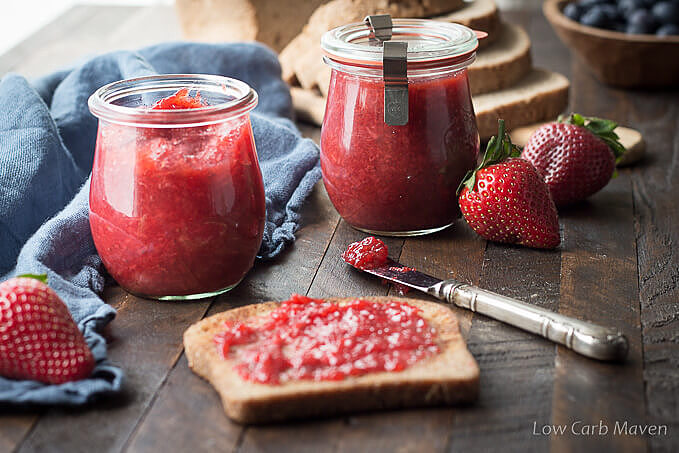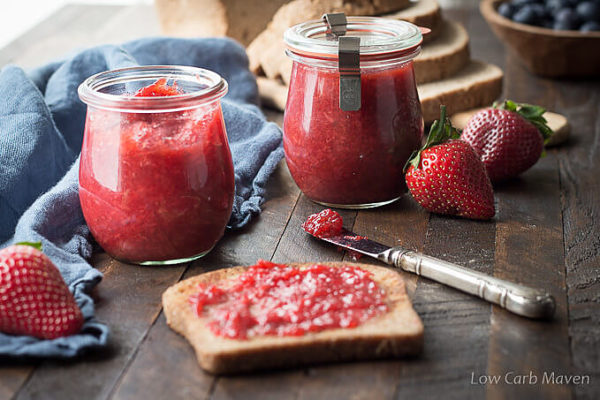 How to Make Sugar-free Strawberry Jam
Making sugar-free strawberry jam at home is easy. No special equipment is required and there are only a few simple steps:
Weigh and chop the strawberries
Bloom the gelatin in the lemon juice (or add 2 tbsp of chia seeds after cooking)
Cook the strawberries with water and sugar-free sweetener until the strawberries break down and thicken as the liquid evaporates.
Tear the gelatin into pieces and stir into the hot strawberries.
Refrigerate overnight to set.
How Long Does Sugar-free Jam Last?
How long sugar-free jam lasts depends on whether the recipe calls for an acid like lemon juice and what sweetener is used. Lemon or lime juice boosts the acidity of the fruit, making a harsher environment for bacteria to survive. A low carb sweetener like xylitol or erythritol will inhibit bacterial growth, adding to the shelf life of sugar-free jam. My jam typically lasts 2-3 weeks in the fridge, opened. Unopened, it will last longer if kept very cold – like in the back of the refrigerator.
Is Sugar-free Jam Keto Friendly?
Yes, sugar-free jam is keto friendly. Blueberries, raspberries, blackberries and strawberries have much less sugar than other fruits, making them great for low carb and keto diets in moderation. Think garnish instead of a whole bowl. Use sugar-free jam just like regular jam – in moderation.
Ideas for using sugar-free strawberry jam:
sandwiched between sugar cookies
stirred into yogurt
stirred into ice cream
Here is the link for the Weck Jelly Jars I used in the photos.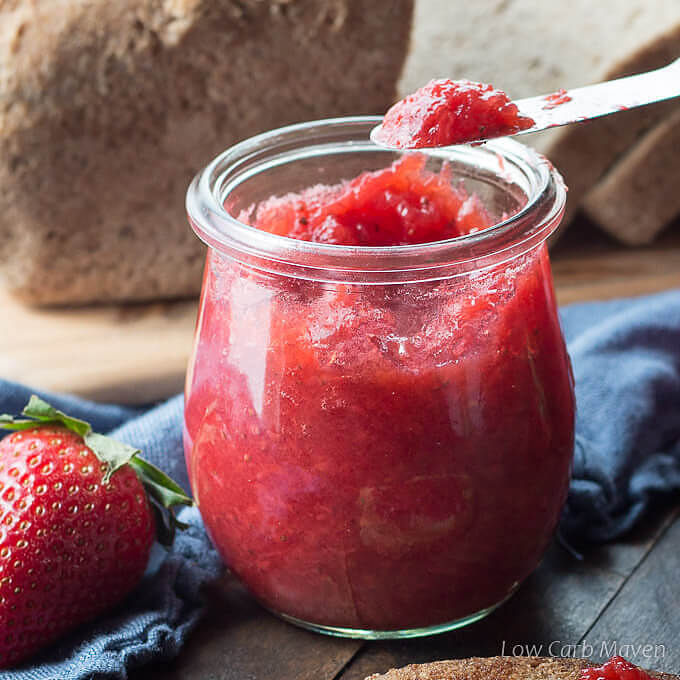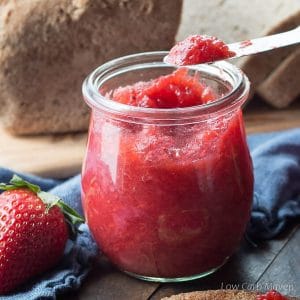 Low Carb Sugar Free Strawberry Jam
A sugar-free strawberry jam recipe perfect for low carb keto or Paleo diets. This no pectin jam recipe is thickened with gelatin and super easy to make.
Print
Pin
Rate
Instructions
Sprinkle the gelatin over the lemon juice to bloom.

In a small sauce pan over medium heat, combine the strawberries, sweetener and water. Stir to combine. Bring the strawberries up to a simmer then turn the heat to low and simmer for 20 minutes. 

Tear the bloomed gelatin into small pieces and stir into the strawberries to melt. Turn off the heat and adjust sweetness. Let cool.

Spoon the strawberry jelly into a clean jar, cover and refrigerate. Use within 2-3 weeks. Can be frozen and thawed in the refrigerator before using.

Makes 1 cup yielding 16 servings, 1 tablespoon each at 0.85 g NET CARBS.
Notes
** Sukrin :1, Swerve, and Lakanto are natural low carb sugar alternatives that do not spike blood sugar, so they are considered safe for diabetics. They also inhibit the growth of backteria, helping the jam to stay fresh longer. If you are not following a low carb diet, use sugar to taste.
Nutrition Facts
Low Carb Sugar Free Strawberry Jam
Amount Per Serving (1 Tbsp.)
Calories 57
% Daily Value*
Carbohydrates 1.15g0%
Protein 0.66g1%
* Percent Daily Values are based on a 2000 calorie diet.
Nutrition
Serving:
1
Tbsp.
|
Calories:
57
kcal
|
Carbohydrates:
1.15
g
|
Protein:
0.66
g
|
Fiber:
0.3
g
|
Sugar:
0.68
g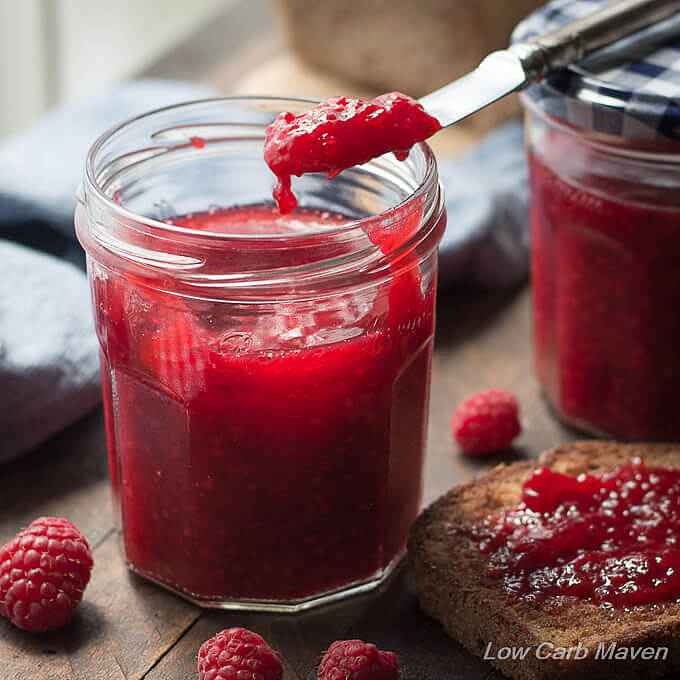 Low Carb Sugar-Free Raspberry Jam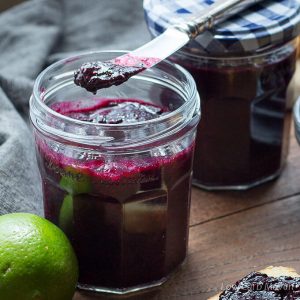 Sugar-Free Blueberry Chia Seed Jam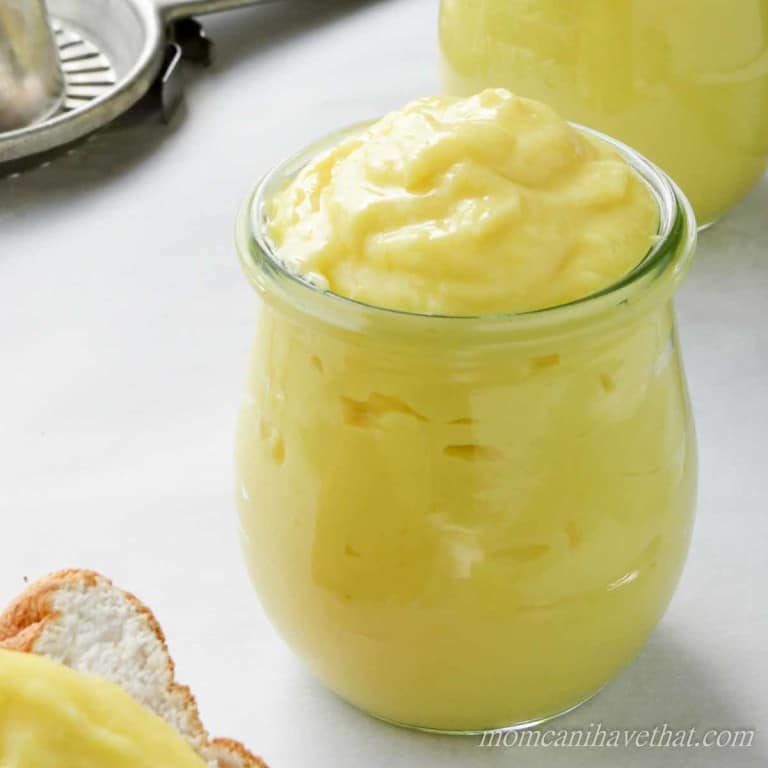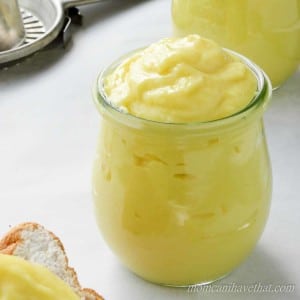 Low Carb Sugar Free Lemon Curd