No bake sugar-free strawberry cheesecake makes a beautiful low carb dessert tart with cream cheese and goat cheese is an easy hemp walnut crust.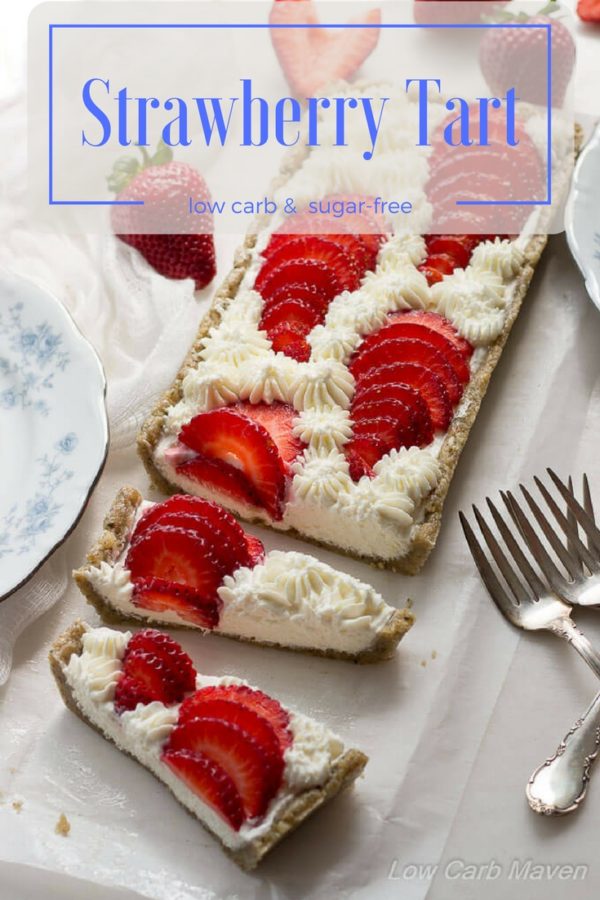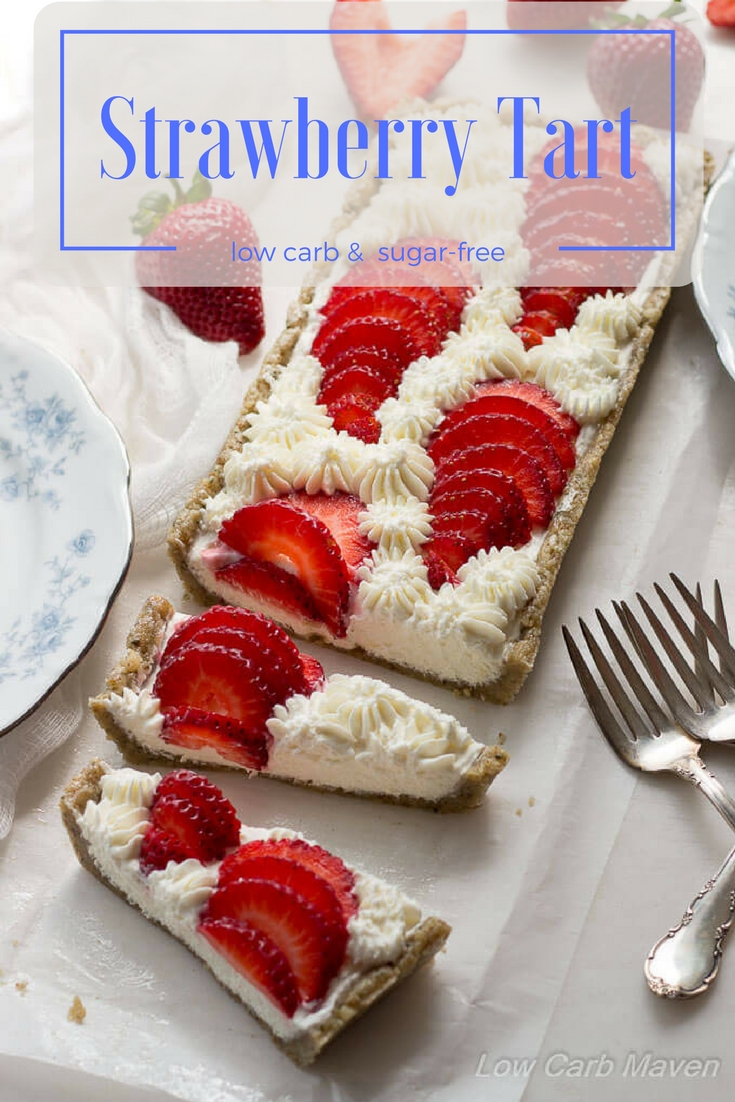 Several months ago, Bob's Red Mill contacted me to do a post for them. When I do posts for companies I typically come up with 3-5 recipes to test then chose the best one. This time I had 5 great recipes!
I previously shared recipes for low carb blueberry crumble bars and low carb strawberry cream cheese crumble bars. Then, I shared a great sugar-free lemon cupcakes recipe. Now, it's time to share this delicious sugar-free strawberry cheesecake which is an easy no bake recipe!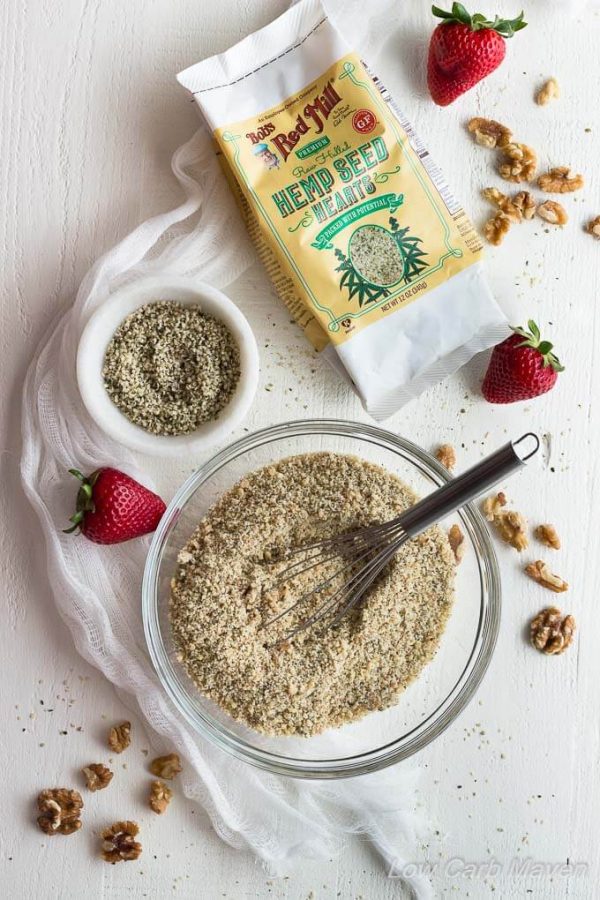 Hemp Walnut Crust
Let's start with the low carb hemp walnut crust. The crust is made from toasted walnuts and raw hemp seeds. Raw hemp seeds (I used Bob's Red Mill brand) are a nutritional powerhouse with many benefits. They have a sticky texture when ground. Combining them with fiber syrup (or honey if you aren't low carb), coconut oil, and toasted walnuts makes for a nice no-bake press-in crust.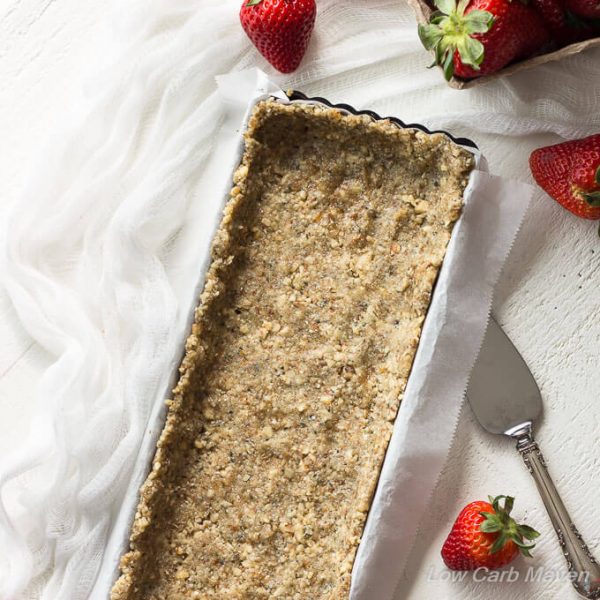 To easily remove the walnut and hemp seed crust from the tart tin, line the tart tin in parchment. The whole tart will lift right out. I opted for this crust over regular low carb pie crusts because the regular crusts soak over time. This crust doesn't soak and is absolutely fantastic in flavor and texture, but must be refrigerated.
I used a rectangular tart tin (14x6x1) for this tart, but a large round tart tin or smaller round tart tins will works just fine. I have all options, but thought a rectangular tart would be visually pretty for a change.
No-Bake Sugar-Free Cheesecake Filling
For the low carb filling, I used equal portions of goat cheese and cream cheese. Goat cheese can be strong in flavor to some, so mixing it with cream cheese results in a delicate flavor. The addition of the heavy cream lightens the texture, making it pipable. I piped the filling into roses and stars. Both were beautiful, but stars were easier to pipe and kept the focus on the fresh strawberries in this beautiful low carb strawberry dessert tart.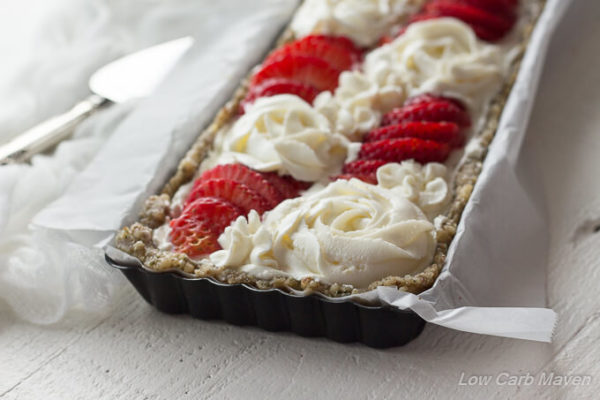 [VARIATION] Adding chopped fresh thyme to the filling is very gourmet and wonderful, but bits of thyme leaf clogged my closed star tip. I suggest using a large open star tip if you would like to try the recipe with thyme or rosemary. It brings a delicious herby counterpart to the mild goat cheese, sweet strawberries and nutty crust.
ADD BLUEBERRIES TO MAKE A GREAT JULY 4TH DESSERT!
The cheesecake tart takes minimal time and effort to make but does require a little time in the freezer to harden the crust before adding the filling. I suggest keeping the crust in the freezer and the filling ready to go in the refrigerator. Then assembly should only take a few minutes depending on how fancy you'd like to make the tart.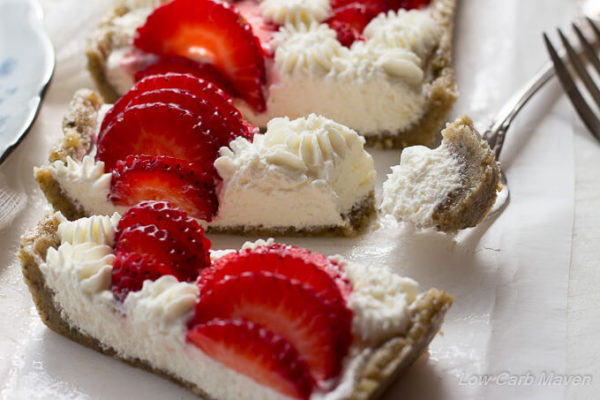 It was a pleasure testing this strawberry dessert tart. I served leftovers to my children for breakfast and it kept them full until lunchtime. I hope you enjoy the tart as much as we did.
This No Bake Sugar Free Strawberry Cheesecake Tart is 2 net carbs per serving.
[This post and recipe contain affiliate links. Making a purchase through the link may result in my earning a small commission.]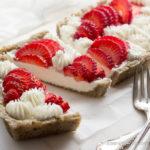 No Bake Sugar Free Strawberry Cheesecake Tart (low carb, keto)
No bake sugar-free strawberry cheesecake makes a beautiful low carb dessert tart with cream cheese and goat cheese is an easy hemp walnut crust.
Ingredients
Walnut Hemp Seed Crust
1

cup

walnut pieces,

toasted

1/2

cup

Bob's Red Mill Hemp Seed Hearts

2

tbsp

coconut oil,

melted

1

tbsp

Sukrin Fiber Syrup Gold or Clear (or Vitafiber Syrup)

(honey if not low carb)
No Bake Cheesecake Filling
4

ounces

goat cheese,

softened

4

ounces

cream cheese

cold

4

ounces

heavy cream,

cold

1/4

cup

Sukrin Melis Icing Sugar (or Swerve Confectioner's)

1

tbsp

lemon juice

zest from the lemon

6

ounces

strawberries,

sliced
Optional
2

tsp

fresh thyme or rosemary,

finely chopped
Instructions
Preparation:
Preheat the oven to 350 degrees F. Spread the walnuts on a sheet pan and toast for 15 minutes or until they are golden in color. Let cool, then rub in a tea towel to remove much of the loosened skin.
Hemp Walnut Crust
Place the hemp seeds and walnuts into a food processor and process until finely ground. Add the melted coconut oil and fiber syrup (or honey if not low carb) and pulse to distribute the ingredients. (This also makes a great snack if rolled into balls.)

Line a tart pan with parchment paper. (I used a 14x6x1 rectangular tin, but a large round or several small round tins will work.) Distribute the crust mixture into the pan and then press it into the crust making sure the sides are strong. Wrap tightly and place in the freezer until set and the filling is ready OR place in the refrigerator until needed. It thaws quickly.
Cream Cheese and Goat Cheese Filling
Add the cream cheese and sweetener to a bowl and whip with a hand mixture until loosened. The, add the heavy cream and whip until light and fluffy. Finally, add the goat cheese and whip again. Use right away or cover and place into the refrigerator until needed. If keeping in the refrigerator overnight, whip to loosen before spreading into the tart crust. (If piping, place 1/3 of the filling into a piping bag to decorate the top. I place the strawberries first and decorate around them.)

Slice the strawberries and place on the filling. Serve right away. If serving at a later time, add the sliced strawberries just before serving to prevent them from getting soggy.

Serves 10 at 2 net carbs each.
Recipe Notes
ADD BLUEBERRIES TO MAKE A PRETTY JULY 4TH DESSERT!
Nutrition Facts
No Bake Sugar Free Strawberry Cheesecake Tart (low carb, keto)
Amount Per Serving
Calories 306
Calories from Fat 252
% Daily Value*
Total Fat 28g 43%
Sodium 82mg 3%
Total Carbohydrates 5g 2%
Protein 10g 20%
* Percent Daily Values are based on a 2000 calorie diet.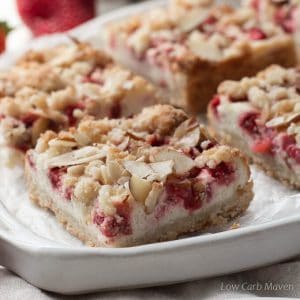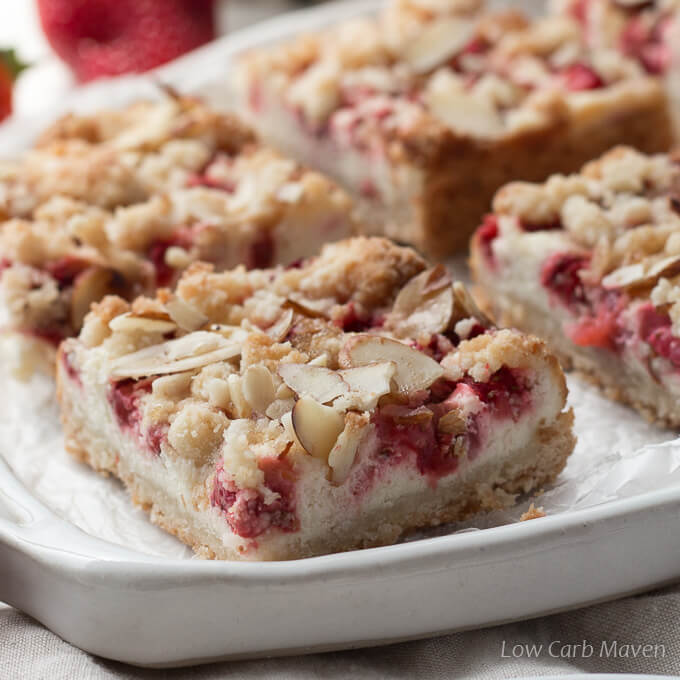 Low Carb Strawberry Cream Cheese Crumble Bars