A fabulous easy-to-make, <almost> no-bake, strawberry cream pie full of fresh strawberry flavor! It's perfect for any gluten-free, low carb ketogenic diet.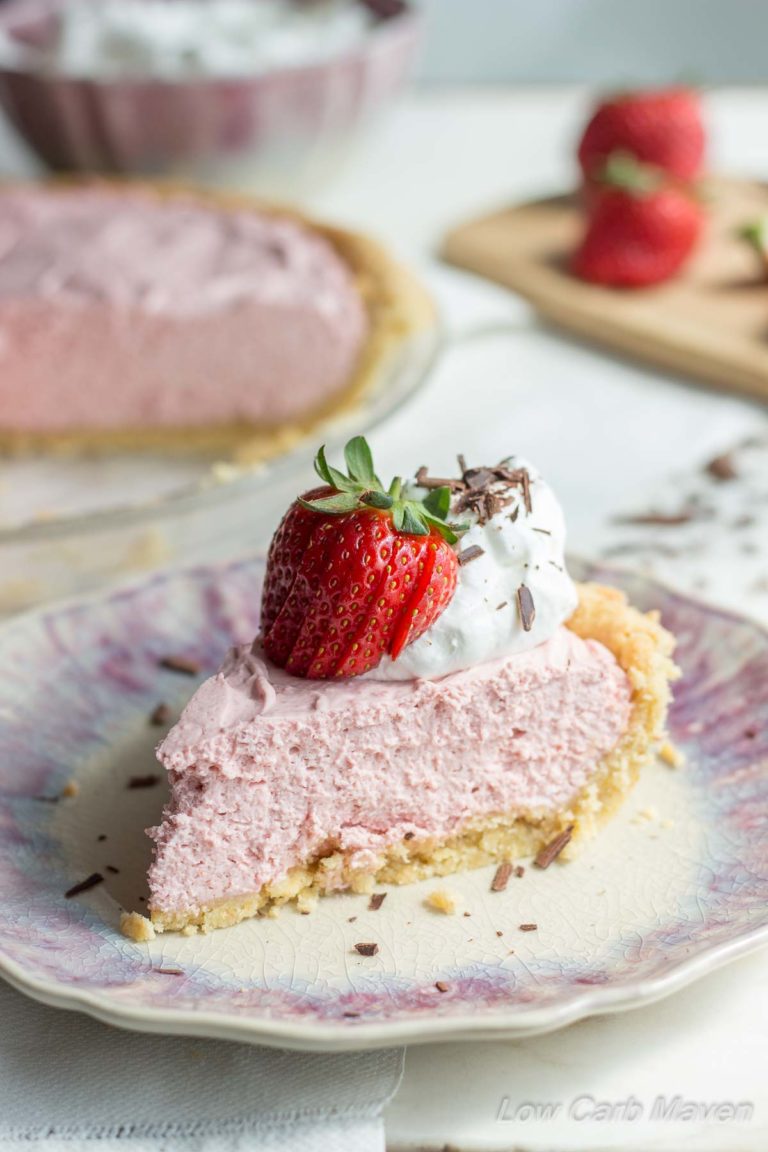 THIS POST INCLUDES AFFILIATE LINKS TO SHARE THE THINGS I LOVE.
Hi there. Happy Pi Day!
I thought I would share this FABULOUS low carb no-bake Strawberry Cream Pie with you today because I just couldn't wait any longer. Have you heard about freeze-dried strawberries? If you are a mom, you may have. It's a pretty popular thing to give to kids now-a days. I gave them to my daughter when she was little (about 8 years ago). I would mix them up in the Cheerios (finger food) we would cart around as a snack for her. I miss those days!
Anyway, if you aren't a regular reader, then you don't know that my posts tend to have a story, talk about ingredients, or about the recipe process while providing tips and hints. Yeah, a little dry to be sure. I try not to share too many details about my children or home life on the blog. I don't know why… Maybe because once the information is published, it's out there f-o-r-e-v-e-r!
However, I DO feel more comfortable talking about my children or our family life in my Newsletter. That's my place to say "Hi" to you, share helpful tips, and sometimes share the recipes that didn't make it on to the blog because I just didn't like the pictures I took. Want to know me better? Subscribe to the Newsletter. Don't forget to check your Spam for the confirmation e-mail.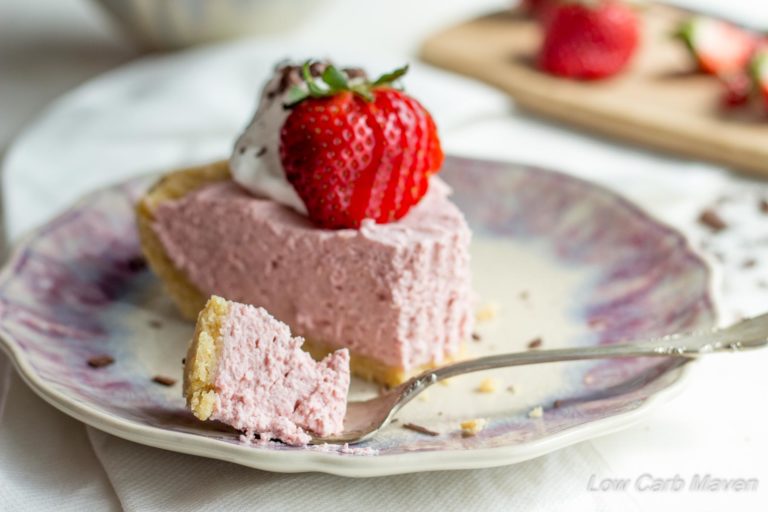 Back to this easy no bake Strawberry Cream Pie.
I need to take a minute and gather my thoughts because there is SO MUCH I LOVE about this pie I just don't know where to begin. I'll just start at the beginning…
LOW CARB PIE CRUST: I used my recipe for basic almond pie crust because it has a nice neutral flavor, but I think the walnut pie crust would be would be really nice, too. If you have your own favorite, by all means use it. It's the filling in the strawberry cream pie that is the star anyway!
STRAWBERRY CREAM FILLING: What I love about this easy low carb strawberry cream filling is that I didn't have to buy fresh strawberries and cook them down to remove the excess water and concentrate the strawberry flavor. Yep, it's an easy, no-cook filling. That in itself is exciting. But using freeze-dried strawberries, like I did in the low carb strawberry mousse I posted last week, keeps the strawberry flavor fresh and helps thicken the filling, too. Where do you find freeze-dried strawberries? I bought mine from Trader Joe's for about $4 a package. You can also buy freeze-dried strawberries and raspberries through Amazon.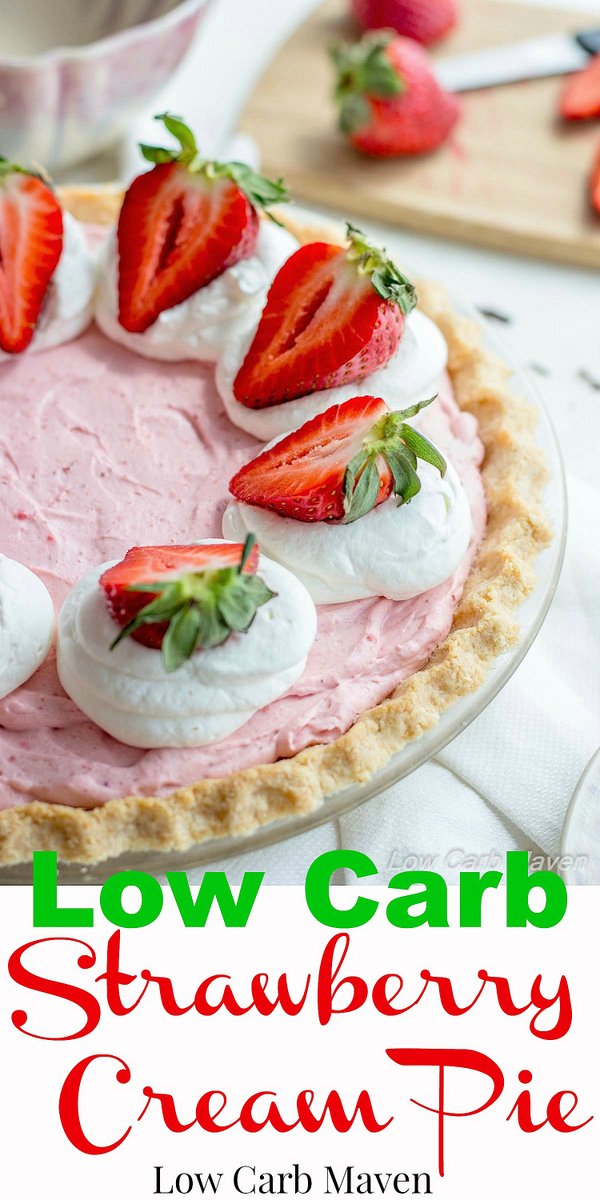 I opted to use Greek yogurt as the base in this recipe because it delivers a tanginess that goes great with the strawberries. That's why you often see Balsamic vinegar paired with strawberries like in my strawberry buttermilk ice cream. Classic, classic, classic. To finish the filing and to give it a creamy, mousse-like texture I folded in some freshly whipped cream. It was absolute perfection!
I chose to extra whipped cream and some fresh strawberries to dress this pie up for pictures. I think going with 1/2 or 1/4 of a large fresh strawberry per person is about perfect.
Looking for other pie recipes? Try these: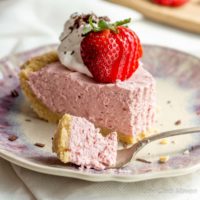 Low Carb Strawberry Cream Pie
A fabulous easy-to-make, <almost> no-bake, low carb strawberry cream pie full of fresh strawberry flavor! It's perfect for any gluten-free ketogenic diet.
Print
Pin
Rate
Ingredients
Strawberry Cream Filling
1

cup

Fage Yogurt 2 %

1/2

cup

low carb powdered sugar

(or Swerve Confectioners)

1.2

ounce

freeze-dried strawberries,

powdered in a coffee grinder, 25 g

1

tablespoon

lemon juice

1/2

teaspoon

vanilla extract

1/4

teaspoon

strawberry extract

1

pinch salt

1

cup

heavy cream,

whipped until very stiff
Instructions
Crust: Prepare the pie crust and cool completely. Can be made a day ahead of assembling the pie.

Strawberry Cream Filling: Measure all of the ingredients, except for the whipped cream, into a medium bowl and mix with a hand mixer until completely combined, about 1 – 1 1/2 minutes.

Whip the heavy cream until very stiff, until it looks like the consistency of whipped cream from a can. Sometimes 1 tablespoon of powdered erythritol helps chill the cream for easier and better whipping.

Add 1/3 of the whipped cream into the strawberry yogurt mixture and mix with the mixer on the lowest speed until combined. Add 1/2 of the remaining cream into the strawberry cream mixture and fold gently with a rubber spatula until completely combined. Repeat with the remaining whipped cream.

Assembly: Pour into the strawberry cream filling into the pie crust. smooth the the edges and smooth the top. Cover with plastic wrap and chill overnight.

Top with additional whipped cream and strawberries if you desire and serve.

Serves 10 at 5.1g net carbs per person.
Nutrition
Calories:
276
kcal
|
Carbohydrates:
7.28
g
|
Protein:
17.2
g
|
Fat:
24.94
g
|
Cholesterol:
63
mg
|
Sodium:
94
mg
|
Fiber:
2.1
g
|
Sugar:
3.34
g