Keto Fathead Pizza with Sausage, Kale and Ricotta is my twist on an old upstate New York favorite. This version is quick & easy to prepare with almond flour and mozzarella cheese. My family loves it!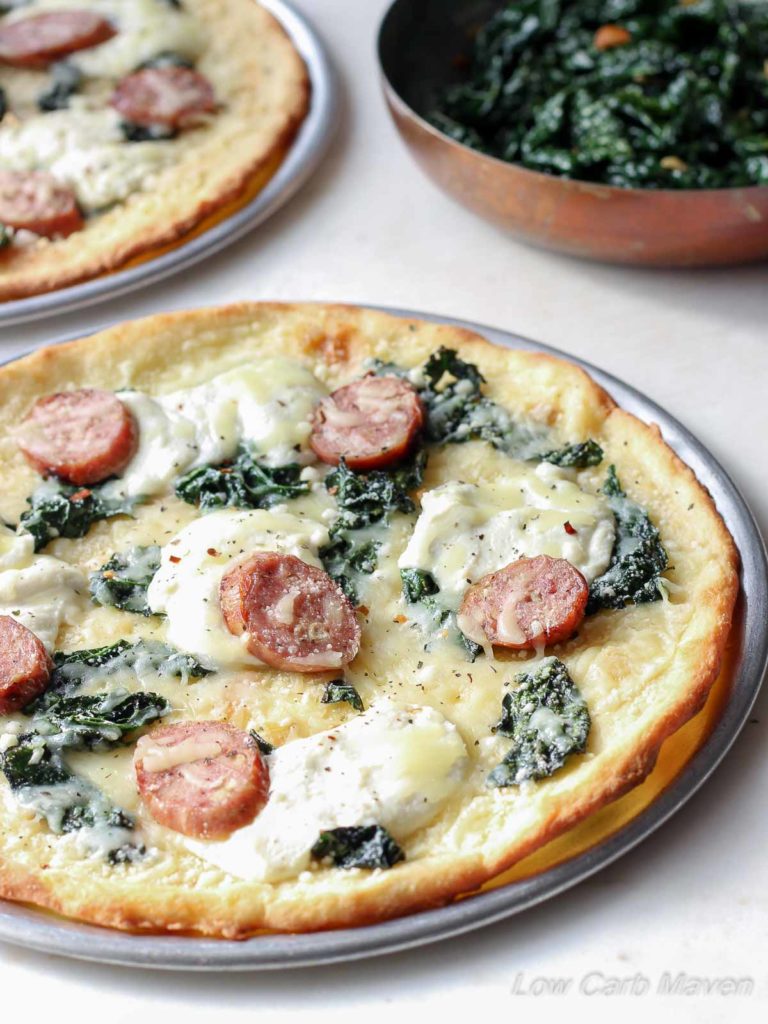 I enjoyed some of the best pizza ever, when I lived in upstate New York! It was thin, crispy and sturdy enough that it would stand straight out. We would fold it in half lengthwise and chow down. I was in my twenties at the time and it was a thing to "go out for a slice" after work or after socializing at the local bars. As I said, that was some of the best pizza I've ever had. In particular I loved a mozzarella, ricotta, and broccoli specialty pizza.
This recipe is my take on that pizza but using sauteed kale (or spinach) and Aidell's Chicken & Apple Sausage. It would be considered a white pizza, but instead of a garlic sauce, I rub the crust with a clove of garlic and brush it with olive oil.
Like many of you low carbers, I miss a good pizza. And like other low carb and keto bloggers, I have jumped on the Fathead Pizza (the Holy Grail!) bandwagon.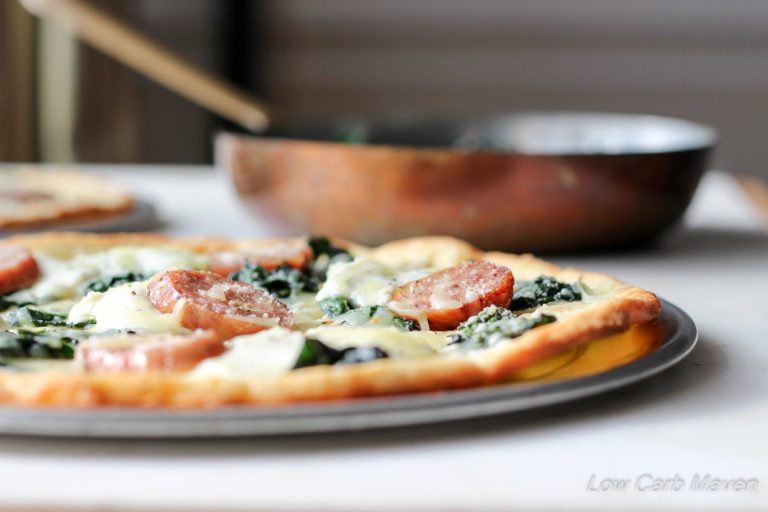 For those of you unfamiliar, the Fathead Pizza Crust is a low carb, ketogenic pizza dough made from cheese and almond flour. It becomes a thin and crispy pizza crust when rolled out thinly and baked. It's amazing! It's a forgiving dough that is almost impossible to mess-up. What I mean is… it's so simple that anyone can make it.
I have been playing around with the ingredients and ingredient proportions for this low carb pizza dough for a few months now. It's SO forgiving that I haven't made a bad one yet, but I do have a favorite and a runner up as far as alternate ingredients go.
My favorite tweak to this dough is the addition of a little plain whey protein powder. I feel it gives the dough a bread-like texture and enhances the flavor. My next favorite version is the addition of a little oat fiber 500 which not only results in a more bready texture, but tastes a little more bread-like. Incidentally, you don't have to add either of these ingredients to get a good result.
I changed the ratios of ingredients to get a larger pizza and to get a result I liked better. I think that these simple additions enhance both texture and flavor. If you don't feel like adding the protein powder or don't have it, add an additional ounce of blanched almond flour or use the original recipe.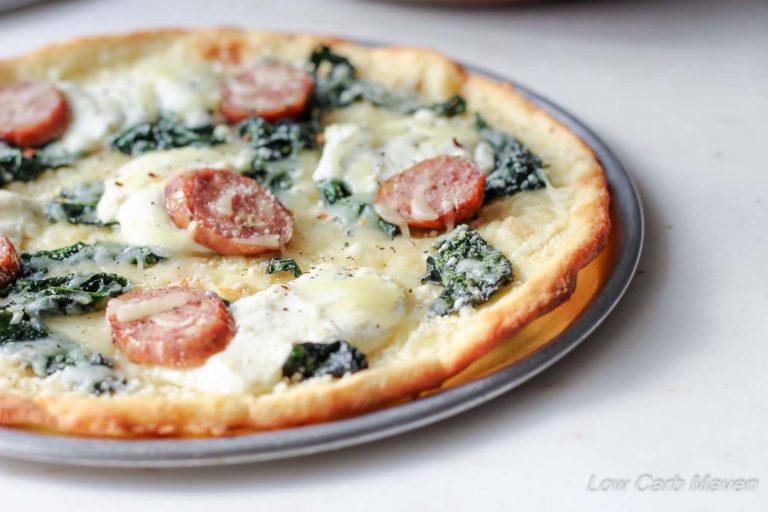 If you haven't tried this crust yet, and aren't allergic to dairy or almonds, don't wait any longer. You can have your favorite pizza faster than it can be delivered. Really!
But let me talk about the pizza for a minute…
You may be looking at the serving size and feeling sad. Yeah, me too. But this pizza is very nutritionally dense — or filling. For me, gone are the days of eating 3 pieces of pizza (or more) for dinner. Having healthily adjusted my thinking, I now enjoy one piece of this fathead pizza with a large dinner salad. Nowadays, I find that I just want the taste of pizza and no longer have those intense pizza cravings.
I only use 1 sausage in this recipe because I feel that the amount of protein per serving is more than adequate, but add as much as you like.
If you're looking for a more traditional pizza take a look at the Low Carb Supreme Pizza or Low Carb Pepperoni Pizza
This Keto Fathead Pizza with Sausage, Kale, and Ricotta is 6 net carbs per serving!
Makes 2 10″ round or 1 large sheet pizza.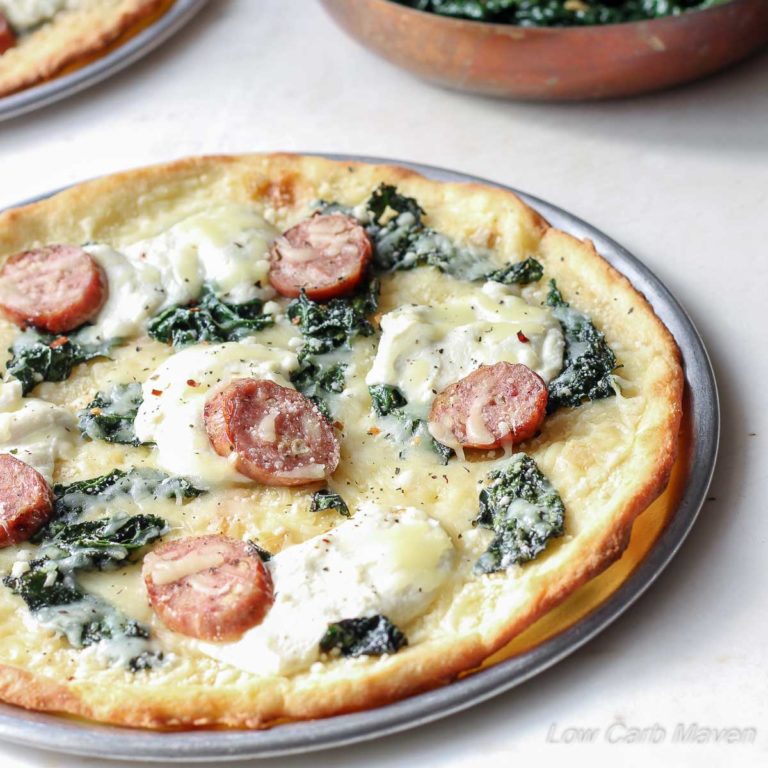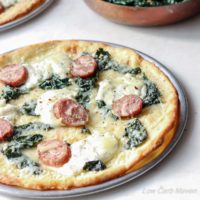 Keto Fathead Pizza With Sausage, Ricotta and Kale
Low Carb Fathead Pizza with Sausage Kale and Ricotta is my twist on an old upstate New York favorite. This version is quick & easy to prepare with almond flour and mozzarella cheese. My family loves it!
Print
Pin
Rate
Ingredients
Pizza Dough
1 1/2

cups

mozzarella cheese

(5 oz / 142 g)

2

ounces

full fat cream cheese

57 g

1

large

egg

beaten

1

cup

almond flour

(3 oz / 85 g)

2

tablespoons

whey protein powder

( or oat fiber or more almond flour)

2

teaspoons

olive oil

garlic salt
Toppings
1

link

Aidells Chicken and Apple Sausage

cooked and sliced

4

ounces

kale

suteed with 2 teaspoons olive oil and 1 clove garlic

1 1/2

cups

mozzarella cheese, shredded

(5 oz / 142 g)

3

ounces

fat-free ricotta cheese

(85 g) fat-free has less carbs
Instructions
Preheat oven to 425 degrees and position one rack to the bottom position and the other to the upper third.

Sauteed Kale: In a medium frying pan, heat 2 teaspoons of oil over medium heat. Meanwhile, slice 1 clove of garlic and quickly wash and de-stem the Kale (or spinach). Saute the garlic in the pan until it softens, then add the kale and cook until wilted. Remove from the heat.

Low Carb Pizza Crust: Place the 5 ounces of grated mozzarella cheese into a medium-sized microwave-safe bowl. Cut the cream cheese into about 6-8 pieces and place in the bowl with the mozzarella. Microwave the cheeses for 1 1/2 -2 minutes depending on the strength of your microwave. Stir the cheeses together. Break the egg into the cheese and stir with a fork until combined. It will take a minute to coax the two to blend. Add the almond flour and protein powder and blend completely. Sometimes I use my hand at the end and knead the dough until it is more elastic than sticky. If it's super sticky, let it cool a bit.

Method: Hands – Place a piece of parchment paper on a sheet pan and with oiled hands, pat the dough evenly into place. The dough will cover most of the sheet pan. Dock (poke holes all over) with a fork.

Rolling Pin: Alternately, roll the dough out between two sheets of parchment paper. This is my preferred way. Remove the top piece of parchment and transfer the dough and parchment to the baking sheet. Dock (poke holes all over) with a fork.

Bake: Bake on the bottom rack for 8-10 minutes until golden brown. Remove from the oven and rub the crust with a piece of garlic. Pour two teaspoons of oil onto the crust and spread with a spoon. Add half of the mozzarella cheese, the sauteed kale, ricotta cheese, sausage and the remaining mozzarella. Bake on the upper rack until the cheese has melted.

Cut and serve.
Notes
Makes two 10 inch round pizzas or 1 large sheet pizza.
Serving size is 1/6th of the recipe.
Nutrition Facts
Keto Fathead Pizza With Sausage, Ricotta and Kale
Amount Per Serving
Calories 352
Calories from Fat 243
% Daily Value*
Fat 27g42%
Carbohydrates 7g2%
Protein 22g44%
* Percent Daily Values are based on a 2000 calorie diet.
Nutrition
Calories:
352
kcal
|
Carbohydrates:
7
g
|
Protein:
22
g
|
Fat:
27
g
|
Fiber:
1
g