This low carb pepperoni pizza is for serious cheese lover's only. It's gluten-free and at 5 net carbs per slice, who can resist such a classic?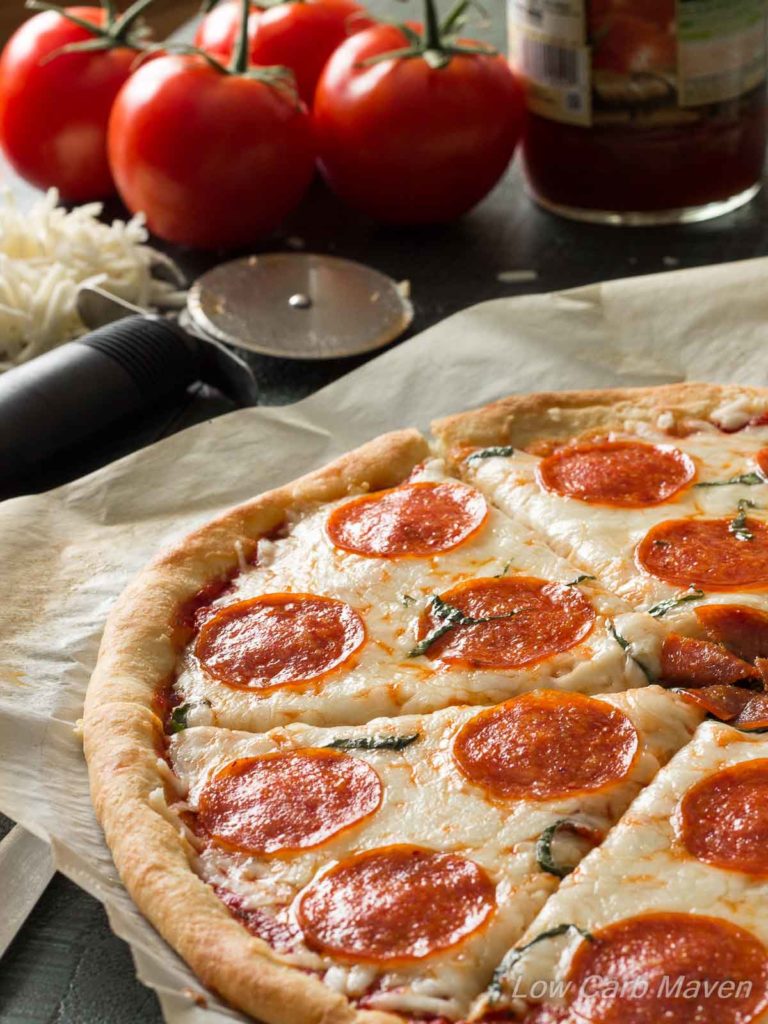 One food I regularly miss on my low carb keto diet is pizza. But thanks to recent innovations in low carb pizza crusts, low carb pizza is an option. Low carb pepperoni pizza is my current favorite, but I am one who likes lots of gourmet flavors on my pizza so a nice Low Carb Sausage Kale Ricotta Pizza makes me equally as happy.
I have enjoyed using this variation on the original Fathead Pizza dough. We have had low carb pizza almost every week for Friday pizza night/ movie night with the kids. The most popular low carb pizza I've made by far is this all-American-classic, low carb pepperoni pizza. My family loves it. But what can you say about a classic? It's beloved because it's iconic and there isn't much room for improvement.
This low carb pepperoni pizza tastes so much like the real deal that it will take care of all of those pesky pizza cravings. Of course it's not going to have the exact texture as a real bread pizza, but it comes as close to the real thing as we low carbers have at the moment. It's thin and crisp and holds up well to toppings.
If you haven't tried this recipe for low carb pizza crust, let me warn you. This is for serious cheese lovers only. It's made almost entirely of cheese. It should be called cheese-head pizza. So, I would make it as a once-a-week-stuff-your-face low carb pizza fix.
This low carb pizza crust recipe has a fair amount of sodium as well, for those concerned about sodium intake. But if you don't eat the whole pizza by yourself, you should be okay. Serve this great low carb Pepperoni Pizza with a nice big salad and you will be happy-happy!
Try these other GREAT LOW CARB PIZZA RECIPES!
Low Carb Sausage Kale Ricotta Pizza
Low Carb Ham and Cheese Pockets
*I use store bought marinara sauce for my pizza, but I have also used drained crushed tomatoes. Tomato sauce is pretty carby so look for one that is less in carbs like Rao's brand.
*This recipe makes one large thin sheet pizza, two 10 inch extra thin round pizzas or one 12-13 inch thin round pizza (shown).
This great low carb pepperoni pizza is  5 net carbs per serving!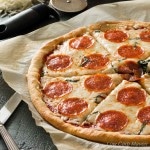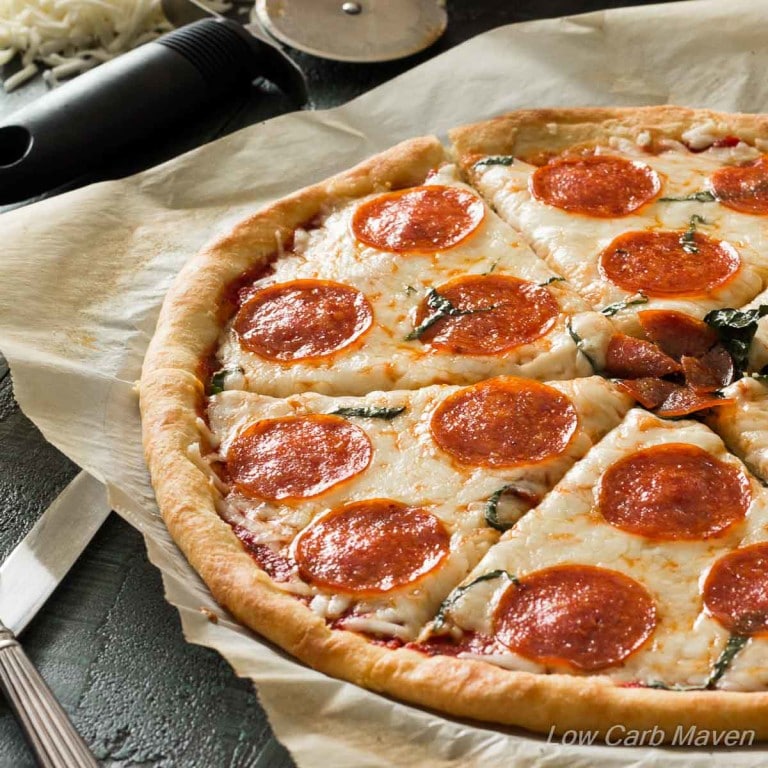 Low Carb Pepperoni Pizza
This low carb pepperoni pizza is for serious cheese lover's only. It's gluten-free and at 5 net carbs per slice, who can resist such a classic?
Ingredients
Pizza Dough
1½

cups

mozzarella cheese

(5 oz/150 g)

1/4

package

full fat cream cheese

(2 oz/57 g)

1

large

egg,

beaten

1

cup

almond flour

(3 oz/85 g)

2

tablespoons

unflavored whey protein powder or oat fiber 500
Toppings
1 1/2

cup

mozzarella cheese

(5 oz /150 g)

1/2

cup

store bought marinara sauce (I like Rao's)

(4 oz/113 g)

20

slices

pepperoni slices

(or as much as you'd like) (1.5 oz/43 g)
Instructions
Preheat oven to 425 degrees and position one rack to the bottom position and the other to the upper third.

Low Carb Pizza Crust:

Place the 5 ounces of grated mozzarella cheese into a medium-sized microwave-safe bowl. Cut the cream cheese into about 6-8 pieces and place in the bowl with the mozzarella. Microwave the cheeses for 1½ -2 minutes depending on the strength of your microwave. Stir the cheeses together. Add the egg to the cheese and stir with a fork until combined. It will take a minute to coax the two to blend. Add the

almond flour

and protein powder and blend completely. Sometimes I use my hand at the end and knead the dough until it is more elastic than sticky.

Method: Hands - Place a piece of parchment paper on a sheet pan and with water moistened or oiled hands, pat the dough evenly into place. I prefer to oil my hands. the dough will cover most of the sheet pan. Dock (poke holes all over) with a fork.

Rolling Pin: Alternately, roll the dough out between two sheets of parchment paper. This is my preferred way. Remove the top piece of parchment and transfer the dough and parchment to the baking sheet. Dock (poke holes all over) with a fork.

Bake: Bake on the bottom rack for 8-10 minutes until golden brown. Remove from the oven and rub the crust with a piece of garlic. Spread the tomato sauce onto the pizza and top evenly with cheese. Add the pepperoni. Bake on the upper rack until the cheese has melted.

Cut into 6 pieces and serve.
Recipe Notes
Makes 2 - thin 10 inch pizzas, 1 - thicker 12 inch pizza, or 1 thin sheet pan pizza (13 x 16 1/2).
*** Pictures is a 12 1/2 inch pizza.
Nutrition Facts
Low Carb Pepperoni Pizza
Amount Per Serving
Calories 321
Calories from Fat 234
% Daily Value*
Total Fat 26g 40%
Total Carbohydrates 6g 2%
Protein 17g 34%
* Percent Daily Values are based on a 2000 calorie diet.
Signup for my Newsletter
Subscribe to get our recipies by email.