A real, scratch, low carb peanut butter pie made using whole ingredients. From the peanut flour crust to the peanut butter pudding, this easy low carb pie is a gluten-free, ketogenic dream come true!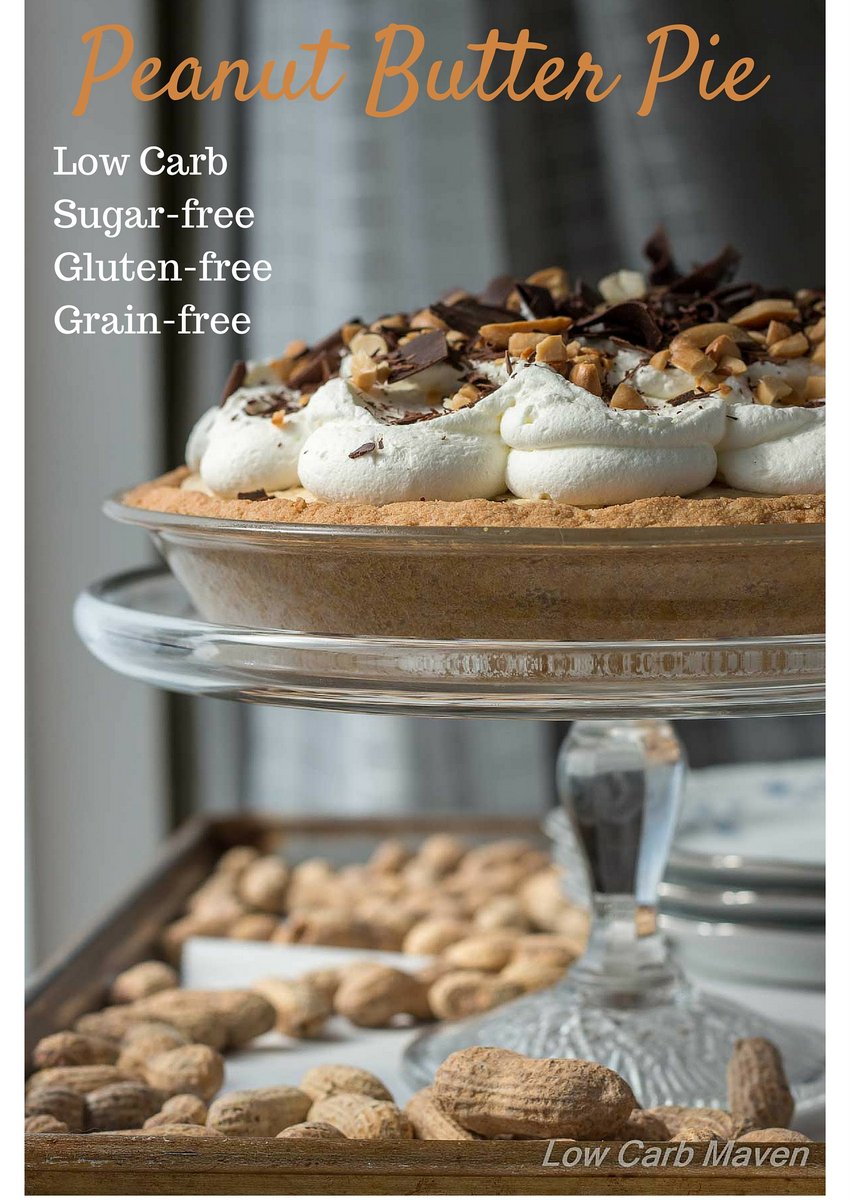 Everybody needs a good peanut butter pie recipe.
I'm not talking about those peanut butter pies that call for cream cheese. No. They always taste like sour peanut butter to me. Sure, they are easy and no bake, but…. mixing peanut butter with cream cheese should be against the rules. Am I the only one who thinks so?
This is a real peanut butter pie. A low carb peanut butter pie. A gluten-free peanut butter pie that is going to keep you in ketosis. A no-bake peanut butter pie to end all peanut butter pies. This is an amazing made from scratch, low carb, gluten-free, sugar-free peanut butter pie. This is a peanut butter pie of epic proportions. I bet you haven't had anything like it before since starting your low carb diet.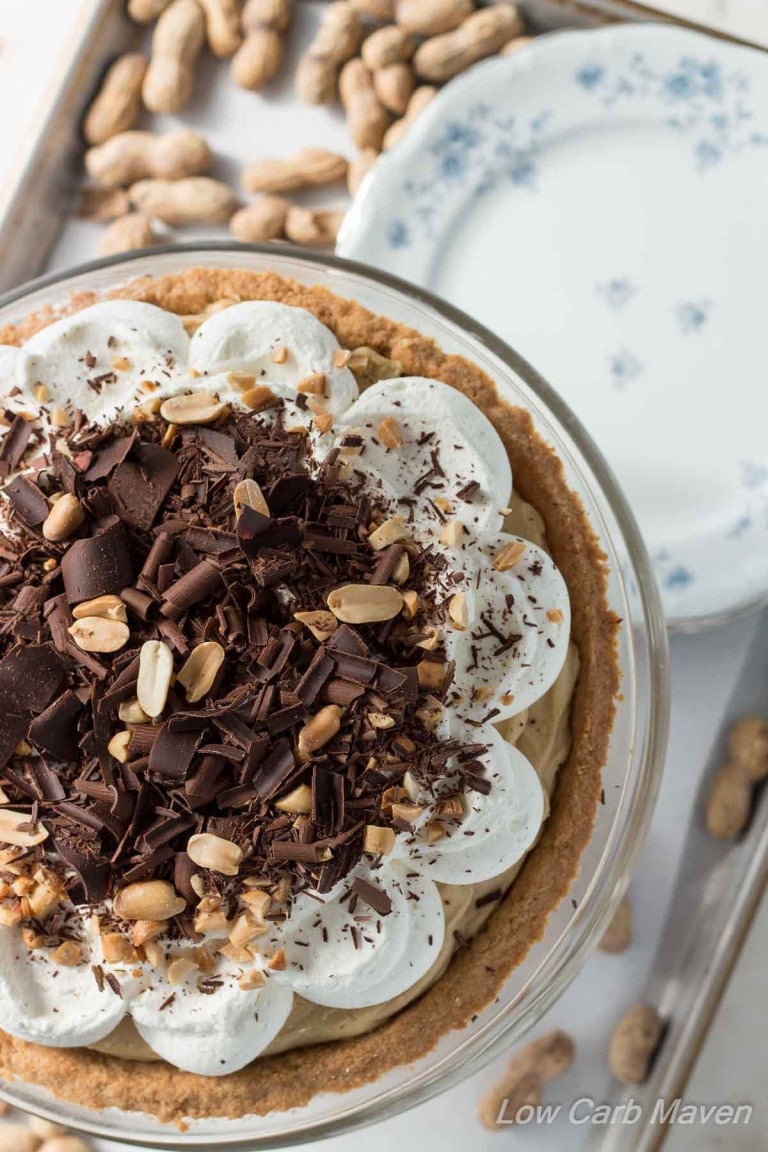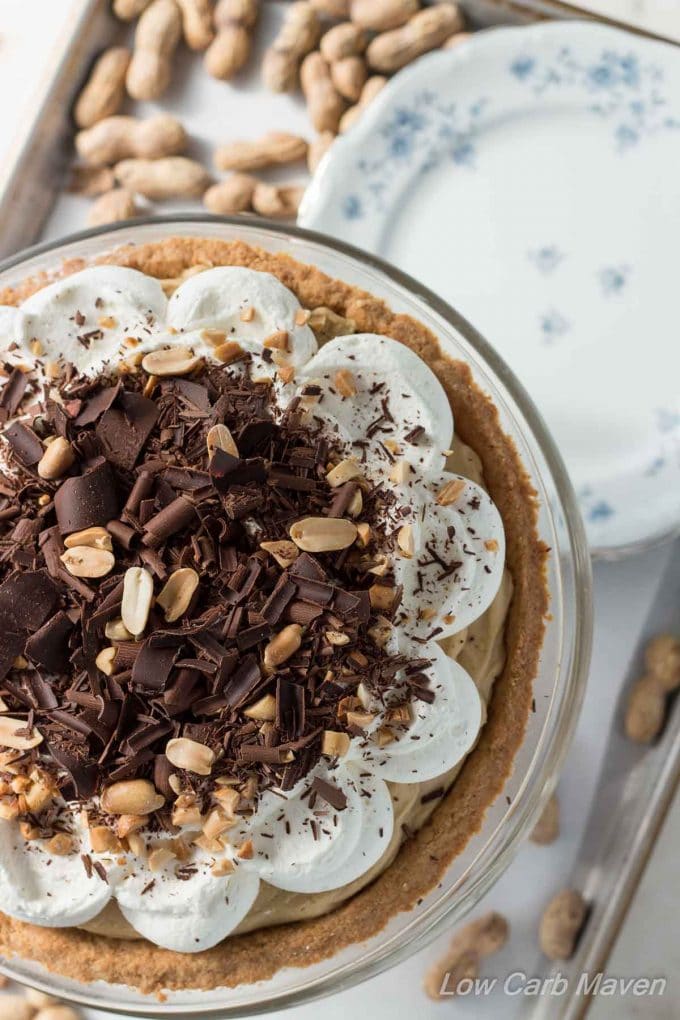 Okay, there is a little stove cooking involved – about 10 minutes, and the crust goes into the oven for 15 minutes to firm up, but honestly – this is a Real. Easy. Recipe. I promise if you give it a try, you may never go back to those cream cheese peanut butter pies. Really!
Okay, I'll stop. I'm sorry. I've been mean to all of those nice cream cheese no-bake peanut butter pies. They aren't bad at all. But this one tastes better.
This sweet, creamy, indulgent, peanut butter pie consists of three basic easy recipes – each taking about 15 minutes or less to prepare:
Peanut Flour Pie Crust (10 mins to prepare, 10-15 mins to set in the oven)
Peanut Butter Pudding (15 minutes prep. and cooking time combined)
Homemade Whipped Cream (5 minutes)
They combine in 10 minutes to create something otherworldly.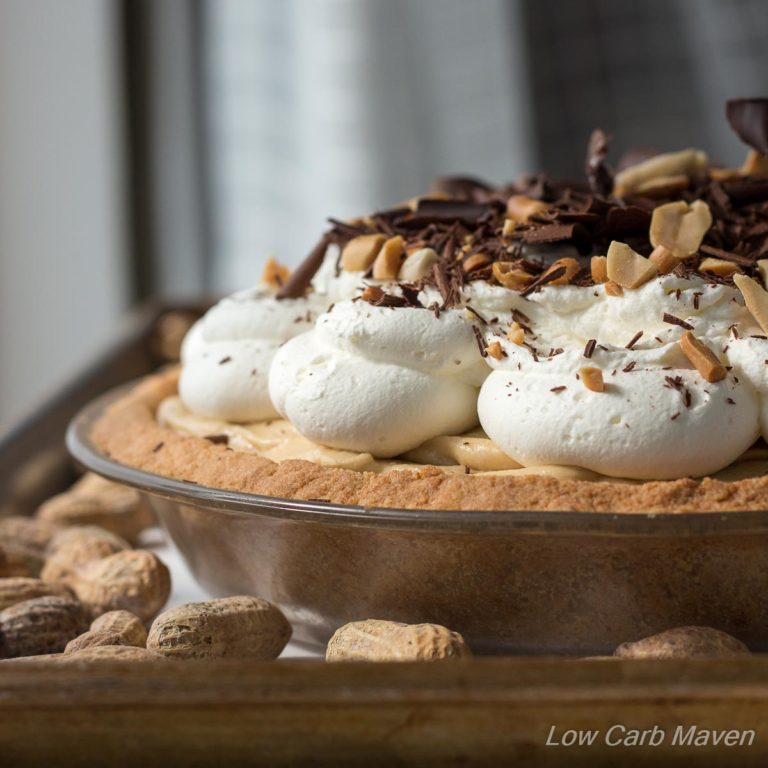 Recipe Tips:
You can make both the peanut flour crust and the peanut butter pudding (pastry cream) the day before. I did!
The peanut butter pudding can be made with xanthan gum and cornstarch/arrowroot powder for a softer and very silky pie. I prefer this method.
-OR- the peanut butter pudding can be made with cornstarch/arrowroot powder and gelatin for a touch more firmness. My husband prefers this. (pictured)
The pudding will smell eggy after cooking. It will NOT taste eggy after the peanut butter and whipped cream are added in. Don't worry, I don't like "eggy" either.
Stabilize the whipped cream with xanthan gum or gelatin. I used xanthan gum.
Use a vegetable peeler on the chocolate.
If the chocolate is cold, it will make tiny slivers, which is pretty. If you put the chocolate in the microwave for about 10 seconds, you will get larger pieces.

This epic Low Carb Peanut Butter Pie is 6 net carbs per serving.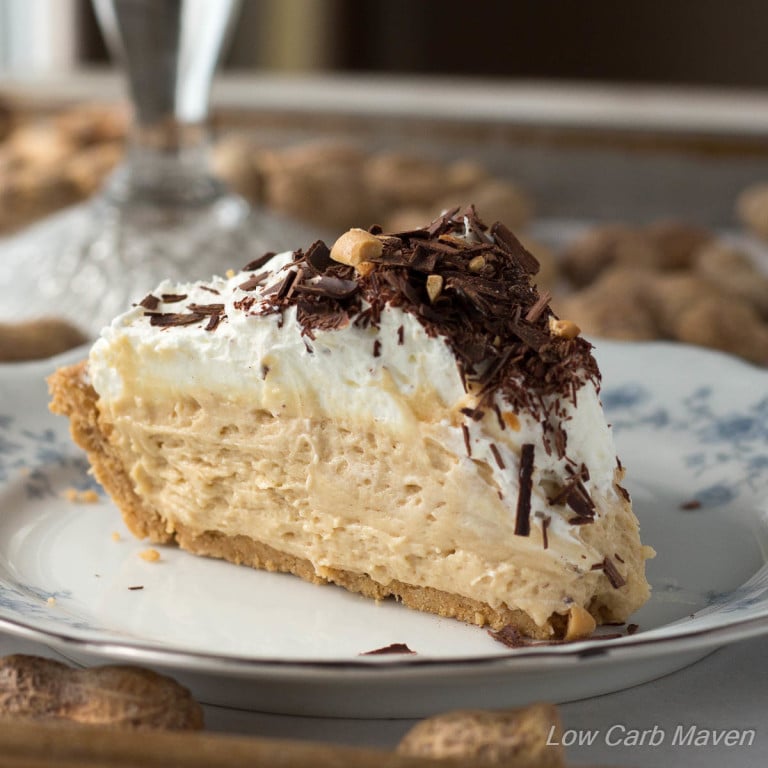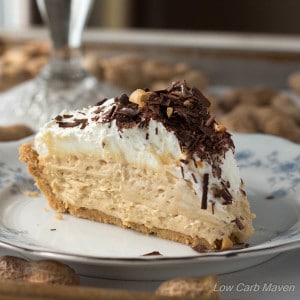 Low Carb Peanut Butter Pie
A real scratch, low carb peanut butter pie made from whole ingredients. From the peanut flour pie crust to the peanut butter pudding this easy low carb pie is a gluten-free, ketogenic dream come true!
Print
Pin
Rate
Ingredients
Peanut Butter Pudding
3/4

cup

unsweetened almond milk

(170 g)

1/2

cup

heavy cream

(113 g)

1/2

cup

low carb sugar

(95 g)

1

tablespoon

cornstarch or arrowroot powder*

(15 ml)

1/4

teaspoon

xanthan gum*

4

large

whole eggs

2

teaspoons

vanilla

(10 ml)

1/4

teaspoon

salt

2/3

cup

peanut butter

(345 g)
To Be Folded into the Peanut Butter Pudding
Optional Garnish
2

ounces

sugar free chocolate

shavings

3

tablespoons

chopped roasted peanuts
Instructions
Pie Crust: I suggest making the pie crust in the morning or the day before.

Peanut Butter Pudding: Have a sieve, whisk and rubber spatula hand near the stove.

Pour the almond milk and heavy cream into a medium sauce pan/pot over medium heat. Measure the dry ingredients into a medium heat-proof bowl and stir together with a whisk. Add the eggs, mixing well. If the milk hasn't begun simmering around the edge of the pan, turn the heat up to medium-high until it does. Turn off the heat.

Slowly pour the hot milk into the egg mixture, whisking the whole while. Put the pot back onto the stove and pour the pudding mixture back into the pot. Scrape out as much of the pudding as you can. PUT THE SIEVE over the empty bowl.

Turn the heat to medium and begin whisking the pudding mixture. Nothing will happen for at least 5 minutes. The erythritol has to melt and the mixture will not begin to warm until it does. Continue to whisk. The mixture will get looser and then it will begin to thicken all-at-once and look a grainy. Turn the heat down just a little and continue to whisk for 1 minute. (If you stop whisking for a moment, the mixture should be bubbling lazily). Turn off the heat, move the pot to a cool burner and continue whisking for 1 minute more.

Pour/scrape the pudding into the sieve to strain out any cooked egg. Work the pudding gently through the sieve with the rubber spatula and scrape any remaining pudding from the bottom of the sieve. Add the vanilla to the pudding and stir. Add the peanut butter to the pudding and stir. Taste for seasoning. Add powdered sweetener (or stevia glycerite) if you want it sweeter. It should taste a little salty like peanut butter. If not, add more salt. Put a piece of plastic wrap over the pudding and let cool completely in the fridge. I make mine the day before.

Whipped Cream:

Pudding –

Measure 1/2 cup of heavy cream into a small-medium bowl. Add 2 tablespoons of powdered erythritol and 2 pinches of xanthan gum. Whip with a hand mixer until stiff. This will be added to the pudding.

Topping –

Pour the remaining 1 cup of whipping cream into the bowl and add 1/4 cup of powdered low carb sweetener and 1/8 teaspoon of xanthan gum. Whip until thick and creamy but not quite stiff.

Assembly: Ready the crust. Remove the peanut butter pudding from the refrigerator and whip with a hand mixer until it's soft and fluffy. Add the stiffly beaten whipped cream and gently fold until the white streaks are gone. Spoon the peanut butter pie filling into the pie crust and smooth to the edges. Top with the remaining whipped cream and garnish if desired.

Best if served the next day.
Notes
Nutrition Facts
Low Carb Peanut Butter Pie
Amount Per Serving
Calories 472
Calories from Fat 396
% Daily Value*
Fat 44g68%
Cholesterol 172mg57%
Sodium 267mg12%
Potassium 314mg9%
Carbohydrates 8g3%
Protein 14g28%
Vitamin A 1100IU22%
Vitamin C 0.8mg1%
Calcium 90mg9%
Iron 1.3mg7%
* Percent Daily Values are based on a 2000 calorie diet.
Nutrition
Calories:
472
kcal
|
Carbohydrates:
8
g
|
Protein:
14
g
|
Fat:
44
g
|
Saturated Fat:
19
g
|
Polyunsaturated Fat:
5
g
|
Monounsaturated Fat:
17
g
|
Cholesterol:
172
mg
|
Sodium:
267
mg
|
Potassium:
314
mg
|
Fiber:
2
g
|
Vitamin A:
1100
IU
|
Vitamin C:
0.8
mg
|
Calcium:
90
mg
|
Iron:
1.3
mg