Whether you prefer your meatballs baked or fried, my low carb meatballs recipe produces the best Italian meatballs which are tender just like mom's. Gluten-free and great for keto diets, too.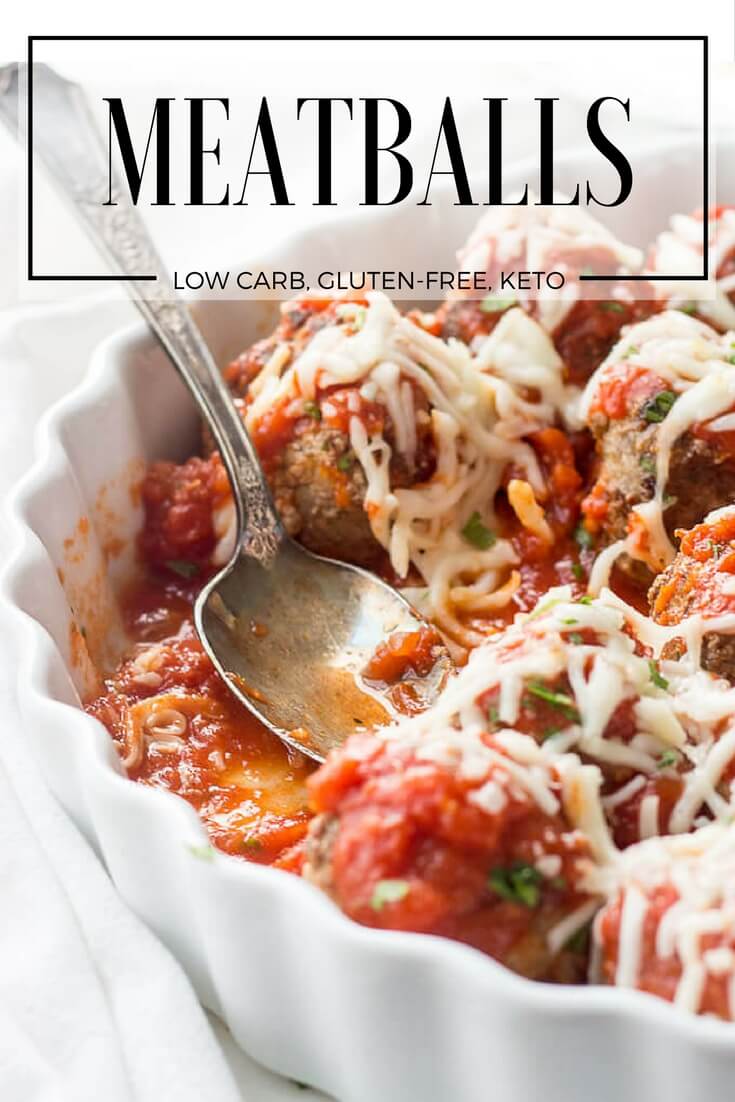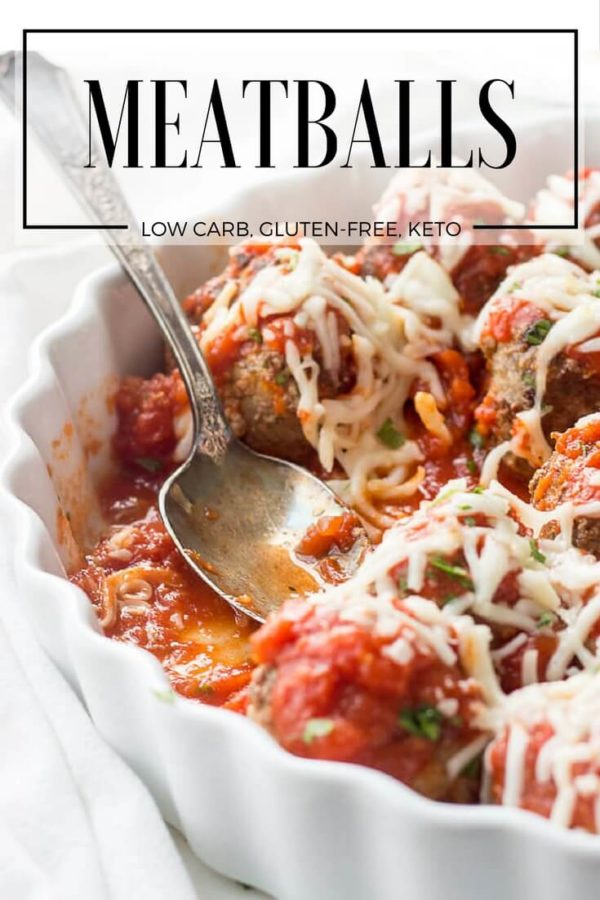 (I recently visited my folks in Texas. I'm sad to say that Mom can't cook anymore. My dad does most things for her now. So, in honor of my mother and the great cook she once was, I'm sharing her Italian meatball recipe.)
Keto Low Carb Meatballs Recipe (Italian Style)
My mother comes from a long line of Italian cooks, something I didn't appreciate until recently. I grew up with delicious home cooked meals like chicken Parmesan, homemade pizza, gnocchi, and spaghetti with mom's meatballs.
Many years ago, Mom and I spent an afternoon together in the kitchen while she taught me her recipes for tomato sauce (keto Marinara sauce) and the best Italian meatballs. Today, I'm sharing my low carb version of her meatball recipe.
Mom uses a combination of beef, pork, and veal as well as breadcrumbs to make tender Italian meatballs. She flavors them with onion, garlic, fresh parsley, and Parmesan cheese. She adds a raisin to the center to make the meatball sweet. I do, too, but it's optional.
Since this is a low carb meatballs recipe, I omit the breadcrumbs. I also omit the veal because it's expensive.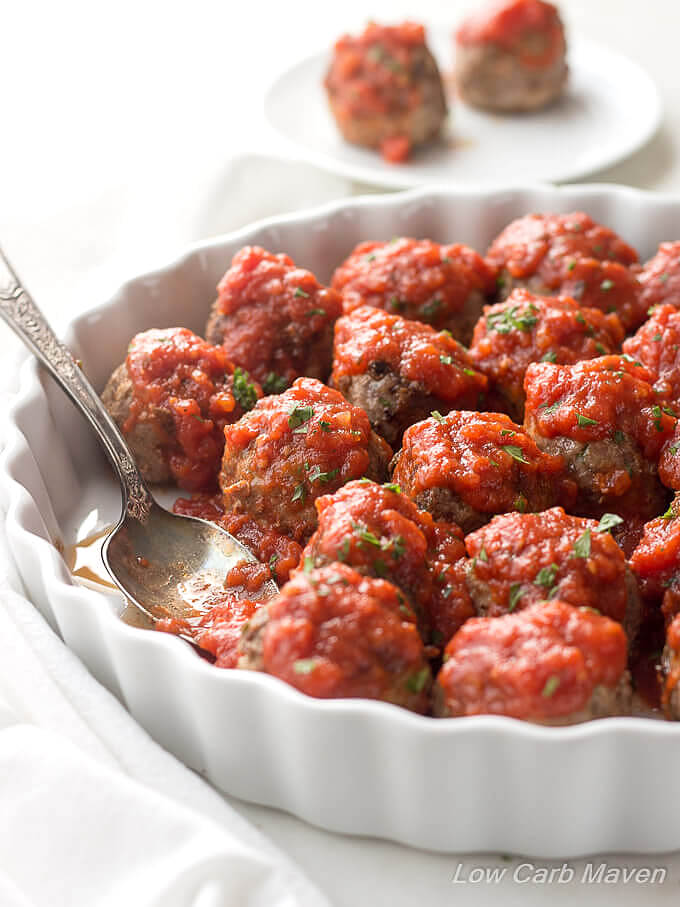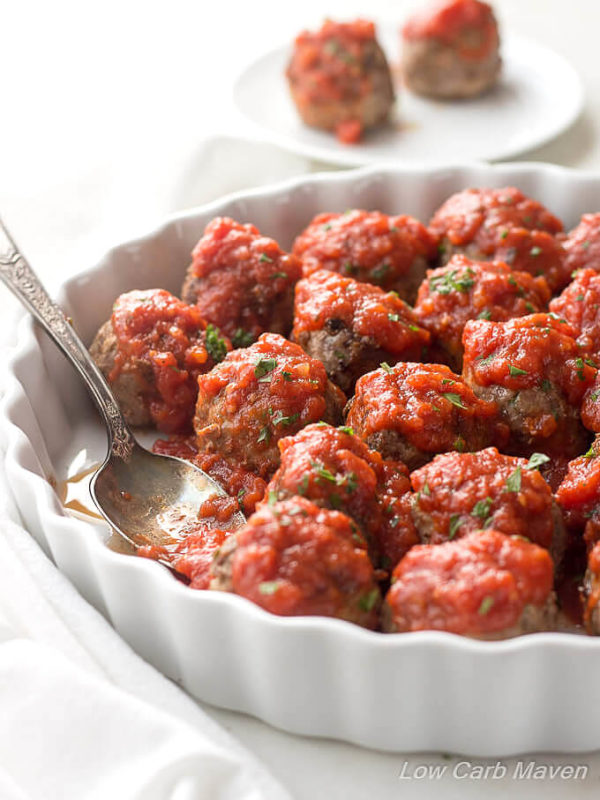 What kind of meat to use for meatballs?
A combination of beef, pork, and veal makes the best meatballs, but I use half beef and half pork. Why do I use beef and pork to make my meatballs? Because the ground pork tones-down the beefy flavor and that's what Mom does. I typically splurge and get American Kobe beef or grass fed beef when I make Italian meatballs because they produce flavorful and tender meatballs. For this recipe I'll use 80/20 ground beef or ground chuck.
Pan Fried Meatballs or Oven Baked Meatballs?
A great debate between Italian cooks is whether meatballs should be baked or pan fried. I like to pan fry meatballs for the best flavor. Pan frying meatballs produces superior caramelization and a flavorful outer crust, but the meatballs rarely retain their round shape.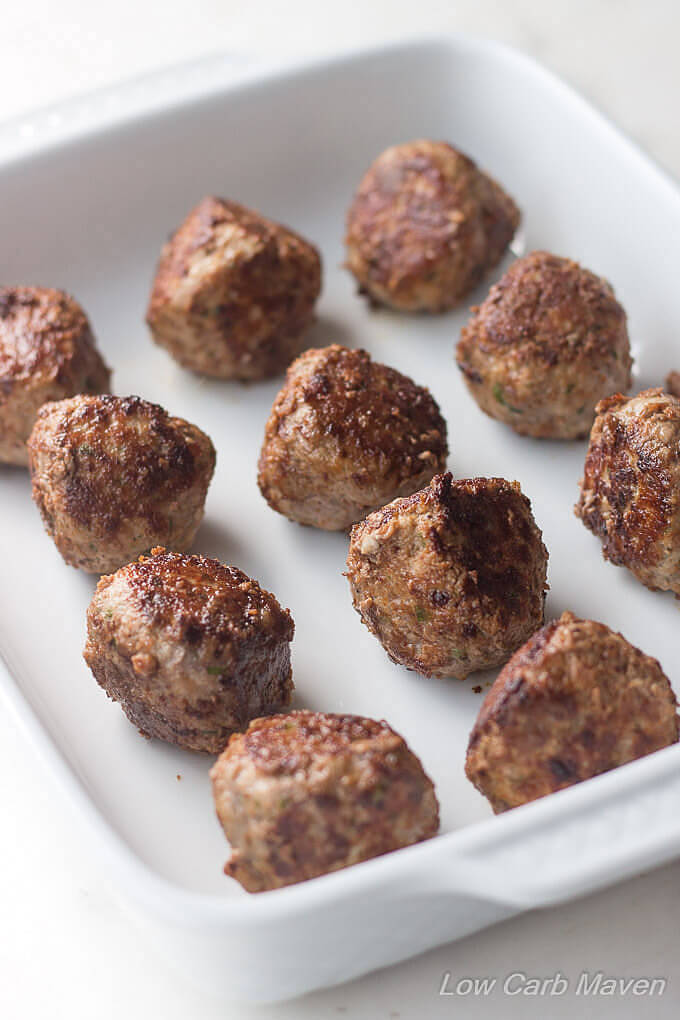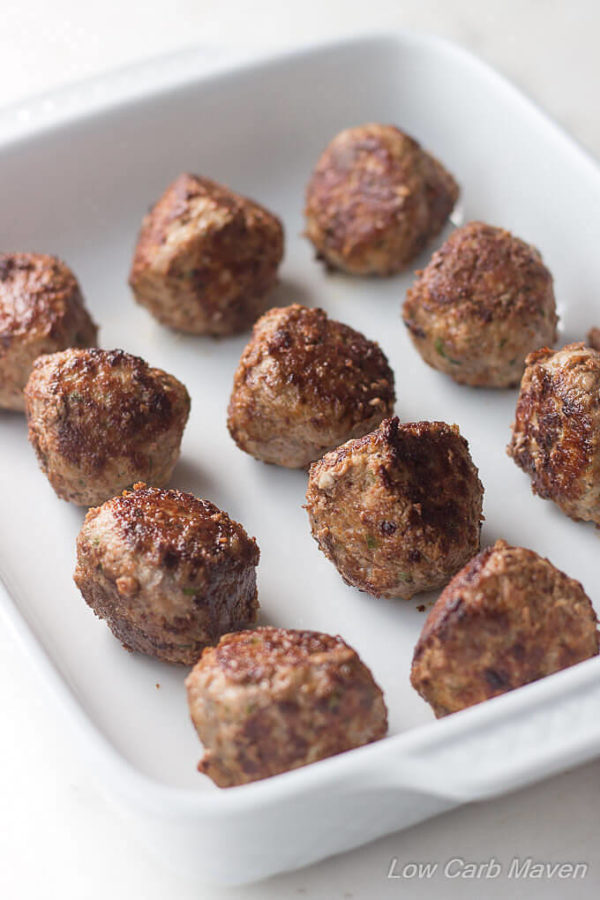 Other's like to bake meatballs in the oven. Simply put the meatballs on a sheet pan and bake at 400 for 18-20 minutes. This method eliminates the need for standing over a hot pan and results in round meatballs. Unfortunately, it doesn't promote much browning.
Combined Approach – Bake Then Brown
Recently, I've been experimenting with a combined approach; partially baking the meatballs to get a round shape, then finishing the meatballs in the pan for more browning. (See below)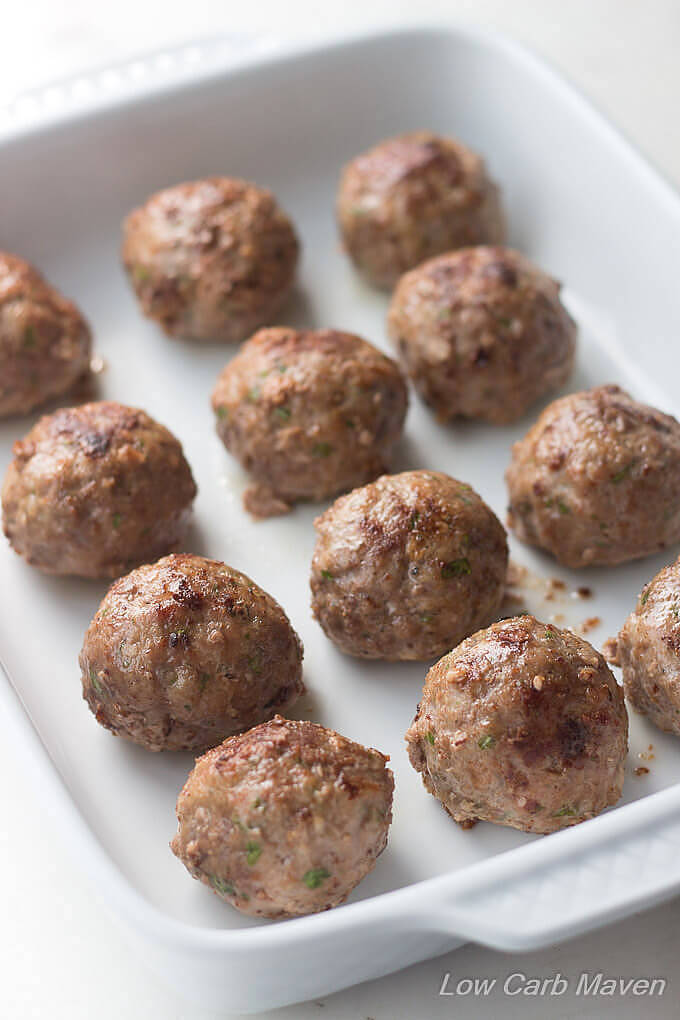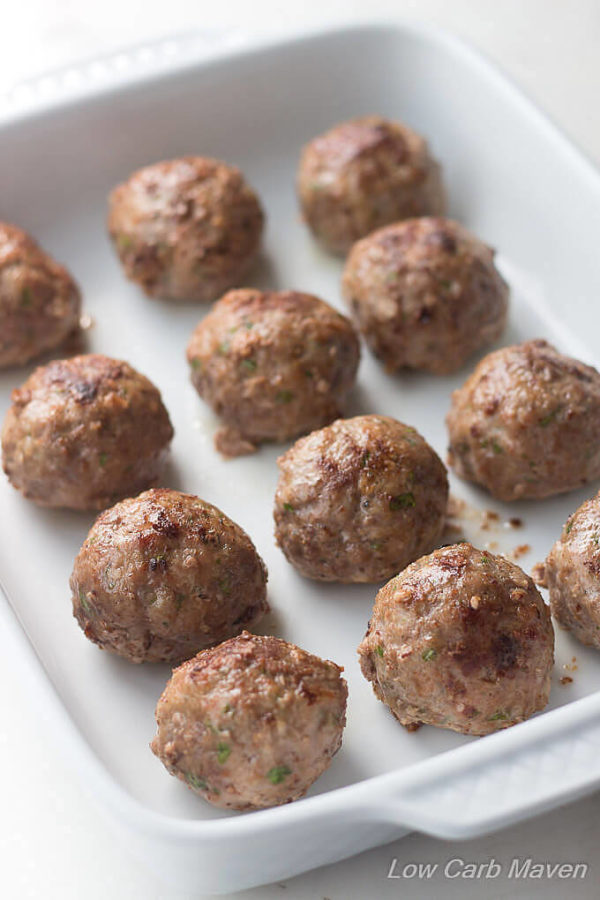 How to Make Tender Juicy Meatballs
Everyone wants tender, juicy meatballs. The best way to achieve this is to use a panade. A panade is a paste of bread or bread crumbs (sometimes cookies, crackers, and cake) soaked in liquid. It lends tenderness and moisture to ground meat mixtures like meatloaf and meatballs. Low carb meatballs do not use bread or bread crumbs to make a panade.
I sometimes add finely grated zucchini to my low carb meatballs to add moisture. Other's will add pork rinds, but they're missing the point. Pork rinds absorb moisture from the meat, making the meatballs dry. I'll be experimenting with making a panade with pork rinds, For now, I add heavy cream to my low carb meatballs to add fat and moisture. I can only find lean ground pork in my stores, so this helps a lot.
[NOTE: Making a panade with soaked pork rinds works nicely. I soak pork rinds in an equal amount of heavy cream. I've also found that adding very finely grated zucchini keeps things moist.]
Meal suggestion: Try these meatballs in casserole form like this great meatball casserole Parmesan recipe.
Mom's Low Carb Meatballs Recipe is 1 net carb per serving and 4 net carbs with Rao's Marinara sauce.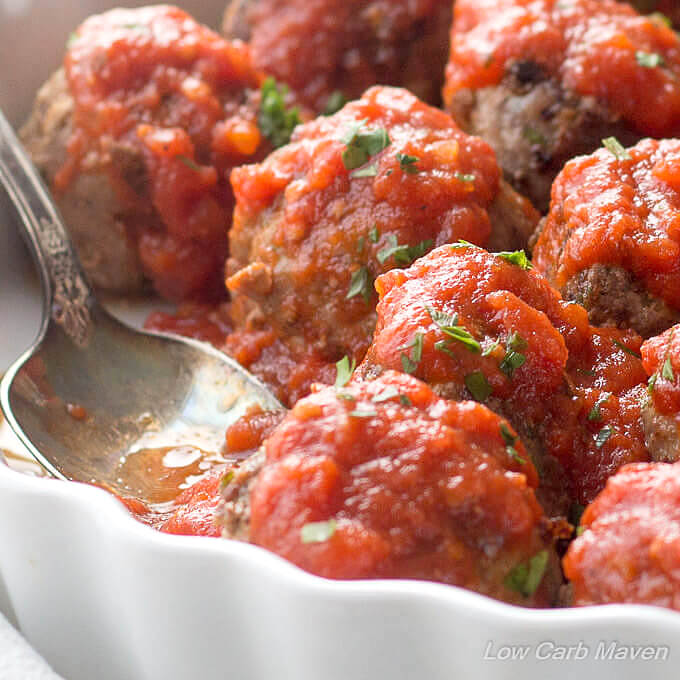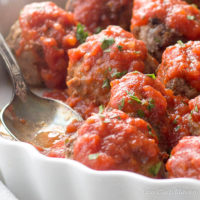 Mom's Low Carb Meatballs Recipe – Italian Style (Keto Meatballs)
Whether you prefer your meatballs baked or fried, my keto low carb meatballs recipe produces the best Italian meatballs which are tender just like mom's. Gluten-free and great for keto diets, too.
Print
Pin
Rate
Ingredients
1/2

pound

ground beef chuck, 85 % lean

1/2

pound

ground pork

(or turkey or veal)

1/4

cup

Parmesan cheese, grated

1/4

cup

heavy cream

1

large

egg,

beaten

2

tbsp

minced fresh parsely

1

tbsp

finely grated onion

(it will be mush)

1

clove

garlic, grated

(small – medium in size)

1/2

tsp

salt

1/4

tsp

pepper
Optional: Sauce
2

cups

Rao's Marinara Sauce

(or your favorite low carb sauce)
Instructions
Add the beef and pork to a medium bowl and break up into smaller chunks, aiming for an even mix.

Add the remaining ingredients to the meat and mix with a hand mixer until just combined. Do not over-mix.

Lightly oil hands and roll 12 meatballs. I weigh mine to get the weights equal for even cooking. To do it by eye, divide the meatball mixture in half and roll 6 meatballs of even looking size and repeat with the remaining meat.
To Pan Fry Meatballs:
Heat a large frying pan over medium heat. I use a Green Pan, but an iron skillet or stainless steel pan will do (they will need more oil). When hot, spray the pan with oil (use 2 teaspoons for iron or stainless). Add the meatballs to the pan, making sure they each have their own place. [DO NOT crowd the pan. If your pan is small and you add all of the meatballs, they will steam and be tough. If your pan is large, you can fit all 12 in the pan.]

Cook the meatballs approximately 1 1/2 minutes per side, turning at least 4 times. I use tongs to gently roll them over. Cook for 10-15 minutes total.  They should be browned like the picture in the post. 

Heat the sauce in the pan, scraping up the brown bits for a full flavored sauce. For a fresher tasting sauce, warm on the stove or in the microwave and pour over the meatballs. Garnish with parsley and serve or top with mozzarella cheese and place under the broiler to melt.
To Bake Meatballs in the Oven:
Pre-heat oven to 400 degrees F and position rack to the middle. Place meatballs on a foil-lined or rack-lined baking sheet. Bake meatballs for 15-20 minutes. Serve with warmed sauce and garnish with chopped fresh parsley.

Alternately, top with mozzarella cheese and place under broiler to melt the cheese.
Makes 12 meatballs. 3 meatballs per serving at 1 net carb.  With Rao's sauce it's 4 net carbs per serving.  (Nutritional info for the meatballs only.)
Notes
Nutrition Facts
Mom's Low Carb Meatballs Recipe – Italian Style (Keto Meatballs)
Amount Per Serving
Calories 387
Calories from Fat 198
% Daily Value*
Fat 22g34%
Sodium 166mg7%
Carbohydrates 1g0%
Protein 19g38%
* Percent Daily Values are based on a 2000 calorie diet.
Nutrition
Calories:
387
kcal
|
Carbohydrates:
1
g
|
Protein:
19
g
|
Fat:
22
g
|
Sodium:
166
mg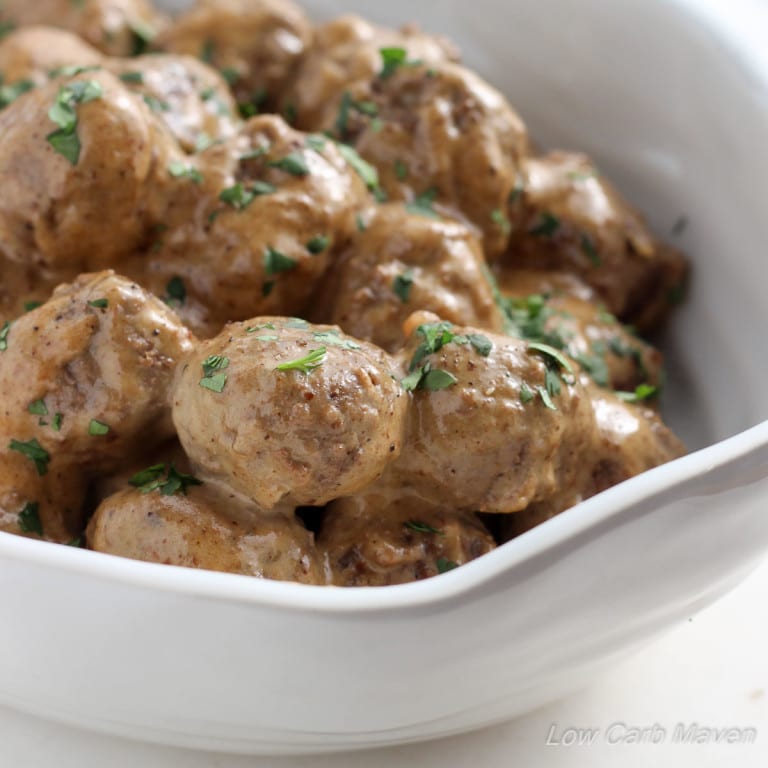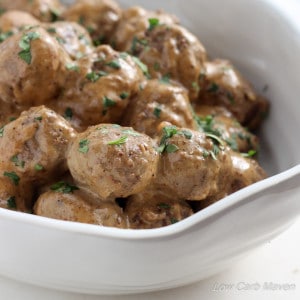 Keto Low Carb Swedish Meatballs