Low carb maple bacon muffins are a great flavor combination. The maple glaze and pecans make them extra good.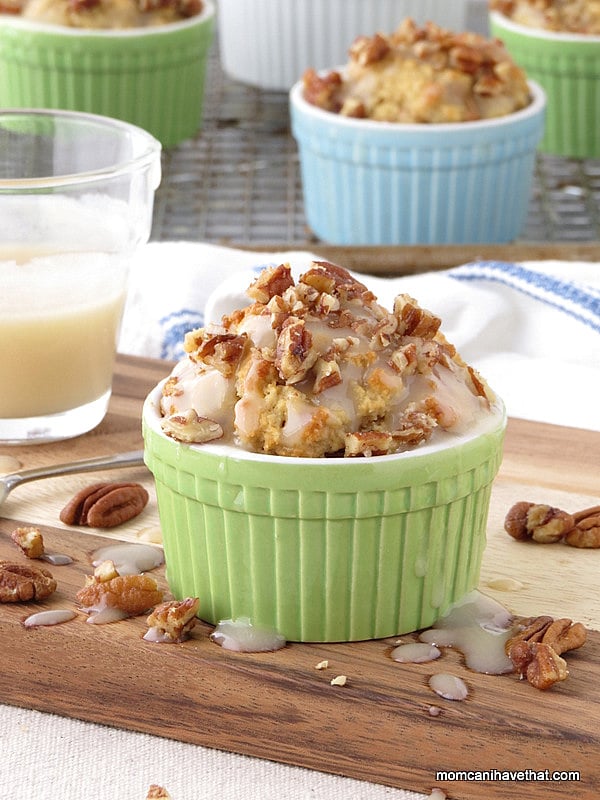 You know that wonderful smell one encounters when walking into a good pancake house? It's a bacon and pancakes with maple syrup smell; warm and friendly and inviting. One that lets you know your breakfast will be a major ten on the comfort food scale. That is exactly what these muffins taste like. I should have named them Your Favorite Pancake House Muffins. They are terrific.
Christmas is around the corner and I am feeling the crunch. Yup. The holiday pressure is getting to me. I'm sure some of you can relate. This year, it's a little more than being behind with my shopping, or decorating the house, or working on my Christmas dinner menu… I have been struggling a bit with this blog — trying to get it looking the way I want; trying to build traffic, working on great recipes, struggling with food photography, and waiting for someone to comment on my lonely posts. (Poor lonely posts)
When embarking on a new project, I often develop tunnel vision. I become all-or-nothing. Or in this case, all-blog-and-nothing. I have let much of my housework fall to the wayside and I have company coming on Friday!
Hey, Judy! I can't wait to see you! (I'll tell you all straight-up that I have the best Mother-in-law in the world.)
Basically, I have been a blog-obsessed person who has neglected her house and family. And I'm feeling a bit guilty about it — and not enjoying my cluttered-at-the-moment, home. Okay, it's not that bad, but it could be. Anyway, pity-party over! I just had one of these maple bacon muffins with pecans and everything's better now. Mmmm.
You know they're low carb, right?

and gluten-free, grain-free and dairy-free.
NOT fat-free. Sorry.
Are you Paleo? So are these!
Are you blue? Have two! No, I'm just kidding.
Do you enjoy ordering pecan pancakes at your favorite breakfast spot, drenching them in maple syrup, and enjoying crispy bacon on the side? Perhaps you even dip your bacon into the maple syrup when no one is looking. I do, too. That was the inspiration for making these delicious muffins. All of my favorite breakfast tastes rolled into one beautiful package. These maple bacon muffins with pecans are stuffed full of bacon-and-maple flavor and who doesn't enjoy the crunch of candied pecans? They're there, too. See them on top with the maple glaze? Crazy, I tell you.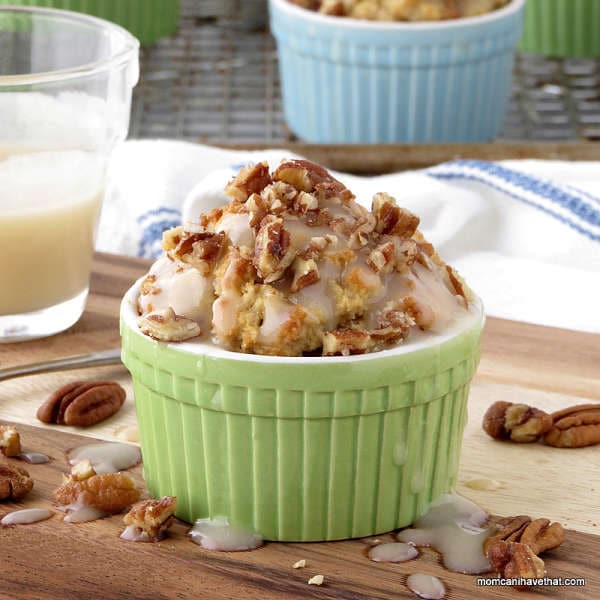 These babies have it all.
If you are looking for another great muffin recipe, may I suggest the Cranberry Almond Crumb Muffins. They would be great as gifts or on your dinner table this season.
Just a note: While my mother was visiting she asked me where I buy my almond flour. I buy it in bulk from two places. I believe the almond flour from nuts.com and honeyville.com are far superior to what I get in bulk from the health food store. No, I don't get paid to say this (as of right now). I buy 25# at a time and keep it in my garage refrigerator. Why so much? I use a lot of product developing recipes and go through the whole 25 pounds about every three months.
Low Carb Maple Bacon Pecan Muffins are 4 net carbs each
[Disclosure: This recipe contains affiliate links to products that I actually have, use, and enjoy, or very similar items. If you purchase an item through one of these links, I will earn a small commission at no additional expense to you. This helps me continue to run the site and provide free recipes.]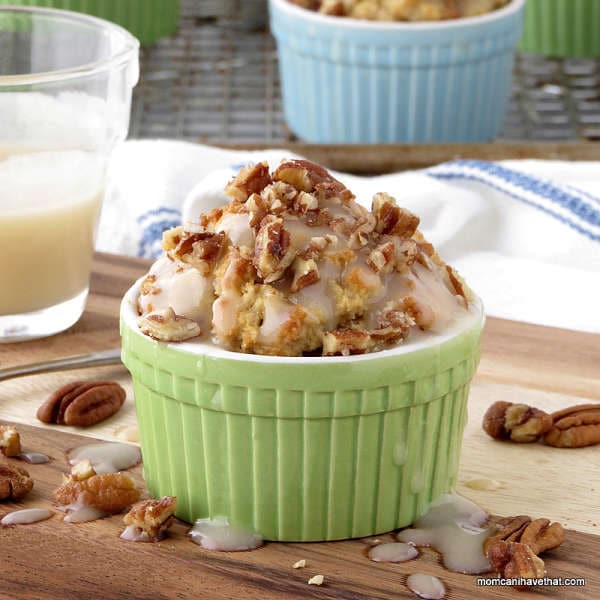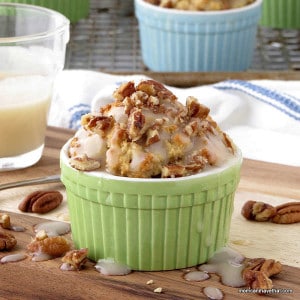 Low Carb Maple Bacon Muffins With Pecans
Low carb maple bacon muffins are a great flavor combination. The maple glaze and pecans make them extra good.
Print
Pin
Rate
Ingredients
Coconut Butter Maple Glaze
2

tablespoons

Coconut butter

1

tablespoon

coconut oil

2

teaspoons

maple syrup

2

tablespoons

swerve sweetener

2

tablespoons

almond milk

(or more to thin to your desired consistency)
Candied Pecans
1/3

cup

pecans

2

teaspoons

ghee

or coconut oil

2

teaspoons

maple syrup
Instructions
Cook bacon until crispy and let cool. Chop. Preheat oven to 350 and move the oven rack to the lower third of the oven.

To make the Maple Bacon Muffins

: Measure all of the dry ingredients for the Maple Bacon Muffins in a medium to large bowl. Mix together thoroughly. In a small bowl, add all of the wet ingredients for the muffins. Beat the wet ingredients with a hand mixer until the they are completely incorporated. Add the wet ingredients to the dry and mix, paying special attention to incorporating any dry ingredients in the bottom of the bowl. Let the maple bacon muffin batter sit in the bowl while you line a muffin pan with cupcake liners. The batter will puff-up from the leavening agents and become thick.

Baking the Maple Bacon Muffins

: With a smallish spoon, begin spooning batter into the muffin cups. Don't worry about getting the batter in the cup evenly. If there are open spaces at the bottom or around the sides -- that's great! Build a high center in the middle. When you have portioned the batter evenly between the 12 muffin cups, lift the muffin tin a few inches from the counter and let it drop. Do this only once. The centers of the muffins should still be nicely mounded.

Place the low carb maple bacon muffins in the oven and turn the heat up to 400 for 8 minutes. Then lower the heat back to 350 and continue baking until a tooth pick in the center comes out clean. Start checking after 12 minutes at 350. Cool.

To prepare the Candied Pecans

: While the maple bacon muffins are baking, add the ghee and maple syrup to a small frying pan. Add the pecans and cook on medium low. Keep an eye on the nuts or the maple sugar may burn and you will have to start over, like I did. Stir them every few minutes or so. How do you know they are done? The maple syrup will start to candy-coat your wooden spoon. Let it cook for a few minutes more and then remove the candied pecans and let them cool on a cutting board. Chop.

To prepare the Coconut Butter Maple Glaze

: Measure 1 tablespoon of coconut oil in a small microwave proof bowl. If the coconut oil is not liquid, melt it gently in the microwave. Put the jar of coconut butter in the microwave and gently heat until it is soft. Measure two tablespoons into the bowl with the coconut oil. Add 2 teaspoons of maple syrup and stir the ingredients together. Add the swerve and the almond milk. The mixture should be a good thick drizzling consistency. If it is too think, first try warming it gently in the microwave. If it is still to thick, add a little more almond milk.

To assemble the Maple Bacon Pecan Muffins

: Put the muffins on a wire rack and drizzle the tops with the maple glaze. I was only able to glaze one muffin at a time, and found that using a little whisk worked best. Sprinkle the tops with the chopped candied pecans.
Notes
Nutrition Facts
Low Carb Maple Bacon Muffins With Pecans
Amount Per Serving (1 g)
Calories 324
Calories from Fat 252
% Daily Value*
Fat 28g43%
Carbohydrates 7g2%
Protein 12g24%
* Percent Daily Values are based on a 2000 calorie diet.
Nutrition
Serving:
1
g
|
Calories:
324
kcal
|
Carbohydrates:
7
g
|
Protein:
12
g
|
Fat:
28
g
|
Fiber:
3
g