Low carb hamburger buns are fast and easy to make with fathead dough. So bread-like in texture, they make the perfect hamburger bun or sandwich roll for low carb and keto diets.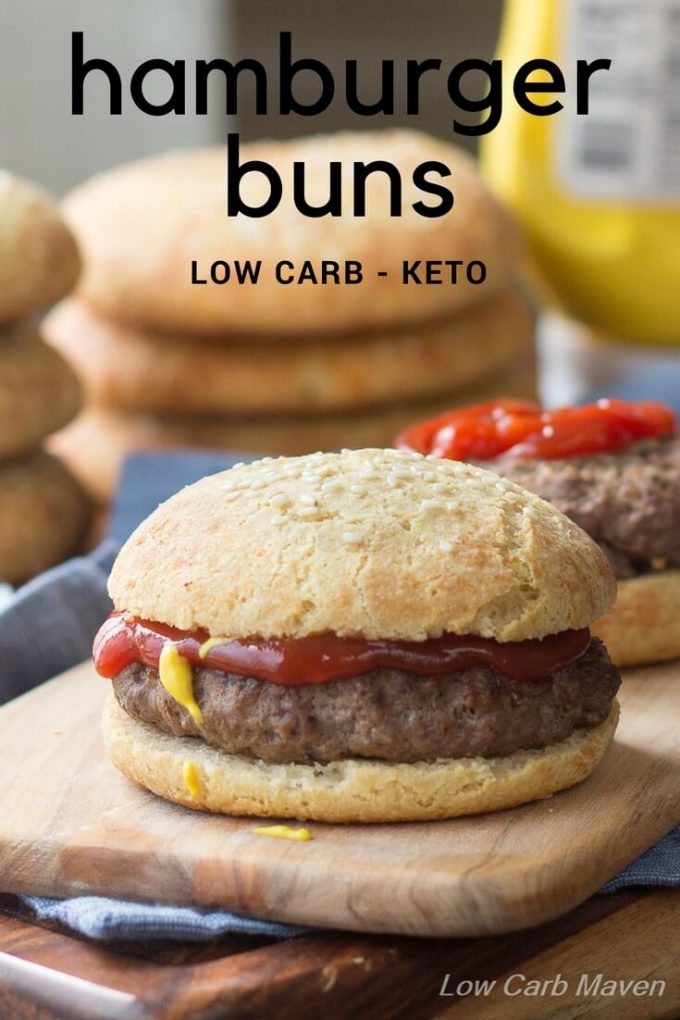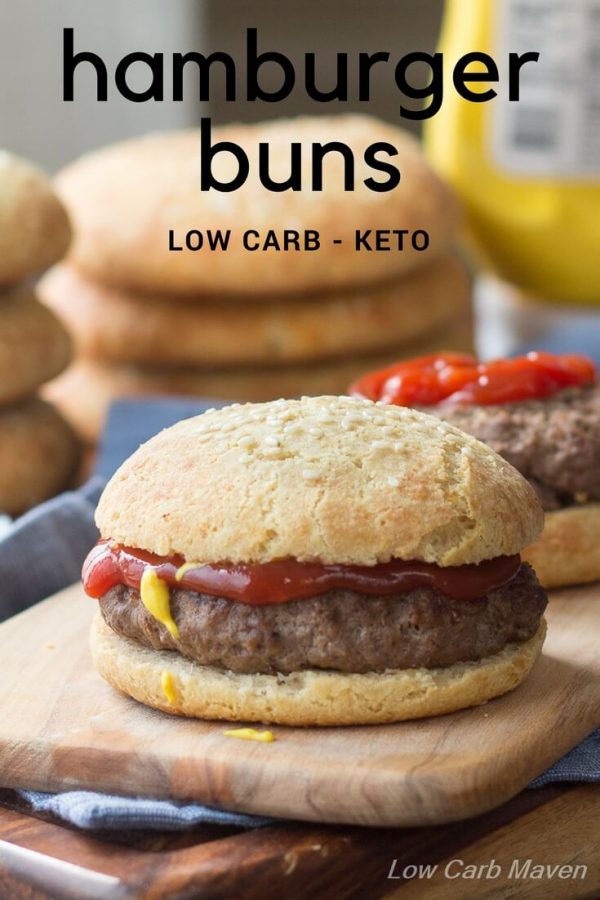 It's been a weird Summer for us this year. Not only has it been especially hot, but we had a three week break in the middle – a vacation to see parents and grandparents and to have fun. We live in California, so our travels take us to the Midwest and the East coast. It's hard being so far away from our families, but we're fortunate to make the trip every few years. BTW, I packed almond flour in my suitcase and enjoyed a low carb bagel for breakfast every day. I sure did!
School starts up next week and we'll exchange our slow Summer days for homework and hectic schedules. For us, the grill is still one of the best ways to get food on the table fast and hamburgers are a favorite! With a little planning, we enjoy the occasional low carb bun with our burgers on those days we don't feel like having a bunless burger.

Low Carb Hamburger Buns
How many of you have missed a proper burger in a hamburger bun? I know I have. Cheap squishy, white bread hamburger buns? Loved em. Whole wheat buns with sesame seeds on top? Double loved 'em. Gourmet brioche buns buttered and toasted? I think I just drooled thinking about them.
I'm sure, like me, you enjoy your low carb burgers either naked or lettuce wrapped because bunless burgers are fabulous! Especially my AWESOME DELICIOUS gourmet low carb burger recipe. But I do miss the convenience of eating my hamburger on a roll.
Over the years I have tried several low carb hamburger roll recipes. Have you tried "oopsie rolls"? They aren't too bad as far as bread substitutes go. They're easy to prepare and make a passable low carb bun, but they tend to break apart and get sticky overnight. Psyllium buns and rolls are pretty good, but they have so much fiber! They are super filling and not everyone can handle that much fiber in their diet.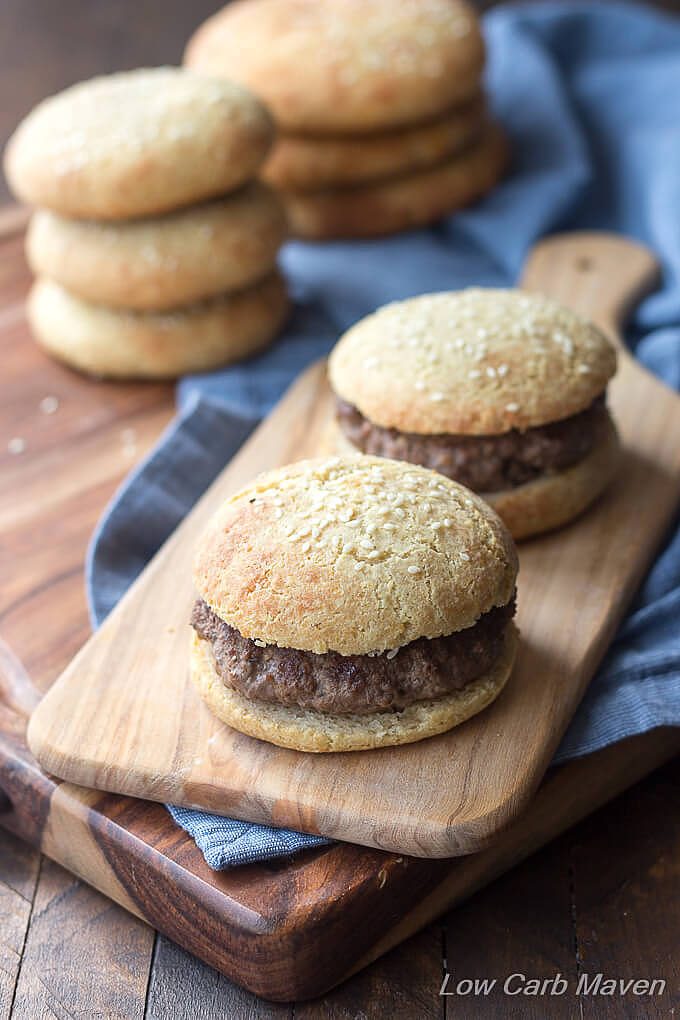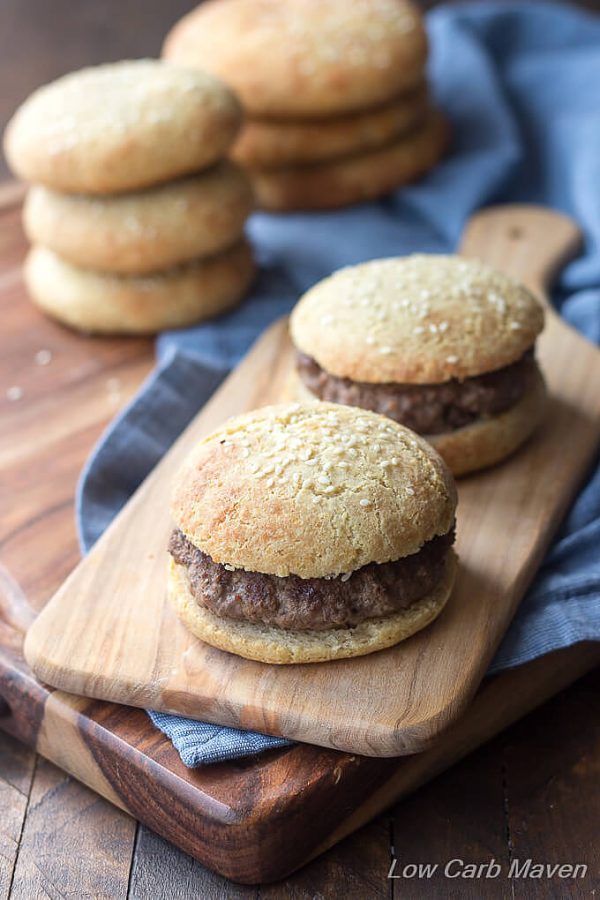 Fathead Dough Rolls (Almond Flour & Mozzarella Cheese)
Our beloved low carb Fathead dough recipe comes to the rescue again. We fell in love with it as pizza crust, then hot pockets, dinner rolls, low carb bagels and now hamburger buns. What I really like about this recipe is that it is fast and easy to make only taking about 20 minutes. They can be made ahead of time and kept in the freezer or fridge.
Does this low carb hamburger bun recipe taste exactly like bread? No. Is the texture of a soft potato roll or a flaky brioche bun? No. This is low carb bread made from mozzarella cheese and almond flour. But, It's a sturdy bun that doesn't fall apart and it tastes pretty great. It's also great wrapped around a hot dog if you are hungry for burgers and dogs (see my bagel dog recipe).
We just tried these on low carb sloppy Joes – AMAZING!
Each Low Carb Hanburger Bun is 4 net carbs.
[This post and recipe may contain affiliate links. Purchasing through a link may result in my earning a small commission at no additional expense to you.]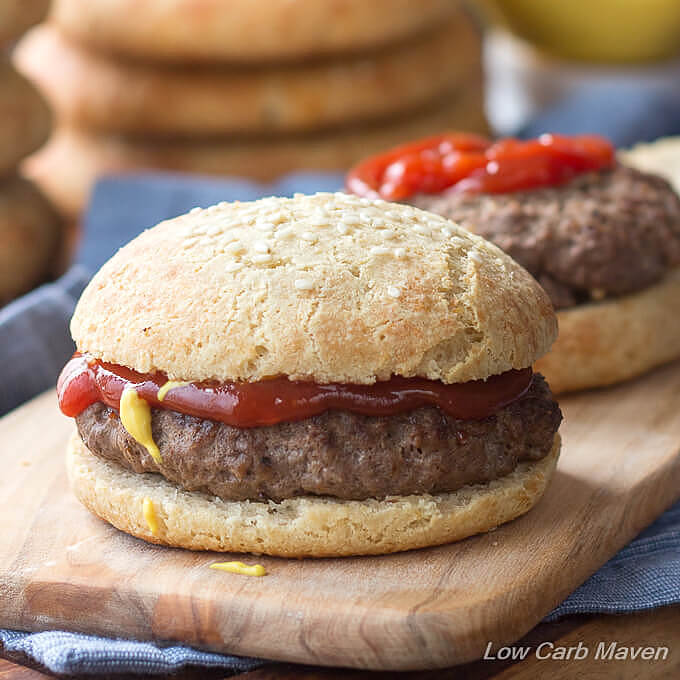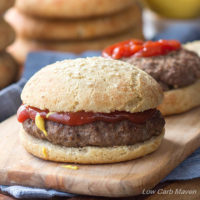 Low Carb Hamburger Buns
Low carb hamburger buns are fast and easy to make with the fathead dough recipe. Bread-like in texture, they're the perfect low carb keto sandwich roll.
Print
Pin
Rate
Ingredients
1 1/2

cup

part skim grated mozzarella cheese

2

oz

cream cheese

1

large

egg

1 1/4

cup

almond flour

2

tbsp

oat fiber

(or protein powder or 1/4 c. more almond flour)

1

tbsp

baking powder

1

metal cake plate or pan that you don't care about
Instructions
Place the mozzarella cheese and cream cheese in a microwave safe bowl and microwave for 1 minute. Stir and microwave for 30 seconds to 1 minute more. Scrape the cheese into a food processor with the egg and process until smooth.

Add the dry ingredients and process until a dough forms. It is very sticky! If it's too sticky to handle, let it cool for a few minutes.

Preheat oven to 400 F and place rack into the middle of the oven. Line a baking sheet with parchment. Place cheap-o metal pan at the bottom of the oven.

Divide into 5 equal pieces. Lightly oil hands and roll each portion into a ball. Drop onto the parchment paper and gently flatten slightly with your hand, while still retaining a domed shape. (You will have to experiment with how much to flatten because it's hard to explain accurately.)

Place 6 ice cubes in the metal pan at the bottom of the oven. Then place the rolls into the oven. This will help the rolls rise and spread.

Bake for 12 minutes or until the outside has browned. They will still be soft, so let them cool before removing from the baking sheet. Once cool, store in a bag in the refrigerator. Warm slightly to enjoy.

Keep burger buns in the refrigerator in an airtight container. They keep for 7-10 days and also freeze well. Makes 5 small burger buns.*
Notes
*These are NOT fluffy buns – they are firm, but great for holding burgers. They are probably only 4-inches in diameter and 1/2-inch thick in the center. See pictures!
1. If your rolls flatten out too much, add a little more almond flour (about 2 tablespoons). 
2. If your rolls don't flatten enough: Make sure your almond flour is fluffed up and free from lumps, don't pack the almond flour when measuring, the dough spreads but not a lot so press on the dough to flatten it out, if your rolls aren't spreading enough, use a little less almond flour. My rolls were about 4 inches round (10 cm). They are small, but perfect for home burgers.
3. If you dough is too hard (cold) or too dry, the rolls won't rise/spread as much. Place the dough in the microwave for 15-20 seconds – just until warm and then shape. 
Nutrition Facts
Low Carb Hamburger Buns
Amount Per Serving
Calories 294
Calories from Fat 225
% Daily Value*
Fat 25g38%
Carbohydrates 7g2%
Protein 14g28%
* Percent Daily Values are based on a 2000 calorie diet.
Nutrition
Calories:
294
kcal
|
Carbohydrates:
7
g
|
Protein:
14
g
|
Fat:
25
g
|
Fiber:
3
g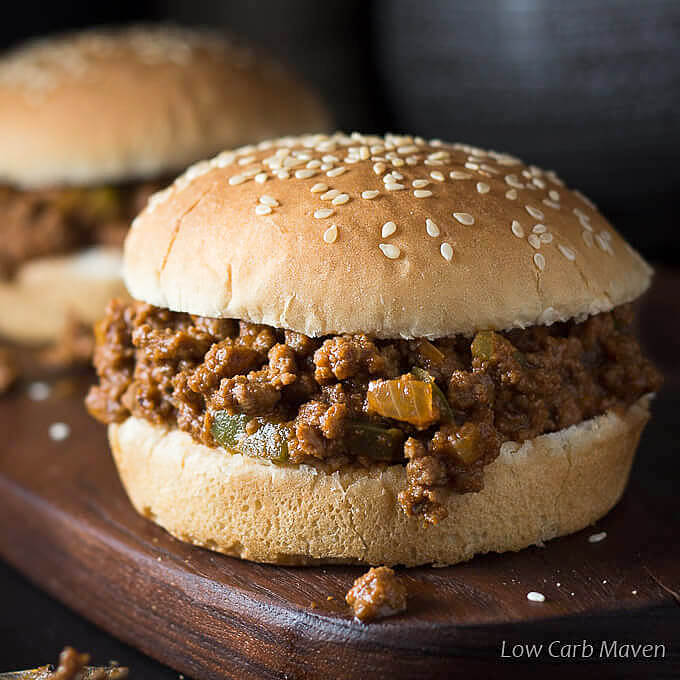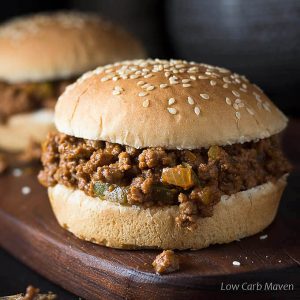 Homemade Sloppy Joes – Low Carb Recipe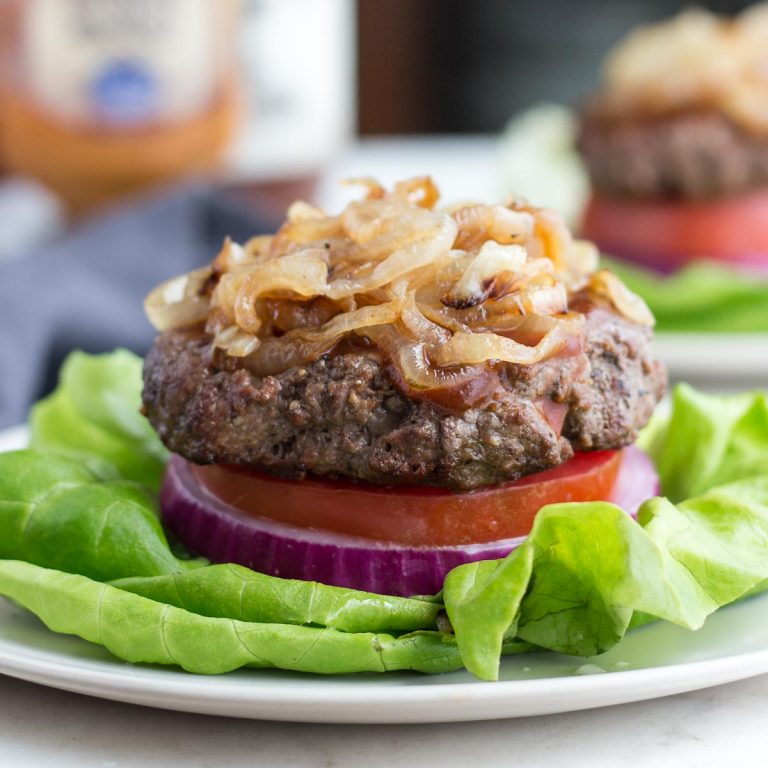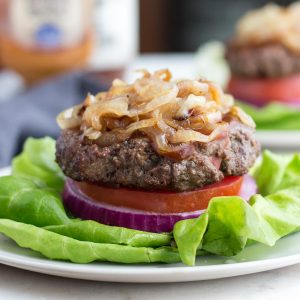 The Best Low Carb Burger Recipe