Yes, 57 Great Low Carb Super Bowl Appetizers for those of you on a sugar-free or ketogenic diet. You have everything here to make your Superbowl Party complete. No penalties here, just add your favorite beverages.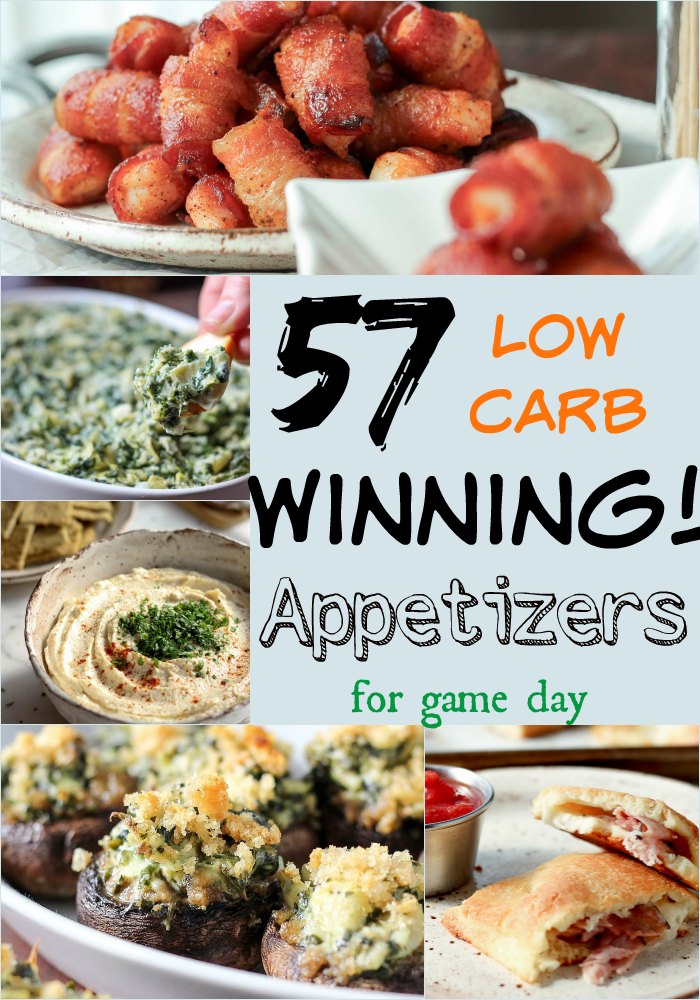 It's no secret that I love low carb appetizers. I've mentioned it many times on the blog. There is something inherently fun about finger foods and bite sized savory morsels. Those who just began a low carb way of eating may not know that many popular appetizer recipes are already low carb, and/or suitable for keto, too. And if not, it's often easy to make an appetizer recipe low carb with a few simple ingredient swaps or thinking outside the box.
This is a pretty comprehensive list, come on, 57 great low carb Super Bowl appetizer recipes is insane! I'm including low carb recipes from some of my favorite low carb and keto bloggers along with recipes from some popular food blogs thrown in.
Ready for some low carb football appetizers???
Here's the kick-off…
Get ready to dig in!
LOW CARB CHIPS AND CRACKER RECIPES!
Everyone enjoys a little crunch when they're watching a football game. These low carb chips and crackers are perfect for any game day gathering.
Crispy Almond Sesame Crackers – Low Carb Maven
Low Carb Egg Chips – Holyjeans & My Favorite Things
Low Carb Pepperoni Chips – The Low Carb Diet
Herbed Crackers – Low Carb Maven
Low Carb Crispy Jalapeno Cheese Crackers – Health Starts In The Kitchen
Chile Lime Crackers – Low Carb Maven
Rosemary Parmesan Chia Seed Crackers – All Day I Dream About Food
Homemade Baked Cheese Crisps – Joyful Abode
Paleo Baked Dipping Chips – Beauty And The Foodie
LOW CARB DIP & SPREAD RECIPES!
Low carb spreads are a must for healthy cut vegetable trays (crudite platters) and low carb chips and crackers. Served warm or cold, these low carb options are sure to please.
Feta Spinach Artichoke Dip – Low Carb Maven
Cheeseburger Dip – Creole Contessa
Philly Cheesesteak Dip – Noble Pig
Bacon Horseradish Dip – Low Carb Maven
Bacon Poblano Hot Crab Dip – The Primitive Palate
Low Carb Artichoke Hummus – Low Carb Maven
Baba Ganoush Recipe – My Natural Family
CREAMY LOW CARB SALAD DRESSING RECIPES!
Sometimes you just want a tasty creamy low carb dip to serve with your vegetable platters. These recipes are easy and full of flavor. Don't forget that a low carb salad is also an option for guests on game day!
Homemade Creamy Italian Dressing – The Two Bite Club
Creamy Herb and Cucumber Dressing – Celebrating Sweets
Paleo Chipotle Ranch Dressing – All Day I Dream About Food
Creamy Blue Cheese Dressing – Low Carb Yum
LOW CARB & KETO CHICKEN WING RECIPES!
Chicken wings are always a hit on game day. These are some of the best low carb chicken wing recipes on the internet. Serve a big plate of chicken wings at your gathering and watch them disappear!
Tikka Chicken Wings – Low Carb Maven
Spicy Dry Rub Hot Wings – Low Carb Yum Baked
Oven Fried Salt and Vinegar Chicken Wings – Sugar Free Mom
General Tso's Chicken Wings – I Breathe I'm Hungry
Garlic Herb Parmesan Chicken Wings (crack wings) – Low Carb Maven
Best Keto BBQ Wings – Fluffy Chix Cook
Lemon, Garlic & Rosemary Chicken Wings – Low Carb Maven
Easy Baked Wing Dings – Healthy World Cuisine
Buttery Chile Lime Chicken Wings – Low Carb Yum
Lemon Pepper Chicken Wings – Paleo Foodie Kitchen
Tandoori Crispy Baked Chicken Wings – Food Faith Fitness
LOW CARB & KETO APPETIZERS!
Cheese trays, stuffed peppers, stuffed mushrooms, roll-ups, pizza pockets and antipasto platters are great low carb options. Each and every one of these recipes is a winner!
Marinated Cheese Tray – A Fork's Tale
Cheese Cauliflower Bread Sticks – Jo Cooks
Mini Taco Stuffed Peppers – The Girl Who Ate Everything
Lemon Garlic Shrimp – Rasa Malaysia
Salami Cream Cheese Rollups – Sugar Apron
Low Carb Ham and Cheese Pockets – Low Carb Maven
Sausage Ricotta Kale Pizza – Low Carb Maven
Low Carb Peperoni Pizza – Ruled Me
Antipasto Platter – Journal Sentinal Online
BBQ Bacon Wrapped Smokies – Ruled Me
LOW CARB FINGER FOOD RECIPES!
Bite-sized appetizers are always a hit. Who doesn't like eating cute little portions with toothpicks? These low carb tiny snacking options will make you a winner in everyone's eyes with these game day appetizers.
Chipotle Chicken Bacon Bites – Low Carb Maven
Two-bite Spinach Artichoke Stuffed Mushrooms – Low Carb Maven
Bacon Wrapped Stuffed Mushrooms – Kitch Me
Sausage Stuffed Mushrooms – Love Grows Wild
Crab Stuffed Mushrooms – Peas and Crayons
Bacon Wrapped Buffalo Chicken Bites – Low Carb Maven
Peperoni Stuffed Mushrooms – Jo Cooks
Swedish Meatballs – Low Carb Maven
Baked Greek Meatballs – Kalyn's Kitchen
General Tso's Meatballs – I Breath I'm Hungry
Stuffed Meatballs – Ditch The Carbs
Spinach Cilantro Meatballs – Savory Lotus
Cream Cheese and Olive Pecan Bites – Lady Behind the Curtain
LOW CARB SWEET TREATS!
Sugar Free Gluten Free Brownies – Drop The Sugar
Six Ingredient Peanut Butter Cookies – Low Carb Maven
Browned Butter Chocolate Chip Blondies – All Day I Dream About Food
Low Carb Chocolate Lassagna – Low Carb Maven
Texas Sheet Cake – All Day I Dream About Food