low carb corn dogs aren't just for Fairs and Carnivals. You can make your own Low Carb Corn Dogs at home. This recipe is gluten-free, dairy-free and so easy to make you won't believe it!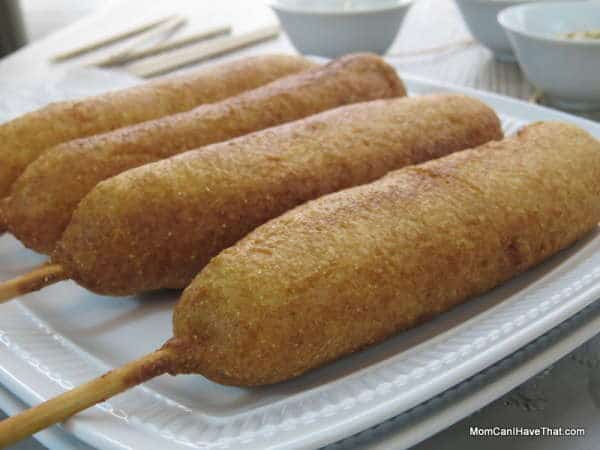 Low carb corn dogs…
When I was sixteen, I worked at a Swiss Pretzel Shop, in a mall in Montgomery, Alabama. It was a good first job. It didn't require much in the thinking department and it taught me the important skill of multi-tasking, especially when we had a rush and I was working alone. I also received my first important lesson in being kind; one that will stay with me forever. At the Swiss Pretzel Shop we sold soft drinks, soft pretzels with or with out-cheese, fried cheese on a stick and of course corn dogs.
I remember the first time I was brought into the back of the shop to make the corn dog batter. There was a big stainless steel bowl almost as big around as my arms can make a circle and just as tall, and sitting inside was a spatula as long as my arm. With a very large scoop, I added dry corn dog batter to the big metal bowl. Then, I filled a large white plastic bucket with water; adding it to the dry corn dog batter mix all at once. I mixed the corn dog batter with that big old spatula, beating and churning with a rhythmic slapping, using both arms and the strength of my whole body, until the batter was of the right consistency – no lumps. I also learned how to "stick the dogs" (push a wooden skewer into the hot dogs) and how to "dip" or batter the corn dogs.  I watched my co-worker show me how it was done and then it was my go. Let's just say that there is an art to "dipping a dog" and my first attempts lead to overly thick and often lopsided corn dogs. It was my special job to make the corn dogs until I was proficient. It took a couple of days of practice to get it right and to turn out consistent looking corn dogs.
I don't think I have had a corn dog since I was in high school and I have no idea why I decided to make them for my family. But, I can tell you that these corn dogs are good. They have been approved by both my kids and my mother. My husband doesn't count because he would eat anything fried and on a stick. In fact, those were his exact words to me about 15 years ago when we went to the Del Mar Fair.  Anyway, the batter for these Low Carb Corn Dogs came together quickly and they cooked quickly, too. It was nice to have something that reminded me of high school and something fun for my kids to eat. This recipe is low carb, gluten-free and dairy-free but not grain-free. You could easily make them grain-free by adding more almond flour instead of the corn meal. I think they are best eaten right after being made, but I did re-fry a few the next day and my husband said they were good.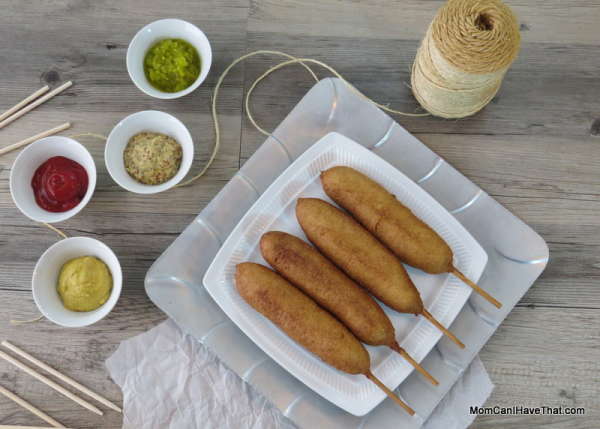 Pups: You will have some batter left over and that is what I used to make the pups. I sprinkled them with powdered erythritol and drizzled them with Chocolate Hazelnut Spread and served them to the kids for dessert. They kids thought they were getting a special treat! They were also good on their own.
*Note: I have also put the left over batter in a baggie, snipped off the end and squeezed it into the oil for "funnel cakes". It is not really a funnel cake but my kids didn't know the difference!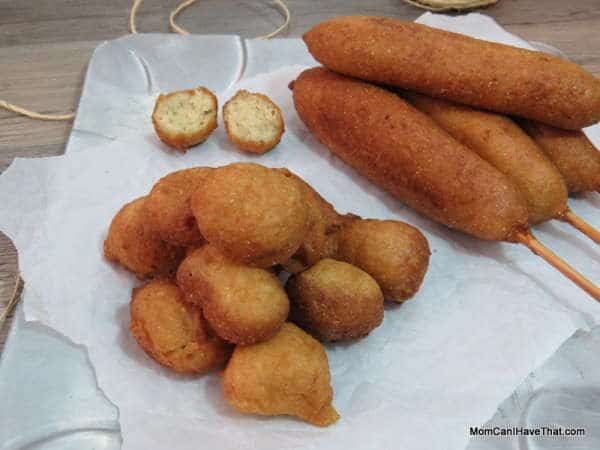 Each Low Carb Corn Dog is 4 net carbs
[Disclosure: This recipe contains affiliate links to products that I actually have, use, and enjoy, or very similar items. If you purchase an item through one of these links, I will earn a small commission at no additional expense to you. This helps me continue to run the site and provide free recipes.]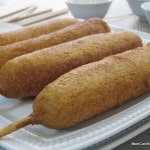 Low Carb Corn Dogs and Pups
low carb corn dogs aren't just for Fairs and Carnivals. You can make your own Low Carb Corn Dogs at home. This recipe is gluten-free, dairy-free and so easy to make you won't believe it!
Ingredients
1

cup

Honeyville Almond Flour

3

tablespoons

Bob's Red Mill Coconut Flour

sifted after measuring

3

Tablespoons

cornmeal

1/4

teaspoon

salt

1

tablespoon

erythritol

1/4

teaspoon

baking powder

1/4

teaspoon

xanthan gum

3

large

eggs

2

tablespoons

oil

1/3

cup

coconut milk

1

tablespoon

coconut flour for flouring the hot dogs
Instructions
Insert the corn dog dowels, sticks or chopsticks into on end of the hot dog. Set aside on a plate.

Pull out a large frying pan and make sure that the corn dog will fit completely inside of it. If not, push the sticks further into the hot dogs. Pour oil into the frying pan about 1 inch deep. Heat the oil.

Place the dry ingredients for the corn dog batter into a small mixing bowl and whisk together, breaking up any lumps. Add the wet ingredients into the same bowl and mix thoroughly with a hand mixer. Set aside.

Dry the hot dogs with a paper towel. Sift the 1 tablespoon of coconut flour over the hot dogs and try to coat each one as completely as you can. This will help the corn dog batter stick, making a better corn dog.

Check the oil by dipping a wooden spoon or chop stik into the oil and watching for bubbles. You want fairly fast bubbles and not sluggish bubbles. If the oil is not hot enough, you may end up with greasy corn dogs or corn dogs that are cooked on the outside but contain raw corn dog batter on the inside. Put a plate near the stove and put several paper towels on top. The corn dogs will need to drain.

Transfer the corn dog batter to a cup tall enough to accommodate the entire length of the hot dog, but fill it with in an inch of the top. Stick the hot dog into the cup and roll it around making sure it is completely coated. You may need to tip the glass to do so. When the hot dog is completely coated in the corn dog batter, pull it out of the cup and pull it up and down once or twice, sharply to make sure the corn dog does not have excess batter before going into the oil.

Put the whole corn dog into the oil in the frying pan. Count to five and turn the corn dog over with a pair of tongs by grabbing the stick. Let the corn dog get golden brown and the turn it back over and let it get golden brown on the other side. Two corn dogs can be cooked at a time. Put the second corn dog in after you count to 5 and turn the first one over. Take the corn dogs out of the oil and put onto the plate to drain. Continue the process with the other hot dogs, adding more batter to the cup when you need to.

You will have batter left over. I hate to waste things, so I drop small amounts of the corn dog batter into the oil to cook until a nice golden brown. My children enjoy eating these just as much as the corn dogs. I call them "pups".
Recipe Notes
The nutritional counts assume that 8 people are going to share ALL of the corn dog batter, evenly. I would estimate that only 2/3 of the corn dog batter is used on 8 hot dogs. That would bring the net carbs for the corn dog batter down. I would estimate it at 2-3 net carbs per corn dog if the remaining batter is not eaten.
Nutrition Facts
Low Carb Corn Dogs and Pups
Amount Per Serving
Calories 149
* Percent Daily Values are based on a 2000 calorie diet.