This recipe delivers classic carrot cake flavor and texture with a sensational whipped, ginger-cream-cheese frosting. Low carb, gluten-free, grain-free and dairy-free (cake).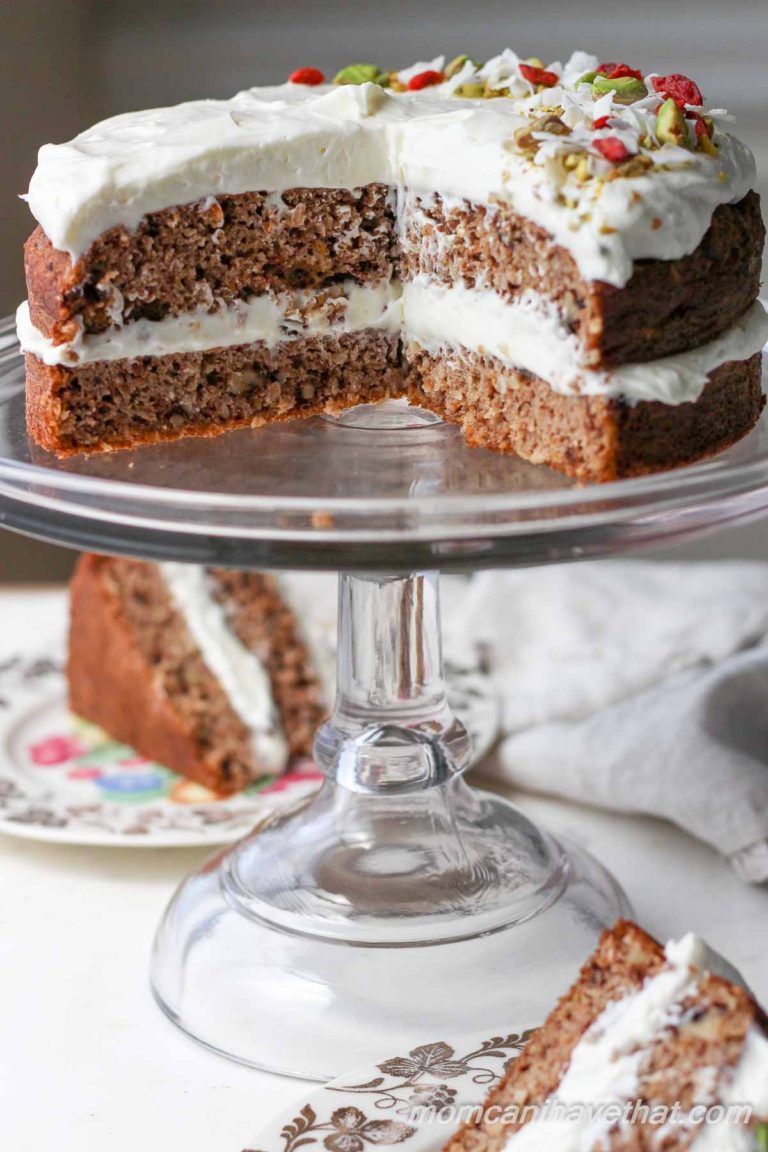 There have been a lot of carrots in my CSA boxes the last several weeks. More carrots than this household typically eats. I'm talking beautiful heirloom carrots, the kind that taste….. well, "carroty". I have been using them in our weekly soups and in our salads as well as sending them to school as snacks for the kids. But with the two most recent CSA deliveries, I found myself with a glut of these sweet and earthy root vegetables. What does one do with a glut of carrots? One makes healthy carrot cake of course!….. and low carb carrot cake muffins…… and low carb carrot cake cupcakes, LOL!
I've always been a carrot cake fan and I like mine best with raisins and walnuts and lots of spice. Oh, and let's not forget the cream cheese frosting. But I don't like just any cream cheese frosting. I like mine whipped into a fluffy confection that is soft and creamy and totally dreamy – but not too sweet.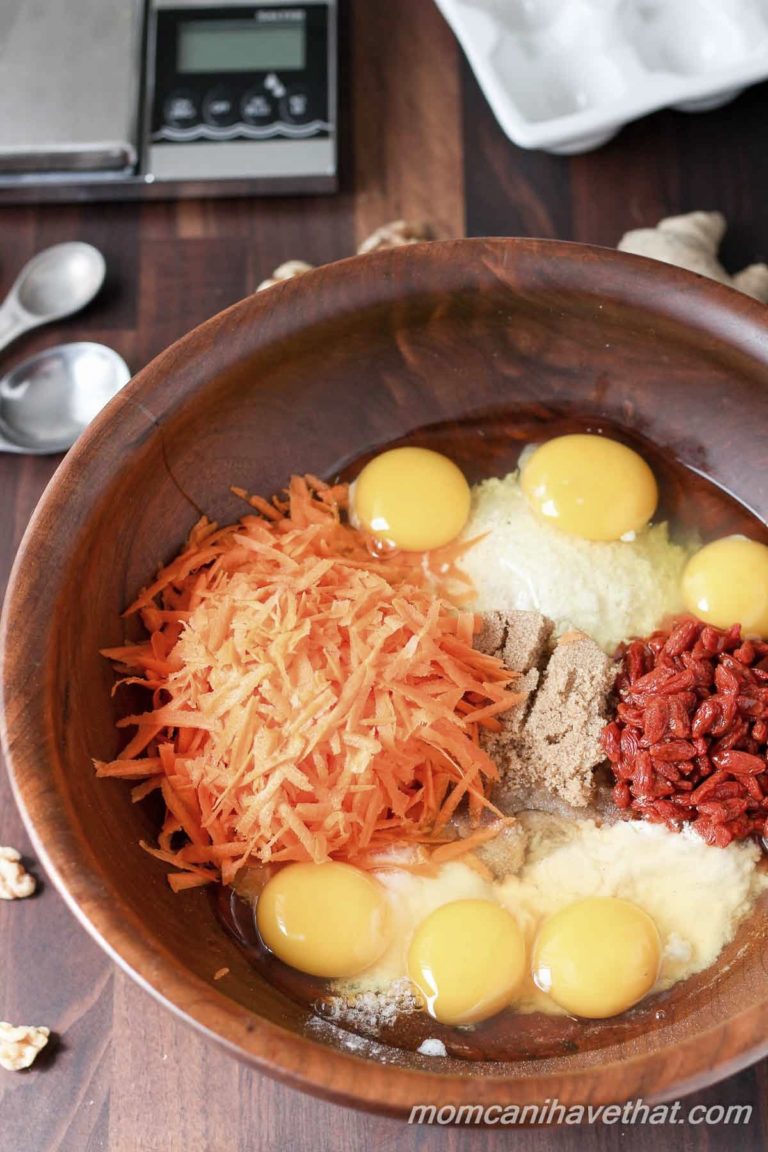 BAKING IS SO COOL. It's completely satisfying to take dissimilar ingredients and mix them with humble eggs, leavening agents, and exotic spices to create something completely different in form, texture, and flavor. That's what I love about it — the transformation. I like the juxtaposition of the before and after just like in the photos above. Earthy, unrelated and unrefined ingredients becoming a heavenly creation – like this delicious classic carrot cake.
But this isn't just a classic carrot cake, it is a healthy low carb carrot cake. And to keep it low carb, I deliberately chose each ingredient in order to deliver the most enjoyable flavor and texture possible. The shredded coconut shaved 1 carb off of each serving, and the coconut flour let me use more eggs and coconut milk – which in turn gave me a 2 inch cake, large enough to split in half and frost.
The psyllium powder lent it's binding power and added a little structure to this cake, helping to keep it gluten-free and dairy-free (as whey protein powder contains dairy and oat fiber is not certified gluten-free, psyllium was the best choice for my family). You may think I'm daft trying to keep the cake dairy-free when the ginger cream-cheese frosting is not, but I wanted our dairy-free and paleo friends to be able to enjoy the cake, too. They can make this great diary-free frosting from Real Food RN for theirs.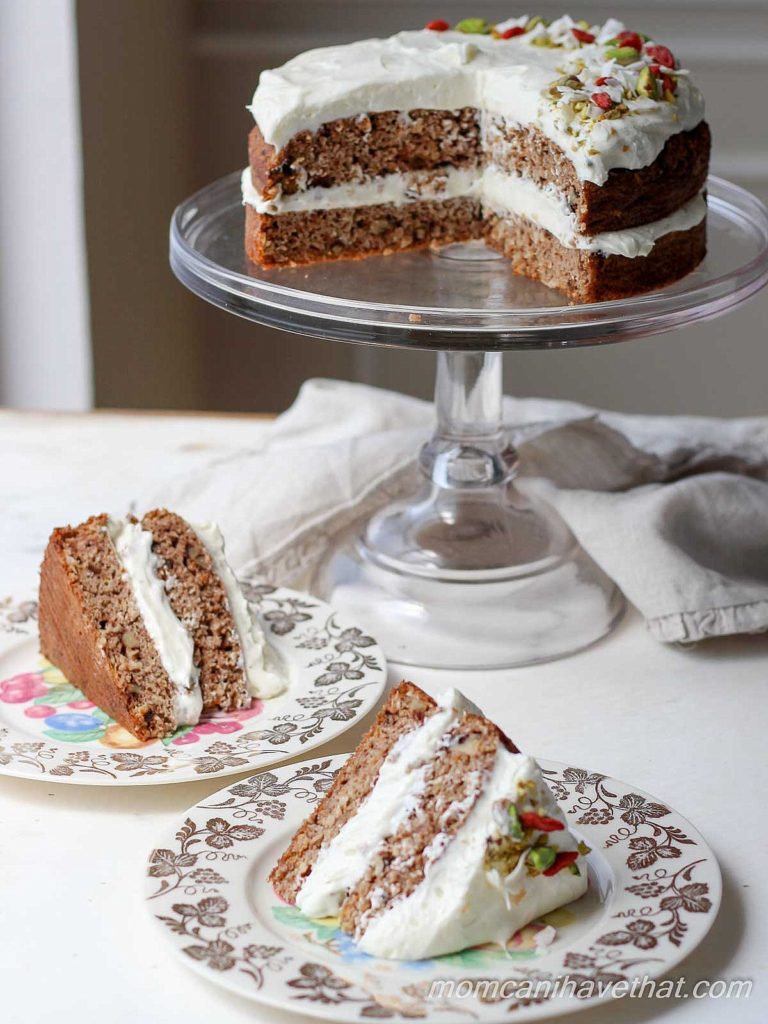 I tested several versions of this low carb carrot cake recipe. Missing the raisins I so adore in a good carrot cake, I subbed rum soaked goji berries, which you can see in the wooden bowl above, opposite the grated carrots. I loved the goji berries in the carrot cake and they added a little extra moistness, color, and flavor. But at the end of the day, I decided that they were not absolutely necessary and left them out of the final recipe. If you're interested in how I incorporated them, ask in the comments.
I also decided to experiment with the new Sukrin ingredients I was so graciously gifted by Sukrin USA. I was very happy with the results. BUT DON'T WORRY, I AM INCLUDING SUBS so anyone with a well stocked low carb pantry can also enjoy this wonderful classic carrot cake. If you are unfamiliar with Sukrin, it is a new line of non-GMO, sugar-free, gluten-free and low carb products from Scandinavia. You can read about them and see the product line in my Sukrin post.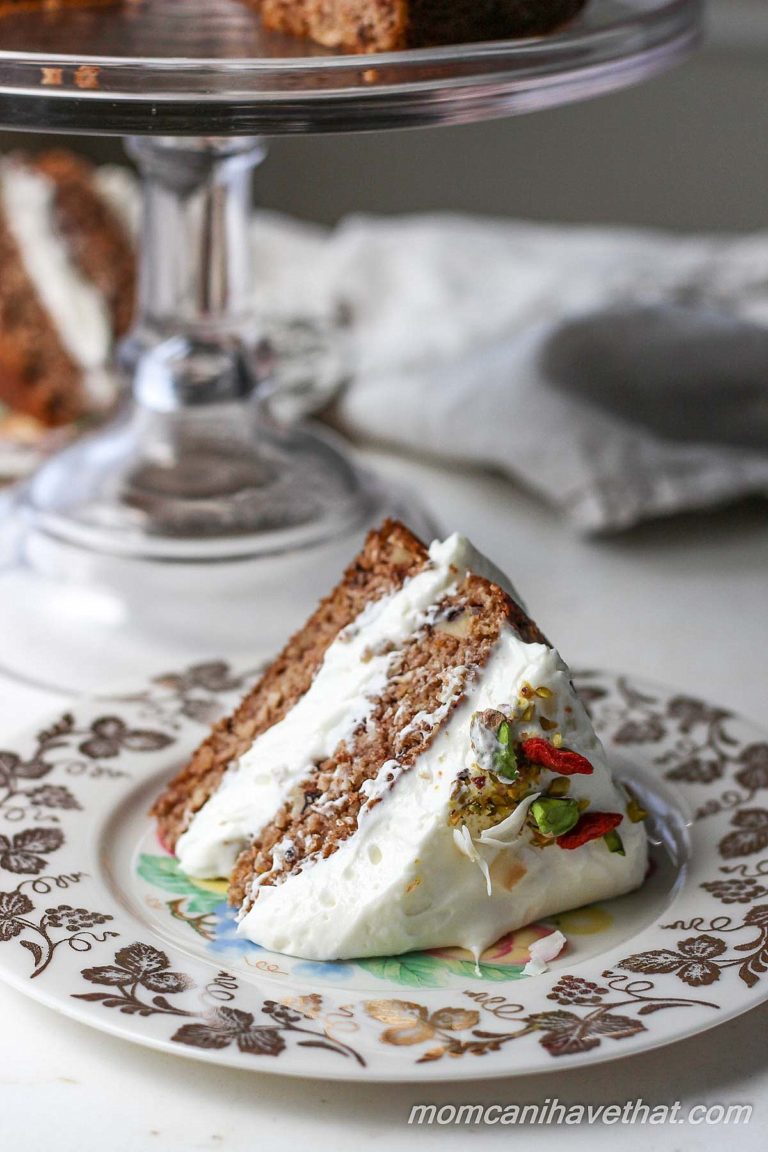 Here is how I used them:
Sukrin Gold: Using Sukrin Gold in the carrot cake, lent a great brown-sugar depth of flavor to the cake. Sukrin Gold is an all natural brown sugar replacement made from erythritol, tagatose, stevia and gluten-free malt extract. It has the aroma, texture, appearance and sweetness of brown sugar. Replace 1:1 in recipes.
Sukrin Fiber Syrup Clear: I used Sukrin Fiber Syrup Clear in the fluffy cream cheese frosting. Sukrin Fiber Syrup Clear is a clear viscous liquid resembling corn syrup. It is sugar-free, 60 % as sweet as sugar and made from prebiotic fibers. It behaves very similarly to corn syrup and added a silkiness to the frosting that is hard to achieve with erythritol alone.
Sukrin Melis: I love this product. Sukrin Melis, a blend of erythritol and stevia, is a 1:1 powdered sugar substitute. This product dissolved beautifully into the cream cheese frosting producing neither the metallic/sharp aftertaste some detect when using erythritol, nor the cooling effect that bothers others.
Overall, I was very pleased with the Sukrin products in this recipe. Again, I WILL OFFER SUGAR FREE INGREDIENT SUBS for those who do not have or are not interested in using the Sukrin products.
Featured on Buzzfeed: 12 Ridiculously Delicious Carrot Cakes To Eat This Spring
[Disclosure: This recipe contains affiliate links.]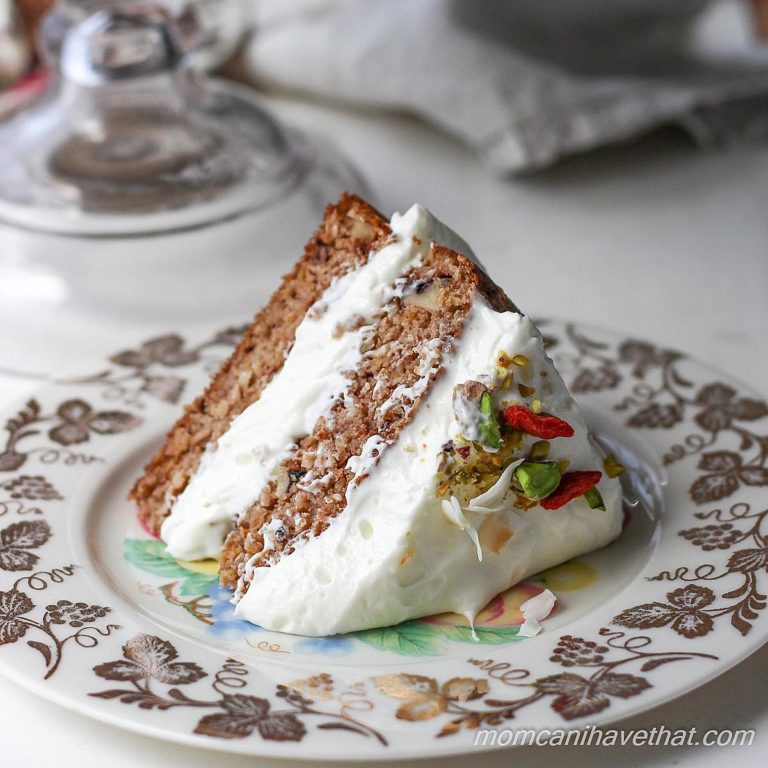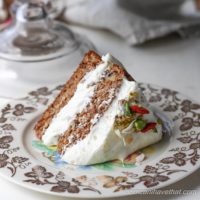 Healthy Low Carb Carrot Cake Recipe With Ginger Cream Cheese Frosting
This recipe delivers classic carrot cake flavor and a nice moist texture and a whipped, ginger-cream-cheese frosting that will knock your socks off. Low carb, gluten-free, grain-free with a dairy-free frosting option.
Print
Pin
Rate
Ingredients
Instructions
Prep:

Prepare an 8 inch round cake pan with 2 inch sides: On a piece of parchment (with enough extra room to also line the inner sides of the pan), trace the bottom of the pan and cut out the circle. Cut the remaining parchment into 2 long rectangles at least 2 – 2 1/2 inches wide. Spray the pan with baking spray or grease with butter, coconut oil or olive oil. Lay the parchment round in the bottom of the pan and position the long parchment rectangles on the inner side of the pan. I find that I need to use just a little more baking spray or oil to get the over-lap to adhere.

Preheat oven to 350 degrees (177 C, gas mark 4, moderate oven) and position the rack to the lower third. Grate the carrots and chop the nuts.

Measure & Mix:

Measure all of the dry ingredients into a large bowl and stir to combine completely. I like to use a large whisk because it breaks up lumps and fluffs up the ingredients.

Give the can of coconut milk a good shake before opening. In a smaller bowl, combine all of the wet ingredients and blend them before adding to the dry ingredients.

Add the wet ingredients to the dry ingredients, all at once, and mix the ingredients together completely. Add the grated carrots and nuts, mixing them in too. Pour into the cake pan and spread evenly with the spatula. Let the mixture sit in the pan for about 5 minutes.

Bake:

Put the pan into the oven and turn the oven up to 400 degrees (204 C, gas mark 6, moderately hot) and bake for 10 minutes. Then turn the oven back down to 350 (177 C, 4, mod.) and bake for 40-50 minutes more or until a toothpick inserted in the middle comes out clean. Remove the cake from the oven and drape two clean tea towels over the top of the pan. Let cool completely.

Make the Ginger Cream Frosting:

Grate 1 teaspoon of fresh ginger. With a hand mixer or a stand mixer, whip the softened cream cheese until it is smooth and creamy. Add the softened butter and Sukrin Clear Fiber Syrup and whip until they are completely incorporated. Measure the Sukrin Melis and sift it into the bowl. Starting slowly, mix the powdered sweetener into the cream cheese mixture. Add the fresh grated ginger. Turn up the speed on the mixer and whip until the cream cheese frosting has doubled from the original amount. It should be light and fluffy. It will become more stiff in the refrigerator as it and the cake get cold.

Frost:

Split the low carb carrot cake horizontally in half. Spread half of the frosting on the bottom layer. Add the other layer of cake and top with the remaining ginger cream cheese frosting. Refrigerate and serve.
Notes
Nutrition Facts
Healthy Low Carb Carrot Cake Recipe With Ginger Cream Cheese Frosting
Amount Per Serving
Calories 311
Calories from Fat 198
% Daily Value*
Fat 22g34%
Carbohydrates 10g3%
Protein 9g18%
* Percent Daily Values are based on a 2000 calorie diet.
Nutrition
Calories:
311
kcal
|
Carbohydrates:
10
g
|
Protein:
9
g
|
Fat:
22
g
|
Fiber:
5
g