Low Carb Chocolate Lasagna is a great sugar-free and gluten-free layer dessert – perfect to bring to special gatherings.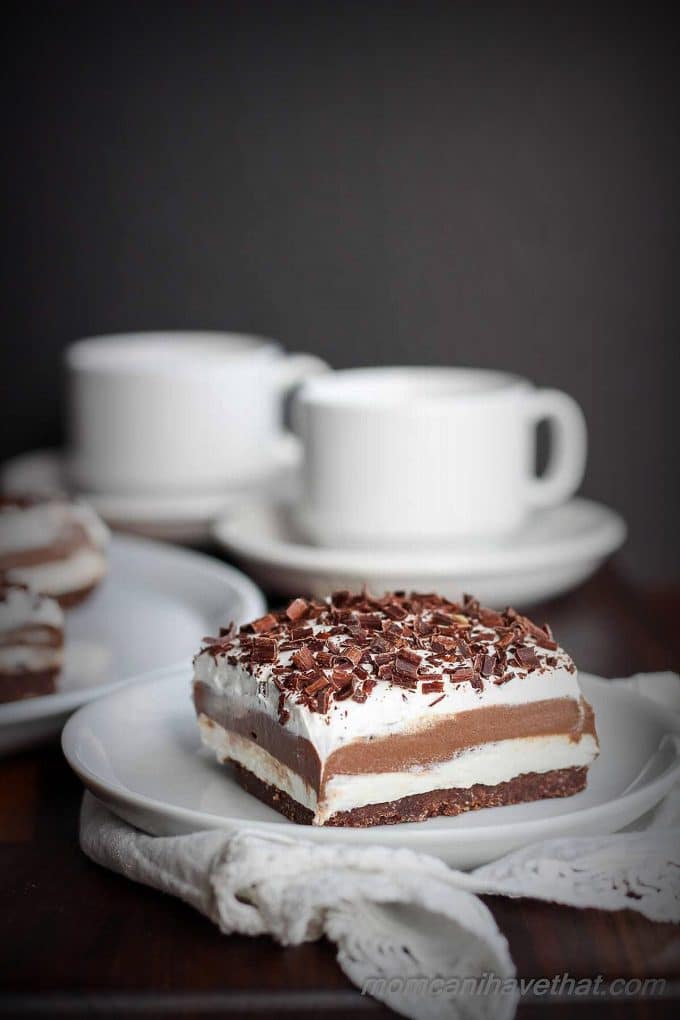 I've been looking at pictures of chocolate lasagna and all it's variations on Pinterest for months now. Some of the pictures are absolutely drool worthy. And although I think it would be pretty hard, although not impossible, to make a dairy-free version, I knew that a low carb, gluten-free version could be easily made.
The original dessert is the epitome of easy; pre-made and instant ingredients create a creamy, chocolaty dessert that doesn't require the use of an oven or even cause one to break a sweat. It's so easy, that anyone can make it.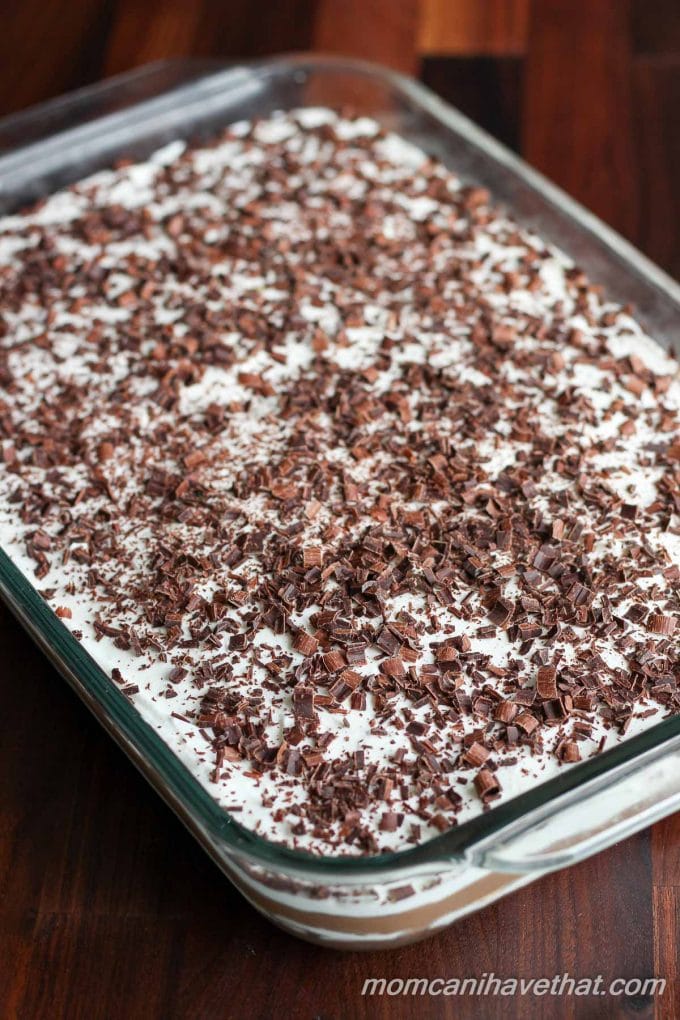 But what's really in it? 1 package of Oreo cookies, cream cheese, sugar, and Cool Whip. Just for the cookie layer it's 24 carbs per serving. (That's 36 cookies at 10.5 carbs each, divided by 16) But, I'm not going to break down the carbs in each layer of this tasty dessert. I just want to think about all of the weird stuff in the cookies, instant pudding and non-dairy whipped topping. Yuck! I shudder.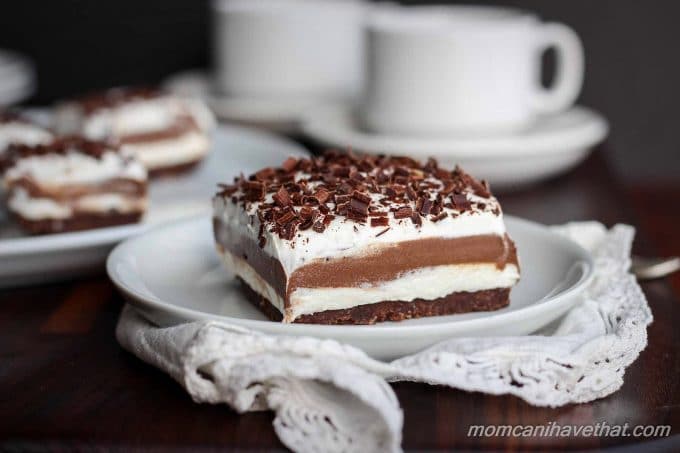 This homemade, low carb, scratch, version is very similar to the original version of Chocolate Lasagna except that the crust is made from wholesome ingredients, the pudding is made just like grandma used to make, and the whipped topping is real whipped cream.
Here's what's in this Low Carb Chocolate Lasagna
homemade chocolate cookie crust (nuts, cocoa powder, coconut, natural sugar alternative, butter or coconut oil)
8 ounces cream cheese and natural sugar alternative
homemade chocolate pudding using natural ingredients plus natural sugar alternative
real whipped cream
grated 90 % dark chocolate
It's almost the same as in the original recipe, and this low carb and gluten-free version delivers 4 net carbs per serving. And it's much healthier than the original.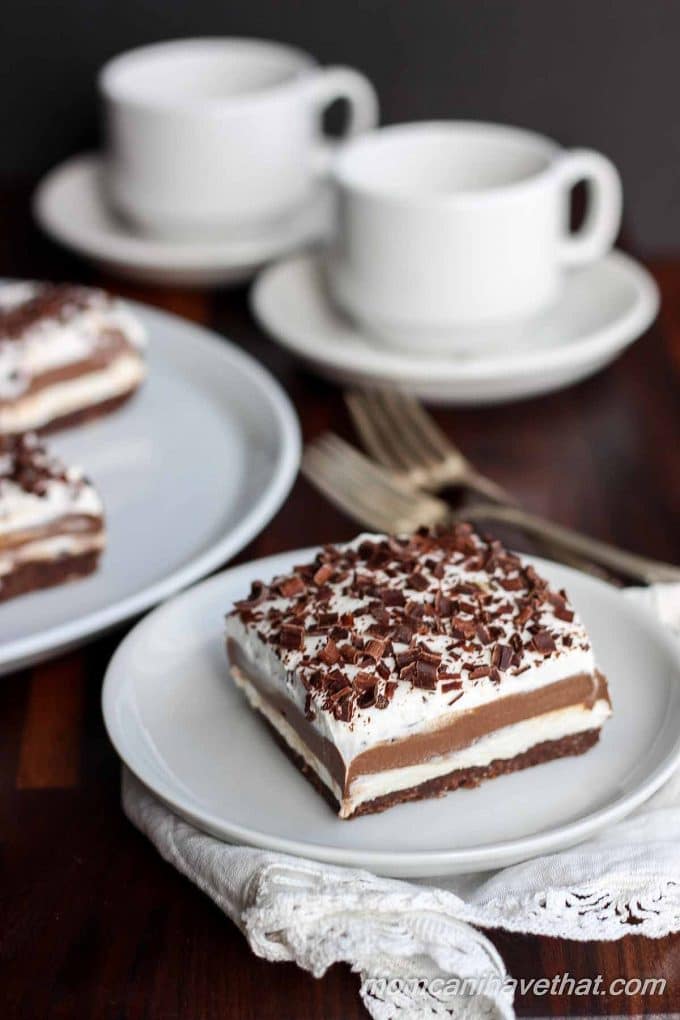 Although this recipe has a few steps, none are very difficult to do. Breaking the steps into a couple days is the way to go and once you have the procedure down it's easy to make this dessert your own. Here are some ideas.
VARIATIONS:
add peanut butter to the cream cheese layer or to the chocolate pudding layer
add mint extract to the cookie crust and the pudding for chocolate mint
replace the cocoa powder in the crust with vanilla whey protein powder
make vanilla pastry cream instead of chocolate
add banana or almond flavoring to the vanilla pastry cream
sub lemon curd for the pastry cream
swirl chia seed jam or blueberry sauce into the cream cheese layer
mix and match any of the above combinations and make it your own!
This recipe makes a whole 13×9 inch pyrex dish of rich, layered goodness. If the recipe is too big, it can be split up between two pans and one frozen. It freezes very nicely.
Low Carb Chocolate Lasagna is 4 net carbs per serving
***NOTE: Baking the bottom layer produces a shortbread-cookie-like texture: not baking, produces a sandier and softer textured bottom layer***
[Disclosure: This recipe contains affiliate links.]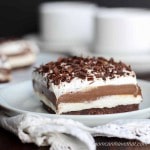 Gluten-Free Low Carb Chocolate Lasagna (no-bake)
Low Carb Chocolate Lasagna is a great sugar-free and gluten-free 5 layer dessert to bring to special gatherings. You'd never guess that this super-rich and creamy dessert can be made in 5 easy steps.
Instructions
Make the Chocolate Cookie Crust: Grind the unsweetened coconut, 1/2 cup at a time, in a coffee/spice grinder and grind until fine. Put the ground coconut into a medium bowl. Powder the erythritol and add it and the rest of the dry ingredients to the bowl with the coconut. Whisk together to combine. Melt the butter or coconut oil and pour over the ingredients. Combine to form a moist crumbly mixture.

Dump the ingredients into a 13x9 inch glass pyrex baking dish and lay a sheet of waxed paper over the mixture. First with your hands, then with a flat bottomed glass, press the chocolate crust mixture firmly into the dish. Remove the waxed paper and continue with the recipe or *bake in a preheated (350) oven for about 10 minutes and then let cool completely. *This can be made the day before.

ASSEMBLING THE LOW CARB CHOCOLATE LASAGNA:

Make the Whipped Cream: Whip the cream with the vanilla and sweeteners until stiff.

Cream Cheese Layer: Soften the cream cheese in the microwave and then using a hand mixer, whip it with the sweeteners and almond milk until nice and light. Adding 1/2 cup of whipped cream at a time, fold 1 1/2 cups of whipped cream into the cream cheese. Spread evenly over the base and refrigerate.

Chocolate Pudding Layer: With a hand mixer, whip the cold pudding. Add the 1/2 cup of almond milk and mix thoroughly. Spread over the cream cheese layer.

Whipped Cream Topping: Carefully, spread the remaining whipped cream over the chocolate pudding layer and refrigerate several hours.

To finish the dessert, grate chocolate or sift cocoa powder over the top.
Recipe Notes
This is a VERY large dessert and easily serves 16-24 people.


***NOTE: Baking the bottom layer produces a shortbread-cookie-like texture: not baking, produces a sandier and softer textured bottom layer***
Nutrition Facts
Gluten-Free Low Carb Chocolate Lasagna (no-bake)
Amount Per Serving
Calories 387
Calories from Fat 351
% Daily Value*
Total Fat 39g 60%
Total Carbohydrates 7g 2%
Protein 7g 14%
* Percent Daily Values are based on a 2000 calorie diet.
Signup for my Newsletter
Subscribe to get our recipies by email.