A low carb bundt cake (pound cake) made with almond flour, coconut flour, and cream cheese that's topped with a luscious sugar-free lemon glaze and almonds.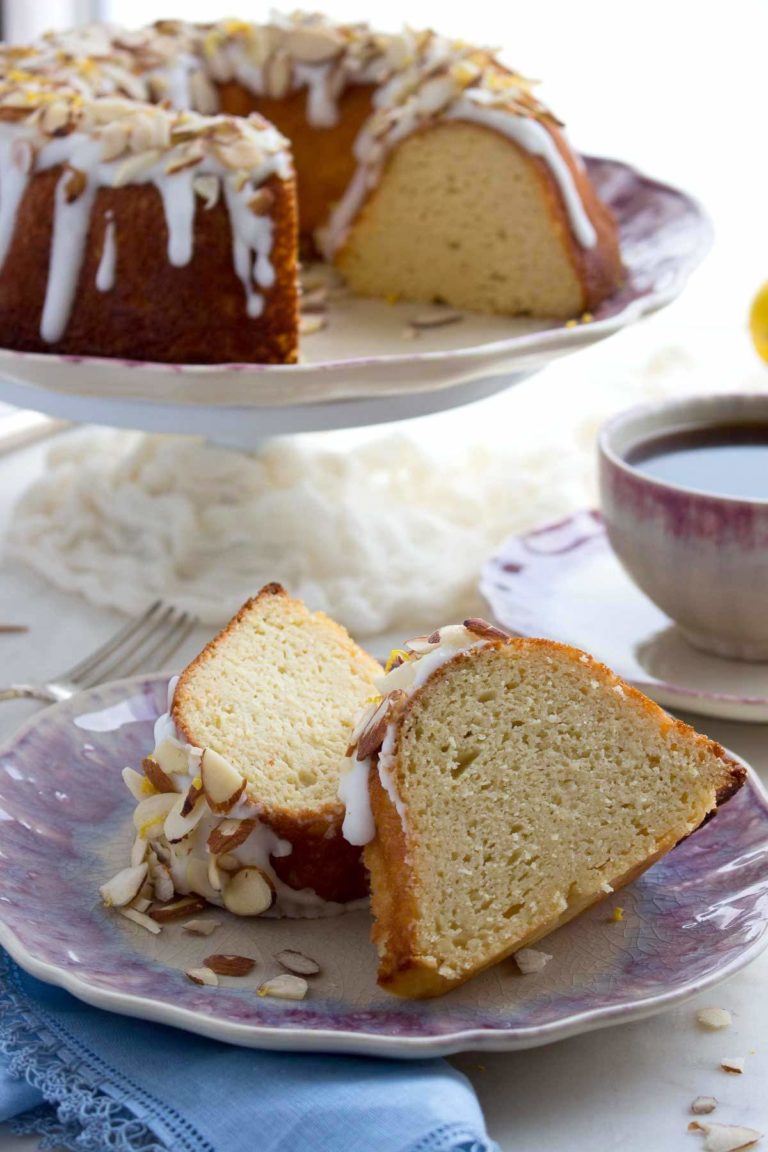 Bundt Cakes have enjoyed a surge in popularity the last several years. And why not? They are easy to make and their wreath- like shape is very pleasing. A pretty little slice of bundt cake is just as happy to be served at tea as it is fancied-up for dessert. And bundt cakes often get ooh's and ahh's when they're proudly displayed at table.
I confess to have never made a bundt cake before although I have had a pan for at least 15 years. My mother made them from time to time while I was growing up, but I don't ever remember being excited by them. I much preferred chocolate cake or cookies. (I'm a cookie monster like my father.) But, after seeing several bundt cakes in my Pinterest feed the other day, I thought I would try my hand at making my own low carb version.
I've been trying to use more coconut flour lately. I love almond flour and have used it primarily for the last two years, but the price keeps going up. And with our devastating California droughts, I've been thinking about all of those almonds that we low carbers and our keto and paleo friends have been relying on the past several years. I wonder how the demand it is affecting the crops…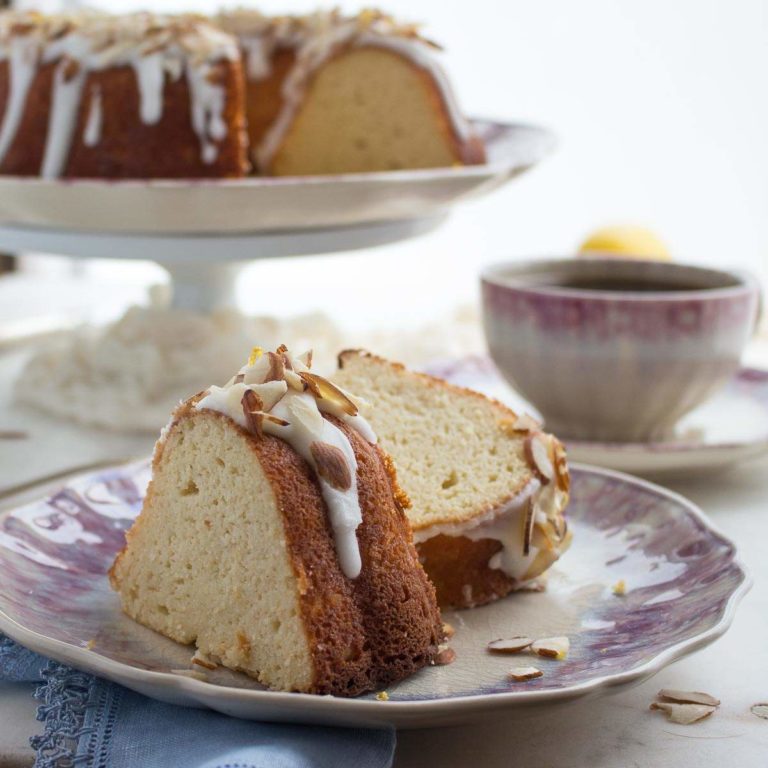 When I started reducing my carb intake over 7 years ago, coconut flour was the first low carb flour alternative I tried. I purchased Bruce Fife's book, Cooking With Coconut Flour and I followed many of his recipes. I have to admit, though, it was a bit of a taste adjustment at first. But what I found in coconut flour, was great tasting baked goods that didn't need much muss or fuss. And I felt the number of eggs required in the recipes resulted in healthier snacks to feed to my young daughter – at least heathier than traditional baked goods. They were full of healthy fats, choline, and protein, and also low in carbs.
I found that the tricky thing about developing this recipe was making a big enough cake. Gluten-free baked goods are famous for shrinking upon cooling. My first try was absolutely delicious but a bit puny in size. So, I tinkered with the recipe to increase yield. I'm happy with the results and I think it made a pretty, sugar-free, ultra moist cake!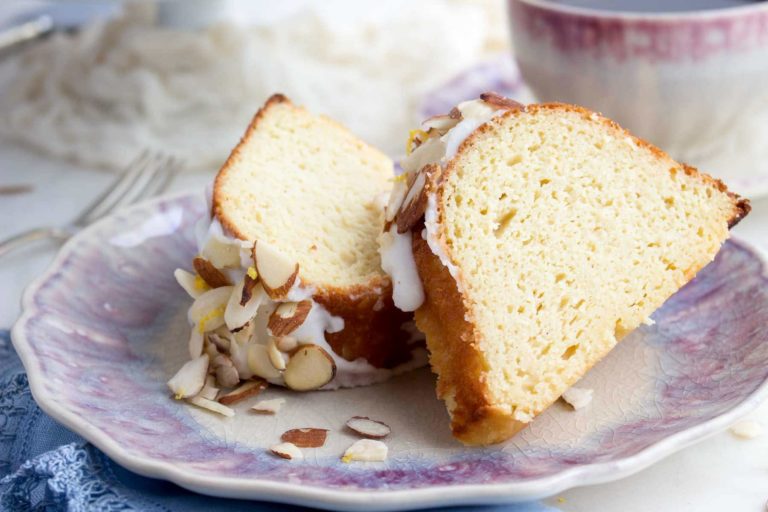 I added a lemon glaze over the top to dress it up and to add a pop of lemon flavor. Slivered almonds added visual texture. Both are optional but I will include them in the recipe.
[RECIPE NOTES] This recipe is a little long on ingredients — don't be intimidated. I tried to offer a nice sized cake with a nice, moist texture.
This yummy low carb bundt cake is 4 net carbs per serving.
[This post/ recipe contains affiliate links.]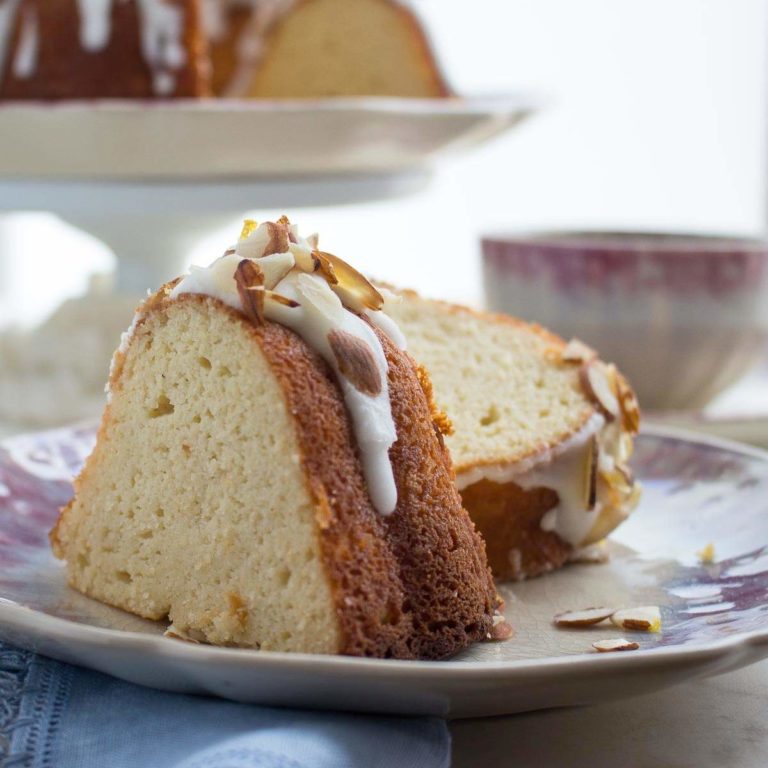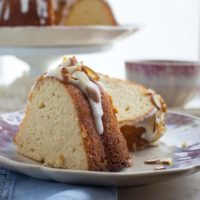 Low Carb Bundt Cake with Lemon Glaze
Almond, coconut flour, and cream cheese combine to create an ultra moist, low carb bundt cake that is sure to wow you and your guests. It's perfect for any ketogenic diet.
Print
Pin
Rate
Ingredients
Wet Ingredients
1

stick

butter

(4 oz /113 g) melted

1

package

cream cheese

(8 oz/ 227 g)

6

large

eggs

cold

3/4

cup

buttermilk

(177 ml) (or almond milk or light coconut milk from can)

2

tablespoons

lemon juice and zest from the lemons

1

tablespoon

vanilla extract

(15 ml)

1

teaspoon

lemon extract

or 1/2 t lemon & 1/2 t orange extract

1

teaspoon

stevia glycerite
Instructions
Note: I used cold buttermilk and cold eggs.
Preparation: Preheat oven to 350 and position rack to the lower third of the oven. Grease a bundt pan with 2 tablespoons of very soft butter. Melt the 4 oz of butter and soften the cream cheese. Gather the ingredients.

Dry Ingredients: Measure all of the dry ingredients into a medium bowl and whisk together to combine and break up any lumps.

Wet Ingredients: Put the soft cream cheese (mine was gushy) in a large bowl and beat until smooth with a hand mixer. Add 1 egg and beat until incorporated. Add 1 more and beat until incorporated. Add two at a time beating until incorporated. Add the buttermilk, extracts, stevia glycerite and beat. Add the melted butter and beat one more time, scraping down the bowl.

Combine: Add half of the dry ingredients and mix to combine. Add the rest of the dry ingredients and combine. The batter will be really thick so spoon it into the prepared pan. Lift the pan off of the counter a few inches and let it fall back onto the counter 2-3 times to knock out the large air bubbles. Smooth the top with a small offset spatula to make sure the batter is even – it will rise but not really spread.

Bake: Bake for about 45 minutes or until a toothpick inserted in the middle comes out clean. The bundt cake should feel springy when pressed with a finger and may even sound a little moist. Put a clean towel over the top and let it cool for 10 minutes and then turn out onto a cooling rack. Cool completely.

Glaze: Mix the lemon juice and powdered sweetener. Add more sweetener to taste. Drizzle the glaze over the top, encouraging it to drip down the sides. Sprinkle with almonds if using.
Nutrition
Calories:
240
kcal
|
Carbohydrates:
7
g
|
Protein:
7
g
|
Fat:
21
g
|
Saturated Fat:
8
g
|
Polyunsaturated Fat:
2
g
|
Monounsaturated Fat:
9
g
|
Cholesterol:
111
mg
|
Sodium:
307
mg
|
Potassium:
175
mg
|
Fiber:
3
g
|
Vitamin A:
500
IU
|
Vitamin C:
4.1
mg
|
Calcium:
110
mg
|
Iron:
1.1
mg