These low carb almond flour pancakes are fluffy but substantial, lightly sweet, and wonderful. The recipe makes enough for a family for breakfast (or dinner) or enough to freeze for a quick breakfast fix!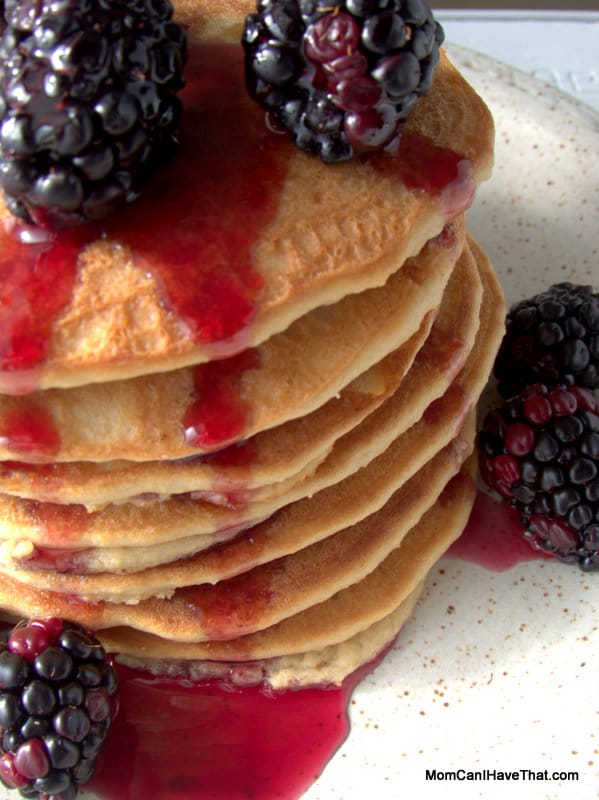 I will admit that I am not a morning person.
I wasn't always this way, but as I've gotten older, and now that I have kids, my brain does not function optimally first thing in the morning. I find that I often rely on pre-made mixes that I have prepared in advance for minute muffins, or I grab waffles and pancakes – that have already been cooked – out of the freezer and quickly heat them in the microwave or toaster. Of course, our most common breakfast is sausage, eggs and fruit — but it's nice to have the other options as back-up, at almost a moments notice, on the mornings I just can't get it together.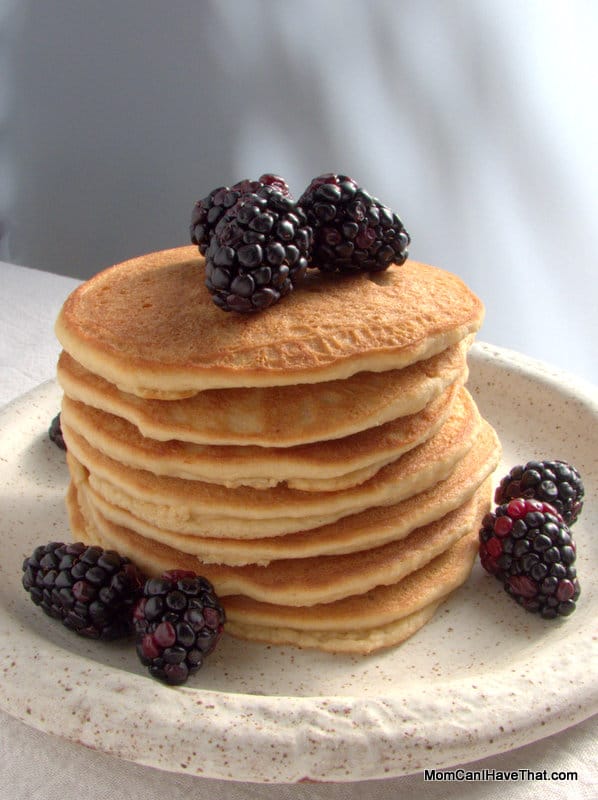 I'm not sure how I became so lame in the morning. Perhaps I stay up too late at night working on the blog, or it might be the 6-10 hot-flashes I have a night  (TMI?), or the constant interruption and questions from two kids who can't seem to keep any thought to themselves (nor speak in an inside voice), or the continual need to diffuse an argument or soothe a child who is prone to temper tantrums, anger and hurt feelings.
I am often so slow to get going in the morning that I have been known to tear a muffin up into little pieces, pour almond milk over it and call it cereal. Yep, I am sometimes that lazy in the morning. I would even call it borderline "morning stupidity". That was one reason I came-up with the Crazy-Easy Banana Pancake recipe for my kids. It's a recipe so easy that even this tired Mama has no trouble putting it together in the morning!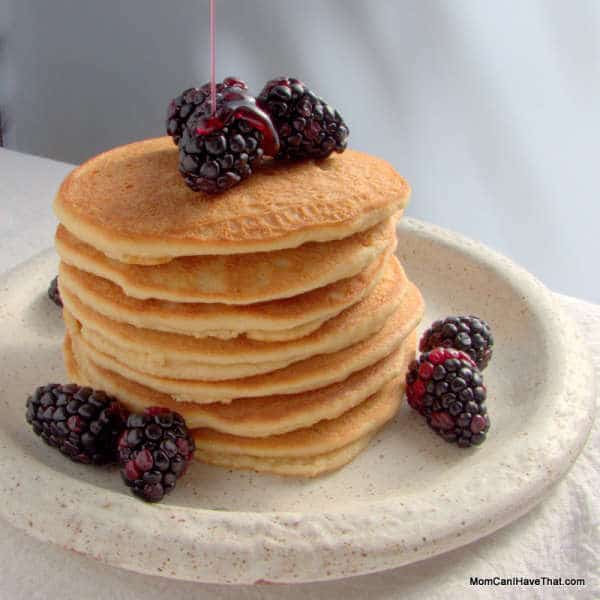 I've been making this recipe for low carb almond flour pancakes in some way shape or form for a few years, now. My Friend Katrina asked for a low carb, high fat (lchf) pancake she could eat in the mornings since she does best on a ketogenic diet and doesn't like the taste of eggs. I told her I would oblige.
Here are Katrina's Low Carb Pancakes… which is basically a make-em and freeze-em recipe. Are they just like I-Hop's? No, but they are substantial and will keep you going until lunch. I added sweetener to the recipe because I have noticed that if my pancakes are on the sweet side, I don't feel the desire to drench them in sugar-free pancake syrup or macerated berries – just butter! But, I do like my pancake syrup! Feel free to adjust the recipe to your personal tastes.
These low carb almond flour pancakes are 4 net carbs for two.
[Disclosure: This recipe contains affiliate links.]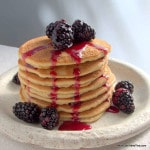 These low carb almond flour pancakes are fluffy but substantial, lightly sweet, and wonderful. The recipe makes enough for a family for breakfast (or dinner) or enough to freeze for a quick breakfast fix! Makes 20 pancakes
Ingredients
1

cup

Honeyville Almond Flour

1/4

cup

Bob's Red Mill Coconut Flour

1/4

cup

erythritol

3/4

teaspoon

baking powder

1/2

teaspoon

salt

3

tablespoons

whey protein powder

(I like Isopure zero carb)

7

ounces

full fat coconut milk

(1/2 can)

2

tablespoons

olive oil

coconut oil or ghee

2

large

eggs

1

large

egg white

1/2

teaspoon

vanilla extract

1/4

teaspoon

stevia glycerite
Instructions
Measure and add all of the dry ingredients to a medium bowl. Blend together well with a hand mixer or a whisk.

In a smaller bowl, add all of the wet ingredients and blend together with a hand mixer.

Pour the wet ingredients into the dry ingredients and mix thoroughly with a hand mixer until all of the dry ingredients are completely incorporated.

Heat a skillet or griddle over medium heat. Spray the surface with baking spray or use oil to lubricate. Pour pancake batter using a 1/4 cup measuring cup or a small ladle into the pan and spread the batter evenly into a circular pancake about 3- 4 inches across. Cook the pancake until a skin forms around the outside edge and then flip to finish cooking.

Makes 10 pancakes with 2 pancakes per serving.
Recipe Notes
For a little thicker pancake, add 1/8 teaspoon of xanthan gum to the batter.
Nutrition Facts
Low Carb Almond Flour Pancakes
Amount Per Serving
Calories 302
Calories from Fat 225
% Daily Value*
Total Fat 25g 38%
Cholesterol 85mg 28%
Sodium 327mg 14%
Potassium 462mg 13%
Total Carbohydrates 8g 3%
Protein 15g 30%
* Percent Daily Values are based on a 2000 calorie diet.
Signup for my Newsletter
Subscribe to get our recipies by email.